Iran Outplays Japan in FIBA World Cup Qualifier
Veteran guard Yudai Baba scored a team-high 27 points in Tehran, but Iran outscored Japan 19-5 in the tone-setting second quarter.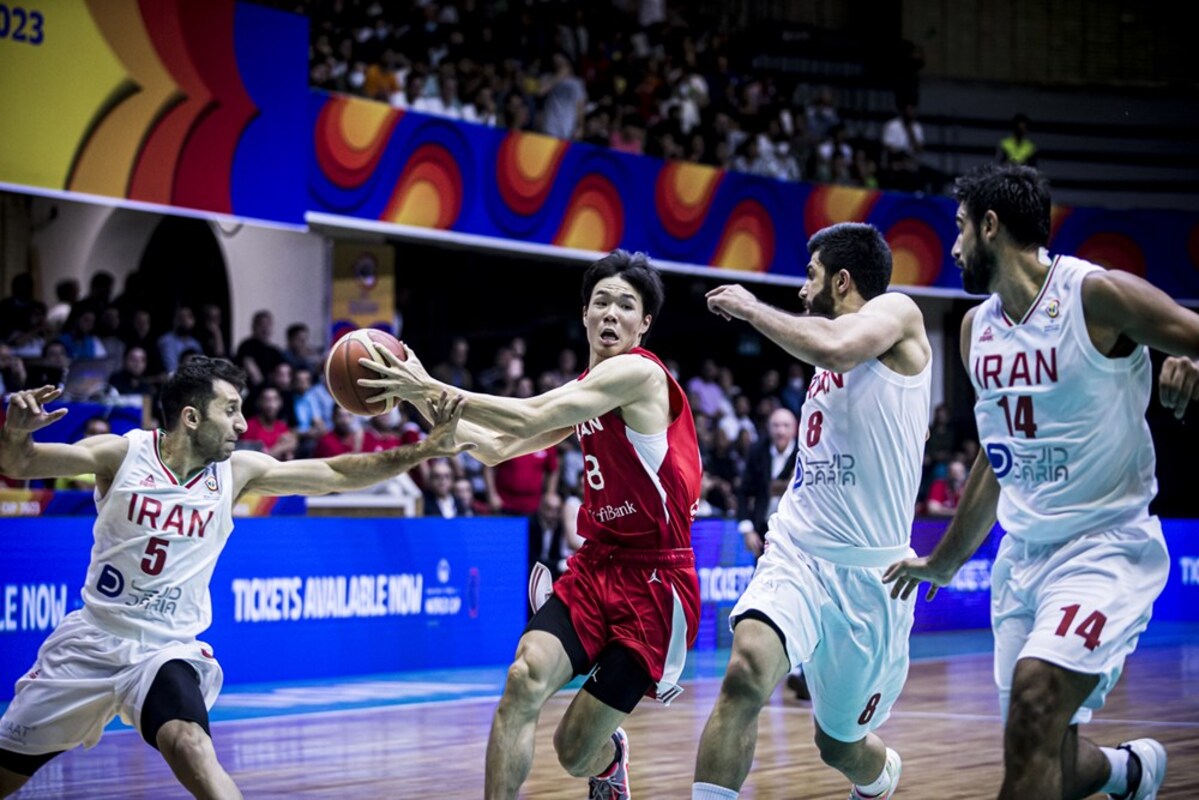 Iran capitalized on its superior size in a convincing 79-68 victory over Japan in their 2023 FIBA World Cup Asian second-round qualifier in Tehran on Thursday, August 25.

Point guard Behnam Yakhchali scored a game-high 30 points for Iran. Yudai Baba paced Japan with a 27-point effort on 10-for-13 shooting, including several dunks.
Iran outscored the visitors, also known as Akatsuki Japan, 19-5 in the second quarter, taking a 44-32 advantage into halftime.
With a 51-32 overall edge in rebounds, including 17-10 on the offensive glass, world No. 23 Iran created ample second-chance scoring opportunities after its missed shots.

And that might have been the biggest difference in the game. It was a telltale sign of Iran's inside dominance. Coach Saeid Armaghani's club had a 16-2 advantage in second-chance points. 
Japan's outside shooting (11-for-40 from 3-point range) was not effective enough to help it overcome its size mismatch. Baba sank 5 of 6 shots from beyond the 3-point arc and Soichiro Inoue connected on 3 of 6 from long range. The rest of the team was 3-for-28 on 3s.

"I believe that we played very well," Armaghani said in a postgame news conference. "We controlled the whole game. We knew this kind of basketball that the Japan team are going to play and we prepared very well, and our players for 40 minutes concentrated and really played good defense."

Familiar Foes
Iran and 38th-ranked Japan have now met four times within the past two-plus months.
In the FIBA Asia Cup, Iran defeated Japan 88-76 in the teams' final Group C game in Jakarta on July 17.
In the SoftBank Cup, a two-day exhibition series on August 13 and 14 in Sendai, Japan collected 82-77 and 80-58 victories. Both teams' rosters featured a number of different players during the exhibitions than in the clash in the Iranian capital. For example, ex-NBA center Hamed Haddadi, an imposing 218-cm presence for Iran in the middle, and teammate Arsalan Kazemi didn't appear in the two games at Xebio Arena Sendai earlier this month.
Haddadi made a solid impact in Thursday night's game with 13 points, 10 rebounds, four assists, two steals and a block. Kazemi had 12 points and 17 rebounds.
Japan, with Tom Hovasse back at the helm as head coach after a one-game absence, returns to action on Tuesday, August 30 against Kazakhstan in another second-round Asian qualifier at Okinawa Arena.
Australia plays host to Iran on Monday, August 29.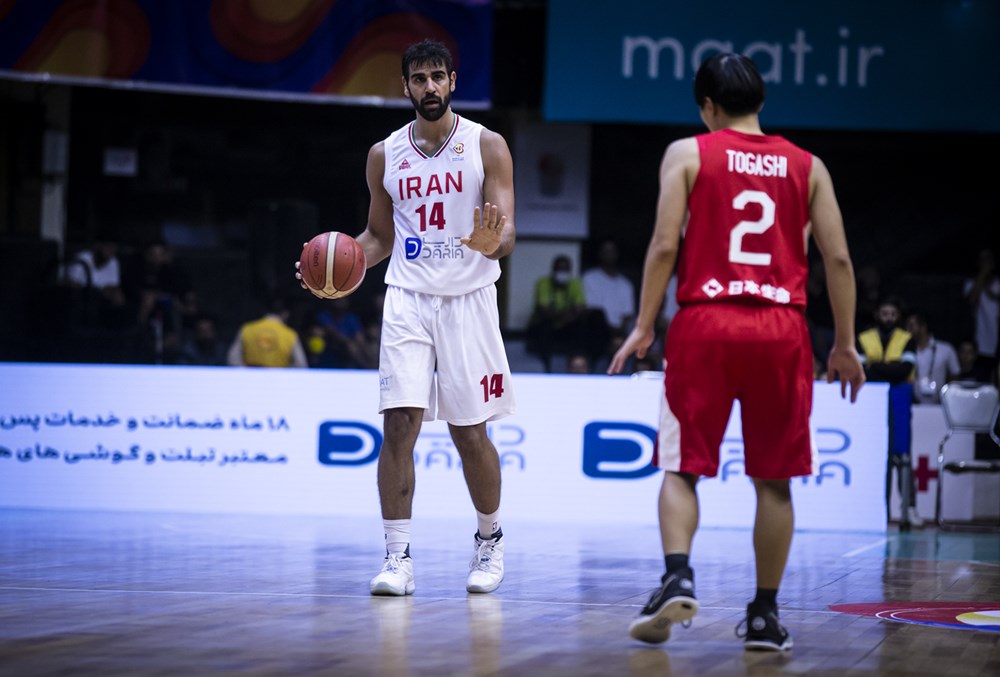 Pivotal Stretch for Iran
A Yakhchali 3-pointer put Iran ahead 52-37 with 7:52 left in the third quarter.
Akatsuki Japan starting point guard Yuki Togashi, a longtime star for the B.League's Chiba Jets, knocked down a 3 to cut it to 52-42 at the 5:17 mark. Baba made the first of two free throws to pull Japan within 53-47 with 2:55 to play in the third.
Starting with a Sajjad Pazrofteh jumper, the hosts closed out the third quarter on a 12-0 run to extend their lead to 65-47 entering the final stanza.
By that point, Yakhchali had already scored 25 points, putting his personal stamp on the game.
"That was a tough game for us, because they play super fast," Haddadi said. "And we tried to stop the fast break, but we couldn't in the first quarter. But [after that] we played better defense, especially in the second quarter."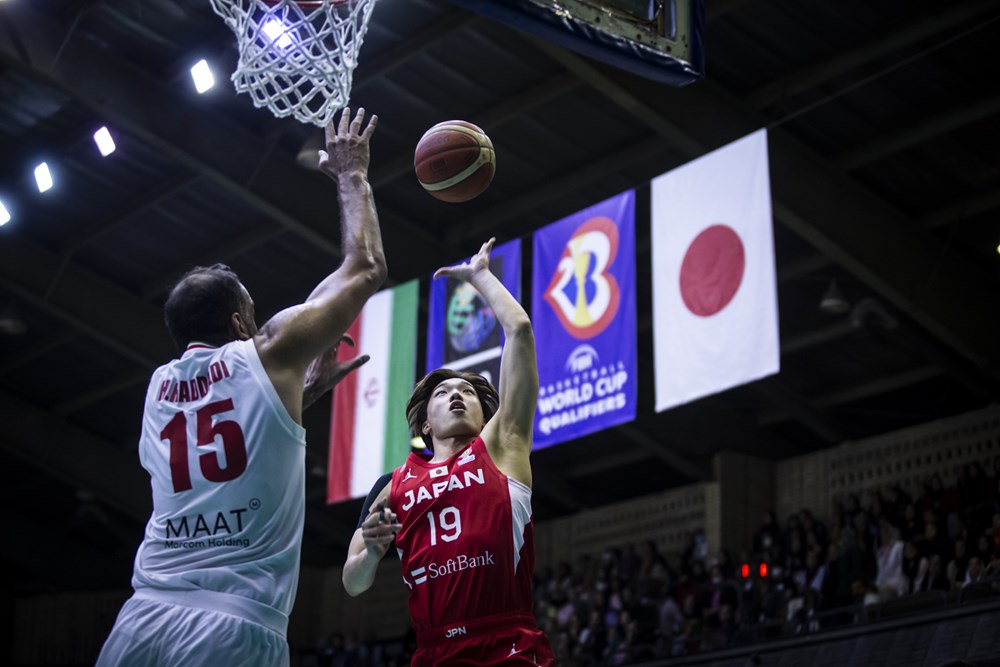 Coaching Tactics for Japan
At halftime, Hovasse spoke with acting head coach Norio Sassa by telephone from Japan and also texted him some game-strategy pointers.
As reported in August 21's Japan Sports Notebook, Sassa was appointed acting head coach for the Iran game due to the American government's travel ban for citizens to Iran and safety concerns. Head coach Tom Hovasse and associate head coach Corey Gaines are Americans.
Japan was unable to overcome its 12-point halftime deficit, but got as close as six with under 3 minutes left in the third quarter.
That was an encouraging sign, according to Sassa, who commended Japan's players for their overall effort for the full 40 minutes.
"Iran is always a tough team to play," Sassa told reporters. "You know, also with big Haddadi, and also it's their home, but we still came here to win the game.
"But as a substitute (coach), in my situation, I think the players played really great."
Looking ahead, he cited areas of improvement ― rebounding, turnovers, offensive productivity ― that the coaching staff will continue to work with the players on.
Sassa pointed to the second quarter, when Japan was held to five points, as the biggest factor in the game.
"I kind of couldn't make the players play in the usual rhythm, and I think that's it," he commented.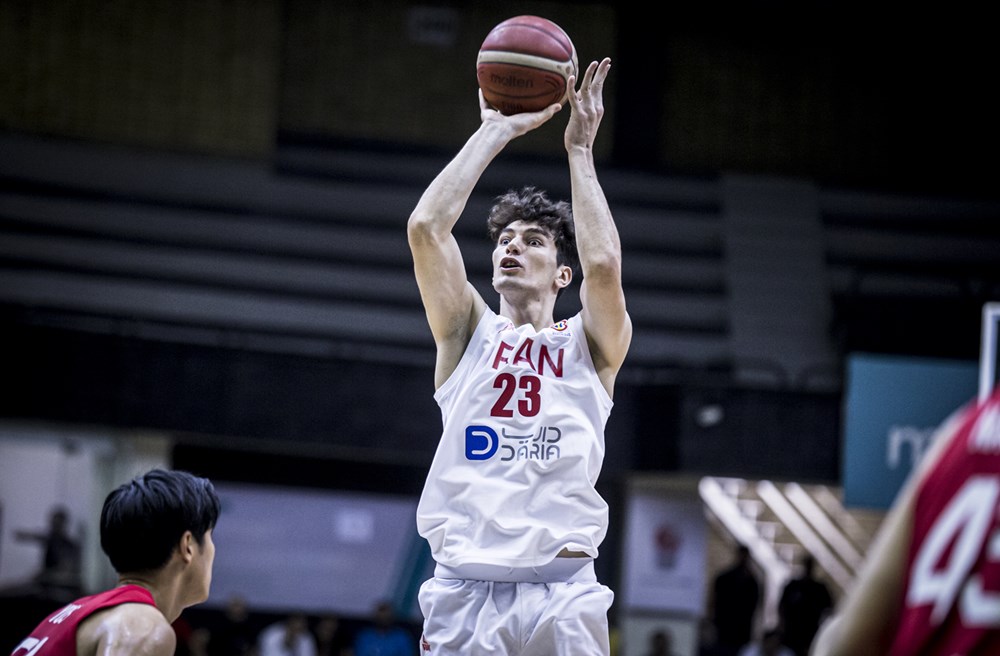 By the Numbers
Japan's Makoto Hiejima scored 11 points and led all players with three steals. Inoue added nine points. Togashi, who was held to three points on 1-for-8 shooting, dished out six assists. Hirotaka Yoshii provided six points and a team-high eight rebounds in 31-plus minutes.

Despite its big rebounding advantage, Iran didn't hold a sizable lead in points in the paint. In fact, both teams scored 28 points in the lane. 
Iran made 16 of 36 2-point attempts and 10 of 23 on 3s. The hosts were 17-for-28 on foul shots.
Japan cashed in on Iran's 17 turnovers, including seven by Haddadi, scoring 19 points off the hosts' miscues.
At the same time, Sassa pushed the squad to play an up-tempo game, and Japan supplemented its 3-point shooting with an effective fast-break offense, scoring 14 points on the run.
"We played so hard for all 40 minutes," Baba said, "but there are a couple [things] that we've got to improve. … So we've got to prepare for the next game [against Kazakhstan]. We're going to review this time and … we want to move forward."

Author: Ed Odeven
Follow Ed on JAPAN Forward's [Japan Sports Notebook] here on Sundays, in [Odds and Evens] here during the week, and Twitter @ed_odeven.