New yokozuna Terunofuji overcame a spirited challenge by komusubi Takayasu on Wednesday, September 22 to maintain his one-win lead with just four days remaining in the Autumn Grand Sumo Tournament.
Takayasu put up a good fight, extending the bout to 1 minute, 25 seconds but Terunofuji displayed the composure of a yokozuna by staying calm.
Bidding for his first title at the sport's highest rank, Terunofuji used a right-hand grip on the belt to maneuver Takayasu to the edge before shoving his opponent off the raised ring to improve to 10-1.
Takayasu landed with a thud and needed several minutes to get up. When he did, he had trouble maintaining his balance on the dohyo following the day's final bout at Ryogoku Kokugikan.
Takayasu, who had two "fusensho" forfeit wins prior to his showdown with Terunofuji, dropped to 4-7.
Terunofuji is the only grand champion competing in the Autumn Basho as fellow Mongolian Hakuho was forced to sit out over COVID-19 protocols.
Rank-and-filer Myogiryu is one win back while six wrestlers are two wins off the pace as the 15-day basho enters the home stretch.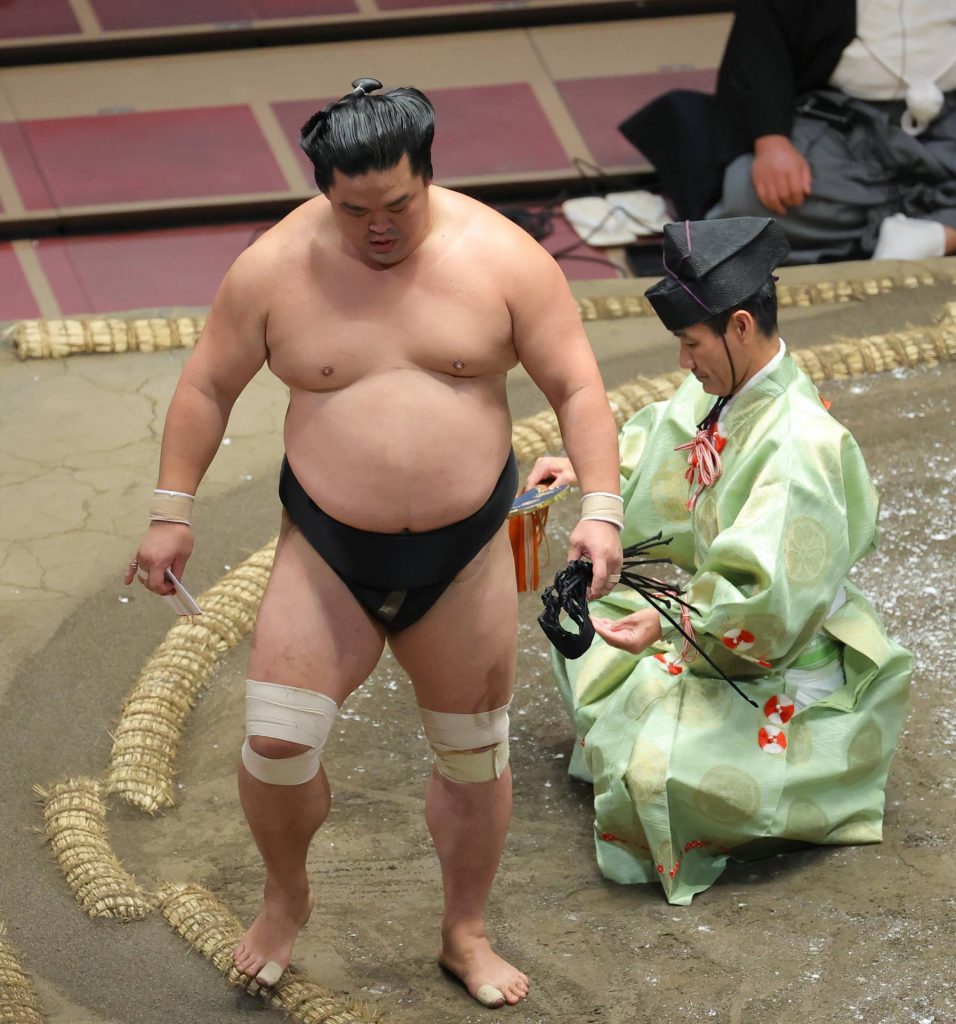 In an earlier bout, veteran grappler Myogiryu stayed right in the title chase when he came in low at the face-off and drove Ichiyamamoto out in a matter of seconds.
Tenth-ranked maegashira Myogiryu moved to 9-2 with the frontal push-out while No. 15 Ichiyamamoto fell to 3-8.
In other major bouts, ozeki Takakeisho notched his fifth straight win when he shoved Onosho back at the face-off and then dodged to his right before swatting the No. 6 maegashira down to improve to 7-4.
Takakeisho entered the tournament as a "kadoban" ozeki, meaning he needs a winning record to maintain his status for the next tournament.
With three straight losses to open the tournament, things didn't look good but Takakeisho is now just one win away from that goal.
It was a painful loss for Onosho, who dropped to 8-3, falling a further win off the pace.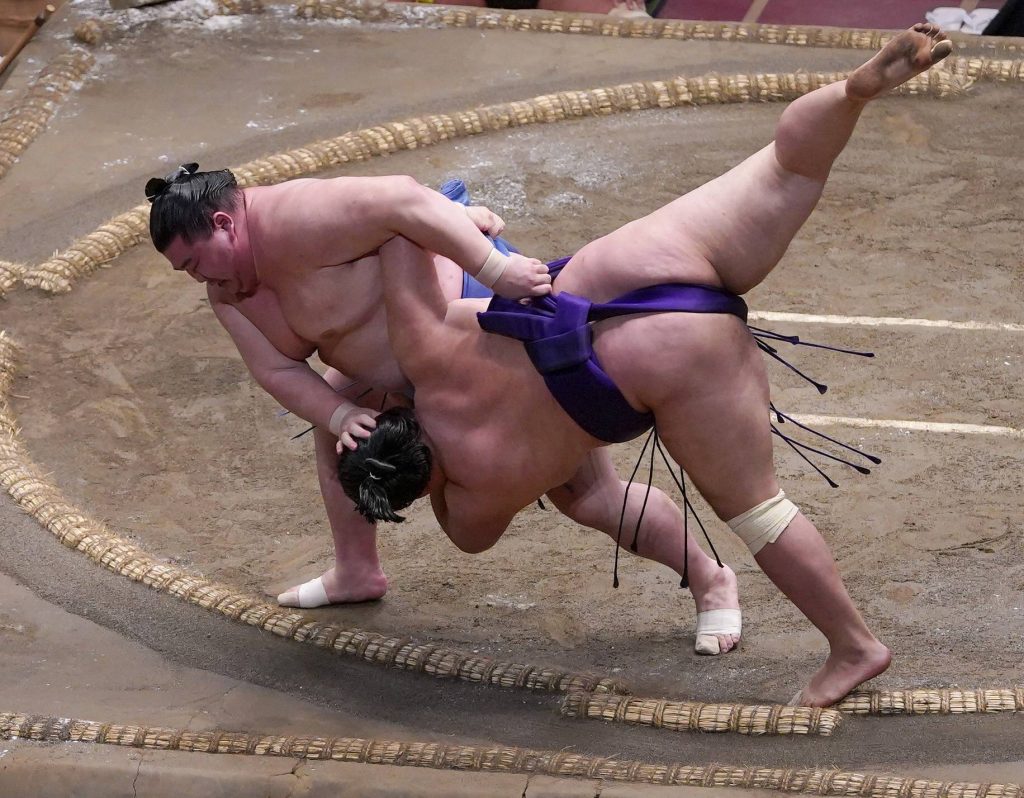 Ozeki Shodai deployed a superb left-handed arm throw to send new sekiwake Meisei toppling off the dohyo while wrapping up a winning record by improving to 8-3. Meisei, who faces Terunofuji on Day 12, dropped to 4-7.
In a showdown of top maegashira, Takanosho used a powerful thrust to the neck to send Hoshoryu backpedaling and out over to straw ridge in a matter of seconds.
Takanosho improved to 6-5 while Hoshoryu, who missed several days earlier due to acute tonsillitis, fell to 3-6-2.
Sekiwake Mitakeumi stayed in the title chase when he shoved out fourth-ranked maegashira Daieisho (6-5) to pick up his eighth win against three losses.
"I just hope to stay calm and keep the momentum going," Mitakeumi said. "I have a plan for when I face Terunofuji, but of course I'm not going to say what it is."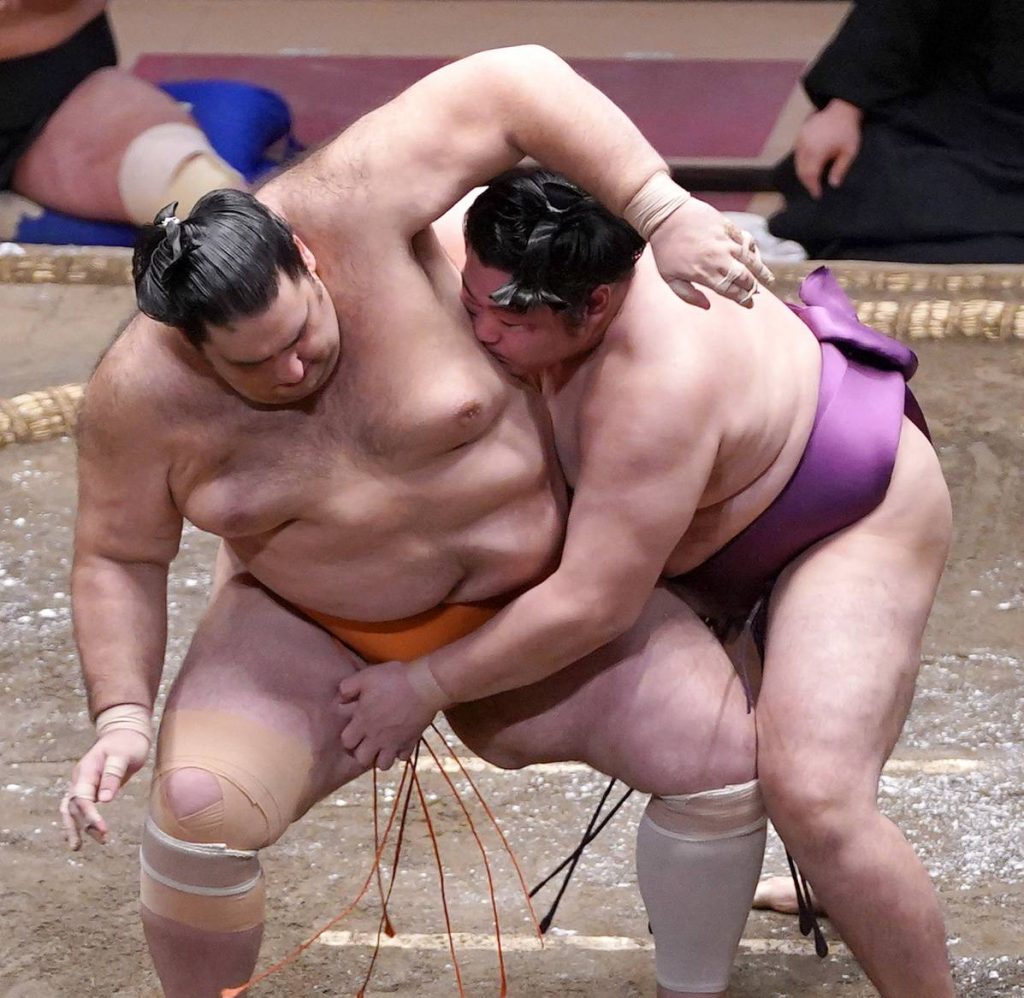 Popular eleventh-ranked maegashira Endo also wrapped up a winning record when he drove out Kaisei to improve to 8-3. No. 14 Kaisei dropped to 4-7.
"My body really moved well today," Endo said. "I am able to concentrate on a daily basis and will just try to keep my focus."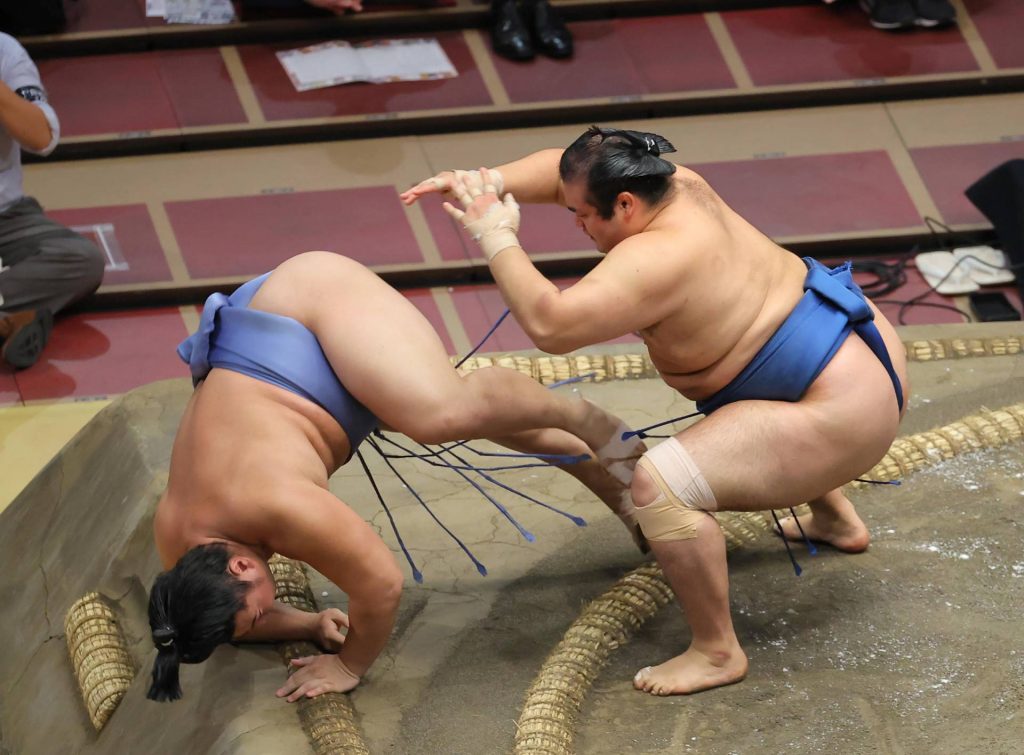 No 17 maegashira Chiyonokuni used a rear pushdown to also wrap up a winning record and improve to 8-3 when he dispatched struggling eighth-ranked Tobizaru, who lost his sixth bout in a row and fell to 4-7.
Veteran grappler Okinoumi, a No. 8 maegashira, is also in the pack of wrestlers at 8-3 after he overpowered rank-and-filer Yutakayama, who fell to 6-5.

Three Stars
First Star: Endo. With a big win over giant Brazilian Kaisei, Endo secured a winning record and stayed in the title chase.
Second Star: Takakeisho. With his fifth win in a row, Takakeisho is well on his way to securing a winning record and maintaining his ozeki status after a slow start.
Third Star: Terunofuji. Maintaining his one-win lead against a determined and well-rested Takayasu was no small feat.


Author: Jim Armstrong
The author is a longtime journalist who has covered sports in Japan for more than 25 years. You can find his articles here, on JAPAN Forward.