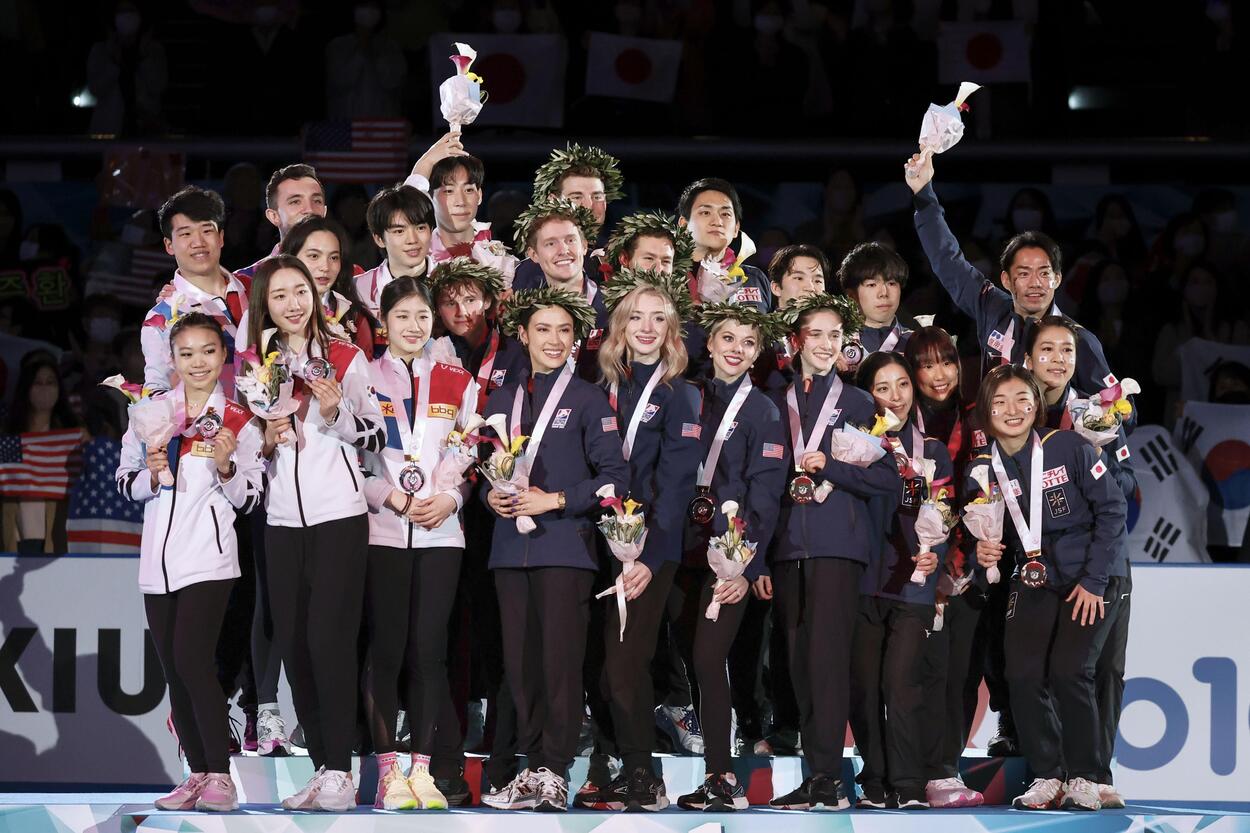 A stellar performance by pairs Alexa Knierim and Brandon Frazier helped the United States score a runaway victory in the World Team Trophy at Tokyo Metropolitan Gymnasium on Saturday, April 15.
The Americans topped the podium with a total of 120 points, outdistancing second-place South Korea (95) by 25 points.
Japan missed out on second place by a single point, finishing with a tally of 94. Italy was fourth with 83, France fifth at 80 and Canada sixth on 68.
The triumph was the fifth for the US in the biennial event that has now been held eight times. Japan has won twice, while Russia was victorious once.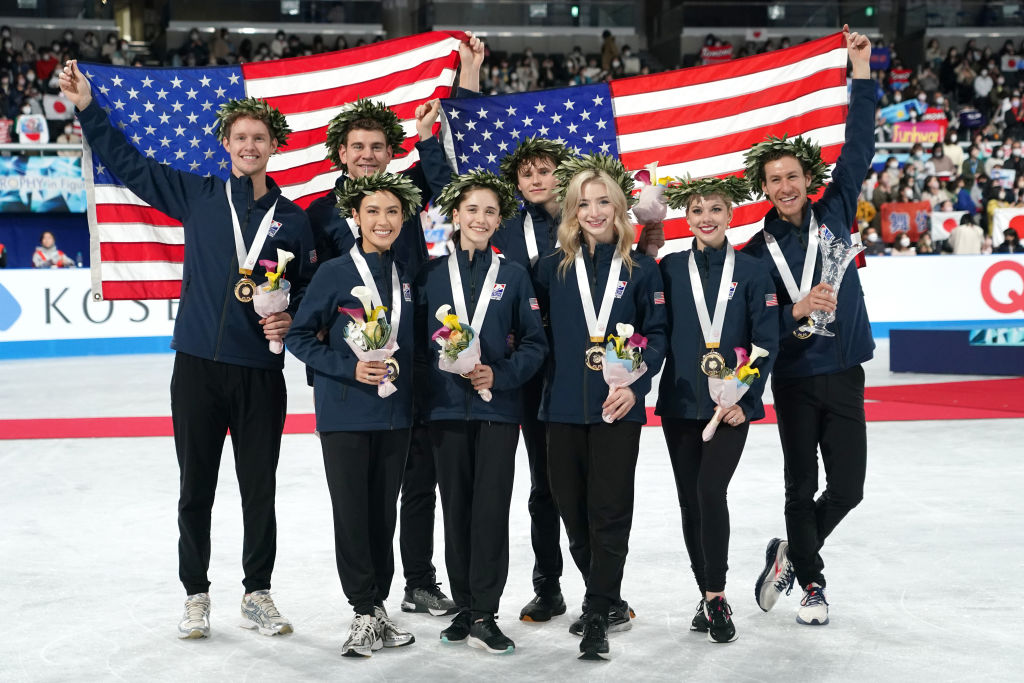 World silver medalists Knierim and Frazier topped world champions Riku Miura and Ryuichi Kihara for the second straight day, winning the free skate with a score of 147.87 points.
Miura and Kihara took second with 143.69, while Italy's Sara Conti and Niccolo Macii came in third on 130.22.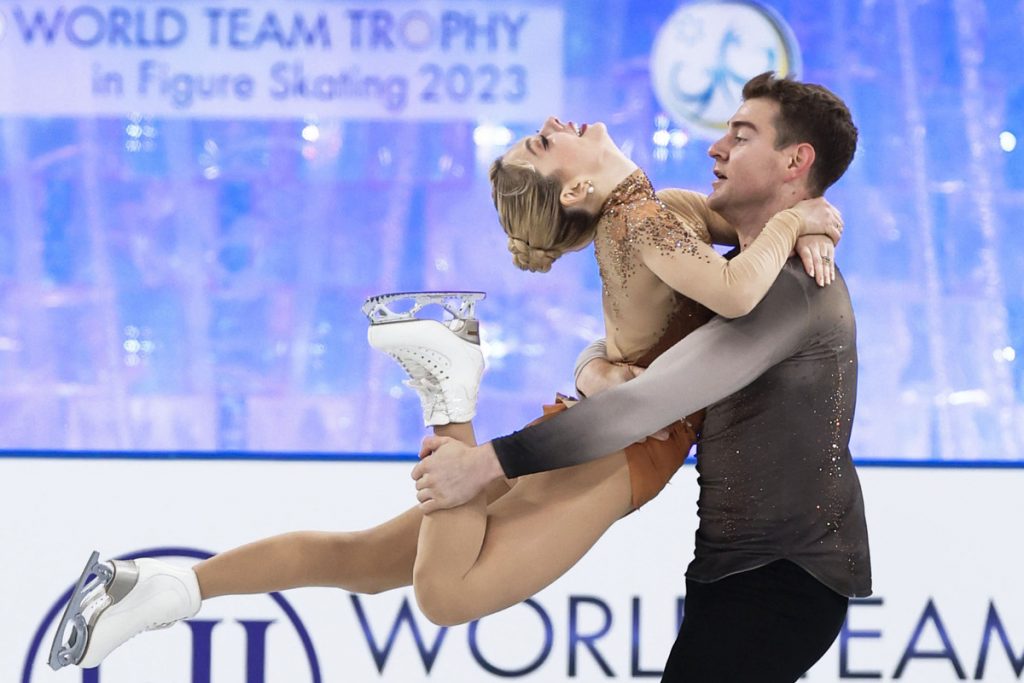 Knierim Delighted by Performance at World Team Trophy
Knierim and Frazier skated to "Sign of The Times" and "Healed Broken Wings" and Knierim was effusive about their performance afterward.
"It went by a little too fast today, normally when you do a free skate towards the end you want it to be over as you are tired, but today I felt like I had all the energy," Knierim stated. "We were emotional in a good way, especially the second half of the program, feeling every moment."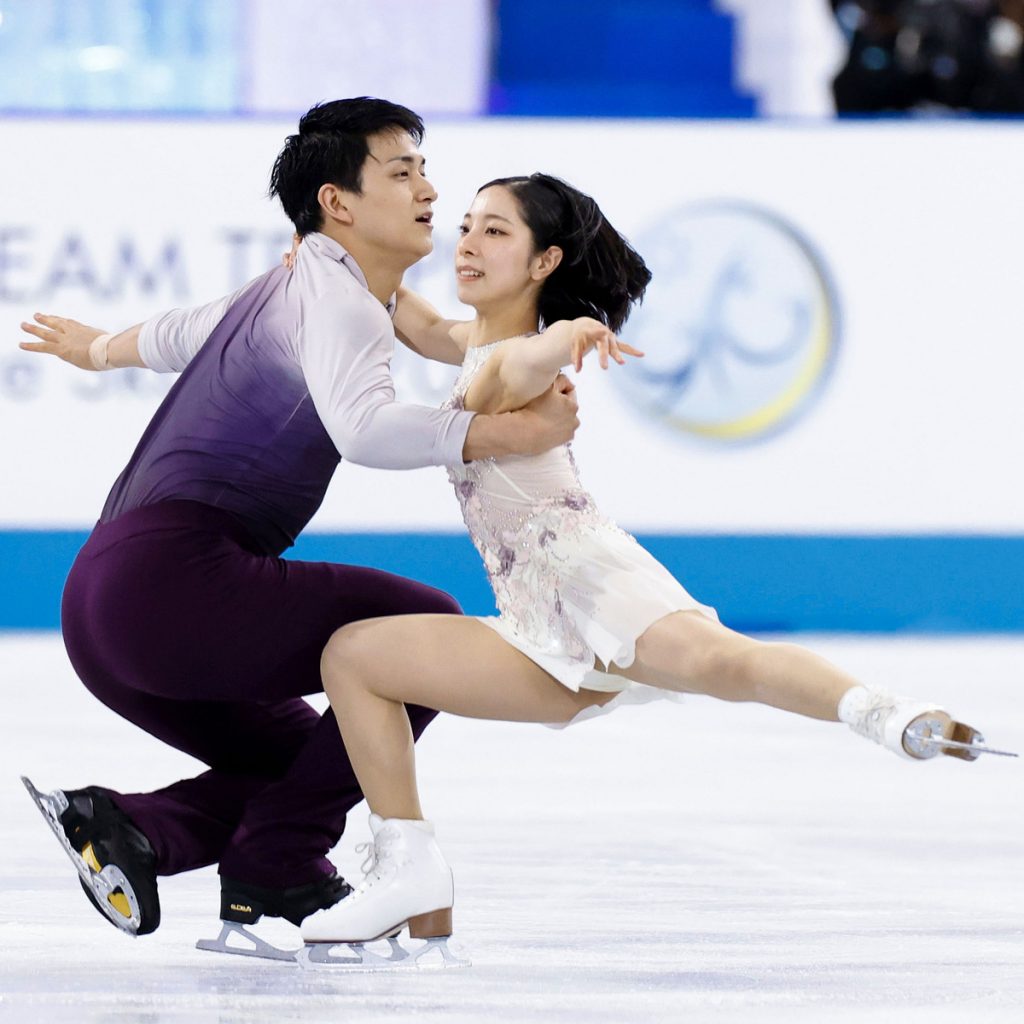 Miura admitted that the world title was their primary goal this season.
"Worlds was our peak, so it was difficult to aim much higher," Miura commented. "At the worlds I had mistakes in my salchow and throw loop, so this time I really wanted to nail them."
Cha Victorious in Men's Free Skate
World silver medalist Jun Hwan Cha of South Korea prevailed in the men's free skate with 187.82, scoring a narrow win over Italy's Matteo Rizzo (187.35). Cha skated to a James Bond medley and landed two clean quads and five triples while earning level fours on his spins and step sequence.
"First of all, I really tried my best," Cha stated. "I made a mistake in the second half, but I'm satisfied and happy to finish with one more great performance."
Added Cha, "I improved a lot last season at Beijing and this season, I keep improving."
Rizzo gave an inspired effort to "Talking to the Moon" and "That's What I Like."
The 24-year-old also landed two quads, hit seven triples, and earned level fours on his spins and step sequence.
"I am disappointed with my triple axels, the triple axel is usually my best jump," Rizzo said. "So close to 100 points TES (technical elements score). But overall I am very happy and satisfied."
American Jason Brown was third on 183.43, while France's Kevin Aymoz took fourth at 178.85.
World bronze medalist Ilia Malinin, the first man ever to land a quad axel in competition, was unable to duplicate it in his free skate to "Euphoria" this day. But it didn't matter in the end as the US had nearly clinched the title after the pairs.
Malinin, who did land three clean quads, ended up fifth with 173.64.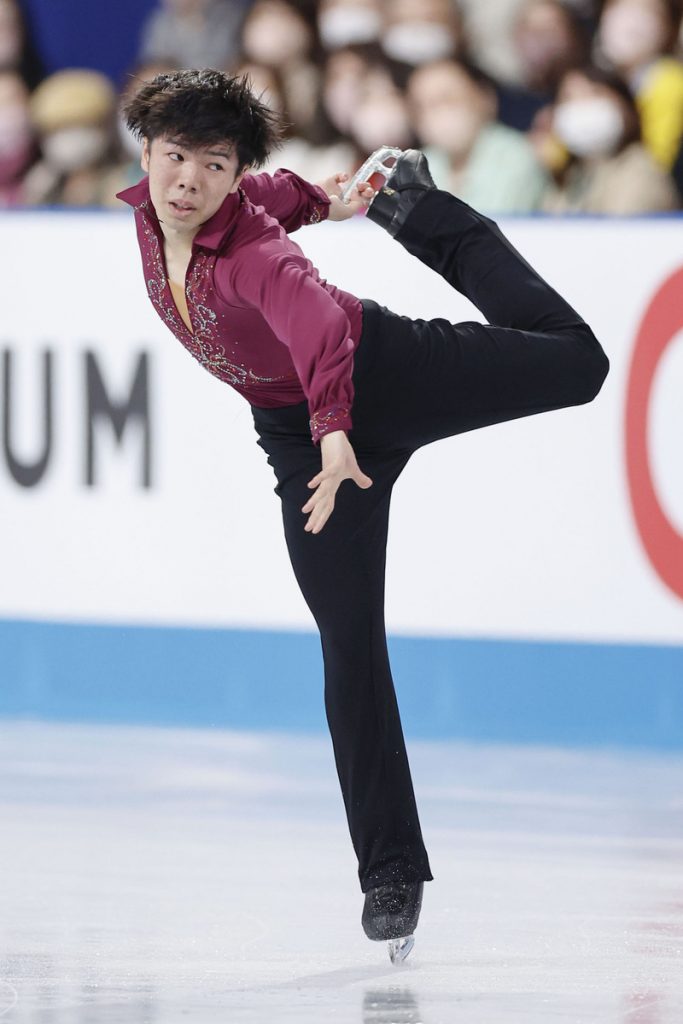 Sato, Tomono Struggle in Men's Free Skate
Japan still had a shot at second place after the pairs, but needed strong showings by Shun Sato and Kazuki Tomono to get there. It wasn't meant to be on this day, however, as Sato (164.86) finished eighth and Tomono (164.55) ninth.
Sato appreciated the support of his fellow skaters on Team Japan.
"I was very nervous, but after receiving support from my teammates I was able to pull through until the end," Sato remarked. "It was a different kind of nervousness than at usual competitions."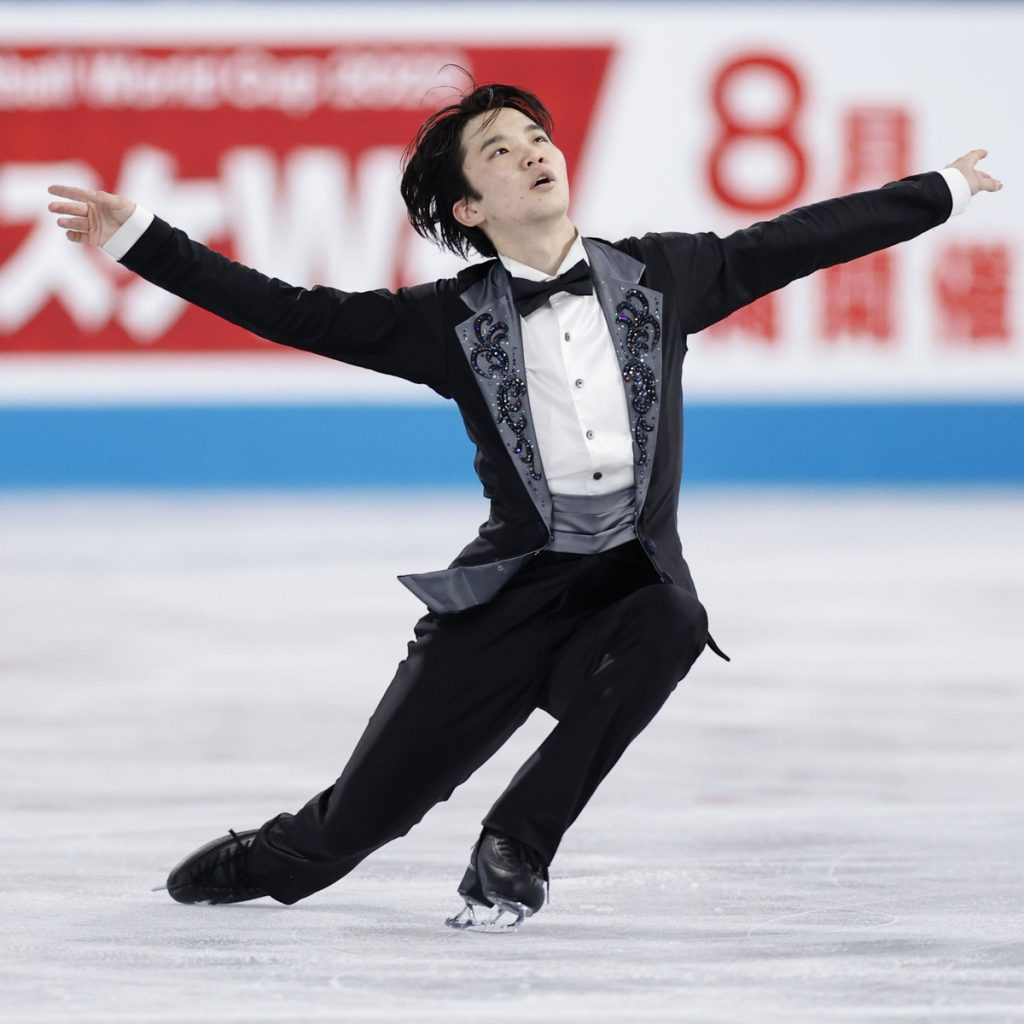 Tomono expressed disappointment with his performance.
"Training is everything," Tomono noted. "When it comes to big competitions, my weaknesses still influence my performance. That's why I need to become much better and train more."
The World Team Trophy will conclude on Sunday with the Exhibition Gala.
RELATED:
Author: Jack Gallagher
The author is a veteran sports journalist and one of the world's foremost figure skating experts. Find articles and podcasts by Jack on his author page, and find him on Twitter @sportsjapan.