[Vietnam! Moving Ahead Together] Can Japanese Technology Combat Vietnam's Pollution Problem?
A Japanese businessperson in Hanoi explores the potential for Japanese technologies to help Vietnam solve its pollution problems.
このページを 日本語 で読む
"Hanoi has changed a lot in the last ten years, hasn't it?" I frequently hear this question from clients. Having been here the whole time, the changes don't seem so dramatic to me.
But when I close my eyes and think back, the Hanoi of ten years ago looks quite different than the present. Back then, we didn't even have traffic lights. Traffic police stood in major intersections blowing their whistles to direct the traffic. Ten years ago, you just had to be on the lookout for the occasional dog poop when walking around town. Now, the sidewalks are overrun by motorcycles during the morning commute.
Hanoi is an inland city located in a basin, so the air tends to stagnant. The city's proximity to the border with China is likely another reason that PM2.5 levels are so high. Most Japanese expat wives in Hanoi have apps on their phones to monitor the air quality. Unlike Japan, readings are almost always at the "unhealthy" level. Some have compared living in the city to being in a gas chamber, albeit a weak one.
The Hanoi of today reminds me of my childhood when our PE classes were cancelled and a warning flag was flown on the school grounds during episodes of photochemical smog.
Ten Years in Hanoi
Since 2011, I've been running a real estate company for Daiwa Corporate in the Vietnamese capital of Hanoi. This year marks the 11th year since we launched our business, named Hanoi Living, with the aim of supporting our clients in all aspects of their lives in Hanoi.
I still vividly remember the shock I felt just over 10 years ago when I arrived in this country. When I first stepped out of Noi Bai Airport, the sweltering humidity and hot heavy wind made me realize that I would face some hard challenges living here.
"I'm sorry, but I'd like to break my apartment lease early and move to the shores of West Lake. I'm experiencing shortness of breath and not sleeping well." A pale-faced client came into my office troubled one day. She had been in Vietnam about the same length of time that I had.
Of course, I had noticed the poor air quality since arriving and had heard about the seasonal influx of asthma patients from a Japanese doctor at the general hospital. But this was the first time I had seen a client suffering first hand. Thankfully my client's symptoms subsided after moving to the lakeside apartment.
Foreign Investment over Air Pollution Control
Before moving, this client's apartment was in the Kim Ma area, a neighborhood in Hanoi where many Japanese people live. The traffic congestion in Kim Ma has been getting worse year by year.
For years, a huge electronic billboard displaying real-time measurements of exhaust gas concentration stood on a tower at a major intersection. It long served as a symbol of the bad air quality, but has since been torn down due to subway construction.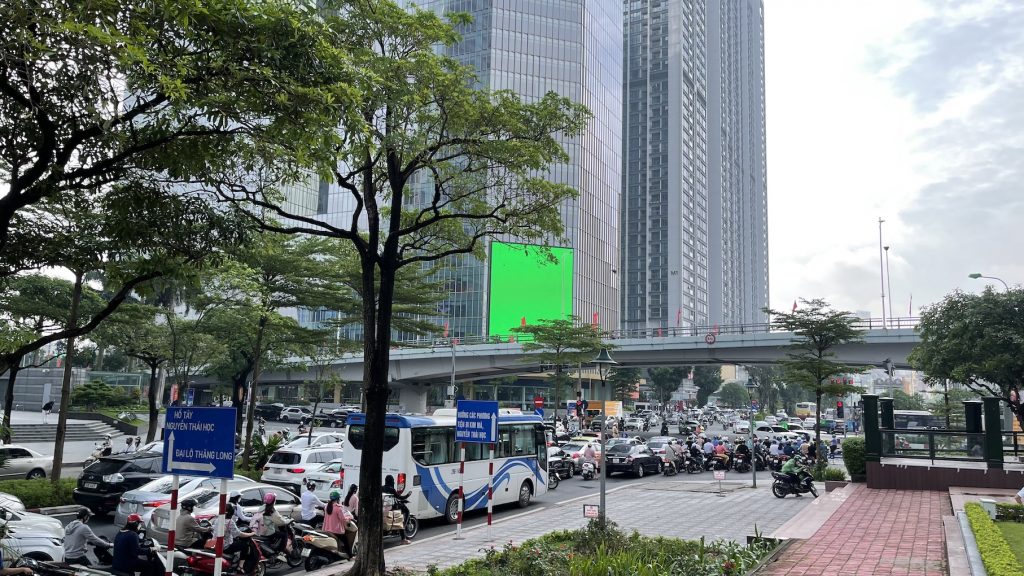 What I hear from business people in Vietnam is that they want more susono, a Japanese word that translates as "supporting industries". The term susono has become a key word in propelling economic development forward.
When it comes to harnessing the power of foreign investment to quickly boost the country's economic power, information on air pollution in the capital of Hanoi is seen as an unnecessary obstacle.
For now, air purifiers are used to deal with the bad air, just as water purifiers are used to filter the non-potable tap water. However, Vietnam is facing other pressing problems that cannot wait. For example, the problem of waste disposal that inevitably accompanies economic growth.
Learning from Japan's Experiences in Waste Management and Recycling
On December 15, 2021, more than 200 Vietnamese practitioners from government agencies, local governments, and various research institutes participated in a seminar entitled "Seminar on Waste Management Toward Circular Economy." The seminar was part of the "Vietnam-Japan Environmental Week," jointly organized by the Ministry of Natural Resources and Environment of Vietnam (MONRE) and the Japanese Ministry of the Environment.
Technical support based on years of experience is indispensable to the Vietnam of today, and many eyes are focused expectantly on Japan.
"We must maintain our partnership with Vietnam, which fell behind due to war, by supporting them with our technological capabilities."
In his New Year's address before the entire business community, the previous Japanese Ambassador to Vietnam, Mr. Hiroshi Fukada, also noted that Japanese technology is sprouting up in a variety of fields in Vietnam.
I have spent the last ten years working in Vietnam. I don't want this country to follow in Japan's footsteps and repeat our history of environmental pollution.
Focusing on Vietnam's pressing environmental issues, I will report on how Japanese technologies are being brought in to confront these problems and make dynamic contributions.
このページを 日本語 で読む