Embarking on the World's First EV Tanker, Piloted by a Joystick
A close-up look at the first-ever fully-electric powered tanker reveals that Japan is leading the world in zero emission tankers.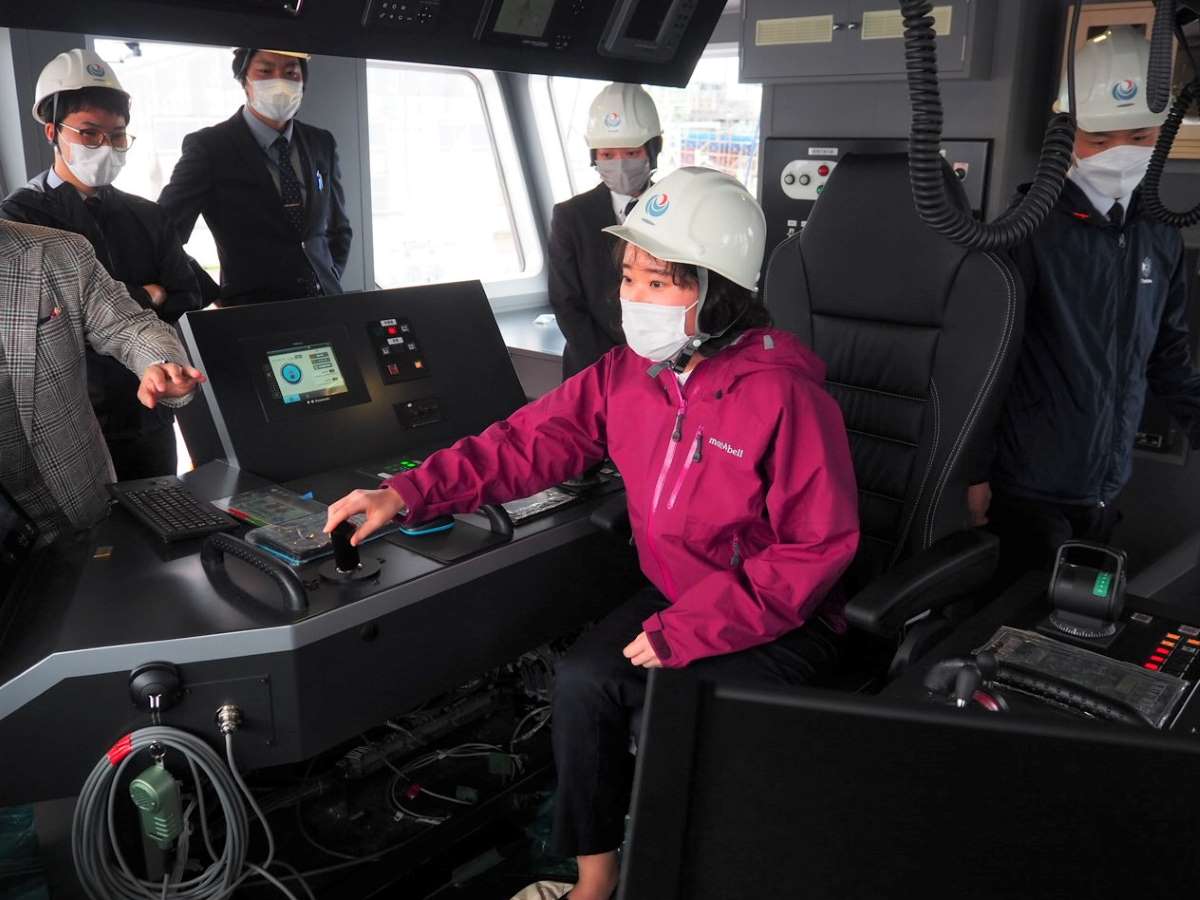 このページを 日本語 で読む
Powered by large-capacity lithium batteries and emitting zero greenhouse gases, the EV tanker Asahi, was built to reduce environmental impact.
The Asahi is 100% battery-powered, making it the first tanker in the world to run solely on electricity.
While the work environment aboard ships is generally considered to be poor, the reduced noise, vibration, and odor on the Asahi lessens the toll on its crew members.
The following is a glimpse inside this next-generation tanker, built by Koa Sangyo Co., Ltd. in Marugame, Kagawa Prefecture, that made its maiden voyage from Chiba to Yokohama last April.
Zero GHG Emissions
Based at the Port of Kawasaki, the Asahi was commissioned as a coastal vessel for refueling ships in Tokyo Bay. Owned by Asahi Tanker (headquartered in Chiyoda Ward of Tokyo) of the Mitsui O.S.K. Lines Group, the vessel is reputedly far easier to operate and maintain than a conventional tanker.
Electric power comes from large-capacity lithium-ion batteries in the vessel's two battery compartments. Propellers are turned to operate two Azimuth thrusters, an original design of Kawasaki Heavy Industries Ltd. These are integrated with the rudder enabling changes in direction of 360 degrees.
The vessel is also equipped with two propulsion units that facilitate lateral movement, improving docking and embarking maneuverability.
The vessel's battery capacity is 3,480 kWh, equivalent to the battery capacity of roughly 100 standard electric vehicles. Use of a direct current (DC) microgrid not only drastically reduced weight and size but also improved its electrical efficiency.
The power needed during navigation, embarking, docking, loading, unloading, and at anchor all comes from the recharging on land. The large-capacity batteries can also supply power on land and can be used as an emergency power source in the event of a disaster.
The vessel has zero-emission capability, entailing no emissions of CO2, particulate matter (PM), nitrogen oxides (NOx), and sulfur oxides (SOx). In addition, with no risk of fuel oil spills, it is friendly to the marine environment.
Makoto Sawada of Asahi Tanker's Corporate Planning department explains, "If we use renewable energy for power supply, we can operate 100% on renewable electricity."
Yasumasa Suetsugu, Chief Technology Officer at e5 Lab Inc. (Chiyoda Ward, Tokyo), a venture company in electric ships that was involved in the planning and development of the Asahi, explains, "Compared to existing ships, the new vessel saves up to 50% on energy."
Steering Is Like Playing a Video Game
The cockpit is not as complex as in an aircraft; however, monitors surrounding the seat centrally display the status of the batteries and propulsion system, as well as camera footage from the bow and stern.
The steering system is generally operated with a single joystick, similar to a video game console.
For maintenance, the manufacturers of each piece of equipment monitor with remote systems that detects faults or signs of malfunction, allowing for repairs to be made by replacing parts. This reduces labor and does not require a skilled and experienced engineer to be present to perform maintenance.
Due to the lack of a diesel engine, the vessel is free from noise, vibration, and the smell of fuel. A warm-up operation is also not required, which in all is expected to improve the working environment for crew members.
The space-saving on the engine allows for more size and improved comfort of the living quarters. Living quarters have vaulted ceilings, and large bookcases have been built into the walls.
In addition to private rooms for the captain and crew, there is a living room, an open-concept kitchen, and a bath/shower room.
Improving the Working Environment for Crew
Unlike ocean-going vessels that can call at foreign ports, domestic vessels specializing in domestic cargo transport face a difficult working environment. With an aging workforce and a high turnover rate among young people, there is a major challenge to secure crew members.
Mr. Suetsugu emphasizes, "Our goal was to revolutionize the working environment for domestic crew members. We created a space where people of all ages, both men and women, can work safely and comfortably, and easily communicate, and futuristically anyone can operate the ship."
The order for the ship from Asahi Tanker went out in October 2020. The Asahi was put into the water in December 2021, and completed on March 30 of this year.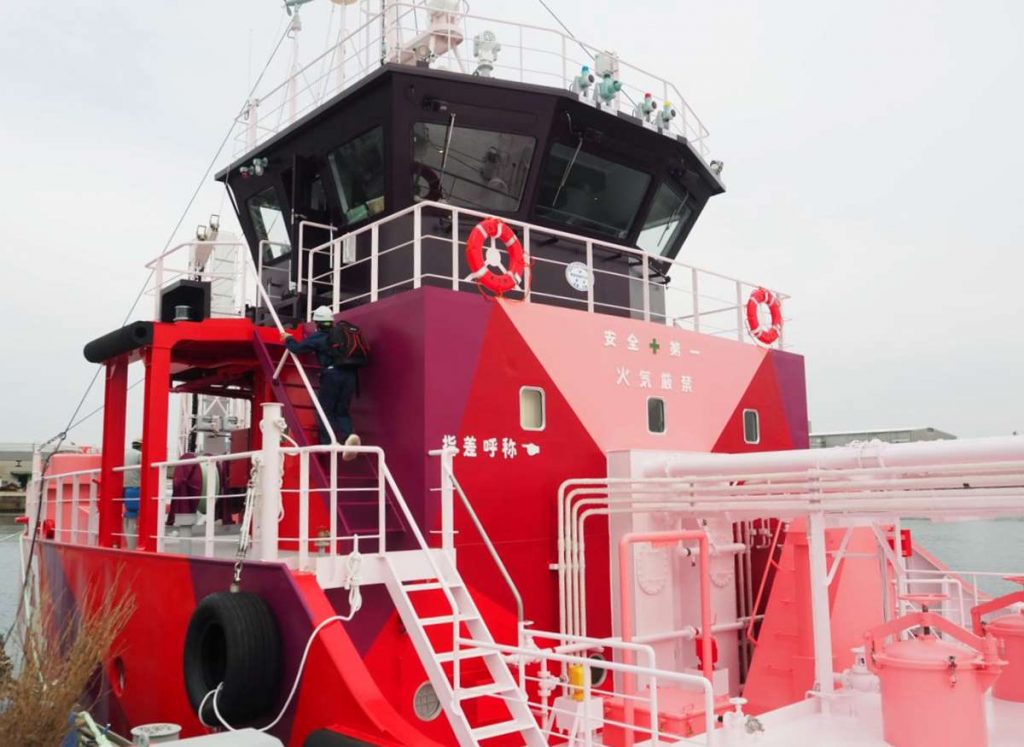 Measuring 62 meters long and 12 meters wide with a 4.7 meter depth, the vessel weighs 492 tons and has a speed of about 10 knots. The tank capacity for loading heavy oil is 1,277 cubic meters.
A power supply station developed by TEPCO Energy Partner, Inc. (Chuo Ward, Tokyo) has been installed at the Port of Kawasaki, where the vessel is charged with the power needed for a day's operation in about 12 hours when the ship is anchored overnight. The ship can operate for up to 24 hours on a single charge.
Externally, the tanker has no smokestacks, and the cargo handling equipment on deck has been automated to save on labor. The stern is equipped with a land-based power feed cable.
Mr. Sawada notes, "We chose the coloring of the tanker to have a strong impact, making it instantly recognizable as an EV tanker. We hope that it will become widely known."
Unlike conventional tankers, which have their engines at the stern, the Asahi has battery compartments towards the bow, which places the center of gravity in a different position.
Koa Sangyo President, Tetsuo Masago, says, "The weight balance is completely different, so it was like building from scratch, but we are honored to have worked on this first-in-the-world ship."
Next year, a second electric propulsion tanker is scheduled to be completed by a shipbuilding company in Tokushima Prefecture.
Mr. Suetsugu is enthusiastic, "As global competition to develop electric water mobility intensifies, I hope that shipbuilding companies in the Seto Inland Sea will lead the way."
このページを 日本語 で読む