New Law Pursues SDGs Through Sustainable Aviation Fuel from Waste Oil and Algae
Only 1% of aviation fuel in 2020 was sustainable, showing the harsh reality of how far there is to go to achieve net zero greenhouse gas emissions by 2050.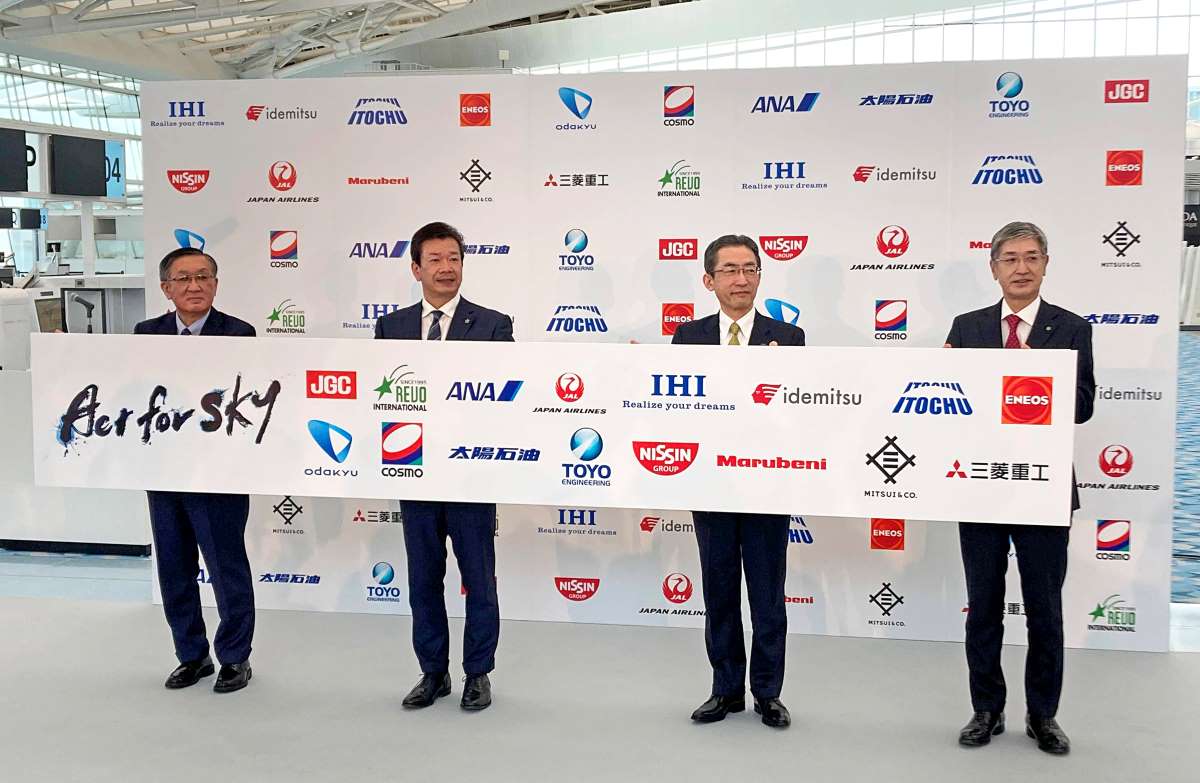 このページを 日本語 で読む
This article was first published on JAPAN Forward on July 22, 2021.
The revised Civil Aeronautics Act, which promotes the decarbonization of airplanes and airports, was enacted unanimously at a plenary session of the House of Councilors on June 3.
Under the new rules, the government will certify the plans of individual airlines and airports, and support the introduction of sustainable aviation fuel (SAF), a next-generation fuel made from waste oil, algae, and other materials. 
In Japan, ITOCHU Corporation began supplying SAF to overseas airlines at a Japanese airport for the first time in June 2022. And other trading companies and airlines are also aiming to expand their SAF-related businesses.
Hope for Airlines Aiming to Achieve SDGs
For the airline industry, which emits more carbon dioxide (CO2) than any other type of transportation, SAF provides a source of hope. Japan has been slow to act, but momentum is building for a turnaround as companies step up their efforts.
"This will be a major milestone in the establishment of the SAF supply chain in Japan," said Tetsuya Yamada, General Manager of the Energy Division of the Energy & Chemicals Company, a subsidiary of ITOCHU. He was emphasizing the significance of the new business at an online press conference held on May 27.
Japanese Trading Houses Pursue the Market
ITOCHU will import SAF produced by its partner Neste in Finland into Japan, mix it with conventional jet fuel, and supply it to Etihad Airways of the United Arab Emirates (UAE) at Narita International Airport. Although the company has been supplying SAF to All Nippon Airways since October 2020, this is the first time it will supply SAF to an overseas airline.
Mitsubishi Corporation and ENEOS have also announced a plan to enter the SAF business. Their plan calls for bringing together the manufacturing technology and sales network of ENEOS with Mitsubishi Corporation's expertise in raw material procurement and marketing. Development of a raw material supply chain is the aim, along with domestic production.
Mitsui & Co. has invested in LanzaTech, a United States company that manufactures SAF. They also plan to supply SAF to All Nippon Airways and other airlines.
Marubeni Corporation, too, is considering starting domestic production using the technology of Fulcrum, a US company in which it has invested with Japan Airlines and others.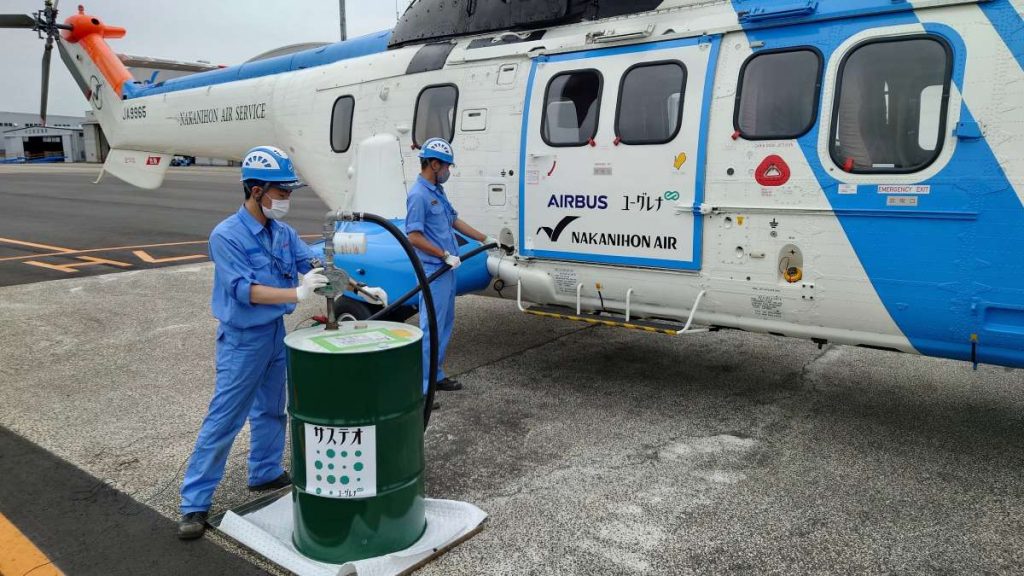 Bioventure Euglena Entering the Business
Meanwhile, a unique Japanese company is also aiming to enter the market. On June 1, Euglena, a bio-venture company, succeeded in their first flight test in Japan of a helicopter using SAF as fuel.
The company intends to reach mass production of SAF from Euglena microalgae oil and other raw materials in about three years.
A Long Way to Go
Replacing traditional jet fuel derived from crude oil, SAF can significantly reduce total CO2 emissions over the lifecycle of the jet fuel from fuel production to aircraft operation.
However, according to the Air Transport Action Group (ATAG), to achieve virtually zero greenhouse gas emissions by 2050, the world will need 550 million kiloliters of SAF. In contrast, a harsh reality is that the supply of SAF in 2020 was only 63,000 kiloliters, which is less than 1% of all aviation fuel. 
By 2027, the world's airlines will be obligated to reduce CO2 emissions by using SAF. With the international competition for SAF expected to begin, Mr. Yamada of ITOCHU pointed out that unless the supply system is put in place quickly, "foreign airlines will no longer be able to fly to Japan."
The Japanese government is also becoming increasingly aware of the crisis and plans to replace 10% of the aviation fuel used by Japanese airlines with SAF by 2030.
In April 2022, a public-private council was established with the participation of 16 companies. Although there are issues to be addressed including reducing costs, the commercialization of SAF is expected to accelerate.
このページを 日本語 で読む