Feeling Creative? These Fun Crafts Show You How To Reduce Your Ecological Footprint
Explore your creative side as you decorate postcards with upcycled flowers and learn to make plastic-free food wraps using beeswax.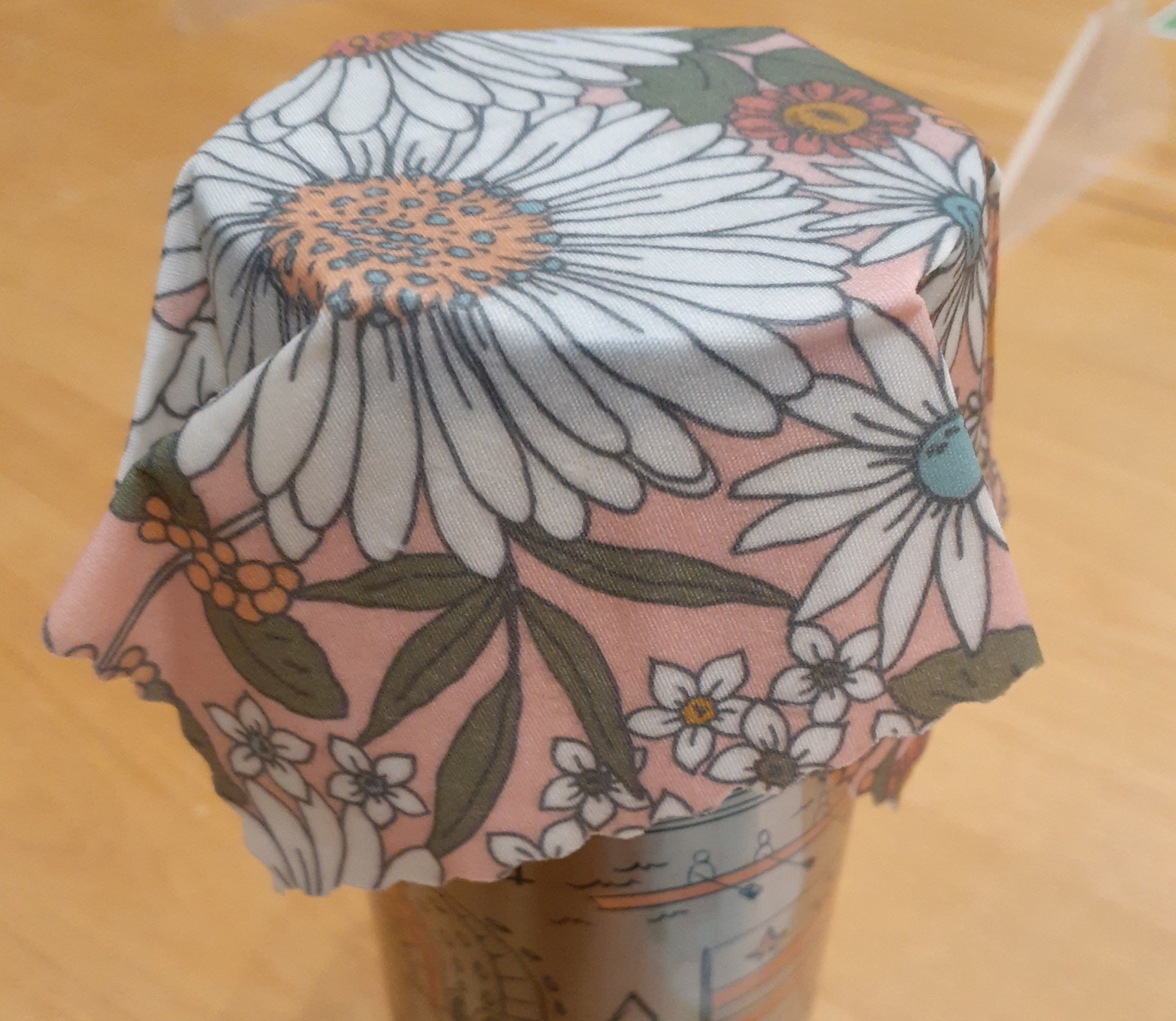 このページを 日本語 で読む
Moa Maeda is a bilingual junior high school student living in Tokyo and student contributor to Japan 2 Earth.
How much do you know about SDGs and the real world around you?
The Sustainable Development Goals (SDGs) are 17 global goals made by the United Nations to complete by 2050 in order to "ensure all people enjoy peace and prosperity."
Presently, according to the 2022 Sustainable Development report, Japan is in 19th place globally, with 6 out of 17 goals "maintaining achievement." However, the status of goals 14 and 15 – Life Below Water and Life on Land – remains "stagnant."
How can we, as responsible Earthlings, do our part to contribute to achieving these goals for a better future life for ourselves and our children?
A few days ago, I participated in two SDGs-centered workshops at the Yokohama Sky Building, and what I learned offers a few clues.
Decorating Postcards with Waste Flowers
The first workshop I attended, directed by pressed flower artist Nobuo Sugino and supported by Hanae Japan, used 'waste flowers' as part of the workshop's SDGs theme.
'Waste flowers' is the term coined to describe cultivated flowers that don't meet the strict standards of the flower industry and thus turn into waste.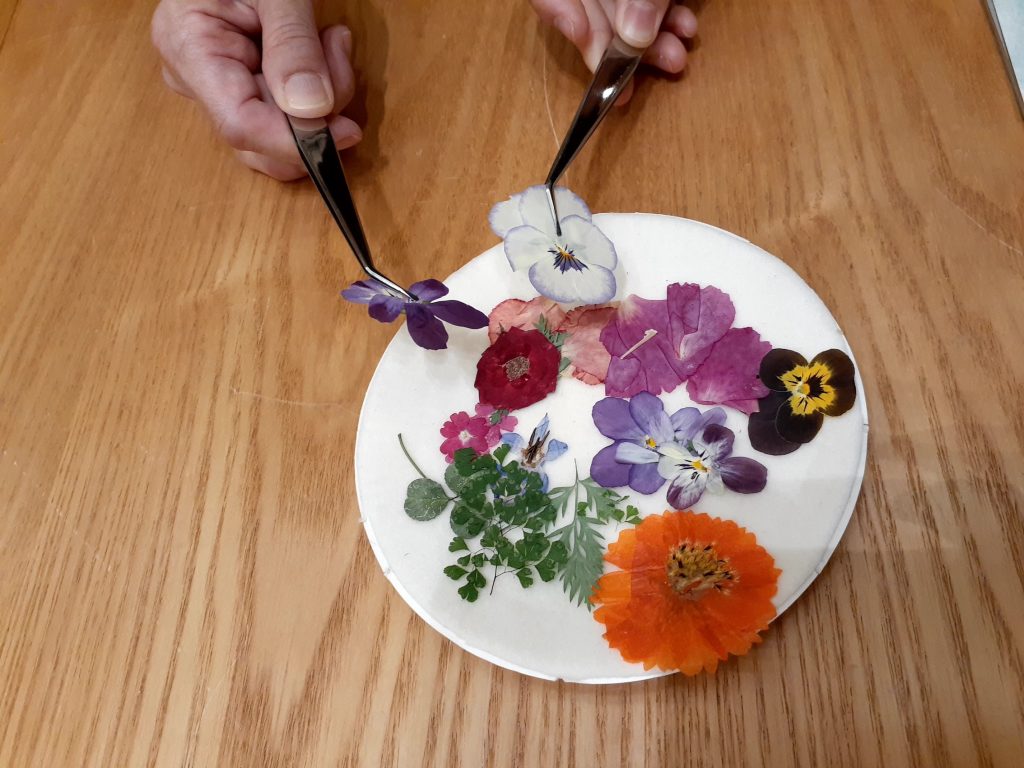 A large portion of farmed flowers are discarded because of their appearance, even for small reasons such as having a curved stem, scratches or black patches, or being of a different size. Even flowers that pass inspection have yet to complete a second journey, where many lose their freshness due to lack of proper storage. And finally, when they reach the store shelves, again some are thrown away as leftovers. In all, roughly only half of harvested flowers make the cut.
In this workshop, participants upcycled dried waste flowers by decorating two kinds of postcards with different designs: one of a glass of lemonade, and another a drawing of a slim woman in a dress. Participants affixed the dried flowers to the top of the cup to make a bouquet in the glass, and to the dress to make a full flowery skirt.
Even the postcards themselves were made from waste flowers! Hanae Japan produces other products as well made from recycled flowers destined for the bin. But the organization's main mission centers on arts education.
Fostering Art Education
To promote the full utilization of living flowers, the organization uses a system they call 'infiorata,' where flowers are used as material in art pieces. Then, any leftover flowers are turned into recycled flower paper used for sketchbooks and other art supplies that are gifted to art students.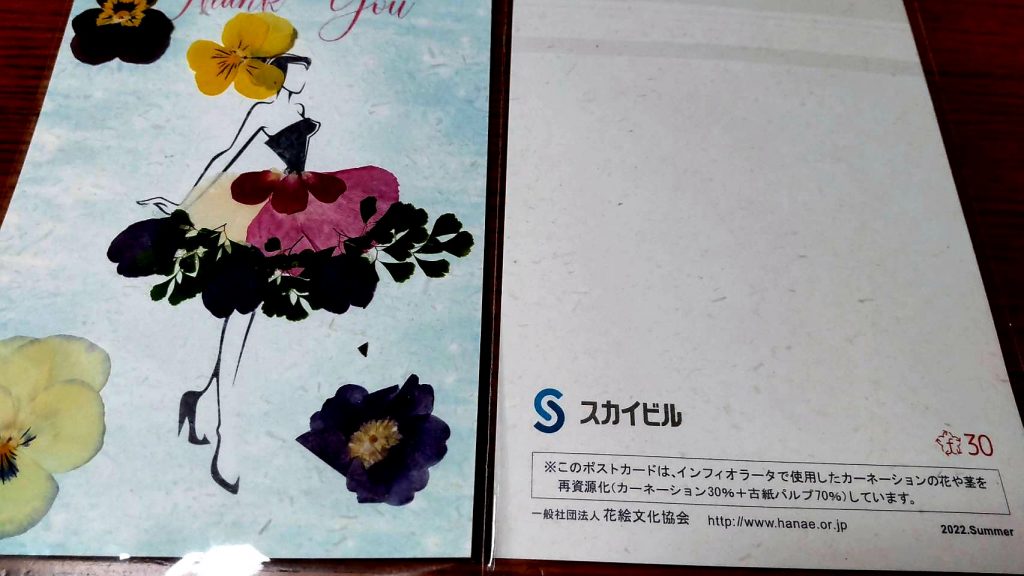 These products bear a recycled symbol – arrows in the shape of a cherry blossom surrounding the letter 'f.' Next to the symbol is a number, for example 30, which shows the ratio of recycled flowers used.
Often the organization makes donations to kindergartens and other schools for young children with special needs. With such supplies, Hanae Japan hopes to nurture an awareness of waste and also foster the children's artistic ability and creativity in hopes that they will continue to make flower crafts in the future. And so the cycle goes on.
You can find out more about their activities here.
This craft requires no special equipment – just a postcard (pre-designed, if you wish, so you can customize it), well-dried flower petals, tweezers, a cotton swab, and glue. Having a plate to hold your flowers is also useful.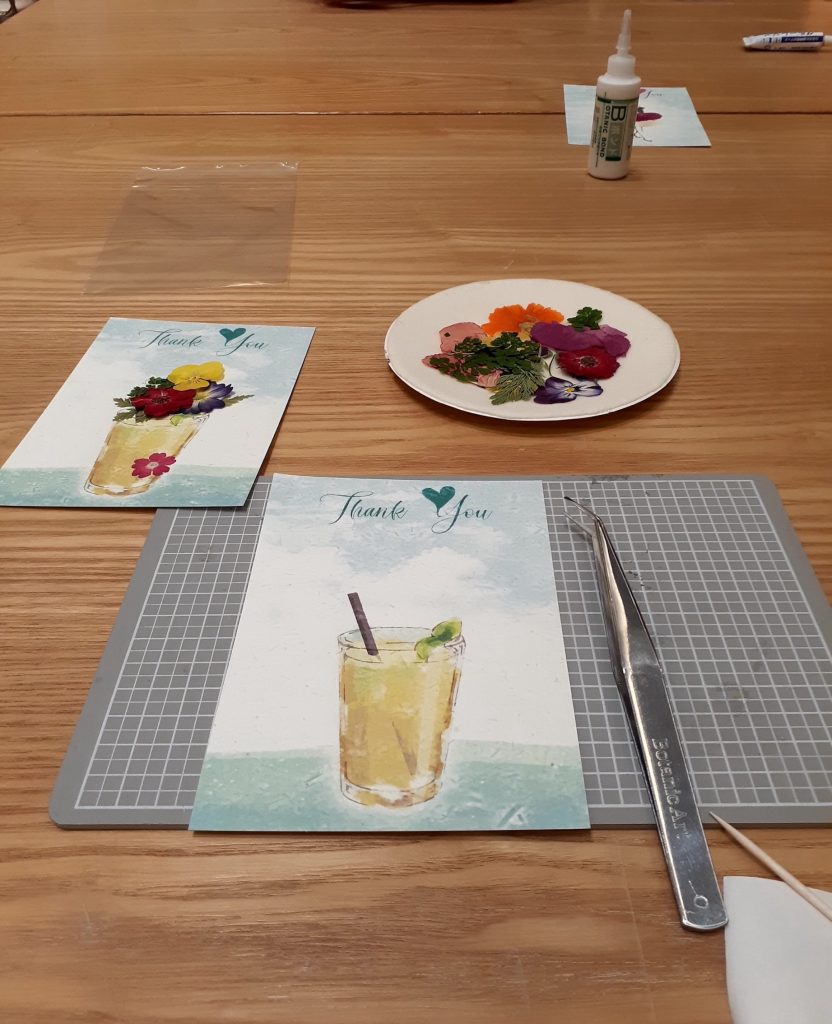 Tip: Don't overuse the glue. The delicate and fragile petals can smudge and change color with too much glue. Dip the cotton swab in the glue and dab at the spot where you'd like your flower, apply, and press hard. They will stick immediately.
Enjoy the process, and let your creative mind roam free!
Making Eco Wrap with Beeswax
I was personally looking forward to this two-hour workshop, hosted by Japanese-Australian eco wrap business, KoKeBee.
It taught participants how to make eco wrap while raising awareness about the plastic crisis. Unlike many types of plastic wrap that can take up to 450 years to decompose and are non-recyclable, these 'eco wraps' are biodegradable and made from natural cloth, beeswax, jojoba oil and resin.
In fact, you'll find lots of other problems with your everyday kitchen supplies. According to the workshop's presentation, paper cups take 50 years (because of the inner PVC lining), plastic bottles (PET) take 450 years, and plastic containers or toys (HDPE) take a whopping 1,000 years to decompose. Not only are these polluting our environment, but they are also directly impacting consumers through our food.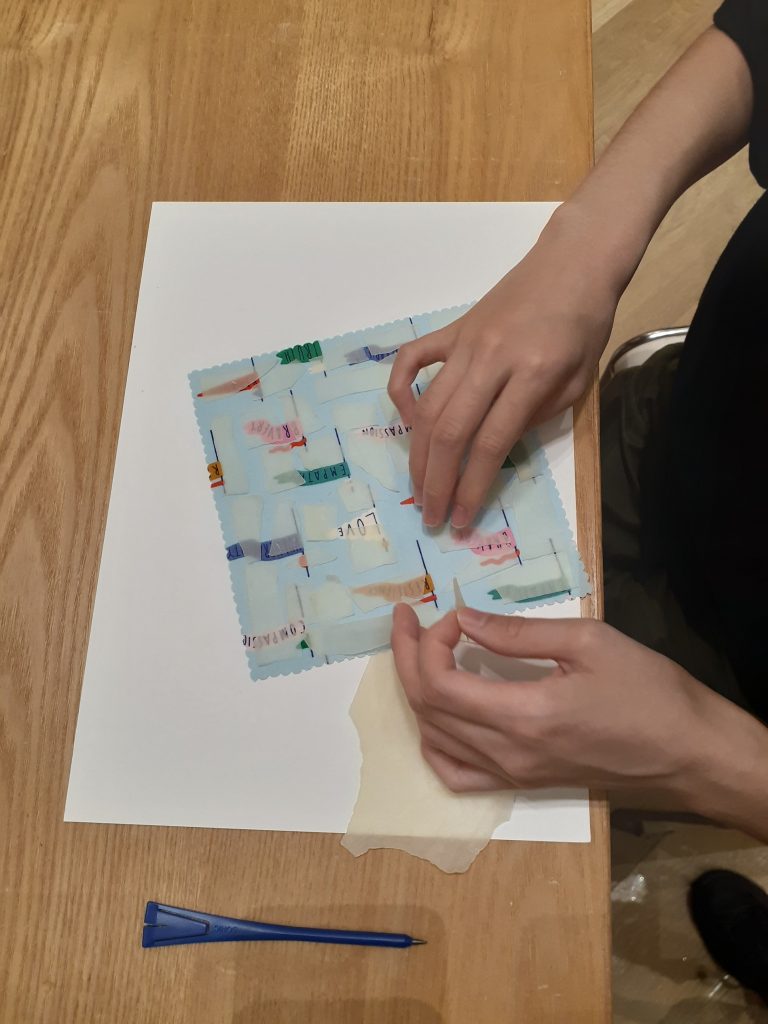 Almost all plastics are coated with toxic chemicals that affect human health, inflicting numerous diseases on us, including asthma, developmental difficulties, Parkinson's, and cancer.
Food that reaches our plates has most likely been exposed to plastic in one way or another, especially in our plastic lunch boxes. Plastic naturally attracts oils, so oily food can easily be contaminated with these hazardous toxins before we eat it.
What you can do to avoid this is:
Avoid: packed fruit and vegetables
Choose: bare fruit and veggies that you can buy by weight; or grow it yourself
After all, there's nothing wrong with extra effort, right?
Avoid: tea bags/coffee cups/bottled beverages
Choose: loose tea leaves/reusable coffee tumblers or stick with homemade juices and fizzy drinks or tap water in your own reusable tumbler
Let's be grateful for our clean water and take full advantage of it with our fight against bottled water.
Avoid: ziplocs, paper bags (food containers that are disposable), plastic wraps
Choose: plastic/glass containers, mason jars, or…beeswax wraps!
By using eco-wraps, you can contribute to SDGs 3, 12, and 14 ― Good Health and Well-Being, Responsible Consumption and Production, and Life Below Water — just by making a slight change to your kitchen gear. This is a change worth making.
Here's How To Make a Wrap
What to prepare: cloth, beeswax, cooking/baking paper, newspaper (if possible), an iron
Note that using cruelty-free beeswax and organic cotton cloth can make a huge difference. According to KoKeBee, a majority of crops depend on bees. However, increasing usage of harmful pesticides and other agricultural chemicals is causing numbers to dwindle.
The same goes for cotton fields that are also heavily reliant on these busy bees. By using beeswax wraps made from natural ingredients, you are making a positive impact on the protection of bees, and decreasing the amount of chemicals used.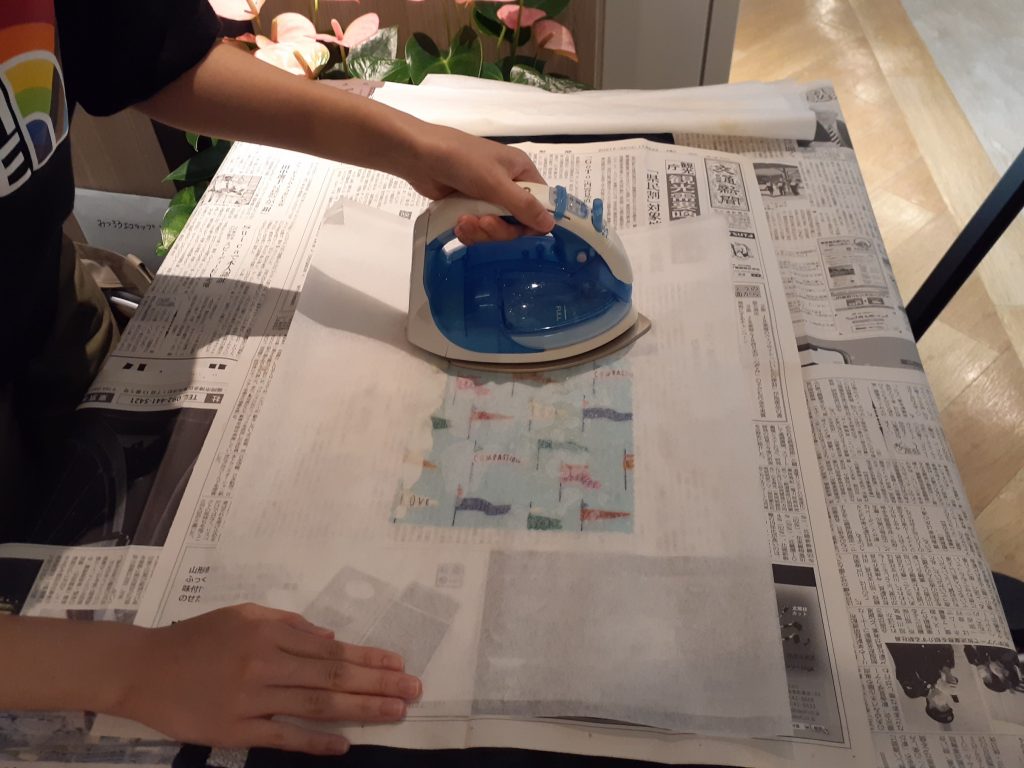 The wraps can be finished in roughly 15 minutes! Now, for the steps:
Prepare a square piece of cloth
For our workshop, KoKeBee prepared their original Beeswax Food Wrap DIY kit for us. You can also order this from their website, www.kokebee.com.
Line it with beeswax
If using a sheet of beeswax, tear it into small pieces and line these up on one side of the cloth.
Tip: try to get the corners to avoid bald patches as much as possible
Carefully sandwich the cloth between two sheets of cooking paper.
Do this on top of newspaper to avoid spills.
Slowly iron
Iron the cloth at a slow, steady pace and make sure all the beeswax has melted.
Take out the cloth and cool
The beeswax cools immediately. When it has hardened, hold it up to a light to check for clumps of beeswax. Iron to smooth them out if necessary. Lightly wash them and they're ready to go!
Just a few things to be careful of―unlike typical plastic wraps, these cannot be microwaved when reheating a wrapped bowl of leftovers. Acidic foods or soaps can melt eco-wraps, so be sure wraps are not exposed to them. To avoid staining, keep wraps away from curry powder, turmeric, and beets.
If any bald patches start popping up, cover them up with any leftover beeswax and repeat the same steps. Eco wraps last a long time, but start wearing out after a year or so. This is when they deserve a rest in a good garden bed or compost.
Even if DIY isn't your thing, don't worry! Here are some eco-friendly wrap brands you can check out:
Happy greening!
Find past blog posts by Moa Maeda at this link.
このページを 日本語 で読む