Tokyo Rainbow Pride 2023 Pressing for More Awareness of LGBTQ
With over 200,000 participants, Tokyo Rainbow Pride 2023 brought attention to the issues of LGBTQ at a crucial time in the political landscape, say organizers.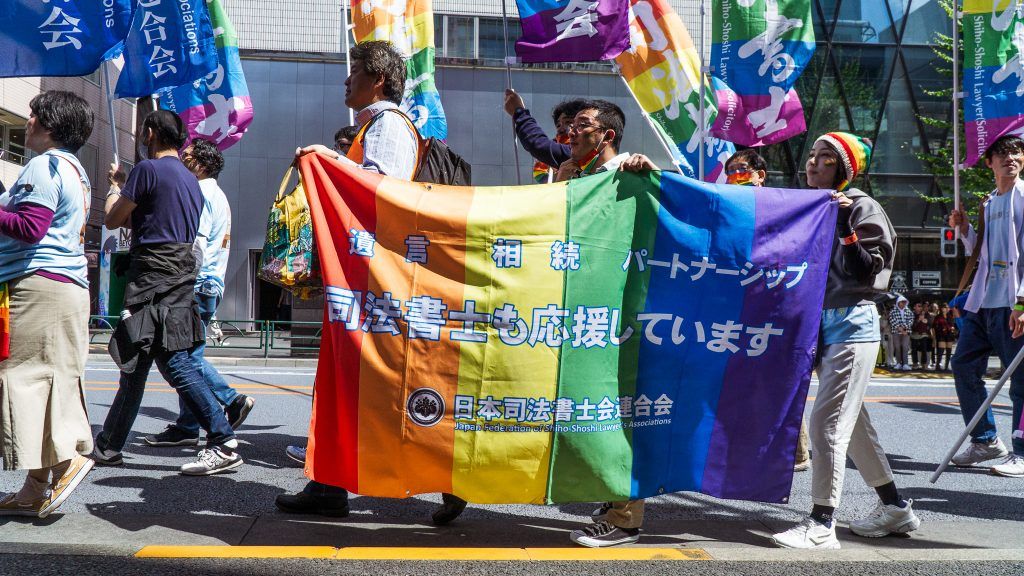 For the first time in four years, one of Asia's biggest pride events was back in Tokyo as Tokyo Rainbow Pride 2023 took place on April 22-23.
Under glorious sunshine at Yoyogi Park in Tokyo, an estimated 200,000 people gathered at the event over the weekend of April 22 and 23. Food, drink, live music, face paint, and general fun was enjoyed by all. According to organizers, approximately 10,000 people participated in the star of the event, the parade on Sunday afternoon.
Although the event did take place officially in 2021, there were restrictions on the number of participants due to the COVID-19 pandemic. Therefore, the 2023 edition was the first time in four years without restrictions on participation.
Many luminaries were present, including Ambassador Rahm Emmanuel from the United States and Ambassador Gianluigi Benedetti from Italy. There were also many Japanese politicians, and over 200 booths of NPOs, associations, and companies from the private sector.

'Press On Till Japan Changes'
The 2023 event slogan was summarized by organizers as "Press On Till Japan Changes."
Activists posit that Japan is the only country out of the Group of Seven countries (G7) that doesn't have a national law formally recognizing same-sex marriage and prohibiting LGBTQ discrimination.
On the other hand, at the local level by 2022, more than 200 municipalities in Japan had introduced partnership systems allowing registration of the unions of same-sex couples and qualifying them for couple housing. Nevertheless, the application is not yet universal, activists say, considering that there are a total of 1,718 municipalities throughout the country.
Organizers pointed out that the event itself has also grown. Tokyo's first Rainbow Pride event was held in 2011 with approximately 5,000 participants. Since then, interest in the event has increased dramatically, to an estimated 200,000 participants in 2019. In interviews, several participants said they thought the 2023 event was the most attended edition yet.

LGBTQ Engagement with the G7
More widely, the first LGBTQ-related G7 engagement group met on March 30 in Tokyo, under the name of Pride7.
Event organizers welcomed the increasing attention that the topic has been receiving in society and called for continued pressure on the political institutions.
"We want to continue pushing until we create a society where everyone, not just LGBTQ, can live being true to themselves," said Natsumi Yamada from Tokyo Rainbow Pride NPO, speaking to reporters on April 23.

Steps Towards a Legal Framework
On April 25, the Liberal Democratic Party (LDP) kicked off a committee to discuss a proposed legal framework for increased understanding of LGBTQ issues. The debate is divided on whether a bill should be presented to Japan's National Diet, and if so what the framework for discussion should be.
Among the Tokyo Rainbow Pride organizers, some argue that it's crucial to have Japan pass national LGBTQ legislation. Organizer Fumino Sugiyama explained their view on April 23.
"It's incredibly important that we begin by pinning down a legal framework, because the truth is that without a [national] law, it's like we don't exist in society," said Sugiyama, referring more widely to the LGBTQ community.
He continued: "We are appealing for marriage equality because, if we don't, we [as a society] are saying that there are those who can marry, and there are those who can't. In other words, it sends the message that same-sex marriage isn't normal. And this idea is then linked to deep-seated discrimination."
"In order to change Japanese society as a whole, it's really important that we set a set of rules, and then go forward," he concluded.

Grassroots Understanding
To get a better understanding of what same sex equality means in everyday life, we spoke with Shoichi Kawasaki. He's a Japanese national living in Saitama. Kawasaki married his American husband in the United States, since same-sex marriage wasn't legal in Japan.
He is active in a local NPO, and has achieved some successes with local governments on the issue of same-sex equality. "We helped lobby for family certificates, which then allows family units to be recognized as well," he explains.
Still, he thinks there are blindspots in Japan's current legal framework. For example, he points to a lesbian couple he met at the parade who couldn't apply for a partnership certificate because they live in two different prefectures, Chiba and Saitama. (Both areas are close to Tokyo.)
He himself says that when his mother was hospitalized, his husband was not authorized to go and sign off on the paperwork in the hospital because he was not recognized as a family member.
"People would say that there isn't violence towards LGBTQ in Japan. I would agree to that extent. But in everyday life there are tiny traps. You can't do this, you can't do that," explains Kawasaki.
Still, Kawasaki is optimistic about changes ahead, "Pride7 marks an important change. We've been talking about same-sex marriage for decades, yet nothing really led to a serious debate. But now, the situation is gradually changing, especially among younger generations."

Participating Expands Understanding
When asked about advice he has for people approaching the topic of LGBTQ, Kawasaki points to the importance of participating in events such as Tokyo Rainbow Pride as an entry to the topic.
Quite apart from the legal jargon, one of the most appealing parts of Tokyo Rainbow Pride is the energy, the sheer sense of solidarity and warmth that emanates from those who participate.
"Try to participate in an event like this. If you can't participate, check social media and find out what it was about. Ask your colleagues, ask your friends. That way, you can figure out that it's not something that [just] affects other people, but maybe people that might even be around you," said Kawasaki.
He concluded, "I think when we create a consciousness that this is a problem that affects society as a whole, it can foster change, which makes life easier for everyone, not just for us."
One example of this can be found in a young woman in her 20s who goes by the name of Mai. She attended the event on April 22 with her sister. However, the first time she participated was as a teenager, she explained. At the time, she brought her parents along as a way to introduce them to the world of LGBTQ.
"I think just holding the event in of itself is a great way for people to find out about it and what it stands for," she said. "The ultimate goal is to have people understand that we are part of everyday life."
This article was first published on JAPAN Forward on May 2, 2023.