The use of the Asuka drone allows researchers to identify whales even in the midst of ice floes, where research vessels are unable to go.
~
The potential for drones has exploded in recent years, with uses ranging from applying pesticides to surveying damage after natural disasters. The news is filled with reports of tests using drones for tasks like home delivery, and it seems that for many of us, it will be impossible to ignore their expansion in the future.
In this article we'd like to discuss a new drone (also called a "UAV," or Unmanned Aerial Vehicle), introduced at the 6th annual Japan Drone 2021, Expo for Commercial UAS Market, held for three days in June 2021 at the Makuhari Messe convention hall in Chiba Prefecture.
Notable details of the new Asuka drone are presented below.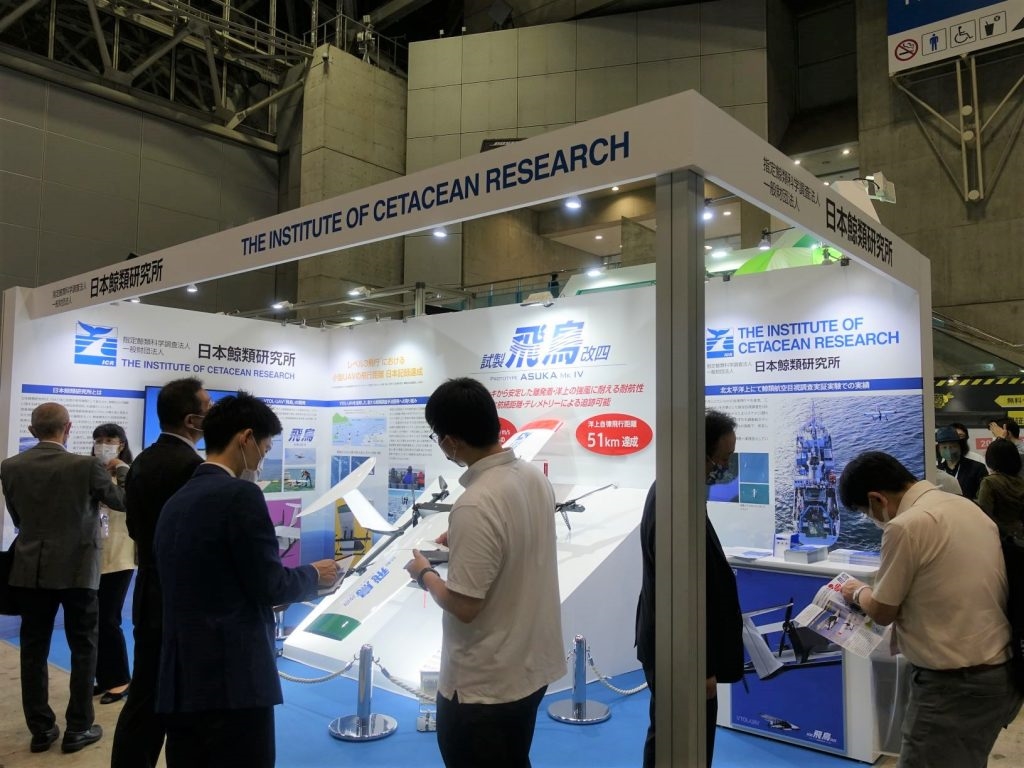 Focus on Features for Whale Research
First we'll focus on the development of Asuka.
Development of the small UAV began in 2019. The Institute of Cetacean Research (ICR) began with the goal of creating a completely new kind of drone that could be used for entirely new methods of whale research. Although we were producing a new drone distinct from any other in existence, it was crucial to seek the wisdom and ideas of specialists in the field, to lean on the techniques of established professionals.
The ICR, an authority in whale research, worked closely with drone engineers. We came up with a design by beginning with questions such as
"How have we carried out past whale research?" and
"If we were to develop a drone for whale research, how would we want it to fly," and
"What features would we want it to have?"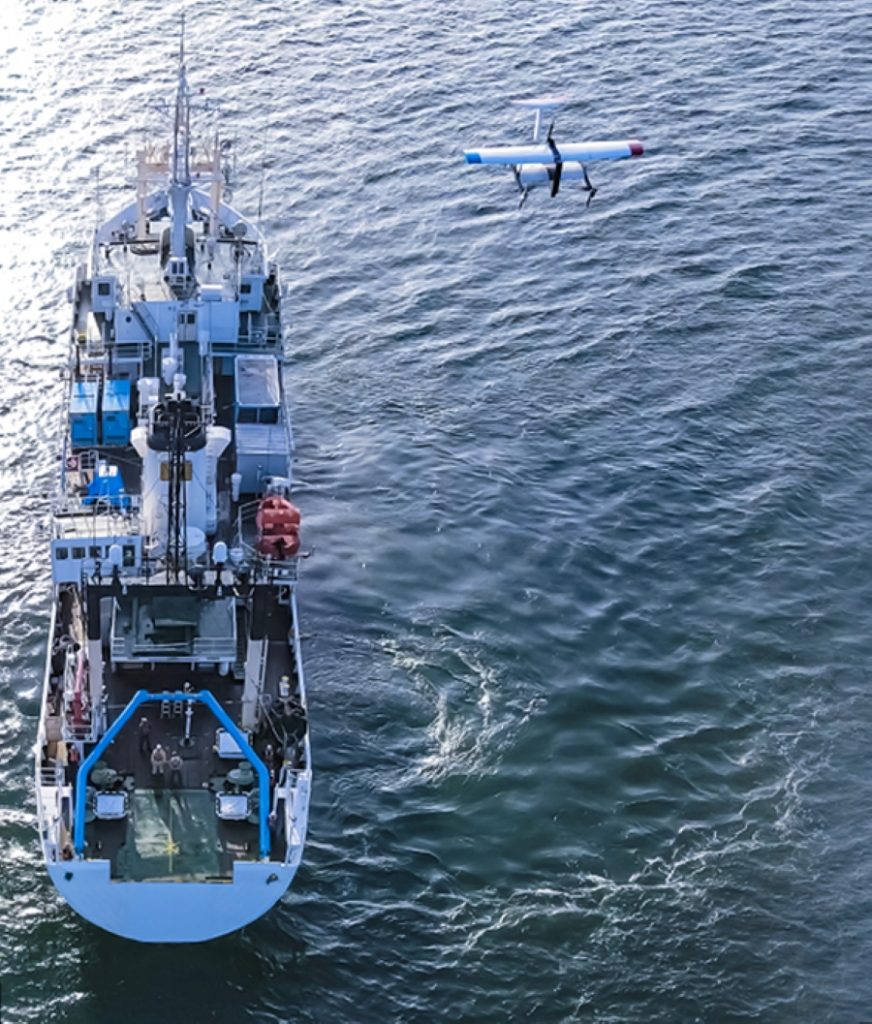 Where Research Vessels are Unable to Reach
Here we'll take a second to discuss the current state of whale research.
Until now, whale "sight survey" research has been carried out by dedicated professionals. As the name implies, sight surveys are carried out by researchers from ships at sea. They are constrained by issues such as line-of-sight limitations and an insufficient number of researchers.
The use of the Asuka, however, alleviates such concerns. In fact, the drone will be able to identify whales even in the midst of ice floes, where research vessels are unable to reach.
Launching from Moving Ships
The Asuka has two major specialized capabilities.
The first is its ability to take off and land even from ships on the move. Equipped with the ability to resist strong ocean winds, the drone can be safely operated even in wind speeds of 10 – 15 meters per second (22 to 33.5 miles per hour).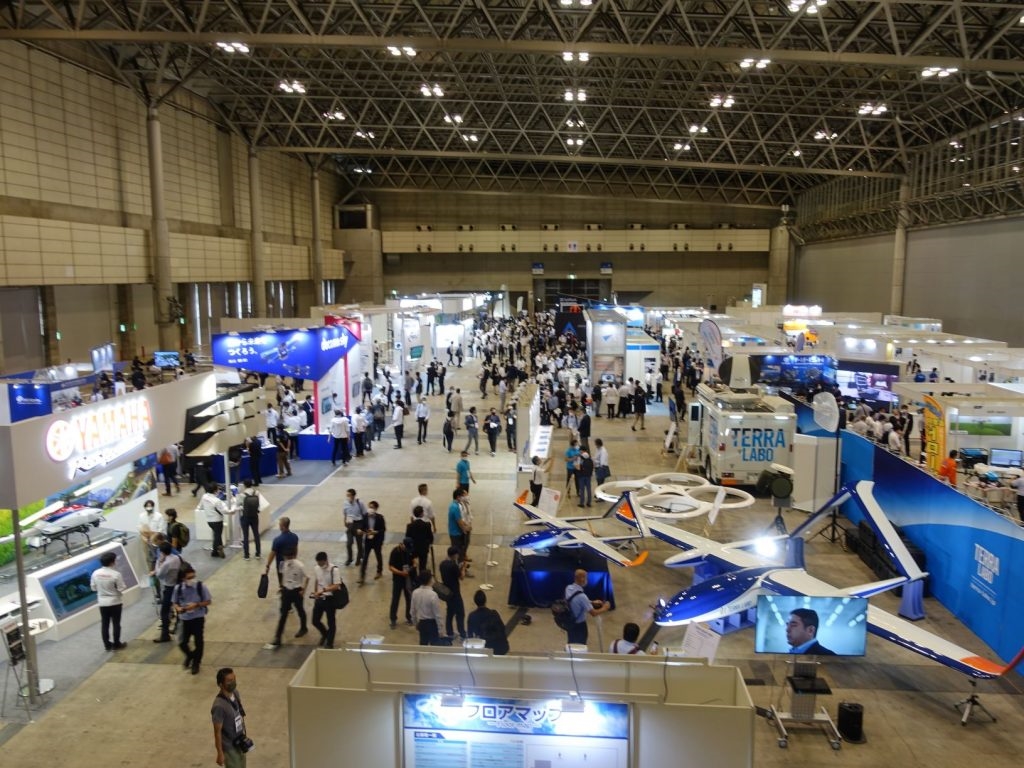 Extended Whale Surveys – Up to 51 kilometers
The second is that the drone is equipped with extended flight range and advanced telemetry. This allows extended observations of whales at sea. In March 2021, the Asuka achieved an automated flight distance of 51 kilometers over the North Pacific Ocean.
Six aerial sight surveys using the drone were carried out over Mikawa Bay in Aichi Prefecture. They were able to locate and identify four pods containing six finless porpoises, a smaller cetacean species. These surveys involved a total flight distance of 71 kilometers.
All flights successfully took off from and landed on the deck of a moving research ship. The Asuka doesn't require a dedicated runway for launching, and can be stored on standard ships. This allows it to be used in research over any ocean in the world.
There is no doubt that the new drone will lead us to previously undiscovered insights into whale ecology. We're excited for the day when these new discoveries reach the rest of the world.
Read the article in Japanese at this link.