Kochi has a whaling history that dates back to 1624, when hand harpooning of whales began there. The region will mark its anniversary of 400 years of whaling and delicious whale cuisine next year in 2024.
On an early morning in December 2022, meat from a minke whale was lined up at the Kochi City Central Wholesale Market. "The meat had been purchased wholesale directly from the sellers, and only a bit was left.
The whale had been caught in a fixed net in Miyagi Prefecture. "They usually don't sell (whale meat) at auction these days," said Hitoshi Inobe, head of the market.
"The sellers took some of the meat when they left, including the meat from the head," said Ryuichi Nakamura, director of local wholesaler Daikuma Suisan. "The red meat sold for about ¥4,000 JPY (about $30 USD) per kilogram."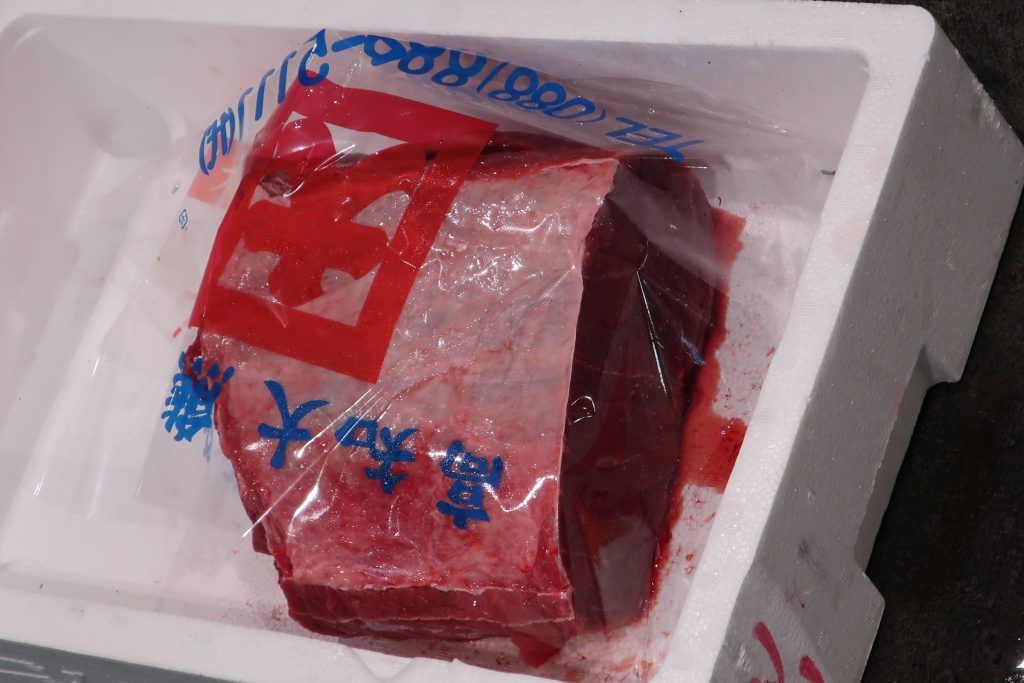 The meat from the whale was sold out at the market a short time later. Once again, I could feel the strength of Kochi's whale food culture.
At the Hirome Market in central Kochi, and in surrounding restaurants which attract large numbers of tourists, shops that serve whale dishes such as sashimi and fried "tatsuta-age" were crowded and lively.
Eat Whale Sukiyaki to Bring a Big Catch
Koichiro Chizaki, the chairman of Kochi Kujira, a seafood wholesaler established in 1950 that offers various whale products, described some of the whale delicacies unique to Kochi. They include whale meat "sukiyaki," simmered in soy sauce and sugar, and "nuta," made with white miso, yuzu, vinegar and sugar, and served with garlic leaves.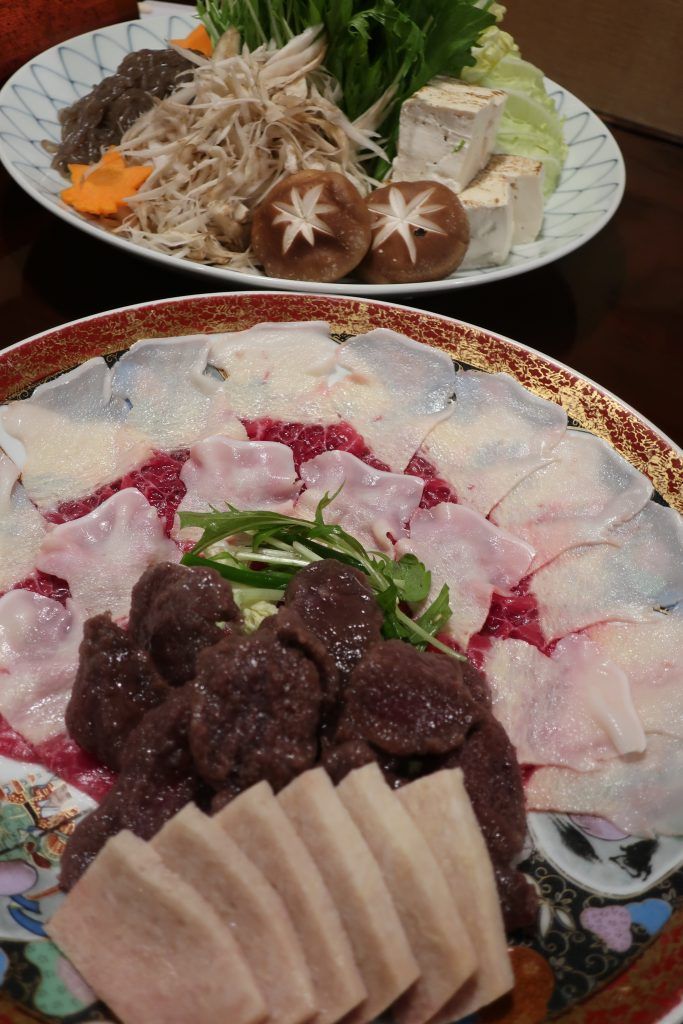 For sukiyaki, the soy sauce and sugar give a sweet and spicy flavor. "It used to be eaten on New Year's Eve as a good luck dish to bring a big catch," says Eiko Mitani, who has been training chefs for half a century as a senior advisor at the RKC Culinary School in Kochi. "In the old days, when soy sauce and sugar were precious ingredients, we used a lot so that many people could eat them." She said the whale is not grilled, but simmered in the thick sauce.
Whale sukiyaki was served recently at the "Suigeitei," a restaurant in central Kochi. Its name means "drunken whale."
Takamitsu Takaoka, the restaurant's general manager, said he normally only serves "harihari nabe," a whale meat hot pot dish made with mizuna (a type of Japanese green vegetable). He also prepares shaved gobo (burdock) roots and konnyaku (konjac) cut into thin strips. The dish has a deep flavor that would be great in bento lunch boxes. In addition, it matches well with white rice and sake.
Muroto, the Birthplace of Traditional Whaling in the Tosa Region
Cape Muroto, on the southeastern tip of Japan's Shikoku Island, juts out into the Pacific Ocean along with Cape Ashizuri on the island's southwestern tip. Whales and dolphins migrating up and down the coast of Shikoku pass near the capes. And occasionally they are caught in the large fixed nets that sit offshore.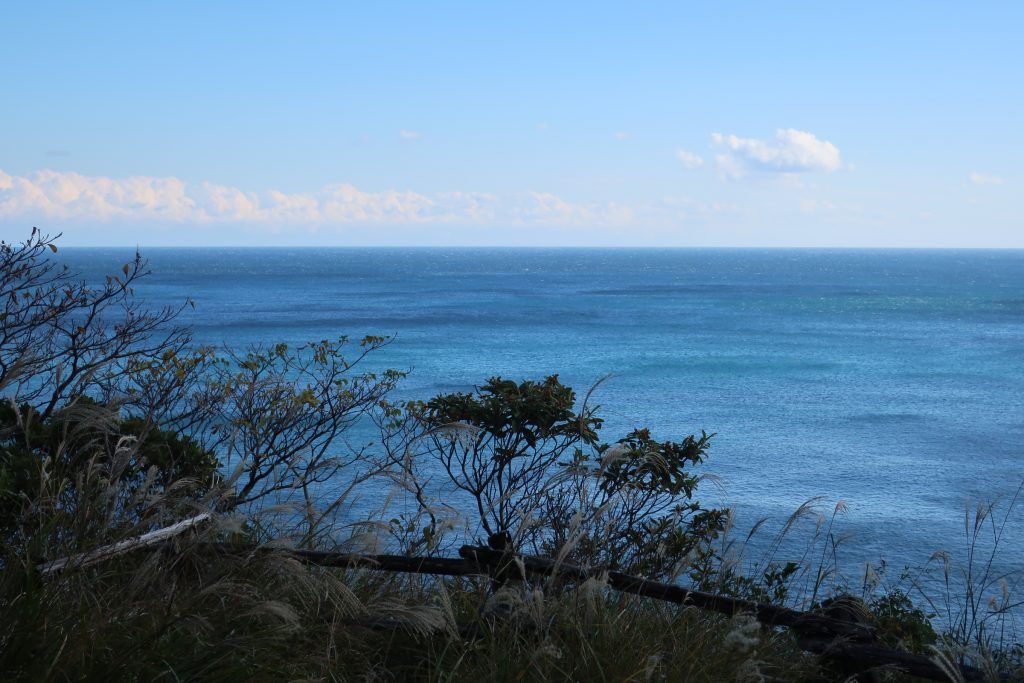 Whaling in Tosa, the old name for the southern region of Shikoku, began in the early Edo Period. Traditionally, it also used nets to entrap whales.
The method was developed in Taiji, in Wakayama Prefecture. From there it was passed on to the Ukitsu and Tsuro whaling groups on Cape Muroto and Cape Ashizuri, respectively, bringing them great prosperity. The region has also produced many famous modern whalers, such as Tosataro Yamaji and Moriichi Izui.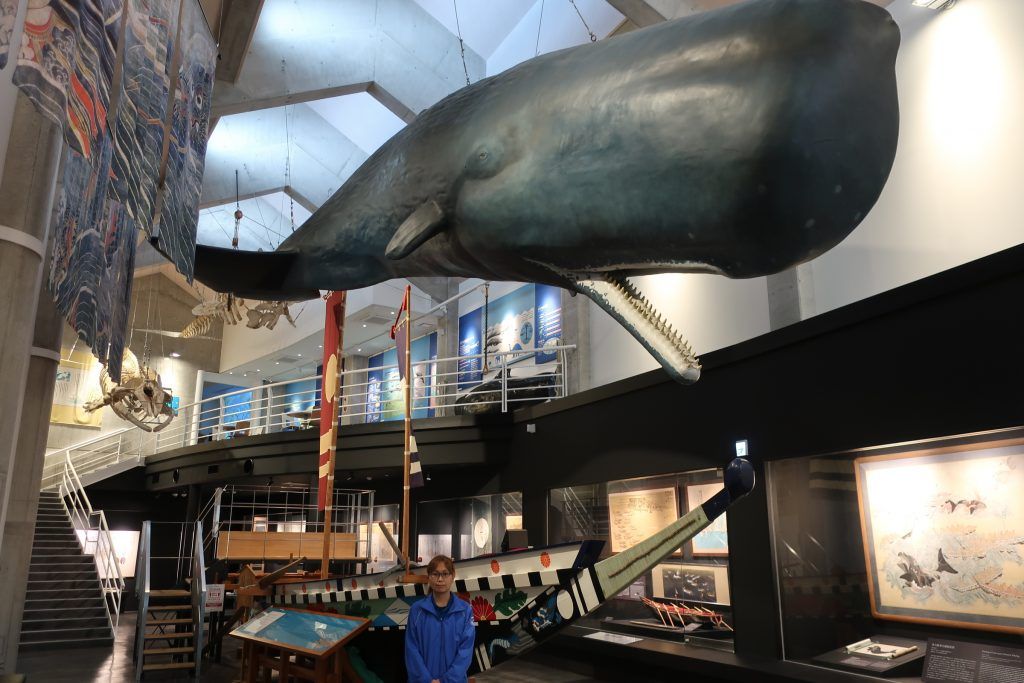 Minke Whale Skeleton Hanging from the Ceiling of the City Office
Muroto City Office is probably the only municipal office in Japan that has a minke whale skeleton on display at its entrance. It is a clear sign of the city's passion for living with whales.
"Kiramesse Muroto," the city's roadside visitor center which sits just off the coast, includes a whale museum. There, the region's whaling history is introduced. It has a restaurant as well, Isa no Go, that serves local whale dishes.
At the whale museum, visitors can experience a tale of man and whale through digital technology. It is an exhibit based on drawings made from the late Edo Period hundreds of years ago, depicting the heroic struggles of ancient whalers.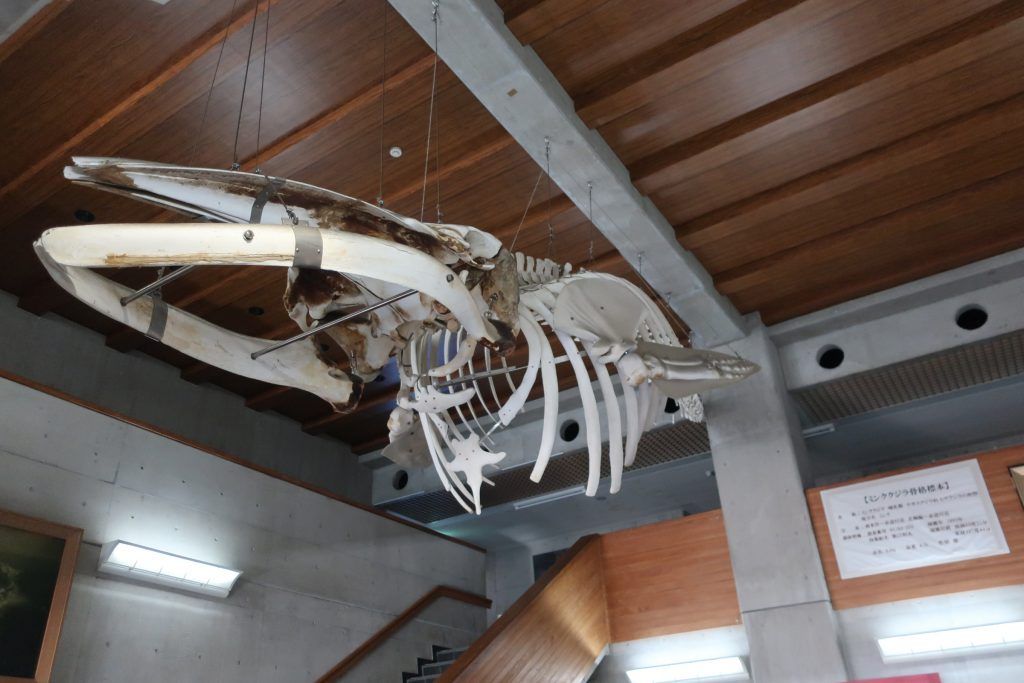 Visitors are also introduced to exhibits such as a full-scale replica of an ancient seko-bune whale hunting boat. In addition, there are skeletons of humpback and sperm whales caught in the city.
Next door, Isa no Go restaurant attracts many tourists who want to sample whale dishes during their visit. "We try to prepare foods that are easier to eat for people who aren't used to whale," says Risa Kigawa, who works at the restaurant. The "whale gozen" set menu includes half-thawed sashimi, "tataki" whale with special ponzu sauce,"tatsuta-age" fried whale, and "saezuri" whale tongue with vinegar miso sauce.
The "whale chop teishoku" lunchbox set, served with a homemade garlic ketchup, is popular among young customers. And some people come back just to have it. The restaurant also offers new takes on traditional recipes, such as fried whale, and whale served in a korean-style "bibimbap" stone bowl.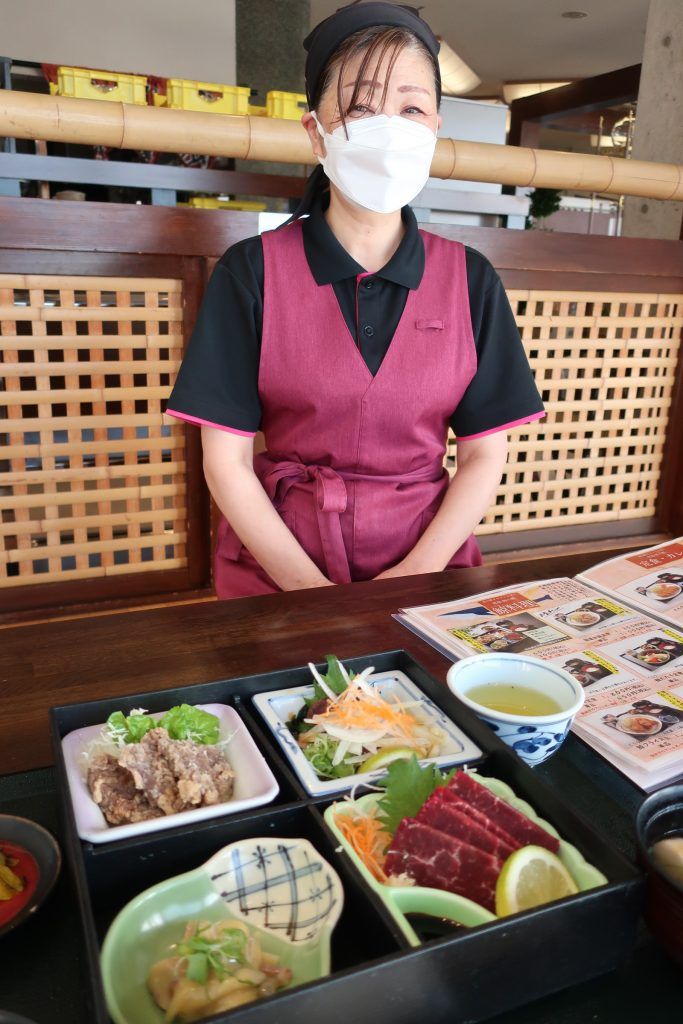 Whale Cuisine, a Sustainable Use
Kinmeidai (golden eye snapper) is also famous in the cuisine of Muroto City. Kagetsu, an upscale eatery established in 1925, often serves this fish on bowls of rice for lunch.
The restaurant's whale dishes include stewed whale, "tatsuta-age" fried whale, tail meat sashimi, whale tongue, and whale steak. "Young people rarely equate Muroto with whale," says the owner, Kunio Yamamura. After studying food products at a fisheries college, he worked in new product development at a major manufacturer. He makes sure to offer dishes such as fried whale that are suited to the tastes of younger customers.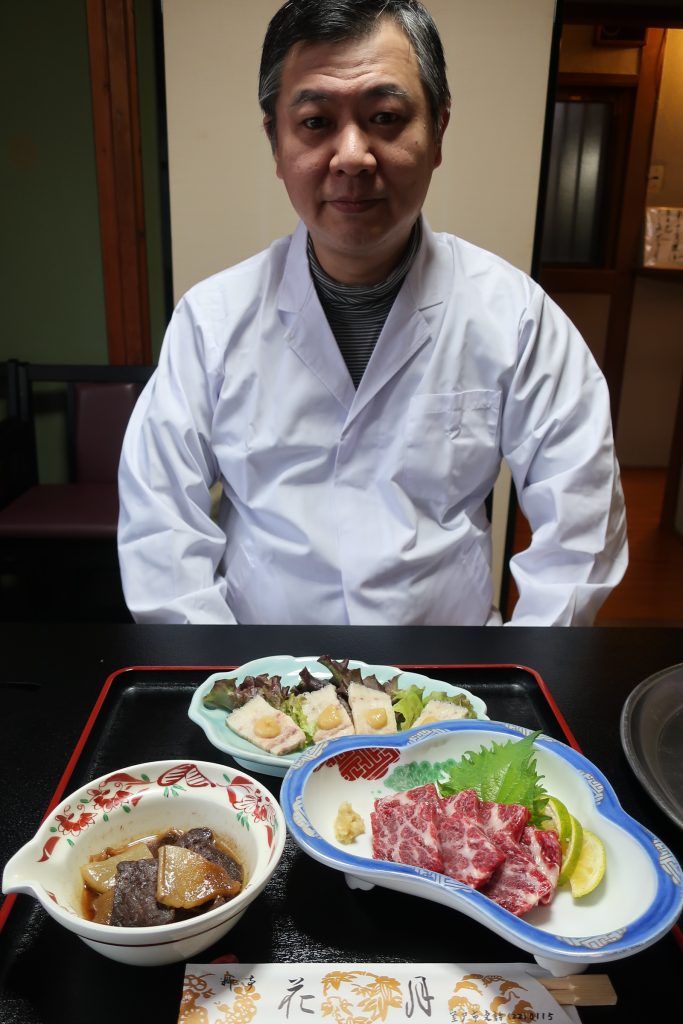 At the same time, he offers rare delicacies like whale tongue for customers who travel from far away. "I want to preserve whale cuisine, which uses whale caught in a sustainable manner based on scientific evidence," he says.
Yamamura recommended a fresh fish shop that occasionally sells whale caught in local fixed nets. The shop serves whale tongue prepared in the "nuta" style with garlic leaves and the bitter flavor of citrus, which was delicious.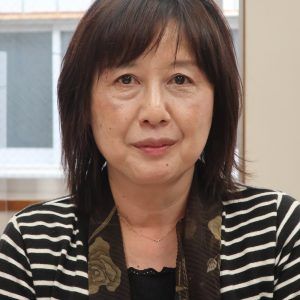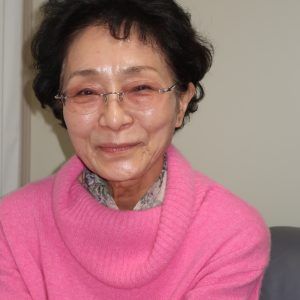 Whale Dishes In Food Education
The Kochi School Lunch Association includes whale meat meals in its education efforts. "We use whale meat as part of our food education classes, mainly during School Lunch Week each January," says Association Director Mayumi Shioi.
"We serve it simmered in ketchup-flavored aurora sauce, or 'Norwegian Style' (fried with ketchup and Worcestershire sauce). The ketchup flavor makes the meat easy to eat for the children. And the teachers are nostalgic about it, so it is very popular."
The food education classes also use other seafood, such as ayu (sweetfish) and katsuo (bonito). Even as Japanese diets trend away from fish, "if we can show children not only that such foods are of course healthy, but also how delicious they are, they will pass this knowledge on to their families," says Shioi.
Whale dishes "are also an important part of our food classes. We want to expand their use beyond School Lunch Week," she adds.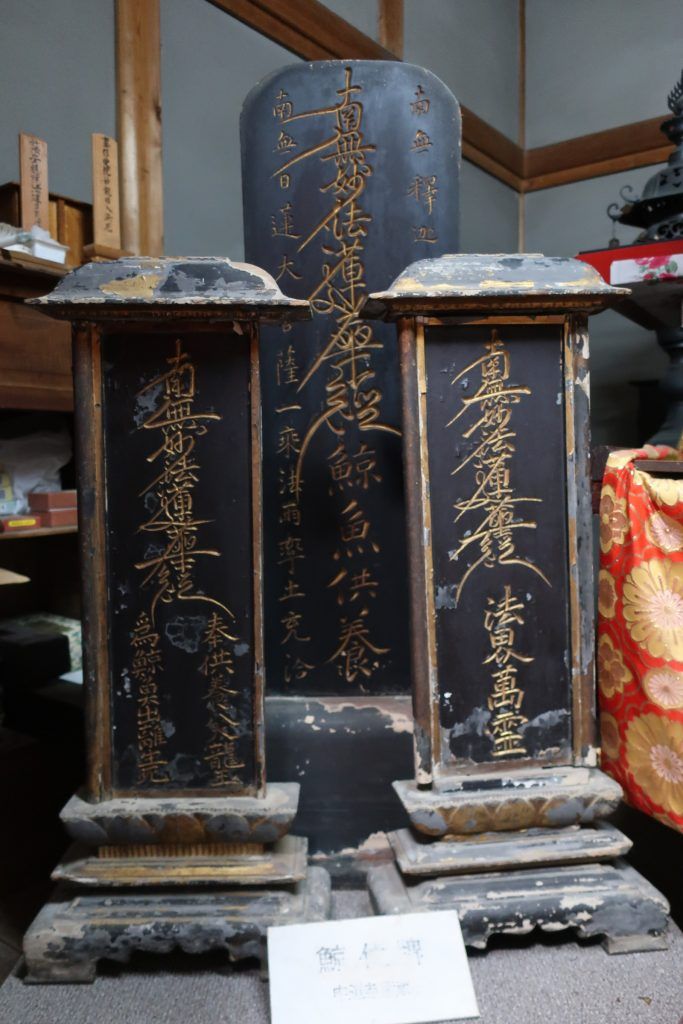 Spotting Whales in the Distance
The Muroto Peninsula, with its terraced cliffs rising up from the coast, was perfect for spotting whales in the distance. Likewise, it was great for lookouts on land to pass on instructions to whaling boats at sea.
The Shiina Lookout was built in 1624 between the villages of Shiina and Asuka in what is now Muroto City. About 50 meters tall and 20 meters square, it was used until the end of the Meiji Period in the twentieth century. Even now it commands a broad view of the Pacific Ocean. In the past one could find the remains of old signal fires lit there as part of whaling operations.
Other historical sites in Muroto City include a memorial tower for the spirits of 8,000 whales, dedicated by the famous whaler Izui at Kongochoji Temple. Also, there is a Buddhist memorial tablet for whales at Chudoji Temple. Furthermore, the guardian deities of the whaling clans are still enshrined at Ukitsu Hachiojigu Shrine in the community of Muroto and Ojigu Shrine in Tsuro.
RELATED:
(Read the article in Japanese at Kujira Town..)
This article is published in cooperation with the Institute of Cetacean Research in Japan. Let us hear your thoughts in our comments section.


Author: Suisan Keizai Daily News