Making Crayons from Used Makeup Aimed at 'Zero Beauty Waste'
Miho Osawa has made it her mission to reduce waste in the makeup industry by upcycling used makeup into crayons that people are excited to use.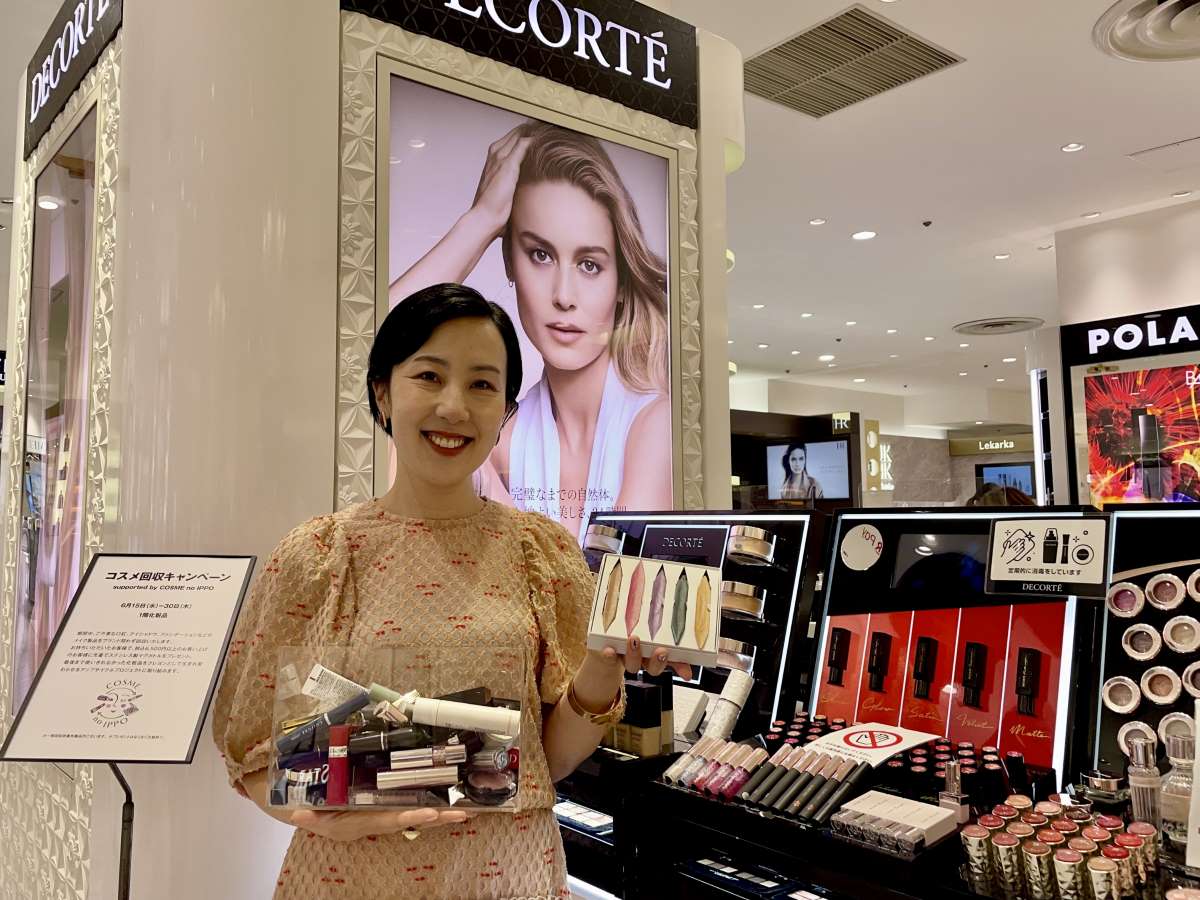 このページを 日本語 で読む
At home and in the beauty industry, old and unused makeup is often thrown away. In an endeavor to achieve 'zero beauty waste,' Miho Osawa, 39, proprietor of Maison de Mou (Chuo Ward, Tokyo), launched an upcycling project called COSME no IPPO.
Her project collects used makeup products that have served their purpose and gives them new value by recycling them into crayons. Osawa hopes the project will raise questions about the environment and the importance of material things.
Products collected via the project include lipstick, eye shadow, foundation and blushers. Most makeup types of any brand are eligible, except lip glosses and lip creams.
Items have been collected from several commercial facilities since October 2021, when the project was launched.
In June, collection was conducted at Matsuya Ginza (also in Chuo Ward), where over 1,500 items were contributed over an approximate two-week span.
Once-in-a-Lifetime Encounter
To make the most of the beautifully vibrant and diverse color palettes of the makeup products, Osawa came up with the idea of upcycling them into art supplies. She created crayons from the recovered contents of the cosmetics and named the product Helloyon.
The Helloyon crayons, sold as a package for ¥1,980 yen (about $14 USD), are twelve centimeters long and triangular-shaped. Determined not to create more waste, the individual crayons are not wrapped in paper. 
The color of each crayon is unique, as they are made from a wide variety of cosmetics with rich colors and lamé. Osawa hopes people can experience a once-in-a-lifetime special feeling each time they encounter a new color.
"It's sad to have to feel guilty about throwing away make-up that you once loved and were so excited about," Osawa says.
Working in the beauty industry, Osawa has witnessed massive amounts of waste generated from samples of new products and makeup items used only a few times for photo shoots. Eliminating waste in the beauty industry thus became her goal.
Even as consumers, we often end up having to throw away makeup because it has spoiled or expired before being used up, and in some cases, products can be incompatible with our skin.
When Osawa's company started collecting cosmetics, they were getting donations from not only consumers, but also from those in the industry, including manufacturers and makeup artists. Osawa says this made her even more aware of the demand for recycling and issues related to disposal.
Excitement Can Be Reborn
As a mother, Osawa also wants to "leave a better world for our children." With art supplies like crayons, she hopes to provide an opportunity for children to think about the environment while having fun.
Amid growing concerns over sustainability, Osawa isn't aiming to popularize her crayons in the short term as a momentary fad. Establishing a system that would allow for ongoing collection is her aim.
Through the collection process, Osawa calls attention to the environmental implications of large amounts of waste and the significance of upcycling. She wants to convey a spirit of cherishing material things that makes people ask themselves what they really want.
According to Osawa, transforming make-up into new things with new functions "can make someone's excitement about buying new makeup be reborn to another person's excitement."
From August 23 to September 5, items were collected at the Seibu department store in Shibuya. Individual collections are also available at any time through the project's Instagram account. The Helloyon crayons are available for purchase on their official website.
このページを 日本語 で読む