Abi Wins Rare Three-Way Playoff to Capture First Title on Wild Final Day of Kyushu Basho
Rank-and-filer Abi defeated Takayasu and Takakeisho in the playoff to secure the title. It was the first three-way playoff since March 1994.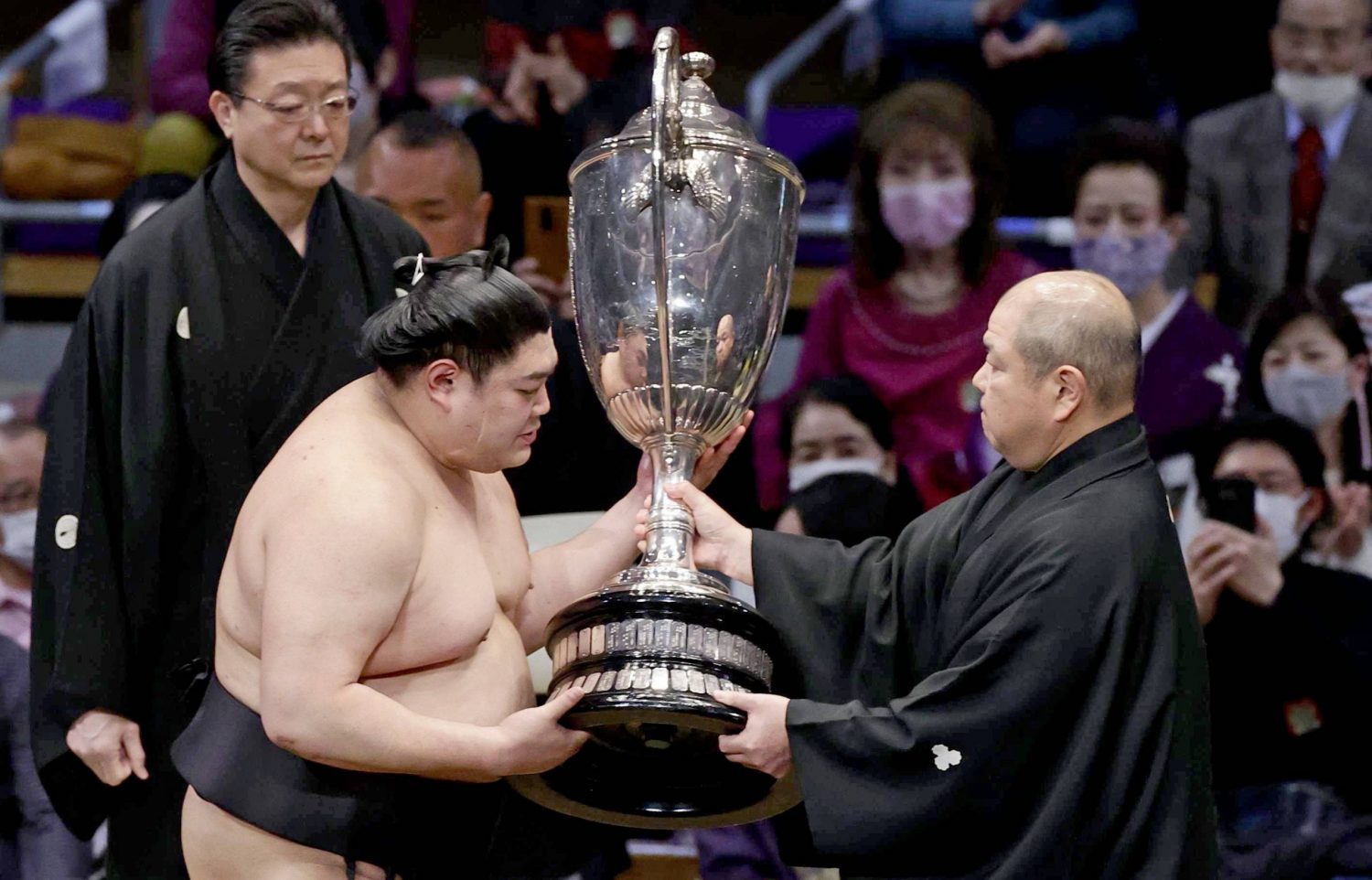 Unheralded rank-and-filer Abi beat Takayasu and Takakeisho in a rare three-way playoff on Sunday, November 27 to capture his first Emperor's Cup at the Kyushu Grand Sumo Tournament.
"It seems like a dream, it doesn't seem like reality," Abi said in a ringside interview. "My stable master emailed me and told me to just concentrate on one bout at a time. I just tried to focus on each one."
In the playoff at Fukuoka Kokusai Center, No. 9 maegashira Abi first defeated Takayasu for the second time on the final day when he dodged slightly to his side and then swatted down his opponent at the center of the ring.
Takayasu's head hit Abi awkwardly at the face-off and the top maegashira needed assistance walking off the dohyo.
Next up, Abi took on ozeki Takakeisho and used his trademark arm thrusts to the neck to complete a wild day of sumo and clinch his first championship.
"I tried to go in low and fast, that's the only thing I was thinking of," Abi said.
He added, "I can't really put it into words what this means. It hasn't sunk in yet." 
Abi was also awarded the tournament's Fighting Spirit Prize.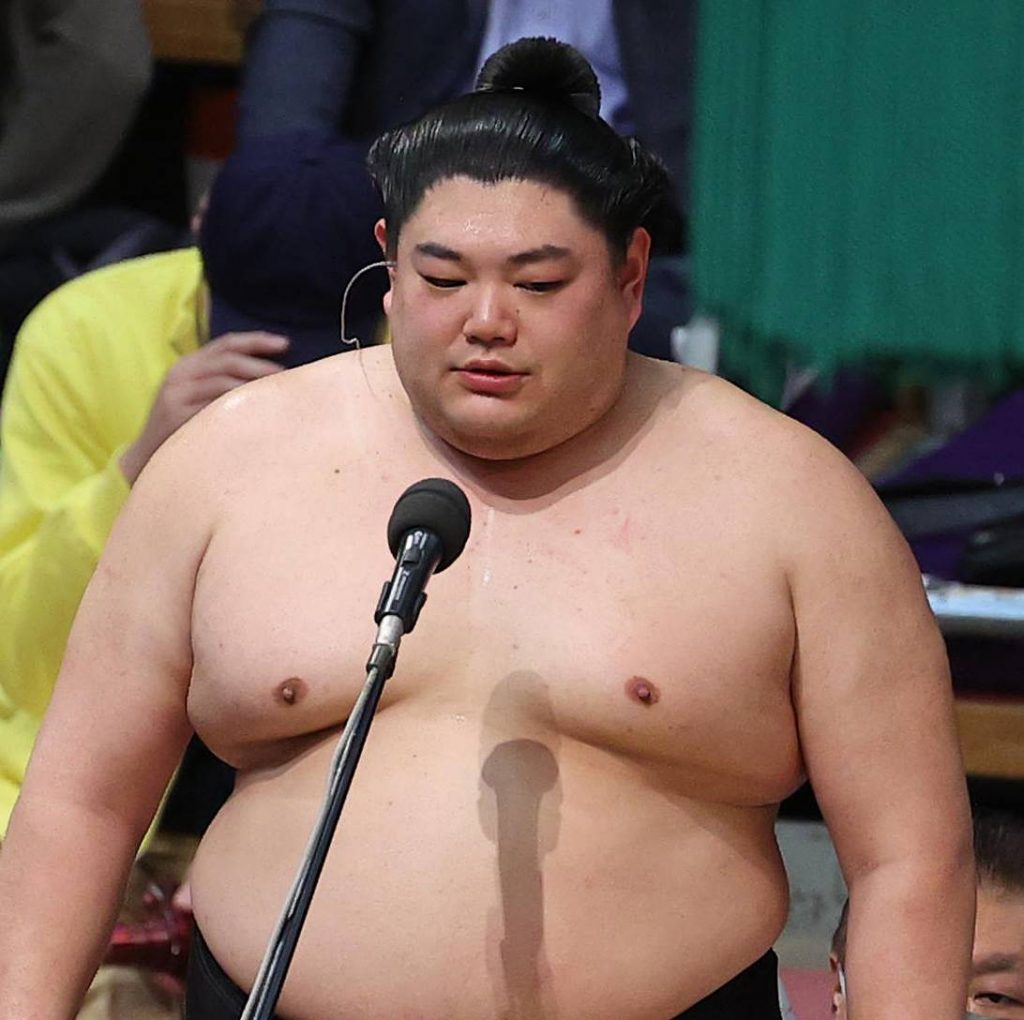 The last time there was a three-way playoff was in 1994 at the March tournament when grand champion Akebono won, beating Takanonami and Takatoriki.
All in all, there has been a three-way playoff six times in the history of sumo.
It also means there have now been three straight tournaments with rank-and-filers winning the title. Maegashira No. 3 Tamawashi won the Autumn Basho in September while maegashira No. 2 Ichinojo triumphed in the July meet.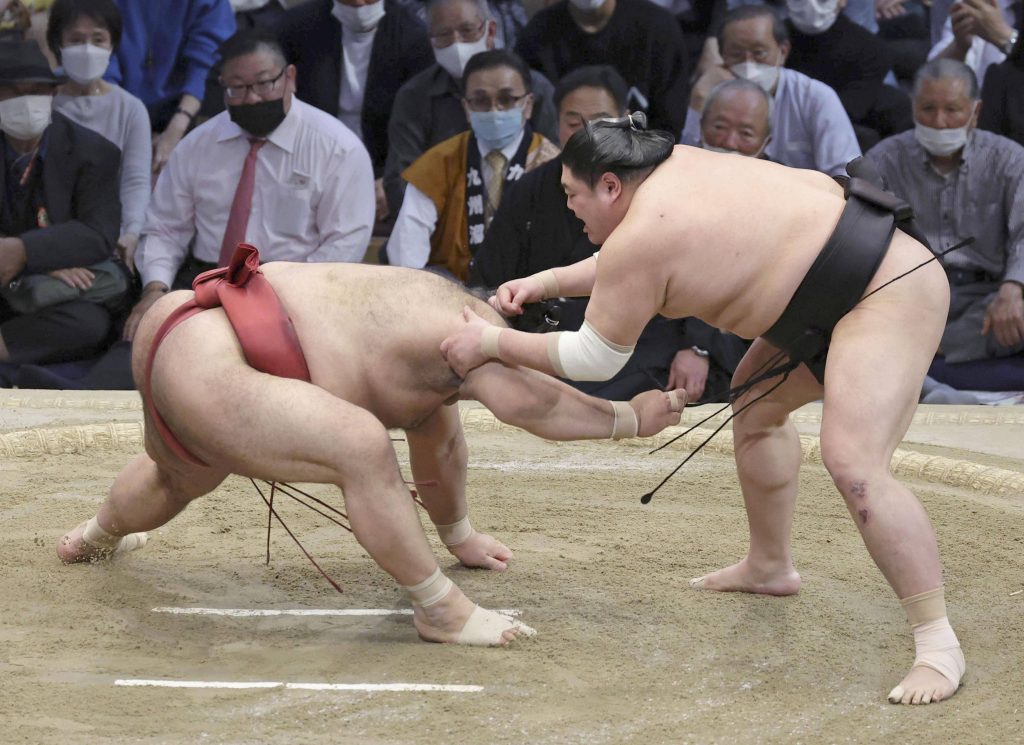 A Glorious Comeback for Abi
Abi, a native of Saitama Prefecture, sat out the September tournament with an injury. In addition to injury, Abi also overcame a three-tournament suspension from sumo in 2020 for violating COVID-19 protocol.
In regulation, Takakeisho outlasted a barrage of arm thrusts to book his spot in the playoff when he swatted down sekiwake Wakatakakage (8-7) to improve to 12-3.
Wakatakakage had defeated Takakeisho four straight times coming into Sunday's bout but was no match for the determined ozeki, who had won his two previous titles in Kyushu.
More Disappointment for Takayasu
It was a crushing day for former ozeki Takayasu, who has been knocking on the door for a long time. He has been a runner-up five times, including this year in September and March.
Takayasu could have won his first-ever title in his regulation bout against Abi, but once again couldn't get the job done.
In a ferocious battle, both Abi and Takayasu exchanged a series of powerful slaps and thrusts to the face.
Takayasu got Abi back to the edge and came within inches of wrapping it up, but the No. 9 maegashira fought back and then prevailed with a thrust-down victory when Takayasu attempted to pull his opponent down.
The result gave both men a record of 12-3 and forced a playoff at least between the two with Takakeisho still to fight.
Wakamotoharu, Oho Expected to Be Promoted for New Year Basho
In other major bouts, fourth-ranked maegashira Wakamotoharu used a beltless arm throw to defeat No. 13 maegashira Oho and give both wrestlers a record of 10-5.
It was an impressive tournament for rank-and-filer Oho, who was in contention for most of the event but lost his last three bouts. Both wrestlers should be moving up the ranks for the next tournament.
Mongolian sekiwake Hoshoryu defeated compatriot Kiribayama with a force-out to close out the tourney at 11-4. Hoshoryu was awarded the Technique Prize for his efforts. Komusubi Kiribayama finished at 8-7.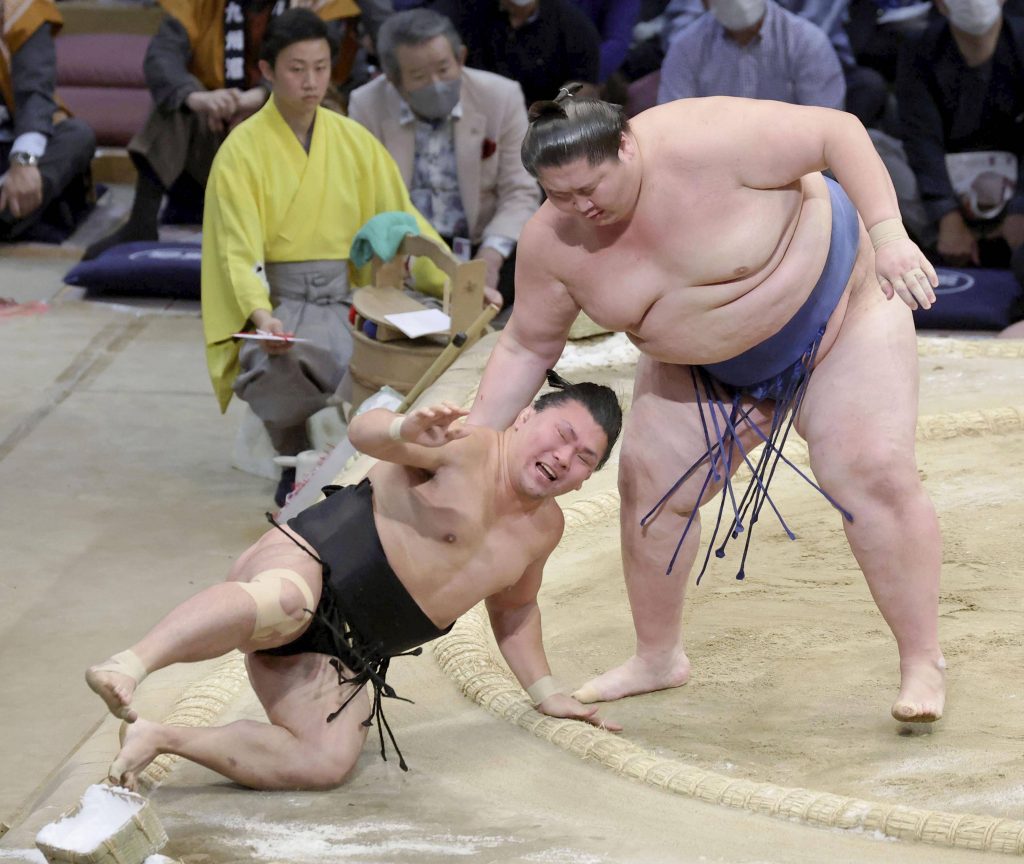 Terutsuyoshi Goes 0-15 in Kyushu Basho
No. 2 maegashira Ichinojo capitalized on his overwhelming weight advantage when he got a double-handed grip on the belt of Terutsuyoshi and deployed an arm throw to send his opponent toppling off the raised ring.
Ichinojo closed out the tournament with a 4-11 record, while Terutsuyoshi finished 0-15, becoming the first wrestler in the makunouchi division to go winless since Itai in the July 1991 tournament.
Top maegashira Kotonowaka forced out sixth-ranked maegashira Ryuden as both men finished the tournament with strong 9-6 records and should be earning promotions.
No. 2 maegashira Meisei also finished strong with a frontal force-out of No. 16 maegashira Hiradoumi, who also impressed in Kyushu and finished at 10-5.
Fifth-ranked maegashira Hokutofuji overpowered Shodai with a powerful thrust to the neck at the face-off and then shoved the ozeki out to improve to 7-8.
Shodai, who will lose his ozeki status for the next tournament, closed out at 6-9, short of the winning record he needed to avoid demotion.
 
Author: Jim Armstrong
The author is a longtime journalist who has covered sports in Japan for over 25 years. You can find his articles here.