Big Boss Determined to Do Things His Way
The season may have started off slowly but flamboyant manager Tsuyoshi Shinjo is living the dream in Hokkaido.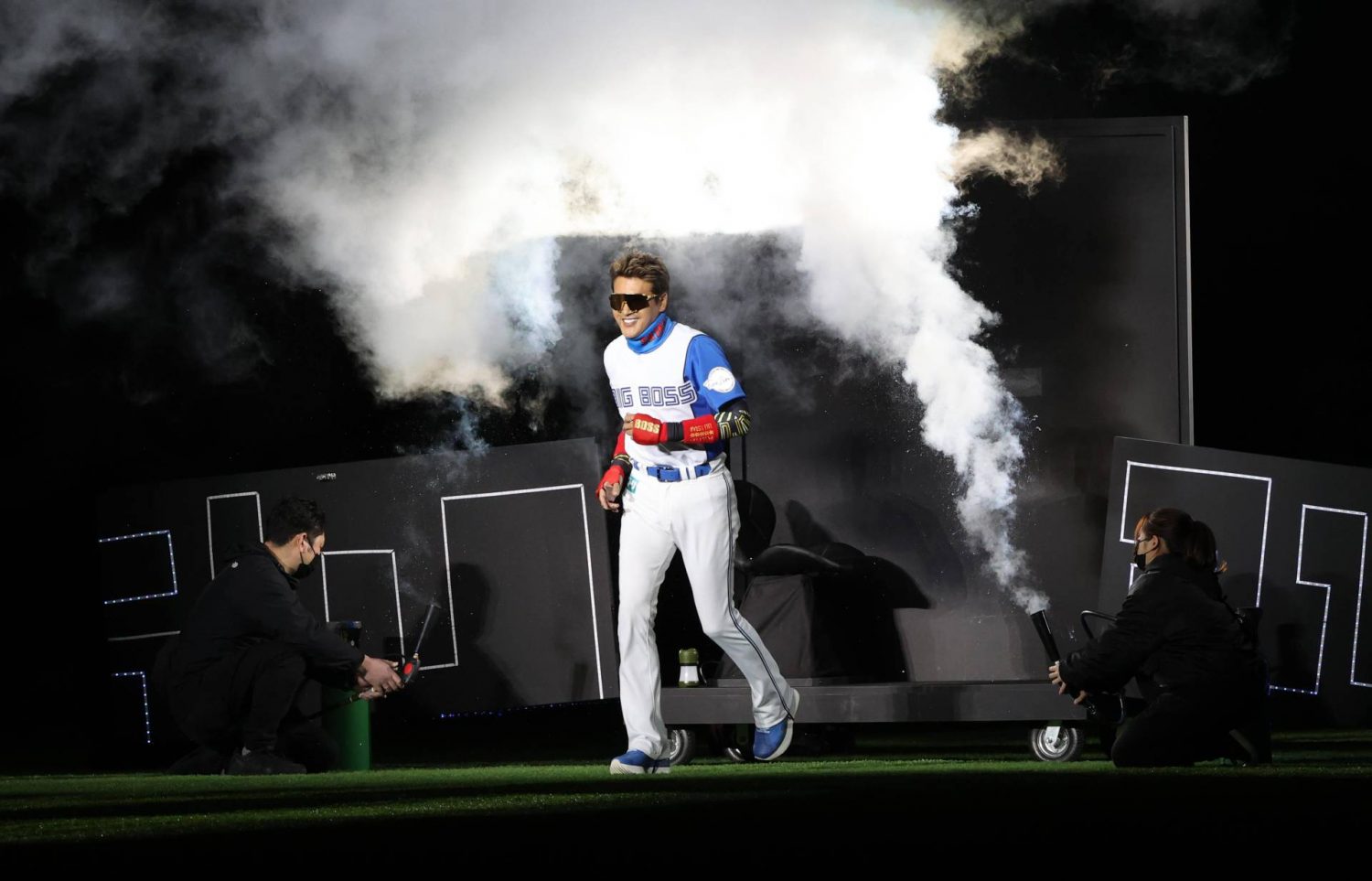 SAPPORO ― Despite a slow start to the season, first-year manager Tsuyoshi Shinjo is showing no signs of changing his unconventional ways as he looks to rebuild the young Hokkaido Nipponham Fighters.
Shinjo was brought in to shake things up after the team finished in next-to-last place in the Pacific League standings for three consecutive seasons.
Hiring a manager with no previous experience may seem like a risky proposition, but Shinjo has had an uncanny knack of proving his doubters wrong throughout his career as a player.
After a 4-11 start (through Tuesday, April 12), the naysayers in the notoriously staid world of Nippon Professional Baseball are already questioning his managerial abilities. But that hasn't fazed Shinjo one bit.
He knows he wasn't hired to maintain the status quo. There will be growing pains with this young team, and the guy who calls himself "Big Boss" is perfectly content with that.
The 50-year-old Shinjo recently discussed his philosophy ahead of a three-game set with the Tohoku Rakuten Golden Eagles at Sapporo Dome.

Referring to his previous managers in Major League Baseball, Shinjo said he had plenty to learn from Dusty Baker and Bobby Valentine, two managerial legends.
"Baker's style was pretty much to stick with a set lineup," Shinjo said, reflecting on his time with the San Francisco Giants in 2002. "That was good for a mature team like the one he had. But that approach doesn't really fit with a young team like this one. My approach now is more similar to Bobby's."
Shinjo's best season in the majors was 2001 with the New York Mets under Bobby V, who was not afraid to try different things. That seems to have made a lasting impression on the first-year skipper.

RELATED: [ODDS And EVENS] Bobby Valentine's New Memoir Revisits His Indelible Years Leading The Chiba Lotte Marines
Taking a Different Approach
Shinjo has used a dizzying array of batting orders this season. Some veteran baseball men have questioned the wisdom of that.
Former Chunichi Dragons manager Hiromitsu Ochiai, a man known for doing things his way, went on TBS's Sunday Morning news program and said he has no idea what Nipponham is trying to do, but Shinjo remains undeterred.

One case in point is promising young infielder Kotaro Kiyomiya.
The Fighters got rid of slugging first baseman Sho Nakata last season after it was revealed he had bullied a teammate.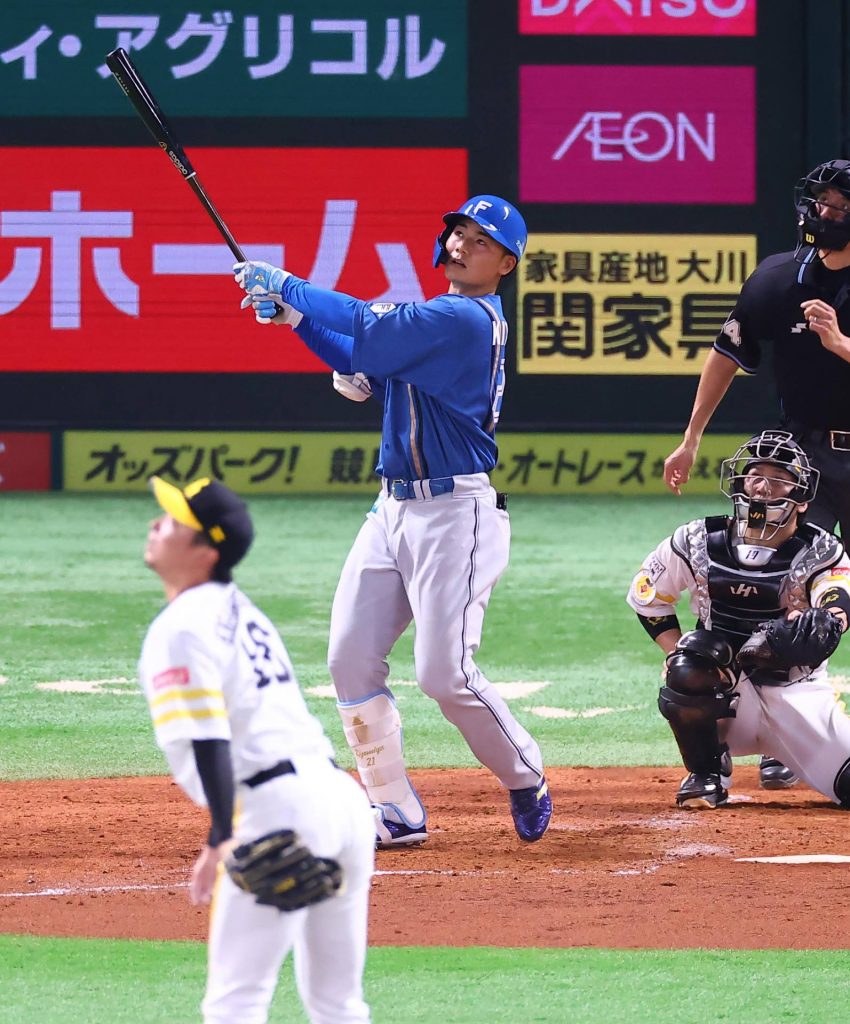 Nakata went to the Yomiuri Giants and that opened the door for Kiyomiya, a player who hit a record 111 home runs over three seasons in high school but has yet to reach his full potential in NPB.
"I'm not so worried about the wins and losses," Shinjo said. "The important thing now is to get experience for the players and build for the future."
Shinjo told the 22-year-old Tokyo native he needed to lose weight and that's exactly what Kiyomiya did, showing up for spring training this season at a respectable 98 kilograms.
While it's still early, Kiyomiya is off to a decent start with two homers, six hits and five RBIs in 13 games.
Those numbers indicate he may be in for his most productive season yet.
The pitching staff is very much a work in progress. Their two best starters ― Naoyuki Uwasawa and Hiromi Ito ― have yet to post wins. The team brought in former major leaguer John Gant, who went 11-1 in St. Louis in 2019, but he has yet to take the mound. Whether or not that is due to injury the club won't say, but having a pitcher of his caliber would certainly help.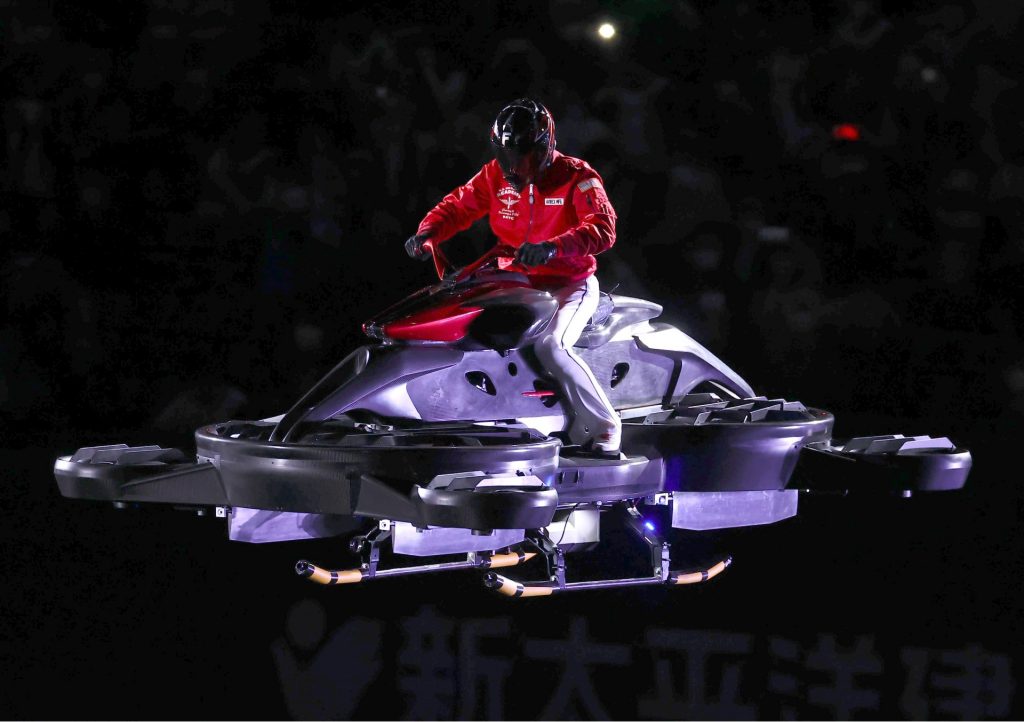 Attracting Attention Worldwide
Meanwhile, Shinjo has turned heads both on and off the field with his unorthodox methods.
He flew over the Sapporo Dome field on Opening Day in a hovercraft that looked like something out of The Jetsons.
The move created worldwide attention with news outlets from the UK to CBS Morning News to a Fox TV affiliate in Seattle posting the futuristic scene on Twitter accounts.

Before games he sits perched on a 12-foot highchair behind home plate called the "Big Boss Stage" that comes with its own built-in ladder.
So far, what's perfectly clear is that Shinjo is a players' manager and his young squad seems to like the atmosphere surrounding the team.
"He's great, he tries to give you the confidence to play the game," said Fighters infielder and former major leaguer Arismendy Alcantara, who is in his first season in Japan. "He's always trying something new and I like that. We work hard every day but we are also having fun and that's very important for a young team like ours."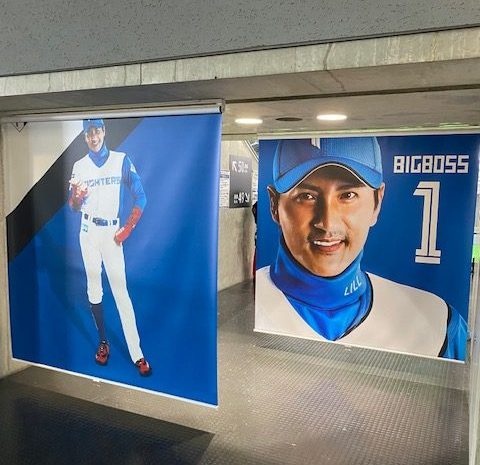 Shinjo seems like the right man to lead a new generation of Japanese players.
The days of drill-sergeant managers like Senichi Hoshino and Tatsuro Hirooka, with their practice-till-you-drop mantras, are long gone.
Shinjo is more in tune with fellow managers Tadahito Iguchi (Chiba Lotte Marines) and Shingo Takatsu (Tokyo Yakult Swallows), who have played in the major leagues and know it takes a softer touch now.

#PicOfTheDay: Captured in @TheTimes. "Tsuyoshi Shinjo, below, entered the Sapporo dome on the XTurismo which can fly at up to 62mph."

— Newsworks (@newsworks_uk) March 31, 2022
Meanwhile, the Nipponham fan base seems content to weather the storm. At the recent series with the Eagles, many seemed willing to take the long-term view.
"It's a young team with a lot of potential so we can't expect too much from them this season," said Sapporo taxi driver Masanori Kondo. "When they got rid of Nakata and brought Shinjo in, that's when I started to take an interest in the team. Shinjo's job right now is to build a team for the future. Nobody is expecting them to win the Japan Series this year."
How long that patience will last is anyone's guess. The fans seem entertained by Shinjo's off-field antics, but as Ochiai said "winning is the ultimate form of fan service."
The Fighters first won the Japan Series in 2006 under American manager Trey Hillman. Atsunori Inaba, now GM of the team, was the MVP that year.
Their next Japan Series victory came in 2016 under Shinjo's predecessor Hideki Kuriyama.
But the team lost its way in recent years and Shinjo was called in to shake things up.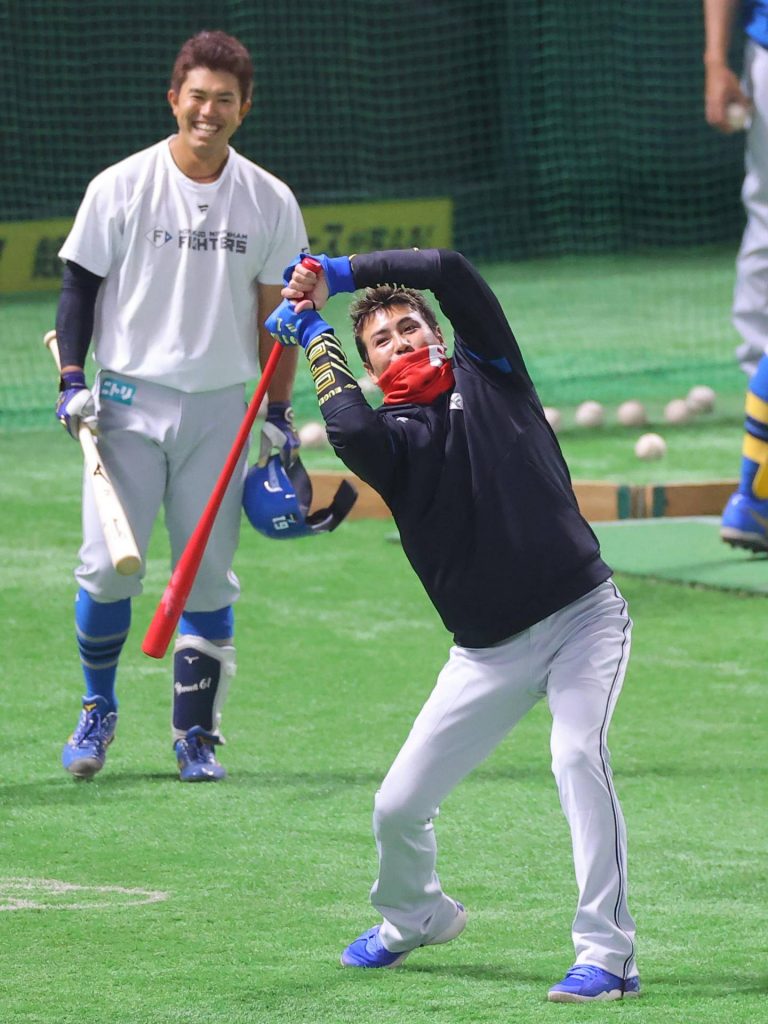 A Flair for Showmanship
The team wanted a new bench boss and instead got the Big Boss.
This isn't the first time Shinjo has been called upon to revive the team.
Prior to moving to Hokkaido in 2004, the Fighters shared the Tokyo Dome with the ever-popular Yomiuri Giants. Fighters' games were sparsely attended and the results on the field were, for the most part, uninspiring.
When the team moved to Japan's northernmost island of Hokkaido in 2004, they called upon Shinjo.
At the time, Shinjo was famous in Japan for his playing days with the Hanshin Tigers. He had also spent time in MLB, where he became the first Japanese player to appear in a World Series in 2002 while with the San Francisco Giants.
Bringing Shinjo in at the time was a stroke of genius as he gave the team some much-needed star power just when it was trying to generate a new fan base in Hokkaido.
Along with his flashy play during games, Shinjo was known for several stunts like taking the field for pre-game warm-ups in a variety of costumes.
Along with the help of Yu Darvish and Inaba, the team became wildly popular in Hokkaido and rewarded their fans with a championship in 2006.
Getting away from Tokyo and the burden of having to play second fiddle to the Giants proved to be a huge boost for the team as they could establish their own identity in Sapporo.
The Shinjo effect is already taking hold. The team enjoyed its second-highest Opening Day TV rating of 26.5% since moving to Sapporo for their first game of the season on March 25 in Fukuoka. The highest was 31.6% on Opening Day in 2012 when Yuki Saito, the Handkerchief Prince, threw his first complete-game win.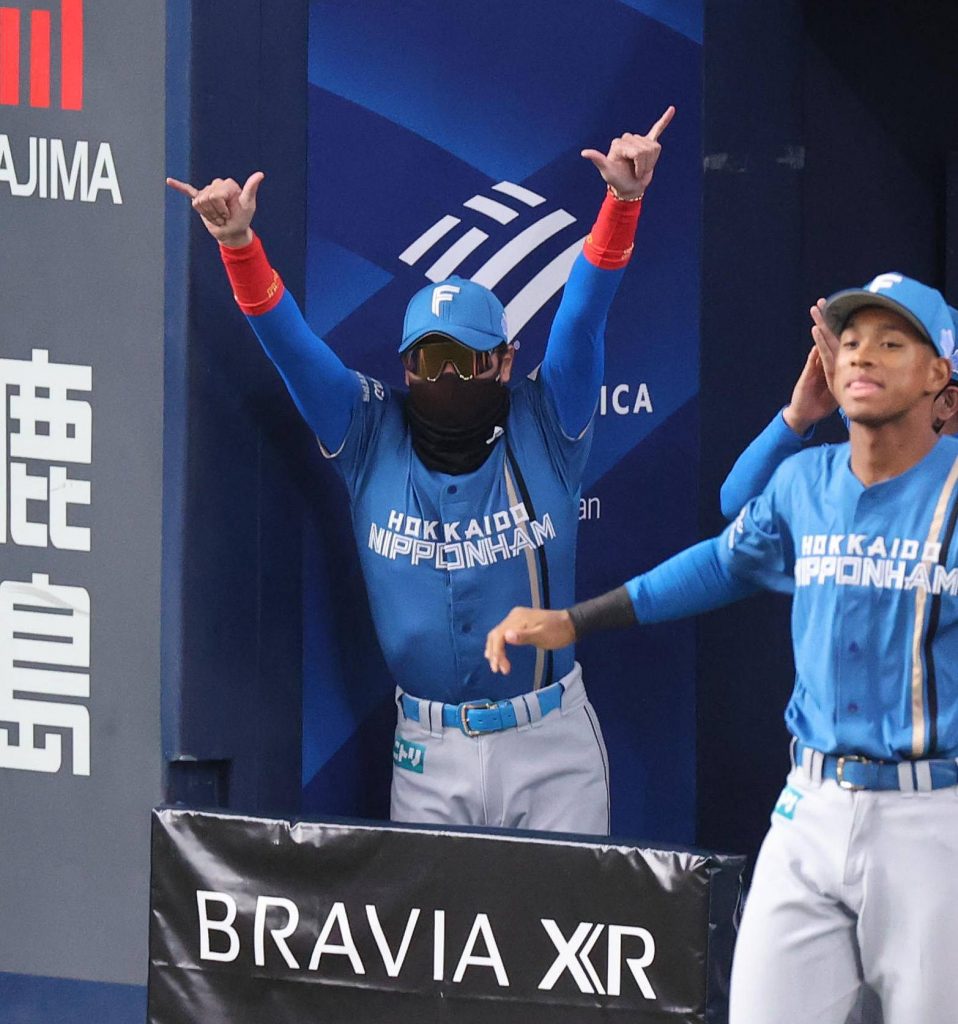 Fighters to Move into New Ballpark
Along with the arrival of Shinjo, there are other exciting projects in the works for the Fighters.
The team will play at a new state-of-the-art stadium in 2023. ES CON Field Hokkaido in Kitahiroshima will have a retractable roof and a capacity of 35,000.
Over the years, the team has had a reputation for thinking outside the box and that has served it well. Japanese baseball, especially in the Yomiuri-dominated Central League, can be quite resistant to change.
For now, everyone seems on board with the Shinjo methods despite the early-season losses.
As a player, Shinjo wasn't blessed with outstanding ability but managed to play 13 seasons in NPB and three in the majors.
He made the most of his abilities and was a seven-time NPB All-Star and a 10-time Golden Glove Award winner.
His crowning moment came when he helped the Fighters win the Japan Series in 2006, his last season as a player.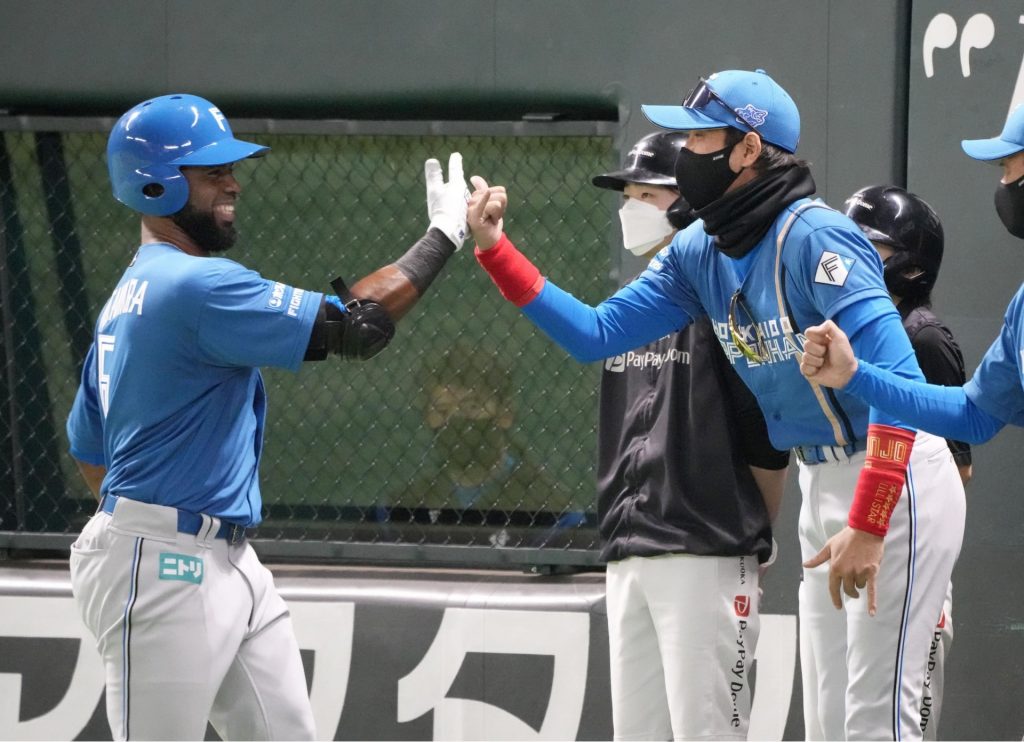 Some may have underestimated him due to his flamboyant behavior but he was a smart player with a keen sense for what it took to win.
Now as manager of the Fighters, he's hoping those same baseball instincts will lead to more success.
"He brings a lot of energy to the team," added Alcantara. "So far, everything I see is good. He's having fun too and cheers with us."
There is no doubt about that. When a Nipponham player gets a key hit to drive in a run, the first person to greet him with a high-five at the top of the dugout steps is Shinjo.
Follow baseball coverage throughout the season here.

Author: Jim Armstrong
The author is a longtime journalist who has covered sports in Japan for more than 25 years. You can find his articles here.