Celtic FC Remains on Top in Scotland, But Success Attracts Attention
Aided by its trio of Japanese regulars, Celtic FC defended its Scottish Premiership title, but change is coming after manager Ange Postecoglou's departure.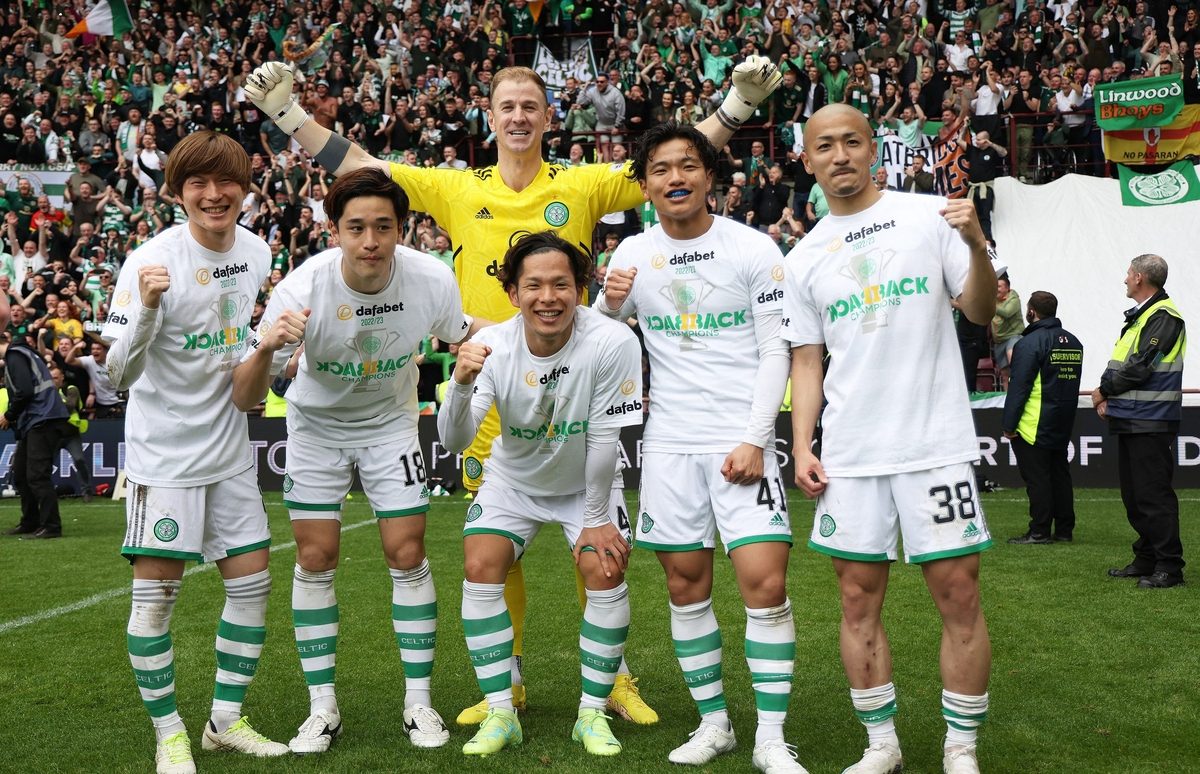 GLASGOW ― Another Scottish football season has ended, with Celtic FC retaining its Premiership title. It feels like the end of a chapter as Ange Postecoglou has left to become manager of English Premier League club Tottenham Hotspur.
During his two seasons in Scotland, Postecoglou won five of the six trophies available to him. His success was helped in no small way by Kyogo Furuhashi, Reo Hatate and Daizen Maeda ― three players Postecoglou knew from his time managing Yokohama F. Marinos in the J.League.
Since arriving in Scotland during the 2021-22 season, these three players have performed with remarkable consistency. They have all played a major role in the style of soccer Celtic has played under Postecoglou.
But nothing stands still in soccer for long. Success is noticed by teams with larger budgets, who play in bigger leagues. Managers and coaches move on. Similarly, players who excel in the Scottish Premiership can win moves to the better paying clubs in England.
Postecoglou's move south could be the first of a series of changes at Celtic this summer. Speculation is rampant.
For now, the speculation will remain just that. This article will look back at Celtic's 2022-23 Premiership win and highlight the contributions Furuhashi, Hatate and Maeda made to the team.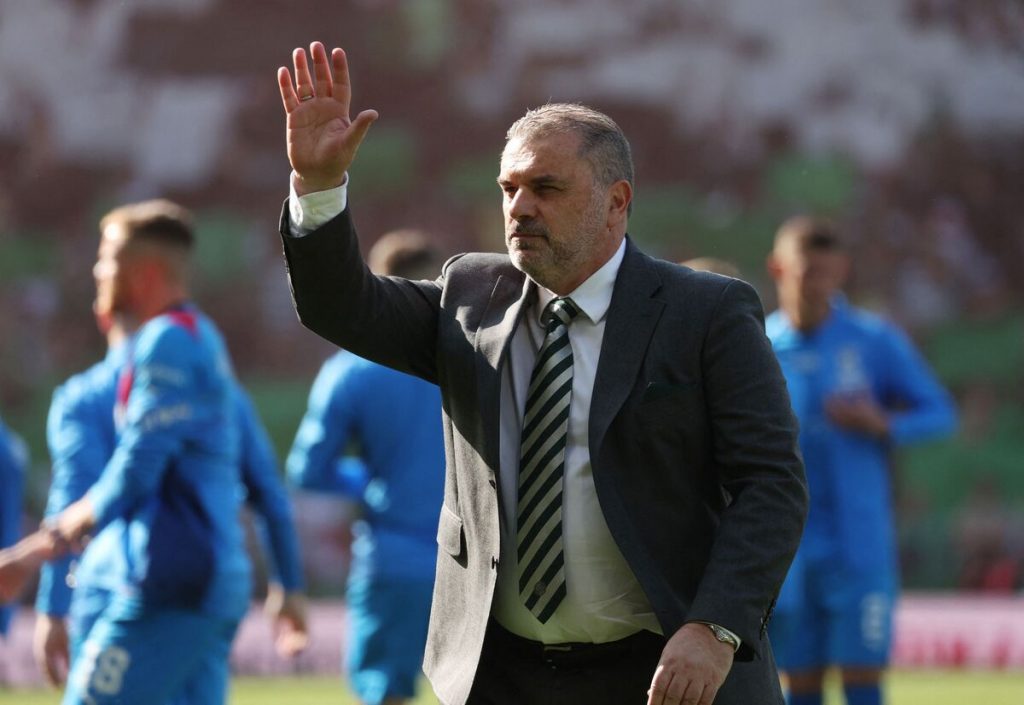 How the League Was Won Against a Sustained Challenge From Rangers FC
Back in January, the mid-season situation was positive for Celtic. It had a nine-point lead and vastly superior goal difference to its closest challenger, Rangers FC.
While Rangers, under new manager Michael Beale, did all it could to narrow the gap, Celtic's consistency kept its rival from across Glasgow at arm's length.
It should be noted that Rangers was better under Beale. Under his stewardship it won 21 out of the 24 Premiership matches it played. If Rangers can maintain that level next season, it's unlikely that one team will be able to build a nine-point lead by January.
As it played out, Celtic was able to match the consistency of Rangers under Beale. This enabled it to secure the league title on May 7 when it defeated Heart of Midlothian (Hearts) 2-0. With four games left to play, Celtic could not be caught at the top of the table.
Celtic's 38 league games yielded 32 wins, three draws and three defeats. Its goal difference was +80 and the 99 points it gathered has only been matched or bettered four times this century in Scotland's top league.
It should be noted that two of Celtic's defeats and one of its draws came after the league title had been won. In the final standings Celtic finished seven points clear of Rangers.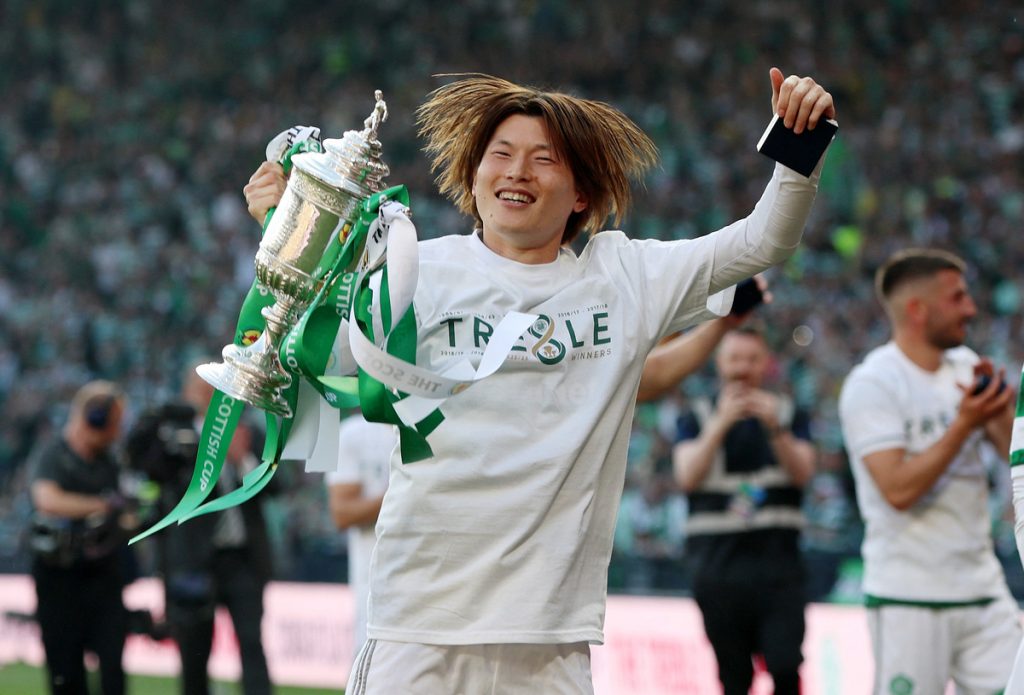 The Tactical Contributions of Hatate, Maeda and Furuhashi
Under Postecoglou, Celtic has played a 4-3-3 formation and pressed opponents aggressively all over the pitch in order to win the ball back as quickly as possible.
To fit into Postecoglou's soccer philosophy, the midfield three need to be mobile and energetic. Moving wide from central areas opens up channels for the fullbacks to move into the infield, creating a dominance in the middle of the pitch while still offering a wide threat.
Hatate grew into his midfield role this season at Celtic, becoming indispensable to the team as the season progressed.
The wide attackers in Postecoglou's team must be prepared to cover plenty of ground. Constant movement is the key. Without the ball they are encouraged to press opponents and try to squeeze them as far infield as possible. This tactic allows the central striker the opportunity to hold his position as high up the field as possible.
With the ball, Postecoglou demands his wide forwards exploit the space in wide areas created by the movement of his fullbacks and midfielders.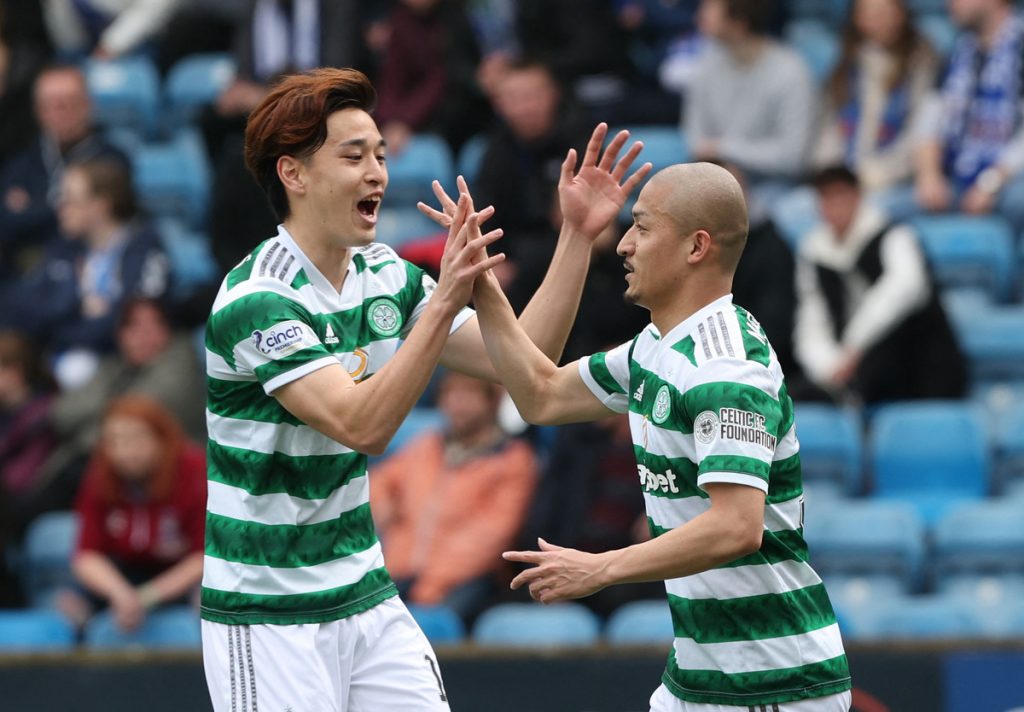 For a player like Maeda, this job suits him perfectly. An absolute workhorse, Maeda was born to play on the left wing on Postecoglou's team and performs his job with relish.
Playing as Celtic's central forward requires pressing as part of the front three when out of possession, usually as the player at the apex of Celtic's press.
When the team is in possession, the job is to find little pockets of space in the opposition penalty area so that the hard work of teammates can be converted into goals.
As the below section will show, Furuhashi has proven to be pretty good at this.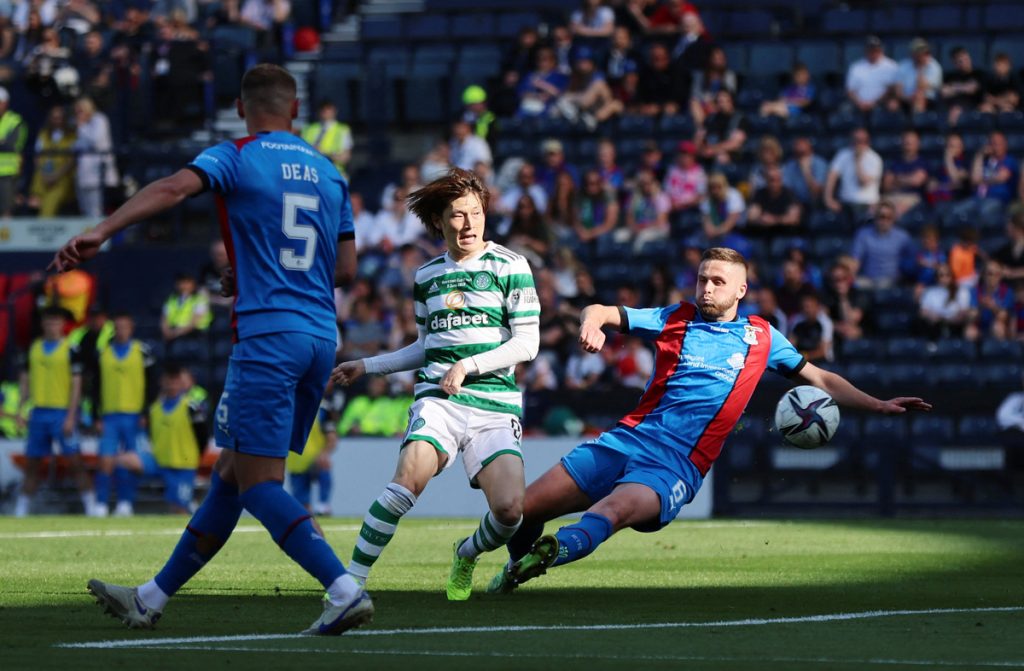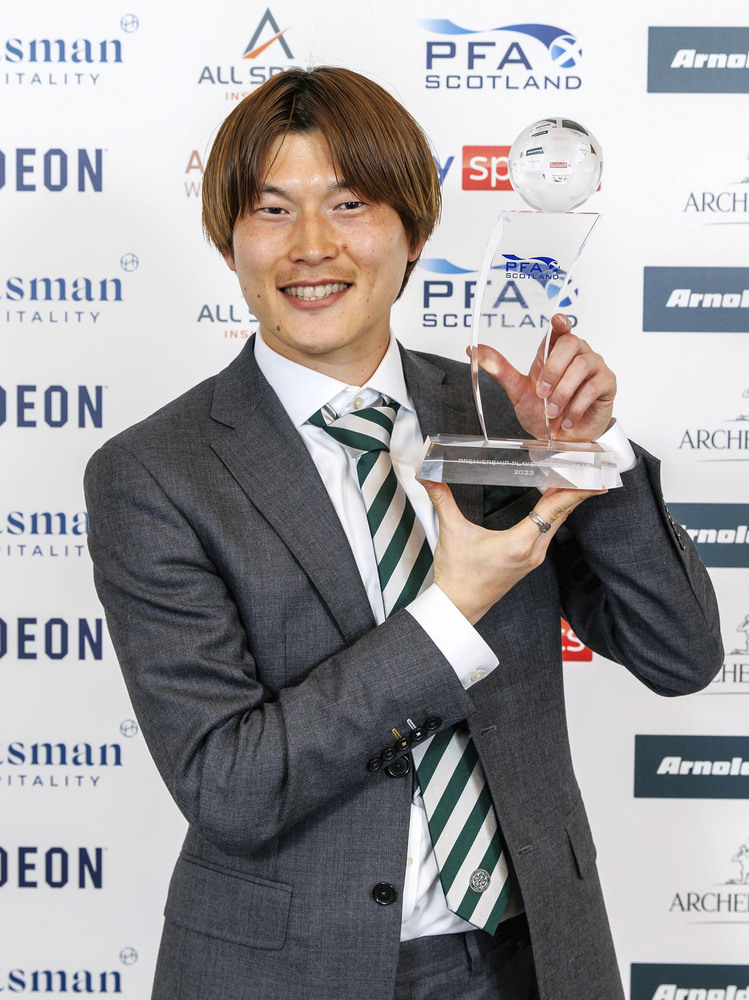 Kyogo Furuhashi - Scottish Premiership Top Scorer and Other Awards
Discussing tactics is interesting but soccer comes down to one thing ― scoring goals. This especially applies to center forwards, who are judged mainly on how many times they put the ball in the net.
In Furuhashi's 36 Premiership appearances, he netted 27 times. This return of goals saw him finish the season as the top scorer in Scotland. Considering he doesn't take the penalty kicks awarded to his team, that is a sterling effort. His closest rivals on this chart were Kevin van Veen of Motherwell (25 goals) and Lawrence Shankland of Hearts (24 goals).
Furuhashi's abilities were noted by BT Sport pundit Stephen Craigan, (former Motherwell and Northern Ireland defender) who said this on the Scottish Football Extra broadcast: "For me Furuhashi is the best we've seen in Scotland at finding space in the box since Henrik Larsson was here."
High praise indeed. For reference, Larsson played for Celtic between 1997 and 2004, scoring 174 goals in 221 appearances.
Finding space in the box and having the ability to finish his chances seems to be second nature to Furuhashi.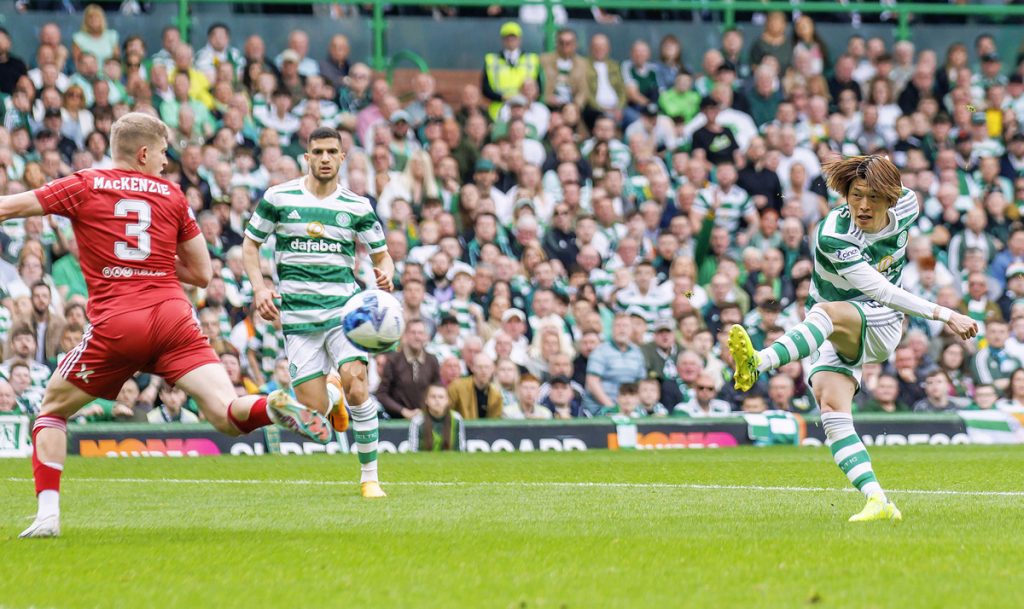 Giving Furuhashi's Scoring Prowess Proper Context
How does Furuhashi's 27 goals stand up to chart-topping goal scorers of the past in Scotland?
Going back to the start of this century, 27 goals in a top-flight season has only been matched or bettered eight times. Four times Henrik Larsson scored more; 35, 29, 28 and 30, respectively, in seasons 2000-01, 2001-02, 2002-03 and 2003-04.
Kris Boyd scored 32 goals for Kilmarnock and Rangers (Rangers signed Boyd from Kilmarnock during the January transfer window) in the 2005-06 campaign. He managed a further 27 for Rangers in 2008-09.
In 2013-14, Kris Commons, playing for Celtic, also notched 27 goals. Meanwhile in 2015-16, Leigh Griffiths found the back of the net 31 times in a remarkable season, also for Celtic.
Overall, Furuhashi is in good goal scoring company. He is one of the best strikers we have seen in the modern era in Scotland.
Furuhashi's exploits in front of goal this season earned him recognition as the Scottish Players' Player of the Year and also the Scottish Football Writers' Association Player of the Year.
Recognition from his fellow players and the writers that cover the sport in Scotland is a fair reward for Furuhashi and his efforts this season.
Since 2000, these two awards have been won by the same player on 12 occasions ― many times there is one clear winner for both the players and writers to select.
In terms of what might be next for Furuhashi, Celtic fans will hope he remains at the club. Following Postecoglou's exit there has been speculation that Furuhashi may be targeted to follow his former manager south. It is rumored that a potential transfer offer of around £30 million GBP (¥5.2 billion JPY) may be made by Tottenham. That would be hard to turn down.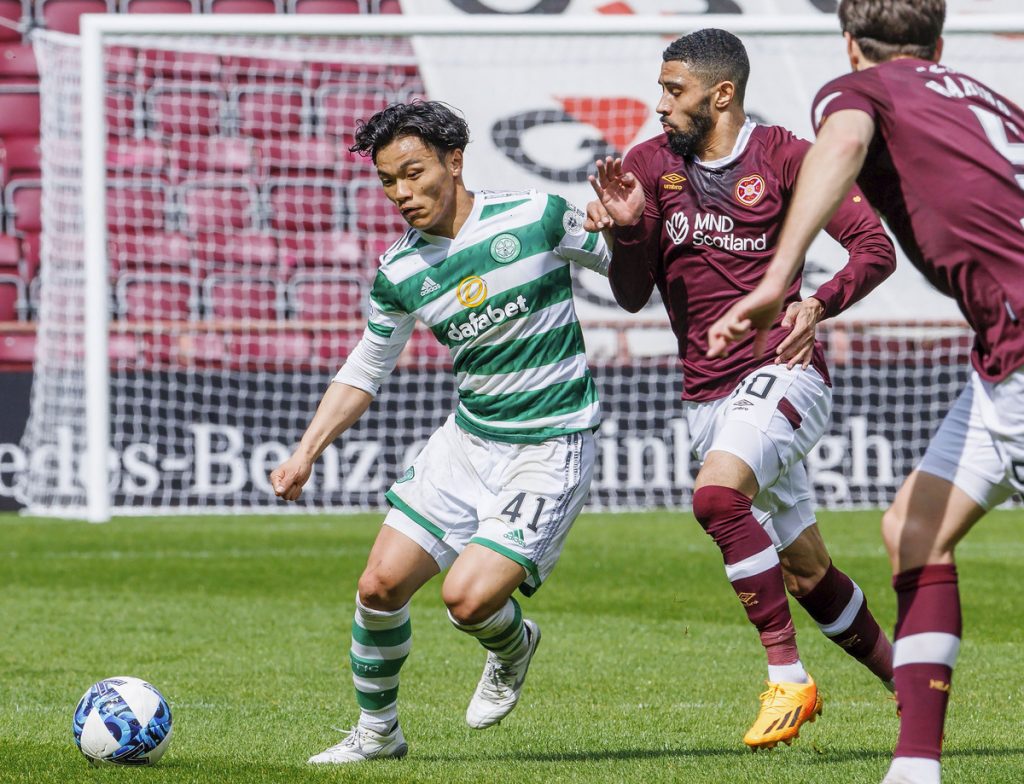 Reo Hatate - Nominated for Player of the Year
Hatate's steady performances earned him a place on the final shortlist of four for the Player of the Year award (selected by the players).
The midfielder's consistency over his 32 Premiership appearances was one of the focal points of Celtic's season.
Returning six goals and eight assists for the team, it was often the unrecorded and underappreciated side of the game that Hatate did to an excellent standard for Celtic this season.
He is the complete midfielder. And he has an excellent range of passing, can shoot from long range and knows what to do when his team is out of possession.
After Hatate scored twice against Aberdeen on February 18, Postecoglou singled the midfielder out for some high praise. "He's another who's just not going to settle for where he's at," the manager told BBC Scotland's Sportsound.
Postecoglou added: "He wants to be better; he's constantly looking for ways to improve and for ways to get his game to another level." Then the soccer boss remarked, "He's one who, every day, comes in trying to improve and he's getting the rewards for his efforts."
Celtic fans will hope Hatate is still wearing their shirt when next season begins.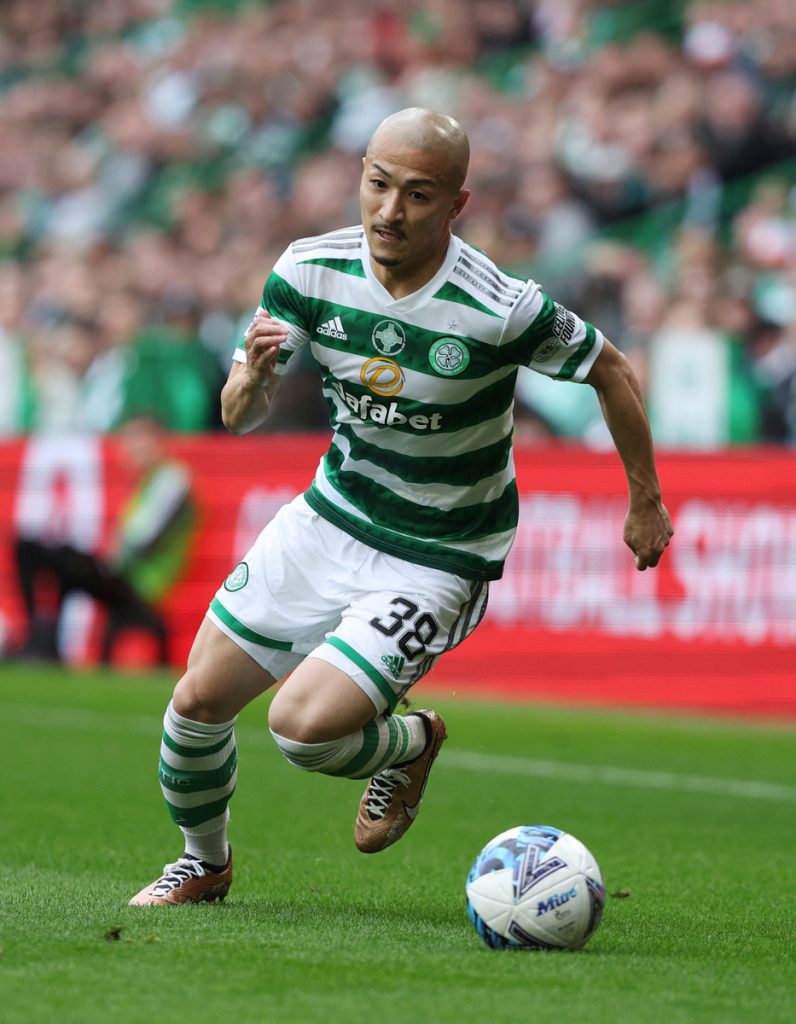 Daizen Maeda - Encapsulating Celtic's Mantra
After winning the 2021-22 Premiership title, Postecoglou promised the Celtic supporters that he and his team would "never stop" striving to improve and deliver success for the club.
Never stopping was mentioned many times throughout the successful 2022-23 campaign ― it is a phrase that can be applied literally to Maeda's displays on the field.
The left-sided attacker works tirelessly and relentlessly. Maeda played 35 of the 38 Premiership games, scoring eight goals and assisting a further five.
While this might seem a low number of goal involvements for a forward, Maeda's job within Celtic's system is about more than his personal goal tally.
As mentioned earlier, Postecoglou's philosophy demands plenty from his wide players. Without Maeda's willingness to carry out this job, the play of the fullbacks and movement of the midfielders within the team wouldn't be as effective.
Maeda is tailor-made to play on a Postecoglou team. Having brought him from Yokohama to Scotland, who is to say the manager won't try to sign Maeda for Tottenham in the upcoming transfer window.


Overview and Conclusion
The 2022-23 season was a glorious one for Celtic. As well as lifting the Premiership trophy, it also won the League Cup and the Scottish Cup. This is known as "the treble."
It was the eighth time in the club's 125-year history that it has won a domestic treble.
Ange Postecoglou moving on brings his era at the club to an end. It's an era that will be remembered for the contributions of the Japanese players he brought to Glasgow with him.
Whether any or all of the key Japanese players depart this summer remains to be seen. Kyogo Furuhashi is under contract until 2025 and Reo Hatate and Daizen Maeda until 2026. So it would take large transfer fees to prise them away from Celtic.
If they do stay, will they be valued as highly and given as much game time by whoever becomes Postecoglou's successor?
Again, that remains to be seen.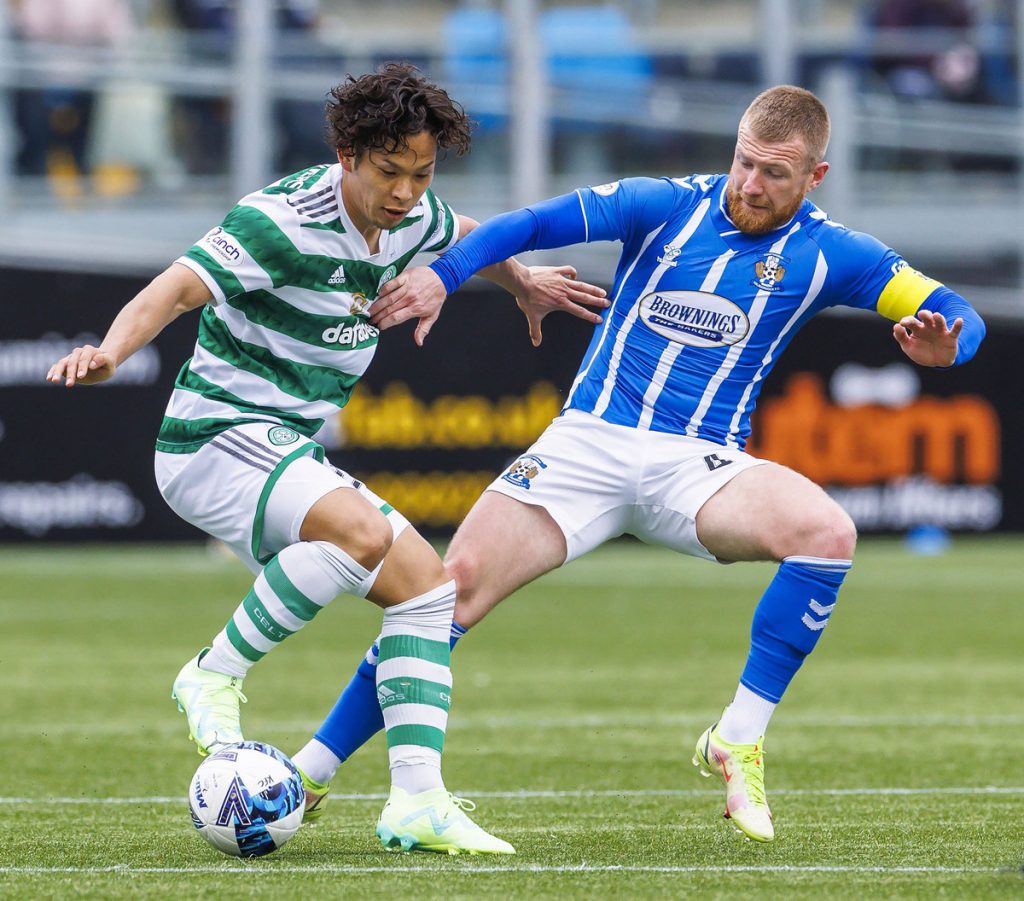 Other Japanese imports Yuki Kobayashi and Tomoki Iwata have struggled for minutes since arriving at Celtic in January. Kobayashi made just five Premiership appearances while Iwata made 13, mostly as a substitute.
Perhaps Kobayashi and Iwata will have more of an impact next season.
With the pressure on to remain on top in Scotland and perform better on the European front, Celtic's new manager would be well advised to do everything possible to hold on to the Japanese players who have served the club so well over the past two seasons.
That might be easier said than done.
RELATED:
Author: Colin Morrison
Morrison is a freelance sportswriter. Writing since 2016, his byline appears on boxing website NYFights.com and multi-sports platform Spitballingpod.com. His main areas of interest are boxing, soccer, golf and rugby union. Find his stories on SportsLook. Morrison is from Scotland and can be found on Twitter @Morrie1981.