Chiba Jets End Regular Season with Narrow Win over Sunrockers Shibuya
The defending B.League champions begin their quest for another title in the playoff quarterfinals against the Utsunomiya Brex.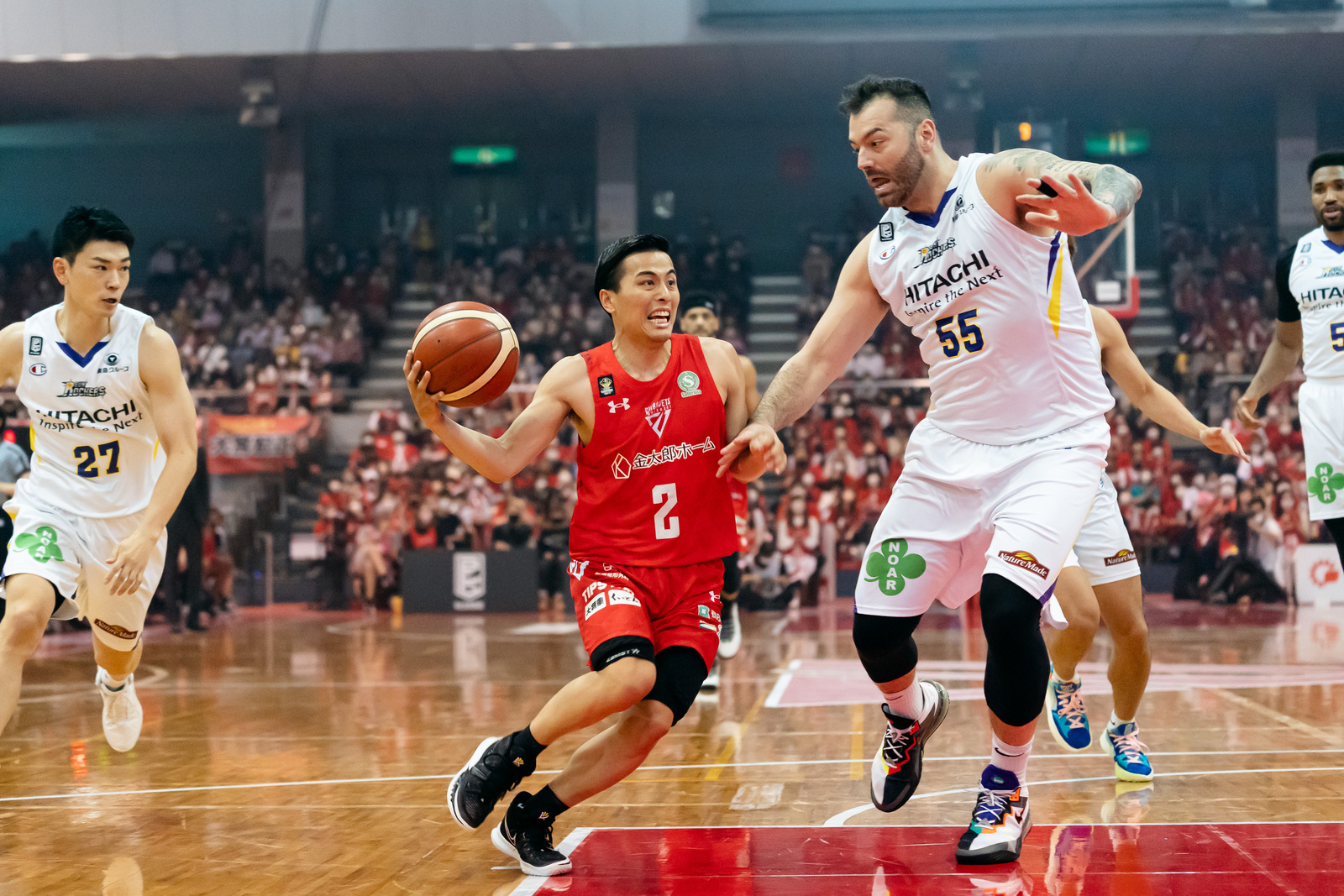 For the reigning champion Chiba Jets, the road to the B.League Finals begins right where they want it to: at home.

The Jets had a league-best 25-2 record in home games this season.

They earned their 25th win in the regular-season finale at Funabashi Arena on Sunday, May 8, edging the East rival Sunrockers Shibuya 73-71 before a spirited crowd of 4,369.

With 12 seconds left in the tight game, longtime Jets star Yuki Togashi sank a clutch 3-pointer to put his team ahead 71-67 and fire up the home crowd. Controlling the action, Togashi dribbled and dribbled and dribbled some more, milking the clock before unleashing a long-range shot over Shibuya's Shuto Tawatari.
It was vintage Togashi.
Chiba led 73-69 with 5 seconds remaining after Christopher Smith sank a pair of free throws.

After teammate Leo Vendrame missed a 3-point shot, Shibuya's Kevin Jones grabbed the rebound and scored on a putback in the last second to account for the final score.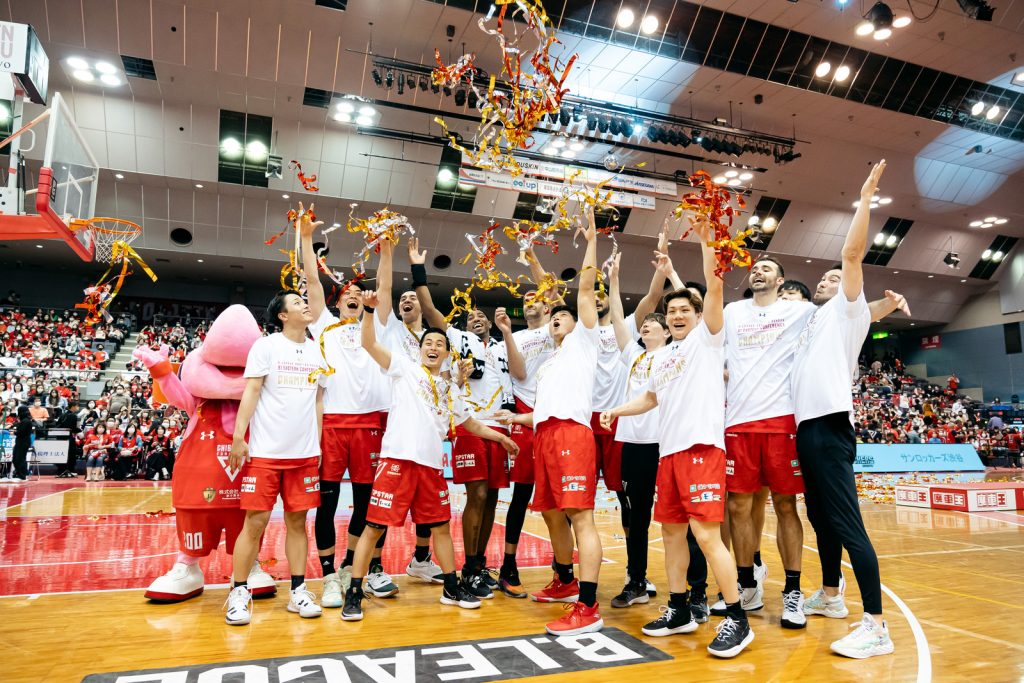 With the win, the Jets (35-13 overall, .778 winning percentage) secured the East Conference title by virtue of a higher winning ratio than the runner-up Kawasaki Brave Thunders (42-13, .764).

"I am grateful that we were able to play a match to decide the conference championship in front of many boosters," Chiba coach Atsushi Ono said. "There have been a lot of hardships and cancellations due to COVID over the long season, but I think [our success] is the result of the players striving towards their goals and I would like to thank them."

Chiba played the fewest games of any of the B1's 22 teams, with positive COVID-19 tests on the Jets roster (as well as opposing teams') impacting its schedule.

Togashi finished with 16 points and seven assists. He was 5-for-16 from the floor, including 2-for-9 from beyond the 3-point arc. Teammate Josh Duncan added 11 points and 11 rebounds, while John Mooney had 14 points and 12 rebounds. Smith added 11 points.

For the Sunrockers, who earned a playoff spot in 2020-21, Kevin Jones was the top scorer with 26 points. Koyo Takahashi scored 10 points and Josh Harrellson and Vendrame had seven and six, respectively.
Mooney, a University of Notre Dame alum, who began his pro career with the Perth Wildcats of Australia's National Basketball League in 2020, said he's pleased the Jets had a successful conclusion to the regular season.

"It was a good win for us," Mooney told reporters. "We wanted to close out the season with the win. The fans, they've been great for us all year, so we wanted to get a win leading into the playoffs and build some momentum so we can keep playing well."
In looking ahead to the upcoming three rounds of playoffs, with the championship round set for May 28, 29 and 31 at Tokyo Metropolitan Gymnasium, Mooney addressed his team's objective, starting with the quarterfinals.

"I think anytime you start the playoffs there's going to be a new sense of intensity and energy," Mooney said, "just because it's playoff basketball."

He added, "I think we are playing well right now, but we have to take it to another level because these other teams are going to be doing the same things."
Golden Kings Denied 50th Win in Finale
The Ryukyu Golden Kings had a shot at winning their 50th game in the regular-season finale on Sunday, but the Hiroshima Dragonflies had other ideas.

Hiroshima thoroughly dominated the second quarter, putting 32 points on the board and holding the Golden Kings to nine en route to an 86-57 victory at Okinawa Arena.

Ryukyu won the series opener 81-77 the day before.

Charles Jackson led the Dragonflies with 19 points and 12 rebounds.

Jack Cooley had a 15-point game for the Golden Kings (49-7).
Final Regular-Season B1 Standings
EAST
Chiba Jets 35-10
Kawasaki Brave Thunders 42-13⛯
Alvark Tokyo 39-14
Utsunomiya Brex 40-16
Akita Northern Happinets 31-23
Sunrockers Shibuya 33-26
Gunma Crane Thunders 25-30*
Yokohama B-Corsairs 22-35
Levanga Hokkaido 21-35
Ibaraki Robots 16-38*
Niigata Albirex BB 7-45

WEST
Ryukyu Golden Kings 49-7
Shimane Susanoo Magic 40-15#
Nagoya Diamond Dolphins 34-15
SeaHorses Mikawa 30-23
Shinshu Brave Warriors 28-26
Hiroshima Dragonflies 29-28✫
Toyama Grouses 24-35
Osaka Evessa 21-36
Kyoto Hannaryz 14-43
Shiga Lakestars 14-43
San-en NeoPhoenix 10-48
*-first season in B1
#-12 more wins than in 2020-21
✫-20 more wins than in 2020-21
⛯-longest active win streak (seven games) entering the playoffs.
B1 Playoff Quarterfinals
Here are the matchups for the playoffs' opening round, a best-of-three format:

Ryukyu vs. Akita (May 13, 14 and 16)
Shimane vs. Tokyo (May 14-16)
Chiba vs. Utsunomiya (May 14-16)
Kawasaki vs. Nagoya (May 14-16)

B1 Stat Leaders
With the league's sixth season now completed, here's a quick look at individual stat leaders for 2021-22.

Scoring
1. Shawn Long (Hokkaido) ― 25.0 points per game.
2. Perrin Buford (Shimane) ― 19.8.
3. Nick Fazekas (Kawasaki) ― 19.7.
4. Justin Harper (Kyoto) ― 19.1
5. Sebastian Saiz (Tokyo) ― 18.0.
Rebounding
1. Sebastian Saiz (Tokyo) ― 12.4 per game.
2. Shawn Long (Hokkaido) ― 10.6.
3. Jack Cooley (Ryukyu) ― 10.4.
4. Brice Johnson (Toyama) ― 9.8.
5. Josh Scott (Utsunomiya) ― 9.8.

Assists
1. Yuki Togashi (Chiba) ― 6.4 per game.
2. Perrin Buford (Shimane) ― 6.0.
3. Kiefer Ravena (Shiga) ― 5.9.
4. Takumi Saito (Nagoya) ― 5.8.
5. Seiya Ando (Shimane) ― 5.7.
Blocks
1. Alex Davis (Akita) ― 1.5 per game.
2. Jordan Heath (Kawasaki) ― 1.5.
3. Jarrod Uthoff (Mikawa) ― 1.4.
4. Wayne Marshall (Shinshu) ― 1.4.
5. Josh Scott (Utsunomiya) ― 1.3.
Steals
1. Pablo Aguilar (Kawasaki) ― 1.6 per game.
2. Jordan Glynn (Akita) ― 1.6.
3. Kiefer Ravena (Shiga) ― 1.5.
4. Michael Parker (Gunma) ― 1.5.
5. Koh Flippin (Ryukyu) ― 1.4.
B2 Playoff Update
After an action-packed opening round of the playoffs during Golden Week, four teams remain in the hunt for the B.League second-division postseason title: the Kagawa Five Arrows, Sendai 89ers, Fighting Eagles Nagoya and Kumamoto Volters.

The Five Arrows eliminated the Saga Ballooners, winning 94-90 and 105-94, while the Fighting Eagles topped the Koshigaya Alphas, 113-63 and 85-79. (Information on the other first-round series is below.)

The B2 semifinal matchups are Kagawa vs. Sendai and Nagoya vs. Kumamoto.

The Five Arrows are set to host home games on May 13 and 14 and, if necessary, 16.

Nagoya has games scheduled for May 13-15.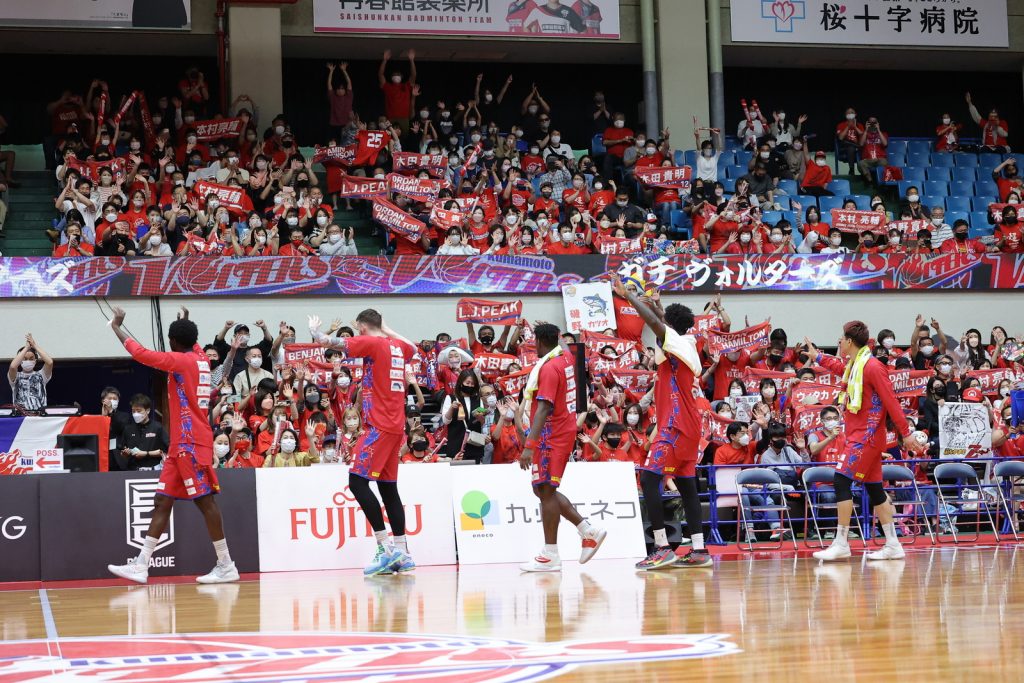 Volters Advance with Epic 2OT Victory
To reach the semifinals, Kumamoto coach Don Beck's team outlasted the visiting Nishinomiya Storks 122-110 in double overtime in Game 2 of the quarterfinals on Sunday, May 8.

The Volters had a 17-0 scoring run connecting the first and second overtime periods.

As a result, they outscored the Storks 14-2 in the second OT.

Georgetown University alum L.J. Peak paced the hosts with 38 points, Takaaki Kida poured in 27 points, including seven in the second bonus period. Jordan Hamilton notched a triple-double (29 points, 15 rebounds, 12 assists).

For Nishinomiya, DeQuan Jones, a University of Miami (Florida) product, had a game-high 43 points and grabbed 12 rebounds. Noriaki Dohara finished with 22 points.

When the final buzzer sounded, Beck said he was pleased with his team's resilience in an intense game.

"The fight and tenacity of this team has become stronger as the season has passed, and even in the playoffs where that ability is tested, it is still continuing to be strong," the coach said.

In his first season at the helm, Beck led the Volters to a 36-18 record. They finished 26-34 in 2020-21.

Games like the series finale against the Storks are important for youthful players' development, according to Beck.
"The experience of playing well in these special situations will be a great source of [growth] for their future careers," he reflected, referring to the pressure of playoff overtime basketball.

"I'm proud of their fight," he added.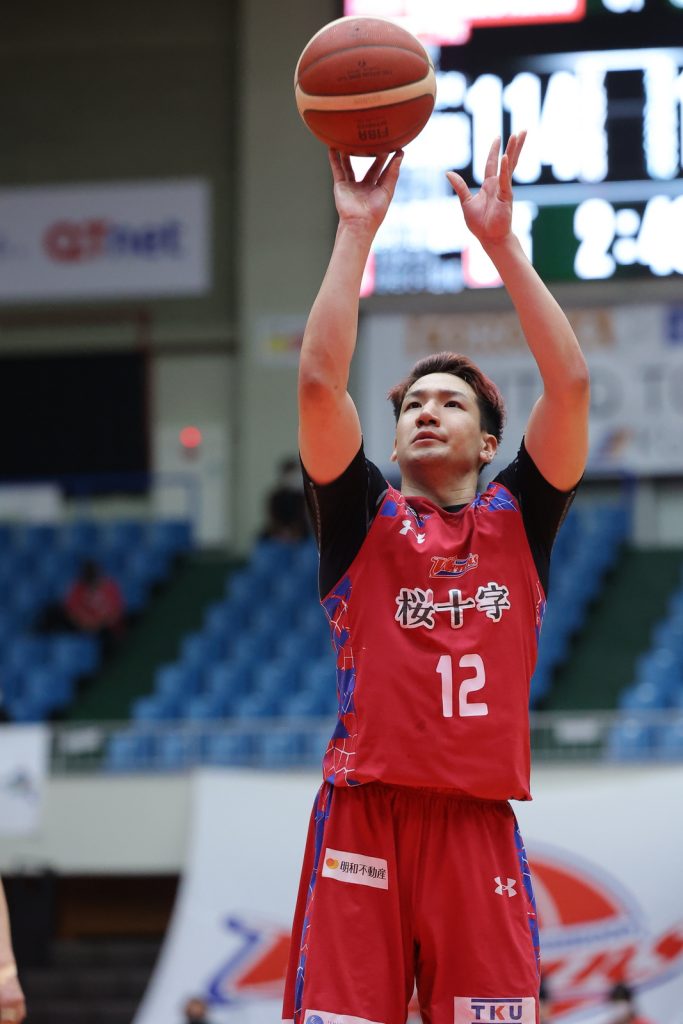 Kida credited his team for exerting energy from start to finish.
"I think it was the result of Kumamoto's endurance to the end," Kida told reporters.

In Game 1, the Volters triumphed 85-77.
89ers Hold Off Firebonds in Game 3
The Sendai 89ers outscored the Fukushima Firebonds 46-26 in the second and fourth quarters, igniting an 89-72 home win in Game 3 of their first-round series on Monday, May 9.

Sendai held a 13-2 advantage in offensive rebounds, which helped the 89es ring up 13 second-chance points while holding the Firebonds to two.

Coach Hiroki Fujita's squad outscored the visitors 50-26 in the paint.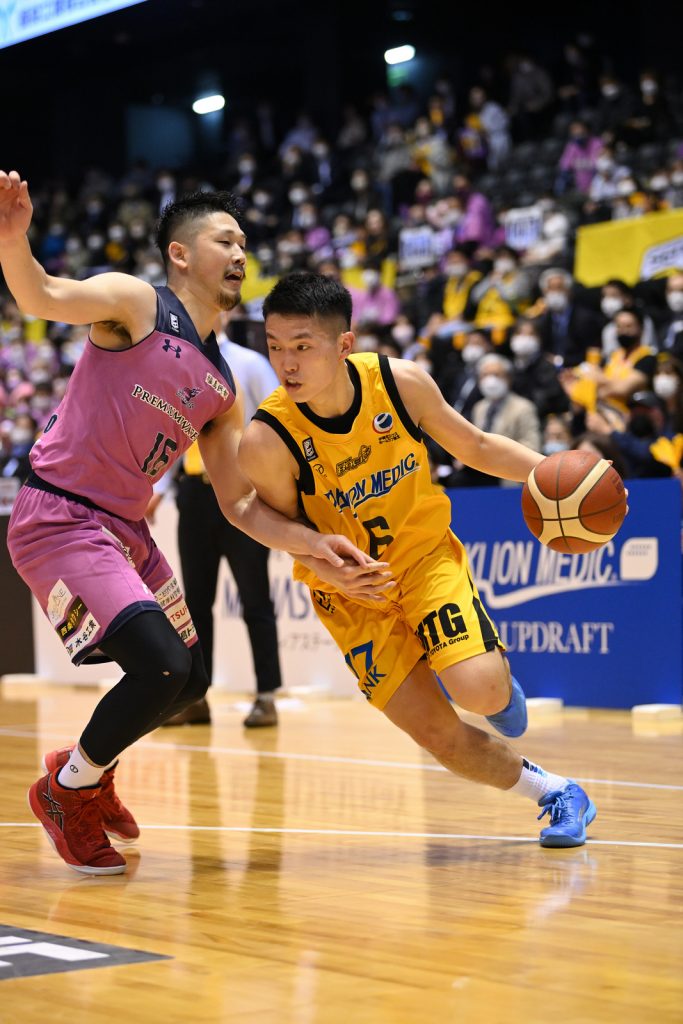 Sendai's Justin Burrell had 21 points, 11 rebounds and seven assists. Jerome Meyinsse chipped in with 16 points and nine boards. Taiki Okada scored 16 points on 7-for-9 shooting. It was Okada's highest-scoring performance since a 21-point effort against the Storks on March 12.

The Firebonds' Erik Murphy had 14 points and five blocks.
In Game 1, the 89ers won 80-74. Fukushima bounced back in the second game, winning 72-65 to force a Game 3.


Author: Ed Odeven
Follow Ed on JAPAN Forward's [Japan Sports Notebook] here on Sundays, in [Odds and Evens] here during the week, and Twitter @ed_odeven.

Subscribe to Our Newsletter