Defending Champion Efforia Chasing More Glory in the Arima Kinen
Since last year's Arima Kinen, Efforia has struggled to produce successful results in races. But trainer Yuichi Shikato believes he's now on the right track.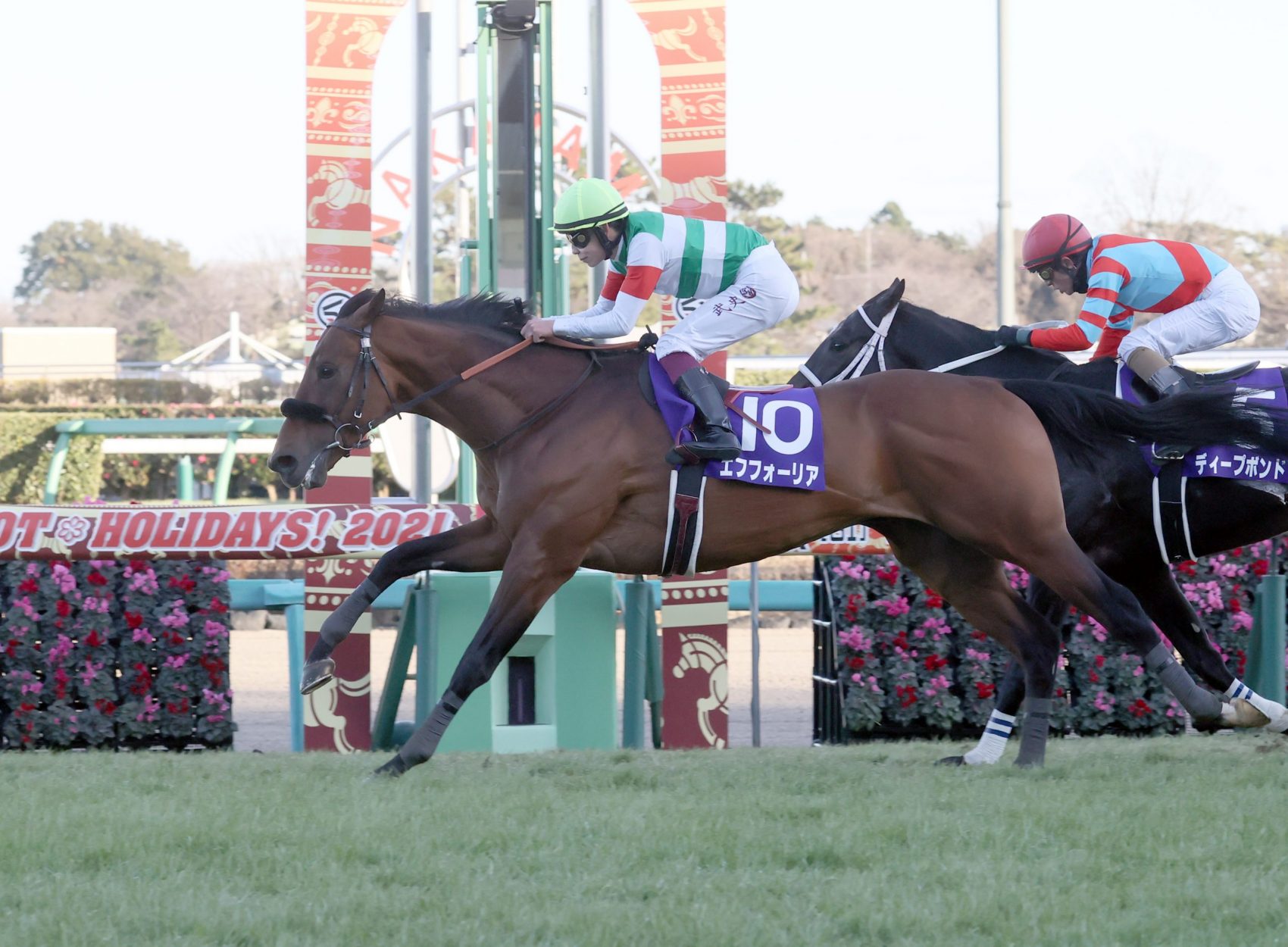 The 67th Arima Kinen (The Grand Prix), a 2,500-meter, Grade 1 race on turf, at Nakayama Racecourse in Funabashi, Chiba Prefecture, will be held on Sunday afternoon, December 25, and JAPAN Forward will be closely watching last year's winner, Efforia.
The following article from the Weekly Gallop highlights the highs and lows of 4-year–old Efforia's career, providing context to his comeback.
On Christmas Day, Efforia will attempt to become the second horse in the 21st century to win the Arima Kinen in back-to-back years. Only his grandsire, Symboli Kris S (jockey Olivier Preslier) in 2002 and '03, has accomplished the feat.
Efforia's Struggles Since Last Year's Arima Kinen
A year has passed since Efforia was named the Japan Racing Association Horse of the Year, recognizing him for his outstanding performances, including victory in the 66th Arima Kinen. He struggled unexpectedly in his two G1 races in the first half of 2022 (placing ninth in the Osaka Hai on April 3 and sixth in the Takarazuka Kinen on June 26). But we hope he will regain his true brilliance in The Grand Prix at the end of the year.
For Efforia, this is a race in which he will be looking to make a comeback.
After three G1 victories in 2021, Efforia had a string of disappointing results this spring.
"In the Osaka Hai, he had trouble at the gate (rushing into the gate) and also experienced a fast pace which he had never experienced before," trainer Yuichi Shikato said in retrospect. "It was also hot around the time of the Takarazuka Kinen. I think it was the result of a combination of various factors, including the emotional aspect."
During the summer, he was moved to Northern Farm Kuko in Hokkaido Prefecture, where he was carefully overhauled, and his fall schedule was put on hold as he worked to improve his gait and physical condition. Efforia was then sent to Northern Farm Ten-ei in Fukushima Prefecture, and returned to his stables on November 30. The team set Arima Kinen as its next target.
Trainer's Assessment of Efforia
In the workout on December 14, a week and a half before the race, he ran six furlongs (about 1,200 meters) in 83.4 seconds with the last furlong in 11.4 seconds on the woodchip flat course with his main jockey, Takeshi Yokoyama. Efforia ran between two stablemates, and with plenty of energy. He ran aggressively, finishing a half-length ahead of them.
"He looks good, [and] he is very energetic because he had a good rest over the summer," Shikato said of Efforia. "The horse weighs about 540 kilograms, and his body has gotten more mature. He has grown taller but doesn't seem so heavy."
The trainer, who watched the workout, added: "He is also showing a positive attitude, and I hope he will continue to do well."
Innovative Training and Popular Support
The team is also devising ways to train the horse, such as pool training, so that the horse can refresh his mood.
"Efforia sometimes gets out of control in the gate. The intention is to get him used to a smaller space so that he can stand calmly inside the gate," Shikato explained.
In fan voting this year, more than 4.13 million votes were cast. Efforia received the second-most votes (300,661) from fans, meaning they endorsed his appearance in the Arima Kinen. He trailed only Titleholder (368,304). Last year, Efforia received a then-record 260,742 votes.
"He is very popular and always receives top support in the fan poll," the trainer said with determination. "A lot of people are rooting for him, and I want to make sure he runs in a way that doesn't disappoint them."
In the history of Arima Kinen, numerous comebacks have produced drama. This year, the return of the strong Efforia may bring many fans a sense of "extreme happiness."
(This story was first published on December 19 in Japanese by our media partner Weekly Gallop, a magazine specializing in horse racing under the umbrella of The Sankei Shimbun Co. as a Sankei Sports Special Edition. Launched in October 1993, the popular magazine is loved by many Japanese horse racing fans.)
RELATED:

Author: Toshio Wada