Efforia Primed for Title-Chasing Gallop at Arima Kinen
Fresh off his Tenno Sho (Autumn) triumph, Efforia races toward the title of Grand Prix Horse at full strength.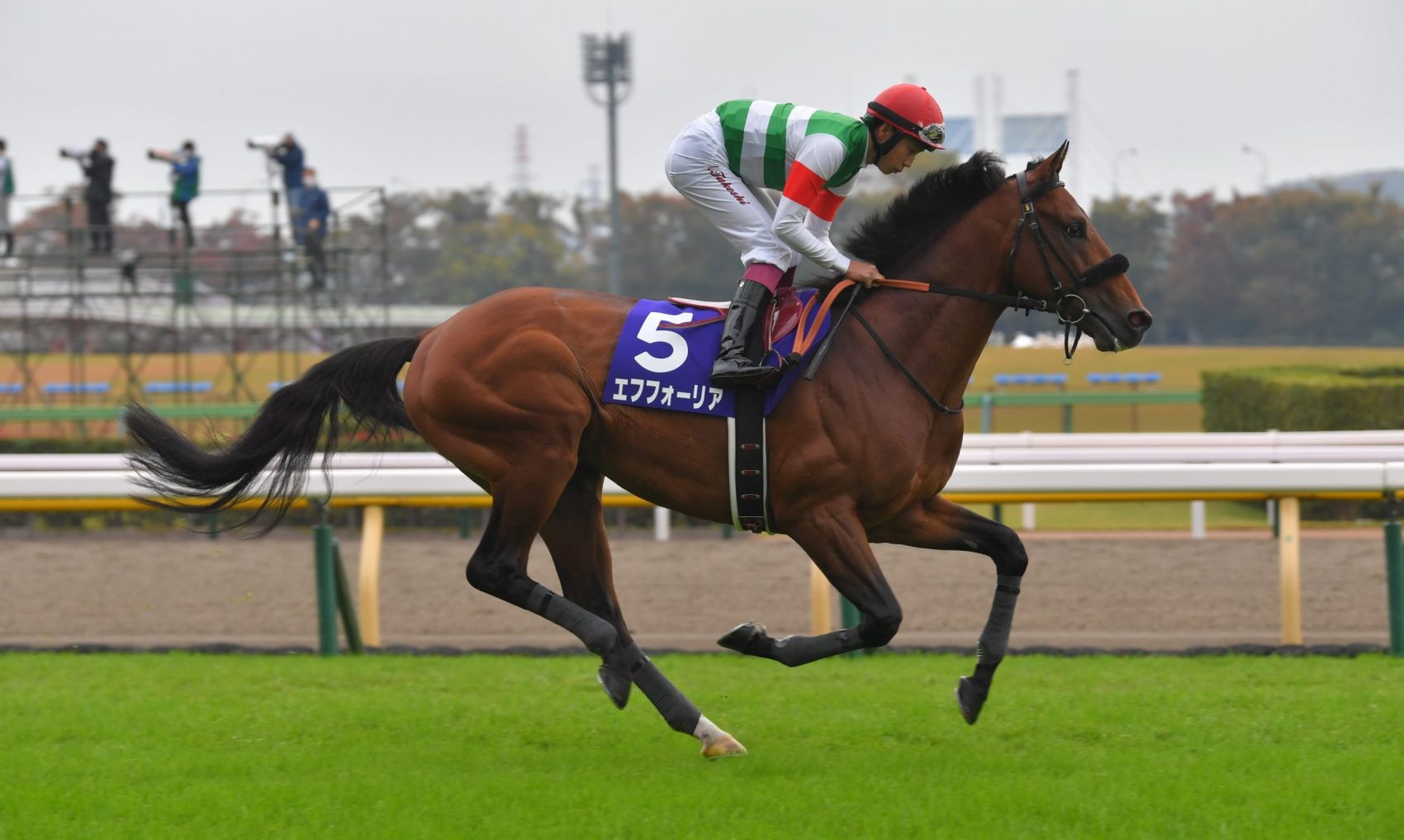 In the run-up to the 66th Arima Kinen on Sunday, December 26, JAPAN Forward is highlighting Efforia, the top vote-getter among fans for the star-studded, 16-horse field.
The story was first published in Japanese by our media partner Weekly Gallop, a weekly magazine specializing in horse racing under the umbrella of The Sankei Shimbun Co as a Sankei Sports Special Edition. Launched in October 1993, the popular magazine is loved by many Japanese horse racing fans.
Join JAPAN Forward and Weekly Gallop as we share some of the backstory on Efforia and other top contenders in Japanese horse racing today. 

Getting to Know Efforia
Two months after claiming victory in a battle of three racing heavyweights at the Tenno Sho (Autumn), 3-year-old Efforia proudly returns to the turf as the fan favorite, receiving even more votes than last year's champion, Chrono Genesis.
The ever-improving duo of Efforia and jockey Takeshi Yokoyama is aiming for its third Grade 1 victory at the year-end Arima Kinen, also known as The Grand Prix, on Sunday, December 26 at Nakayama Racecourse in Funabashi, Chiba Prefecture.
"I am grateful for the great support from the fans. I want to get the horse completely prepared so that we can meet their expectations," said trainer Yuichi Shikato, reconfirming his determination for another victory.

In the Tenno Sho (Autumn), Efforia shut out strong senior contenders, including Contrail (second place) and Gran Alegria (third). The horse and his jockey put on a perfect display, avenging a loss at the Tokyo Yushun (Japanese Derby), where they were beaten by a nose by Shahryar on May 30.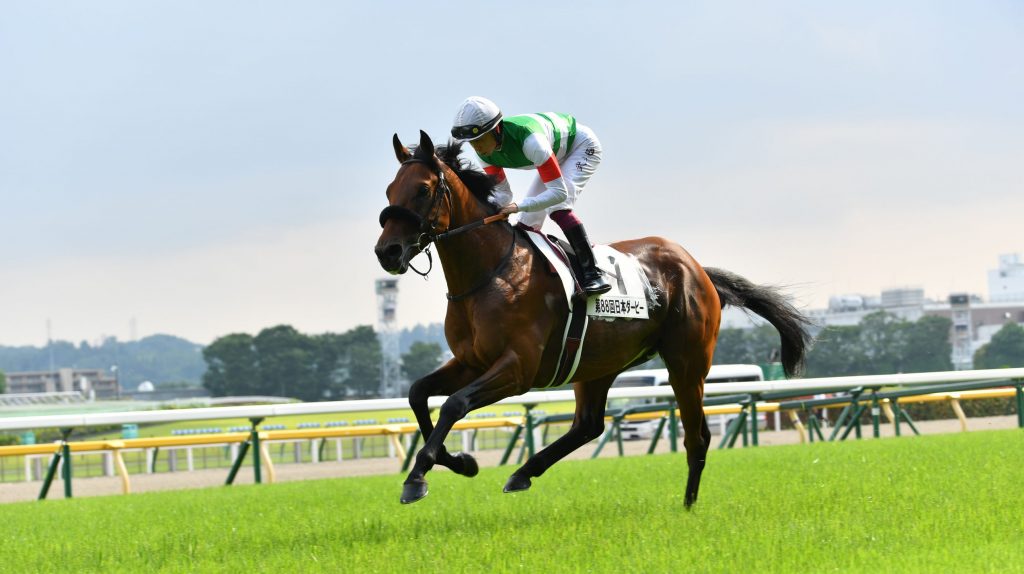 Trainer Shikato praised the race, saying "Efforia had good post position and was able to get onto the flow in a good position. He was able to demonstrate his full power and ran strongly."
As main rivals Gran Alegria and Contrail both went on to achieve glory in their final races (at the Mile Championship and Japan Cup, on November 21 and 28 respectively), the result at the Tenno Sho added to Efforia's growing reputation.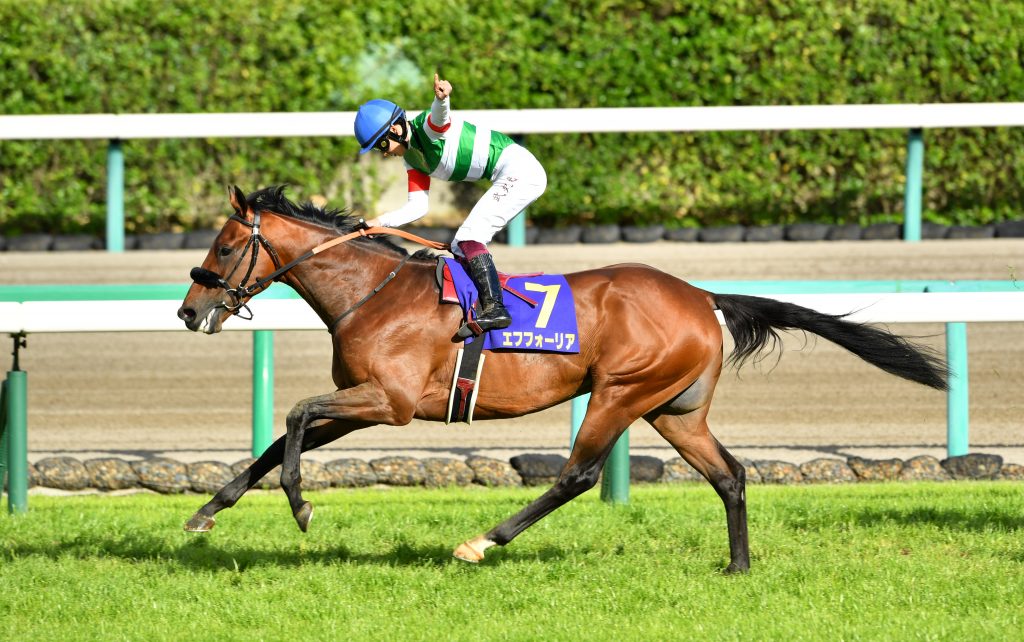 Ready for the Race
Efforia went to Northern Farm Ten'ei in Fukushima Prefecture for physical conditioning, as he always does after a race. Although there was an accident in which his horseshoe fell off while traveling in a horse trailer and his hoof was damaged, he received prompt and suitable care, recovering quickly and returning to his stable on December 3 for the big race.
"He came back in good shape, full of vitality, and started off smoothly after returning to the stable. He weighs 520 kg now, which is the same as he weighed before the Tenno Sho, and he is in good condition physically," said Shikato, showing no worries for the horse's condition.

His final workout a week before the race was on a woodchip flat course. With jockey Takeshi Yokoyama on his back, he ran six furlongs (1,207 meters) in 84.1 seconds, including 11.8 seconds in the last furlong. Chasing two stablemates that ran ahead of him, the jockey placed a moderate load on the horse, whipping his shoulder even after Efforia ran past the winning post.
The chief trainer, who watched in front of the training stand, said: "We have been able to train him as planned and we feel good about what we've done. It's enough for the week before the race."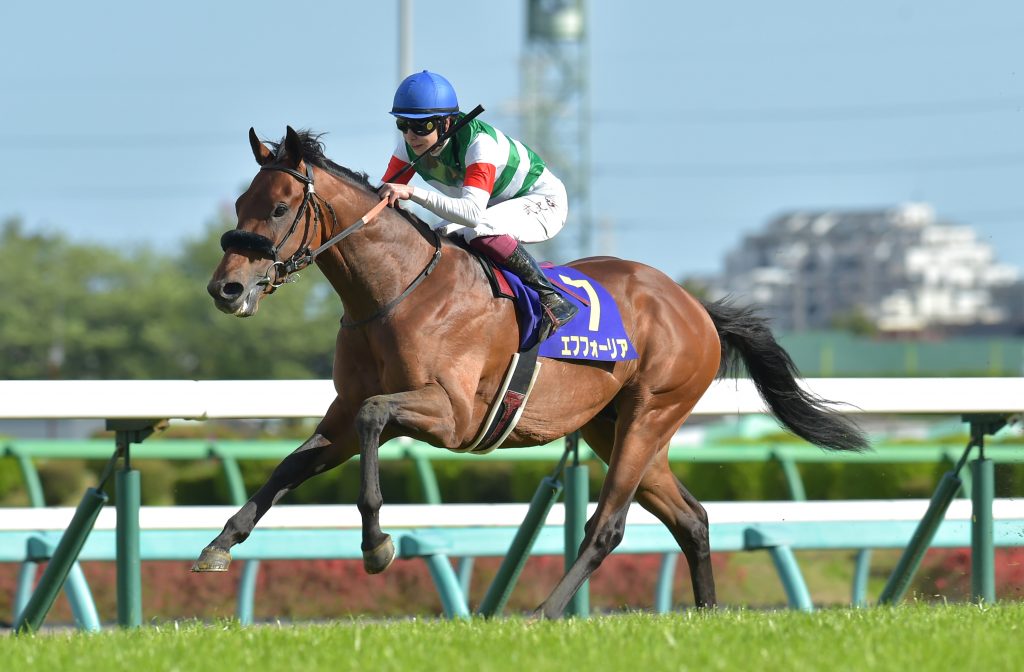 "Jockey Takeshi said he felt the horse's run was slightly unsatisfactory, but this final workout will get Efforia ready," Shikato noted, adding, "I think he will be conditioned just right."

This will be the second Arima Kinen for Shikato's stable since Screen Hero (third favorite, placed fifth) in 2008. The 2,500-meter Nakayama Racecourse has tricky contours, but "Efforia has won on Nakayama at the Satsuki Sho (G1) and I'm not particularly worried," said the trainer, his sights set firmly on Efforia's third G1 victory.
"When Screen Hero ran on the course, the winner (Daiwa Scarlet) was strong. I know it won't be easy to win, but it is one of the races I want to win as the culmination of the year. We had both good and regrettable results this year. We want to finish strongly with a victory,"
Since 1984, when the grading system was introduced, six horses have won the Tenno Sho (Autumn) and then gone straight to Arima Kinen. They've had mixed results, with one second-, one third-, and two-fourth-place finishes (with Rey de Oro's runner-up result in 2018 being the best). But if Efforia wins the race, a chance at Japanese Horse of the Year comes into view.
Efforia is named after a feeling of utter happiness, and let's hope he brings that feeling for the third time. Fresh off his autumn triumph, Efforia races toward the title of Grand Prix Horse at full strength.


Author: Toshio Wada


(This article was first published by Weekly Gallop on December 20, 2021, in Japanese.)

(Click here to read the article in Japanese.)