Hitomi Niiya Triumphs in The Houston Marathon
Niiya completed the Houston Marathon in 2 hours, 19 minutes, 24 seconds. It was the second-fastest marathon ever run by a Japanese woman.
Hitomi Niiya captured the Houston Marathon women's title on Sunday, January 15 and nearly set a national record in the process.

Niiya clocked 2 hours, 19 minutes, 24 seconds to cross the finish line before any other woman in the Texas city. It was the second-fastest time ever for a Japanese female in a marathon.

Mizuki Noguchi, the gold medalist at the 2004 Athens Olympics, set the national record (2:19:12) at the 2005 Berlin Marathon.
Incidentally, that's also the fastest time for a women's runner in Houston Marathon history. American Keira D'Amato set the record in 2022.
The 34-year-old Niiya, a native of Okayama Prefecture, said she is determined to chase Noguchi's record in September.
"Although I didn't achieve my goal of breaking the Japanese record, I've steadily improved," Niiya said, according to Kyodo News. "I want to give it another try at the next Berlin Marathon."
That race has been an important testing ground for Japanese marathon runners in the 21st century. Naoko Takahashi, gold medalist at the 2000 Sydney Olympics, set a then-world record of 2:19:46 en route to victory at the Berlin Marathon the next year. Takashi defended her title in 2002, finishing in 2:21:49.
On Sunday, Ethiopia's Muliye Dekeb Haylemariyam was the runner-up, completing the race in 2:25:35.
The Ethiopian was the early frontrunner, but Niiya's speed increased as the race progressed. And she built a sizable lead that no other runner could overcome.
"There were painful moments but my supporters gave me a big boost," Niiya was quoted as saying by Kyodo News.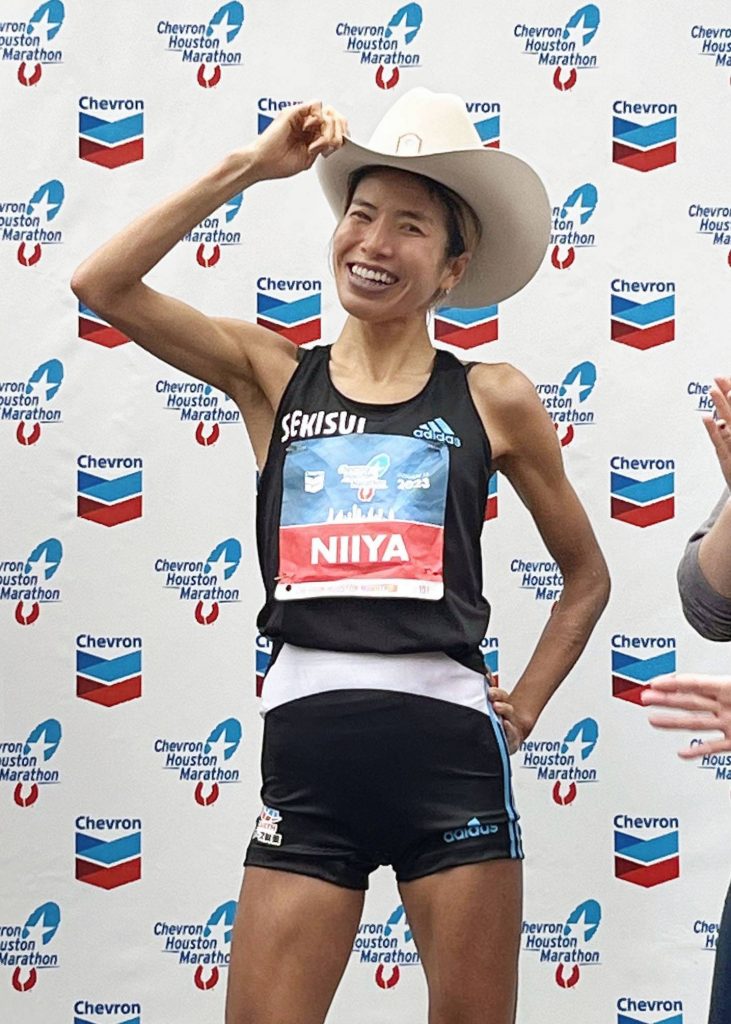 Past Performances for Niiya
Niiya competed in the women's 10,000 meters at the Tokyo Olympics in August 2021, finishing 21st overall.

She is the national record holder in the event with a time of 30:20, which she set in December 2020. Niiya has also run the fastest half marathon (1:06:38), doing so in Houston in January of the same year.

She was the fifth-place finisher in the women's 10,000 at the 2013 World Athletics Championships in Russia.
In February 2007, she won the Tokyo Marathon in 2:31:02.
RELATED:
Rakuten Sports Announces Partnership with Javelin Thrower Takemoto
Javelin thrower Sae Takemoto has finalized a deal to be represented by Rakuten Sports, it was announced on Monday, January 16.

The 23-year-old Takemoto, who hails from Kobe, placed third at the 106th Japan Championships in Athletics last year, then finished 11th at the 2022 World Athletics Championships in Eugene, Oregon.

"I am extremely excited to partner with Rakuten Sports and receive their support," Takemoto said in a statement.

She added, "I hope the world watches me compete at the highest level so we can grow the sport of javelin throwing and demonstrate the joy of track and field ― and sports in general ― to fans around the world together."

Takemoto continued by saying, "I am so grateful to everyone who has helped me come this far, and I will continue training to become an athlete people want to cheer for."

According to a news release, Rakuten Sports will seek sponsorship opportunities for Takemoto in Japan and overseas while also supporting her career.
"We are thrilled to announce this partnership with Sae Takemoto and we are so glad she has chosen to partner with Rakuten Sports," said Koji Ando, senior vice president of Rakuten Communications & Energy Company.

"She is a leader in the Japanese women's javelin world, performing at a world-class level from a young age. Rakuten is committed to empowering athletes in Japan and around the world, and we look forward to creating an innovative partnership with Takemoto in the future."

Author: Ed Odeven
Follow Ed on JAPAN Forward's [Japan Sports Notebook] here on Sundays, in [Odds and Evens] here during the week, and Twitter @ed_odeven.

Subscribe to Our Newsletter