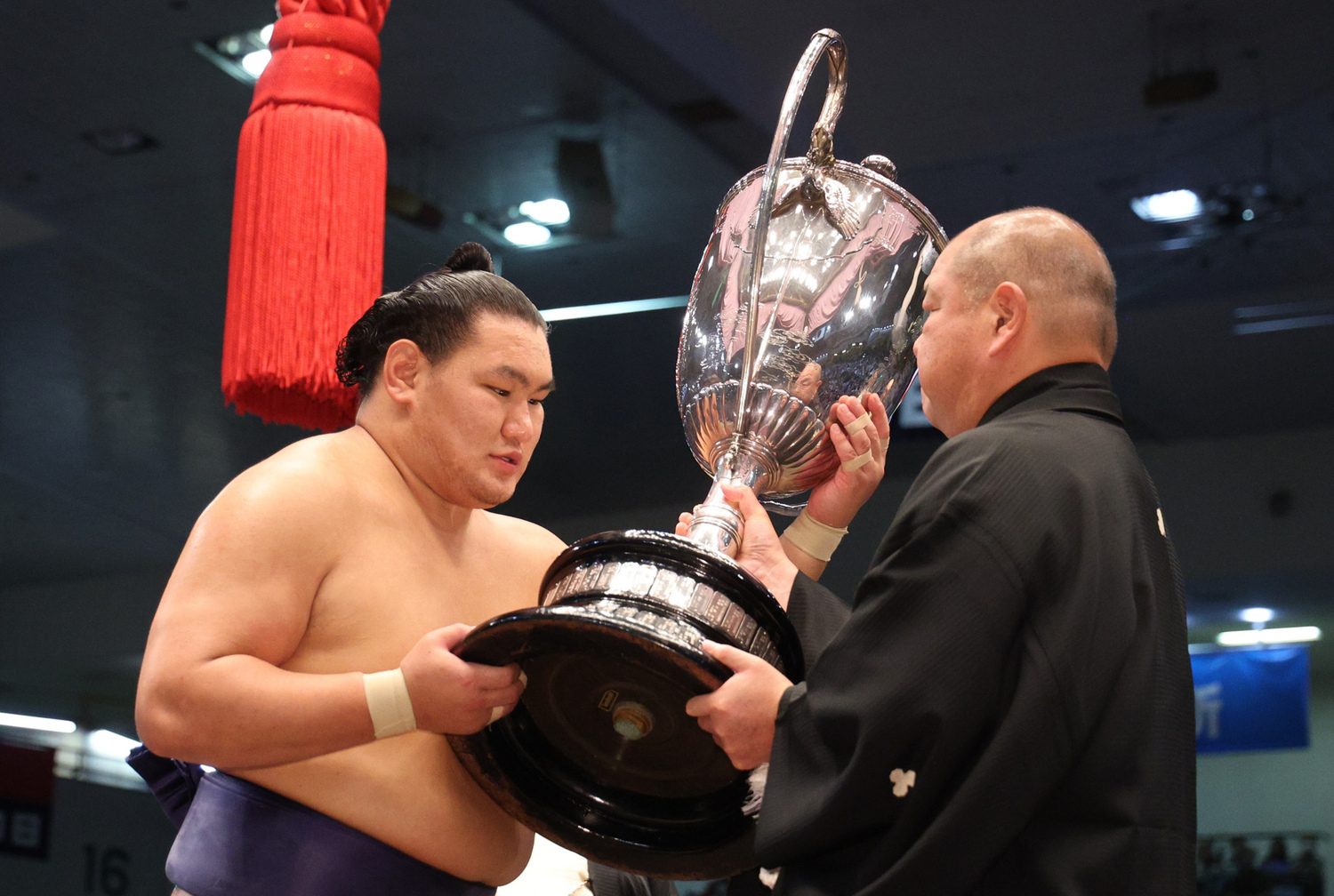 Mongolian sekiwake Hoshoryu manhandled Hokutofuji in a playoff on Sunday, July 23 to win his first Emperor's Cup and take a huge step toward promotion to ozeki on the final day of the Nagoya Basho.
The 24-year-old nephew of former yokozuna Asashoryu got his hands inside after Hokutofuji attempted a pulling technique and shoved the No 9 maegashira out in the winner-take-all playoff at Aichi Prefectural Gymnasium.
"I'm thrilled," Hoshoryu said. "I had to win in regulation because that was my ticket to the playoff. In the playoff, I just tried to do everything I could to win because I came this far."
Both men won their final bouts of regulation to finish at 12-3.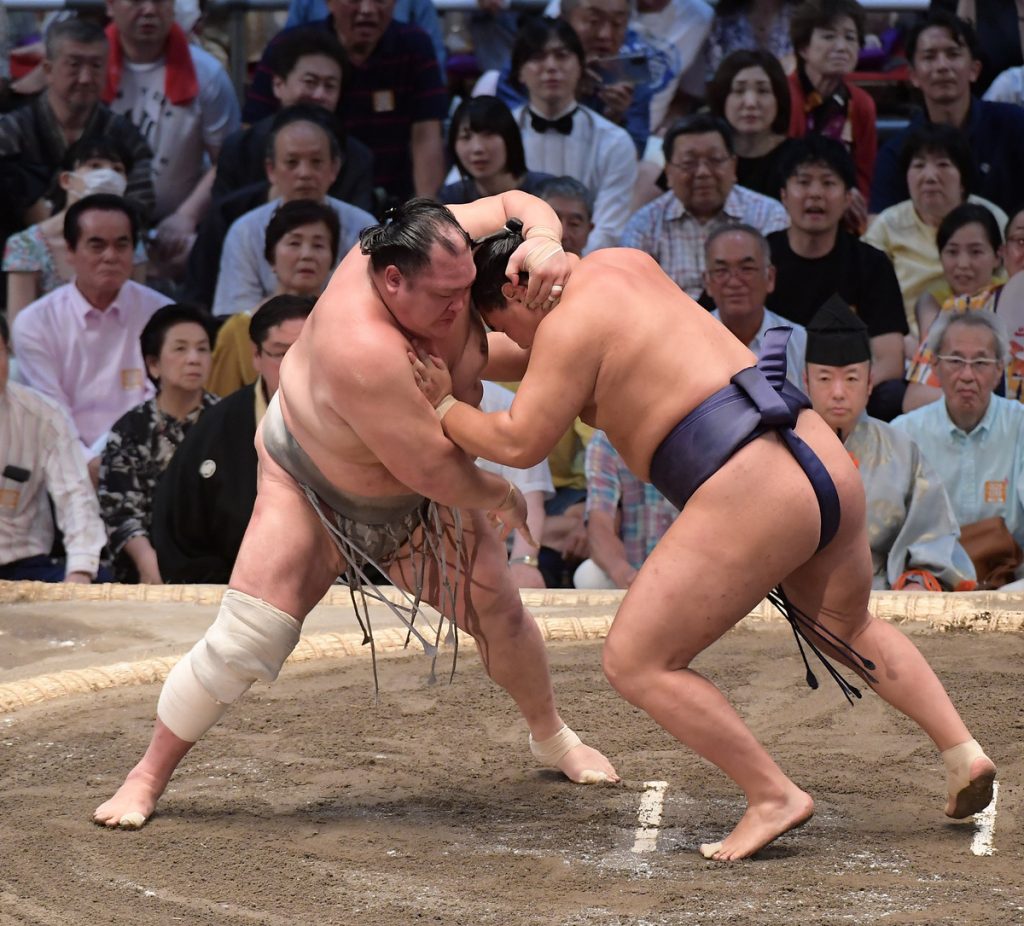 In an earlier bout, Hoshoryu overpowered rookie Hakuoho with a right-handed underarm throw almost immediately after the face-off to advance to the playoff.
Hakuoho, a 19-year-old protege of legendary yokozuna Hakuho, got a left-hand grip on the belt of the sekiwake but couldn't get into a position to pull off a throw and dropped to 11-4.
If Hakuoho had beaten Hoshoryu and then won the playoff, he would have become the first makuuchi division debutant to win a title in 109 years.
In picking up his 12th win, Hoshoryu also virtually secured promotion to ozeki for September's Autumn Basho now that he has 33 wins over his previous three tournaments.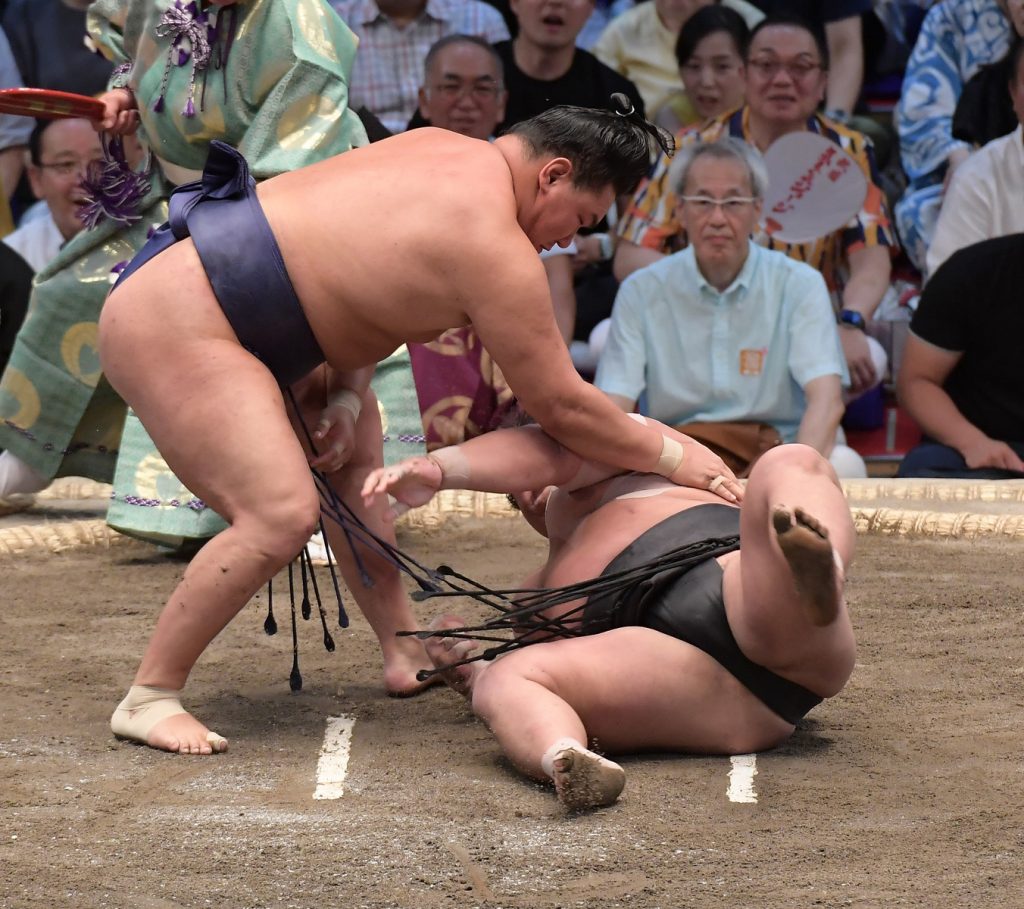 Hoshoryu to Join Takakeisho, Kirishima at Ozeki
After the end of the Nagoya Grand Sumo Tournament, the Japan Sumo Association announced it will hold an extraordinary meeting in the coming days, a clear sign that Hoshoryu will be promoted to sumo's second-highest rank where he will join Takakeisho and fellow Mongolian Kirishima.
"I think that I did everything I can to secure the promotion, but I tried not to think about it during the tournament," Hoshoryu said. "It is something I've always dreamt about so I am very happy."
Both Hoshoryu and Hakuoho were awarded Fighting Spirit prizes for their outstanding performances.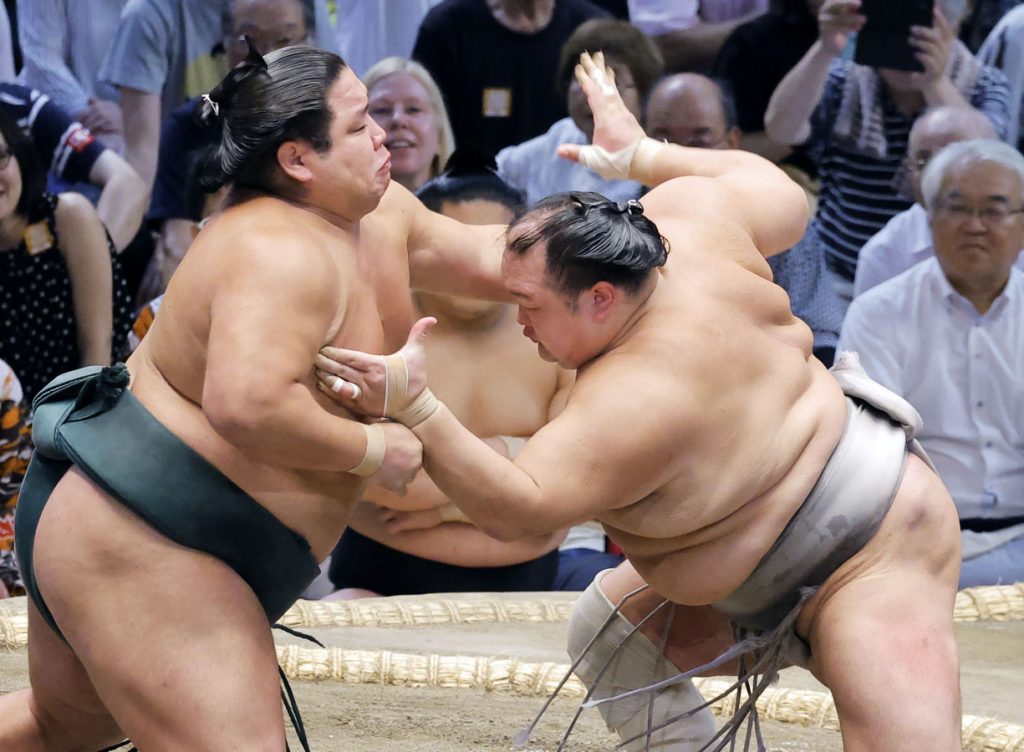 Hokutofuji Overpowers Nishikigi
Hokutofuji ensured the championship would go to a playoff when he hauled down Nishikigi in an earlier bout to improve to 12-3.
Top maegashira Nishikigi finished at 10-5 and won the tournament's Outstanding Performance prize largely due to his win over grand champion Terunofuji on Day 2.
In the final bout in regulation, komusubi Abi overpowered new ozeki Kirishima to finish at 6-9.
Kirishima finished at six wins and seven losses after he sat out the first two days of the tournament, putting himself in a tough position to get the winning record he needed to avoid becoming a relegation-threatened ozeki for the next tournament in September.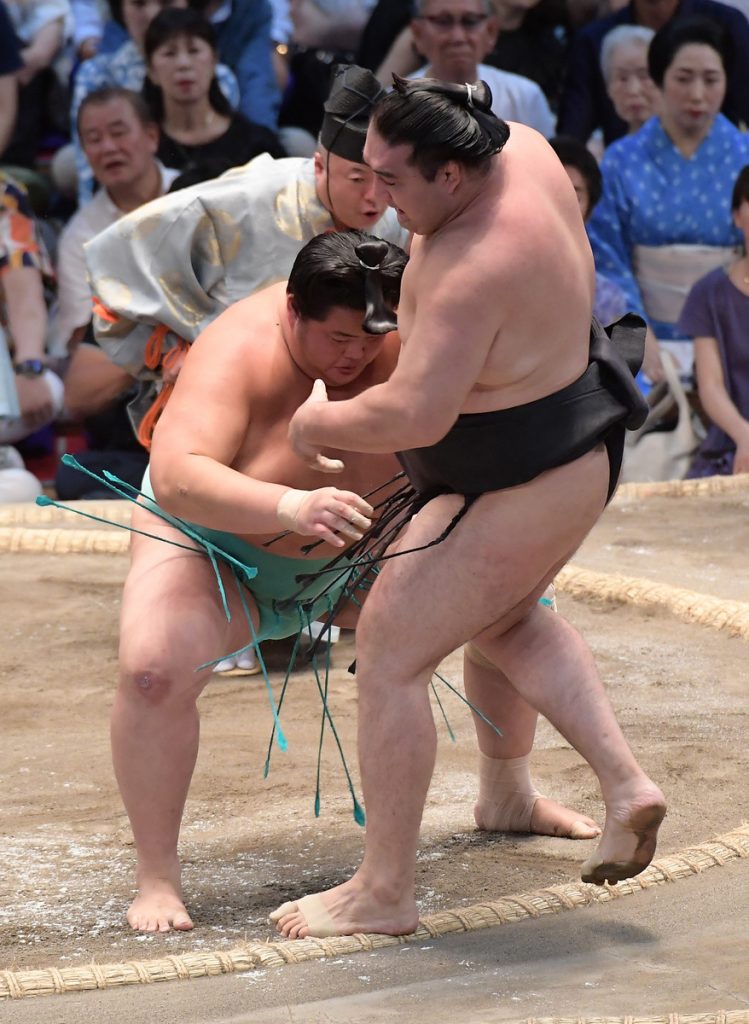 Successful Tourney for Kotonowaka
Komusubi Kotonowaka shoved out No 15 maegashira Ryuden to finish at 11-4. Ryuden also had an impressive showing and closed at 10-5.
Former ozeki Asanoyama fought off a left-handed grip to his belt and shoved out Wakamotoharu to wrap up a winning record and finish at eight wins, four losses and three absences.
Sekiwake Wakamotoharu finished at 9-6, well short of the number of wins he would have needed to earn promotion to ozeki.
There will also be no ozeki promotion for sekiwake Daieisho, who was swatted down by No 9 maegashira Takanosho (8-7) to close at 9-6.
Shonannoumi, Gonoyama Earn Fighting Spirit Prizes
Further down the ranks, No 14 maegashira Shonannoumi slapped down 10th-ranked Myogiryu (6-9) to improve to an impressive 10-5 and claim one of the tournament's Fighting Spirit prizes.
"I just told myself I had to focus on my own sumo and that's what I did," said makuuchi division rookie Shonannoumi.
He added, "I just need to keep practicing hard and look forward to the next tournament."
Another makuuchi division rookie, No 13 maegashira Gonoyama, also took home a Fighting Spirit prize when he thrust out No 7 maegashira Tamawashi (8-7).
"I'm glad I was able to get double-digit wins," Gonoyama said before adding, "I had a bit of a losing streak at one point so I have to make sure that doesn't happen again."
Gonoyama went on: "I learned you have to be consistent throughout the 15 days."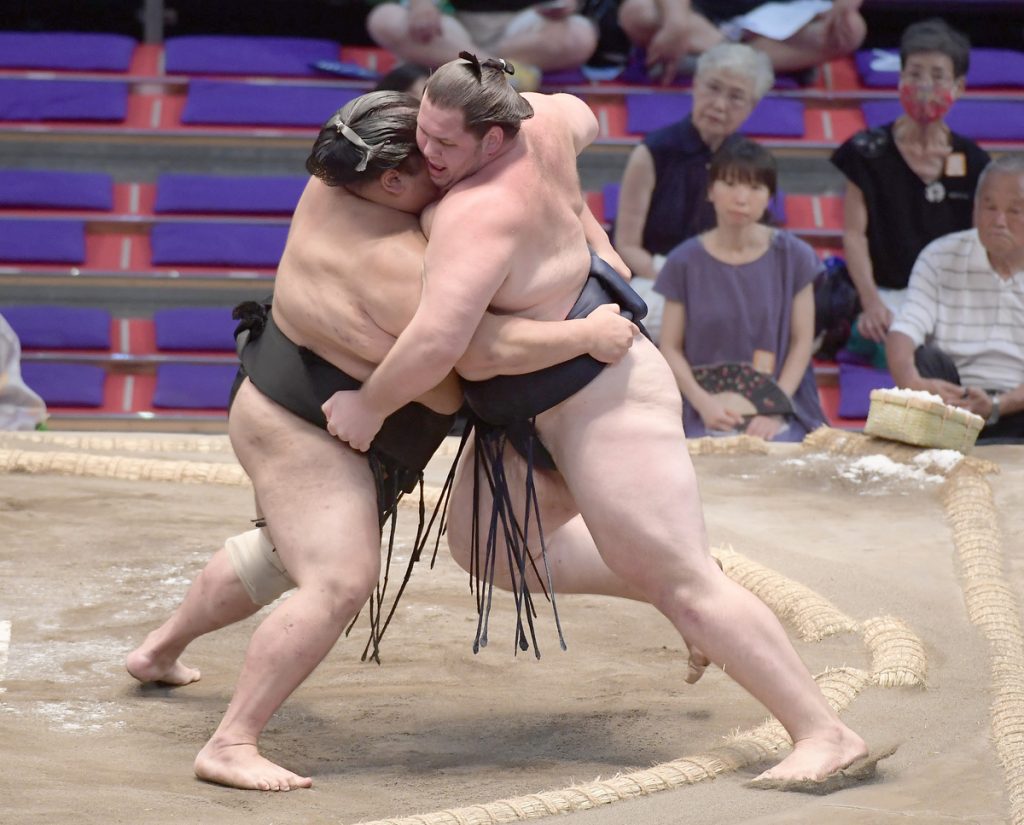 Shishi Finishes with Winning Record
In the juryo division, Shishi, the first professional sumo wrestler from Ukraine, lost to Daiamami (11-4) on the final day but finished with a respectable record of 9-6.
Shishi was making his debut in the second-highest juryo division.

Author: Jim Armstrong
The author is a longtime journalist who has covered sports in Japan for over 25 years. You can find his articles on SportsLook.