[ICE TIME] Japan Dominates Season-Opening Junior Grand Prix with Four-medal haul
The achievements by the Japanese skaters, all of whom are coached by Mie Hamada, were especially noteworthy, as all four medalists made their JGP debuts.
It was a banner start for Japan at the opening Junior Grand Prix of the season in Courchevel, France, last weekend. Behind Shunsuke Nakamura and Hana Yoshida, the Hinomaru won both the men's and women's singles titles and captured four of the six medals on offer in the events held from August 24-27.
Ayumi Shibayama, who led after the short program, earned the silver behind Yoshida, while Ryoga Morimoto claimed the bronze to share the podium with his training partner and friend Nakamura.
The achievements by the Japanese skaters, who are all coached by Mie Hamada, were especially noteworthy, as Japan was competing on the JGP circuit for the first time since 2019 in the wake of the pandemic and all four were making their JGP debuts.
The 17-year-old Nakamura looked especially sharp for this early in the season, as he led all the way to capture the crown with a total score of 219.65 points. South Korea's Younghyun Cha came in second at 196.15, while Morimoto took third on 188.66.
Nakamura's free skate to "Sheik" began inauspiciously as he fell on his opening quadruple toe loop, but he recovered to land seven clean triples and earn level fours on two of his spins.
The highlight of Nakamura's program came when he hit a huge triple axel/triple toe loop combination in the second half.
"I am very glad to win this title. I wanted to get every other jump clean [after the quad]," Nakamura told ISU YouTube analyst Mark Hanretty following the victory. "I have been training to build up my endurance. That's why I could do the (triple axel/triple toe loop) combination [at that point]."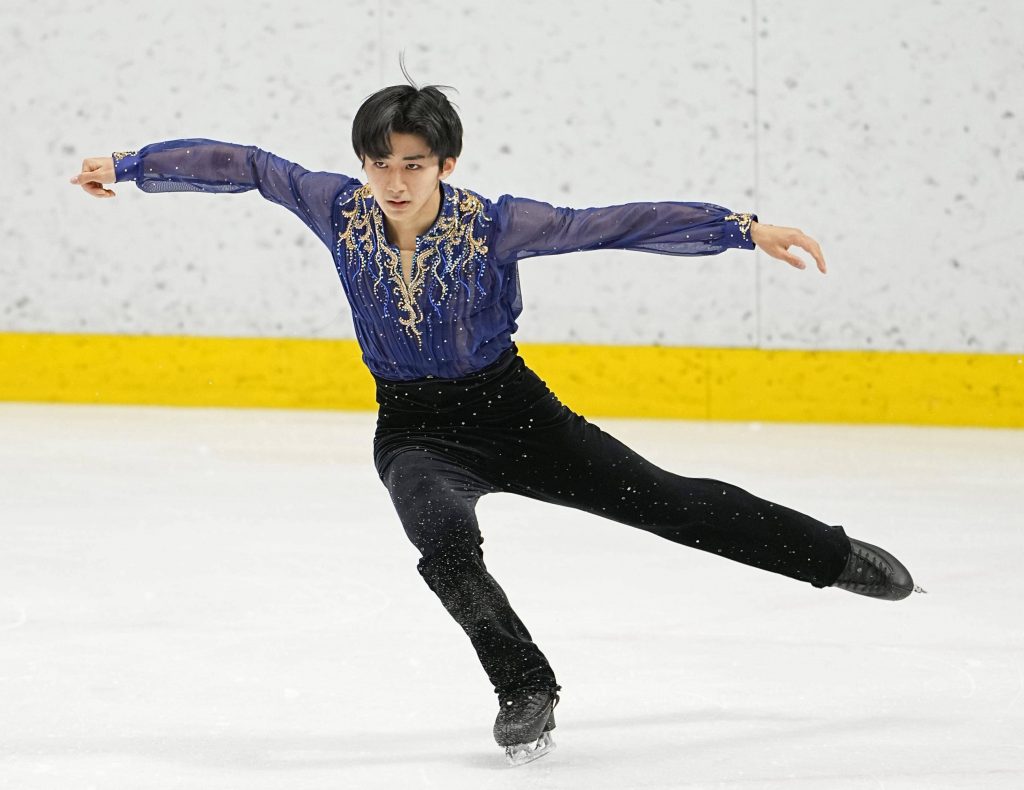 Nakamura Shines Doing Complex Routine
ISU announcer Ted Barton made clear how impressed he was with Nakamura's performance on Saturday.
"That gold medal was in the bag pretty early in the program after all those technical elements, but he kept everything going and didn't back off of anything," Barton stated. "He was going for every element and the highest degree of difficulty that he could perform."
Barton cited Nakamura's rotational velocity as being exceptional.
"He is so quick in the rotation, that even if the takeoff is a little bit off, he is able to get around those jumps," Barton commented. "This young man is on the rise and so I think we are only seeing the start of his progression and transition into seniors."
Nakamura's next JGP assignment will be in Yerevan, Armenia, next month. If he makes the podium there, he will earn a place in the JGP Final.

Strong Effort by Morimoto
Morimoto, a 15-year-old who is a former Japan novice champion, hit four clean triples and earned level fours on all of his spins in his free skate to "Opening" and "The Impossible Dream."
"A real passionate performance," Barton noted of Morimoto's free skate. "He delivered that at the end of the program to that music as it built to a crescendo."
Hanretty especially liked the final moments of Morimoto's free skate.
"The death drop to give some dynamism and that great knee slide," Hanretty cited. "I loved the finished position as well. That multidimensional movement that judges want for the composition component that starts the judges' three program component scores as of this season."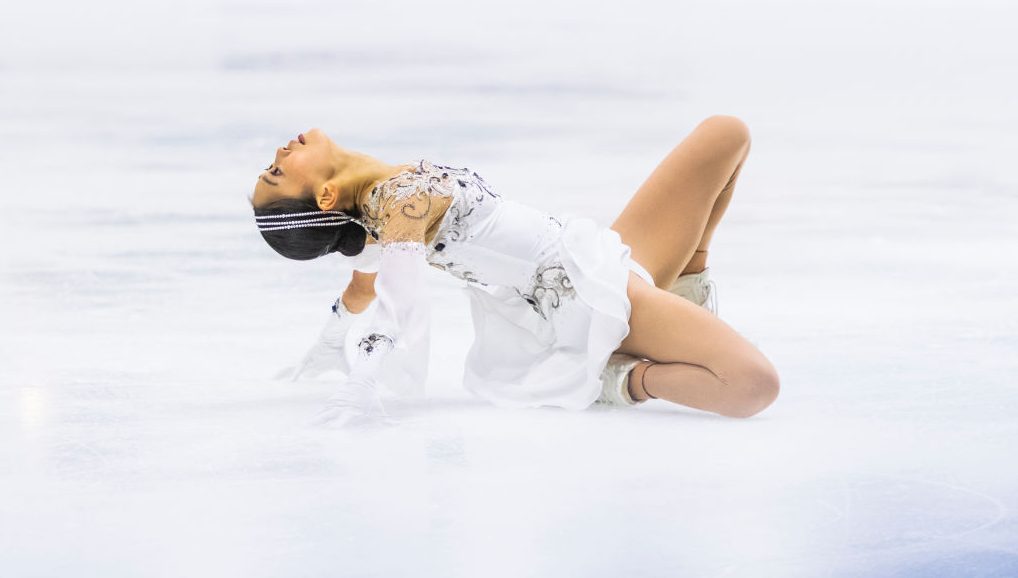 Yoshida Ascends to the Top
Yoshida, exuding elegance in a beautiful white outfit, came from second place after the short program to win with 203.52 on Friday, ahead of Shibayama at 188.39. South Korea's Yujae Kim took third on 185.67.
Yoshida, who turned 17 on August 21, opened her free skate to music from "Star Wars" with a triple axel and proceeded to land a total of six clean triples while posting level fours on all of her spins.
"I wanted to land it clean, so I'm going to do it in the next Junior Grand Prix," Yoshida told Hanretty when asked about the triple axel.
When questioned about which of her programs she preferred, Yoshida replied, "I like the short program because it's so fun, but I like the long program because I can be Princess Leia."
Barton was blown away by Yoshida's effort in her free skate.
"Wow. Power, ice coverage, clear determination," Barton commented.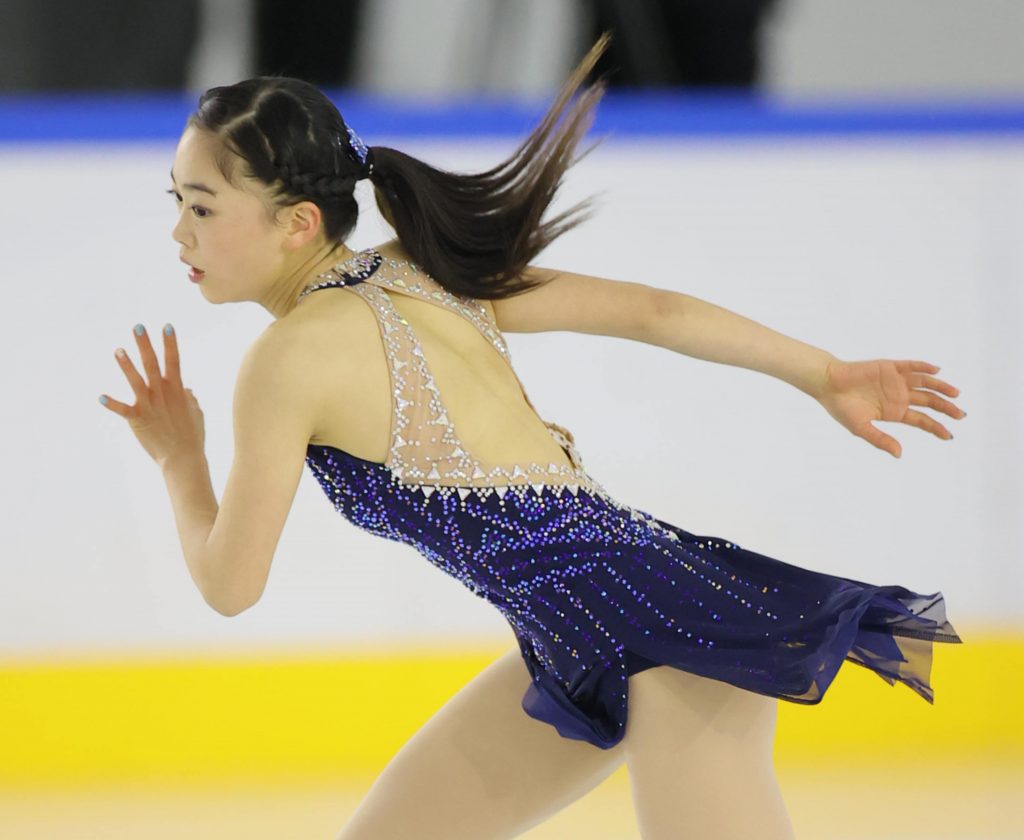 Hanretty was equally moved by what he saw from Yoshida.
"Hana Yoshida looking like she could be a real star of the future," Hanretty said. "Such is the depth of Japanese women's figure skating."
Hanretty was effusive in his praise of Yoshida's ability.
"Judges looking for very good height, very good length, good takeoff and landing," Hanretty remarked while reviewing Yoshida's free skate. "These are the bullet points for the good grade of execution and she gave that."

Shibayama Demonstrates Ability
Shibayama, a 14-year-old from Kyoto, competed to "Turnandot" in her free skate and hit seven triples and notched level fours on two of her spins. Her only significant mistake came late in the program when she singled a planned double axel.
Both Barton and Hanretty spoke highly of Shibayama's showing.
"Brilliant skating, brilliant choreography," Barton said.
"The single axel is the only mistake in an otherwise brilliant performance and the best spinner of the event," Hanretty declared. "Such speed and acceleration during all three of the required spins."
Hanretty explained what made the difference in the final result.
"Not quite the same ice coverage and flow as we saw from Hana Yoshida," Hanretty noted as he analyzed Shibayama's free skate. "So component scores and technical element scores inevitably a little bit lower, but that doesn't belie the talent."
Shibayama clearly felt some pressure taking the lead into the free skate, and wept when the scores revealed she had finished second. But at just 14, she has a long way and many future competitions to go.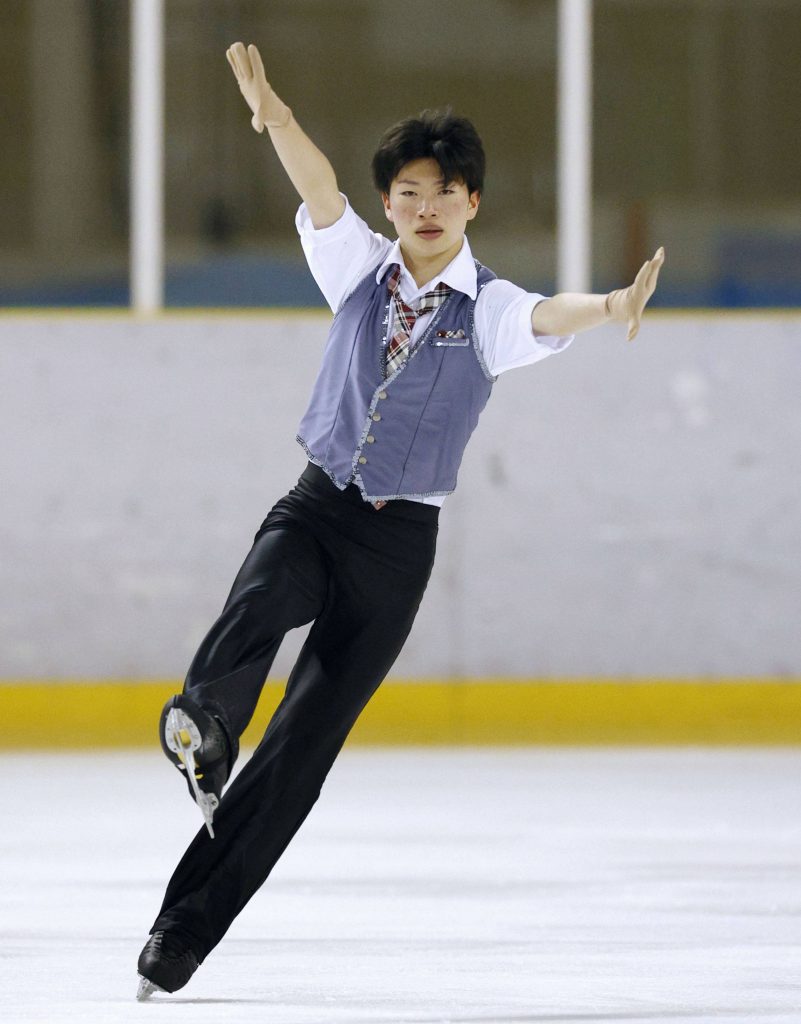 JGP Moves to Czech Republic for Second Stop
The Junior Grand Prix will travel to Ostrava, Czech Republic, this week. Nozomu Yoshioka and Haru Kakiuchi will represent Japan in the men's field, while Japan junior champion Mao Shimada and Ikura Kushida will take the ice in the women's competition.
Attention will certainly be focused on the 13-year-old Shimada, who has a quad toe loop and a triple axel in her jump arsenal, as she will be making her international debut at the event.
Haruna Murakami and Sumitada Moriguchi will skate for Japan in pairs, while Nao Kida and Masaya Morita will pull on the boots in ice dance.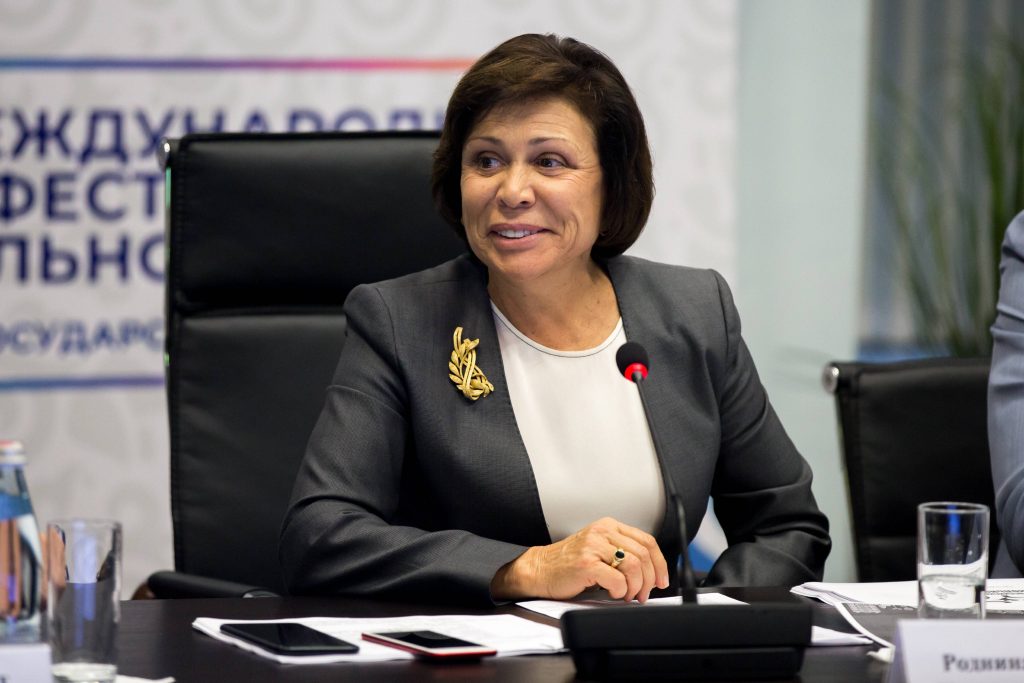 Skating Legend Rodnina Agrees with Raising of Age Limit for Seniors
Three-time Olympic pairs gold medalist Irina Rodnina is one of the few people associated with Russian skating who agree with the ISU's decision earlier this summer to raise the age limit for senior skaters to 17.
"It was absolutely right," Rodnina told sobesednik.com in a recent interview that was translated and posted on fs-gossips.com.
"The skating program has become incredibly difficult. We all saw that girls cope with it physically, but for sure not psychologically."
Rodnina, who won the gold at the 1972 Sapporo, 1976 Innsbruck and 1980 Lake Placid Games and is a 10-time world champion, pointed to the women's free skate at the Beijing Olympics as evidence.
"I'm talking about a nervous breakdown (referring to Kamila Valieva) and what (Alexandra) 'Sasha' Trusova was shouting after her Olympic silver," Rodnina stated. "It means there is nothing for children to do at senior competitions. Why did the International Olympic Committee start hosting the Youth Olympic Games?"
Rodnina was also asked about the domestic Grand Prix series the Russian Skating Federation has organized this season and if it will reach the level of the European or world championships.
"They won't. Competitions take on a high level when a variety of athletes take part in them," Rodnina replied. "Why are we having illusions?"
Outlook Bleak for Russian Skaters in International Competitions
Skating saw two significant interruptions during the 20th century, with the world championships not being held from 1915-21 due to World War I and again from 1940-46 as a result of World War II. Now conflict is again impacting the sport as Russian skaters have been sidelined from international events by the ISU since the beginning of the Ukraine war in March.
With that in mind, I reached out to a friend of mine who is an expert in Russian affairs and asked about what the endgame is to the conflict.

The friend's response?

"I would say either Putin dies, or people come to power among Ukraine's more influential Western allies who withdraw support," the friend wrote, "allowing Russia to eventually install a puppet regime in Kyiv (and then invade the Baltics). Otherwise, this goes on forever."

Author: Jack Gallagher
The author is a veteran sports journalist and one of the world's foremost figure skating experts. Find articles and podcasts by Jack on his author page, here, and find him on Twitter @sportsjapan.