Japan Begins Rugby World Cup with a Big Win Over Chile
The Brave Blossoms overpower Rugby World Cup debutant Chile to secure a 30-point win in Toulouse, France. Much tougher tests lie ahead for Japan.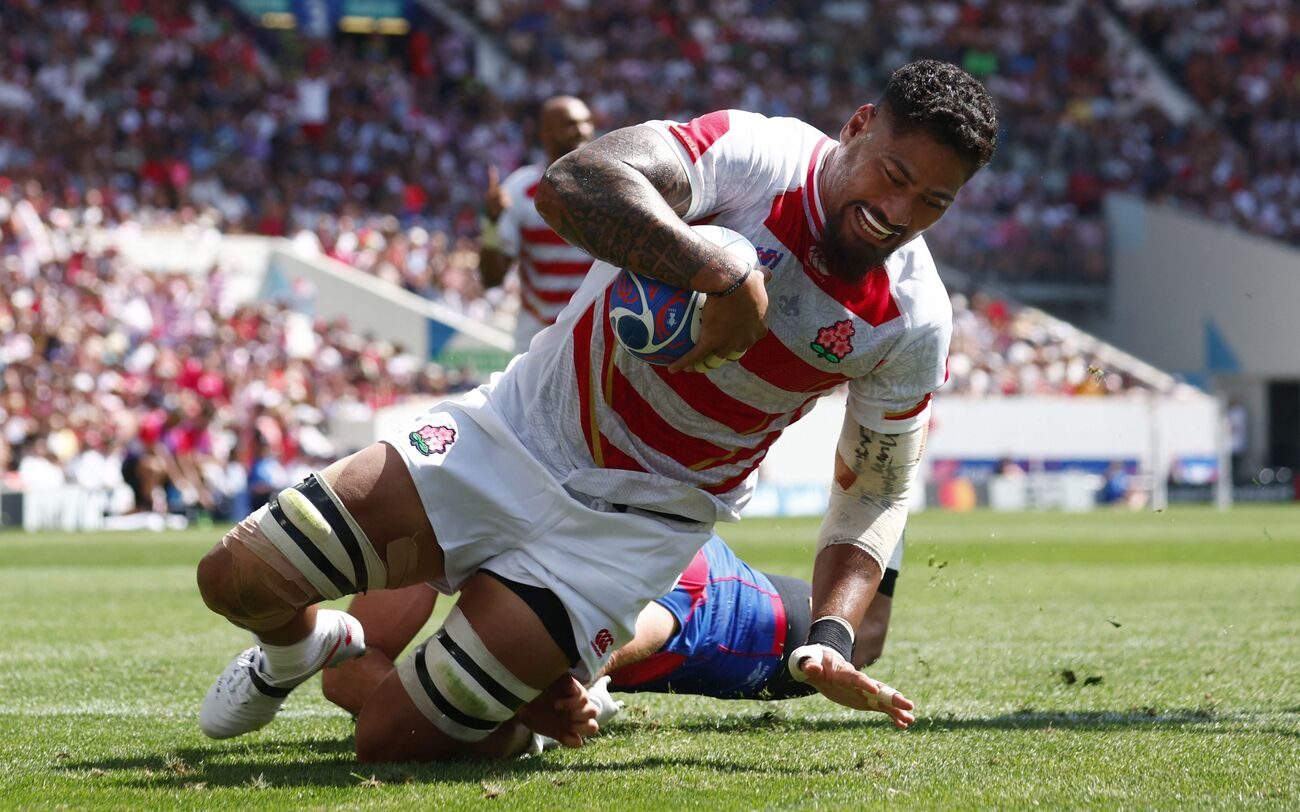 GLASGOW ― Jamie Joseph's Japan squad opened its 2023 Rugby World Cup campaign with a 42-12 victory over Chile on Sunday, September 10.
Japan, ranked 14th in the world, was able to secure a bonus point win over its 22nd-ranked opponent despite playing in a predictable manner throughout the encounter.
The match took place at Stadium de Toulouse in the south of France, which hasn't been spared from the late summer heatwave that has hit much of Europe. And the early afternoon (local time) kickoff meant that the game was played in scorching heat ― the mercury was at 32 C when the match started.
For Chile ― nicknamed Los Condores ― this was its first-ever Rugby World Cup match. The South Americans put in a determined and passionate showing, one which included several high quality moments.
At the highest level more consistency is required. The fact that Japan won so handily despite playing well below its best level illustrated this perfectly.
"Chile came with a really spirited performance, really hearty, tackled like demons, turned our ball over, really put us under pressure," Joseph said, according to The Associated Press. "We had to deal with that without losing confidence."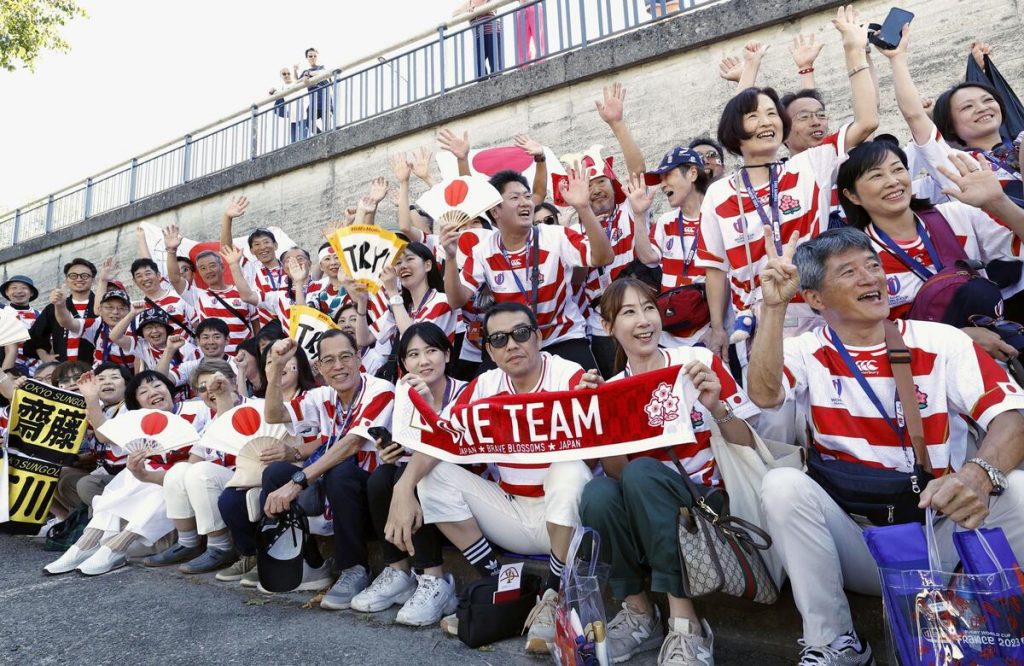 Japan's Lineup for Its Rugby World Cup Opener
Japan started with eight players who had represented it during the 2019 Rugby World Cup. Squad captain Kazuki Himeno had to withdraw on the morning of the match with a calf injury. He was replaced at number eight by lock Jack Cornelsen. Cornelsen's place in the second-row was filled by Amanaki Saumaki.
Yutaka Nagare captained Japan from scrum-half in Himeno's absence, while prop Keita Inagaki made his 50th appearance in his national jersey. Kotaro Matsushima, who played club rugby in France for Clermont Auvergne from 2020-22, started on the right wing instead of at fullback.
Mistakes and Poor Discipline Cost Chile After Fast Start
Despite the temperature, the match started at a blistering pace. Chile's fullback Inaki Ayarza broke into Japan territory and was supported by his scrum-half Marcelo Torrealba. Torrealba had the ball stripped, which caused chaos in Japan's defense. Fly-half Rodrigo Fernandez was on hand to kick the ball forward, gather and then dive over the line for the game's opening try.
With an early 7-0 lead, perhaps Chile dreamed of becoming the first team to win in its Rugby World Cup debut since Uruguay in 1999. On that day 24 years ago, Uruguay defeated Spain. Pablo Lemoine played for Uruguay on that occasion. Sunday, he was in the coaches' area in his capacity as Chile head coach.
Would Lemoine be involved in another famous World Cup first?
Almost instantly, Lemoine's Chile team was brought back to earth. From the kickoff, it coughed up possession and Japan took advantage. Lock Amato Fakatava identified a gap in Chile's defensive structure and ran in from 15 meters.
Chile's discipline then let it down. Prop Matias Dittus was sent to the sin bin for 10 minutes for a late hit on opposite number Jiwon Gu. With a man advantage Japan scored its second try. Winger Jone Naikabula finishing from close range after a scrum.
Japan helped itself to a third try before halftime. This time Chile captain Martin Sigren was in the sin bin, he accidentally clashed heads with Matsushima. Fakatava helped himself to his second try of the afternoon, holding the ball in a maul after a lineout and breaking away on the blind side of Chile's defense to score easily.

Chile trailed 21-7 at halftime.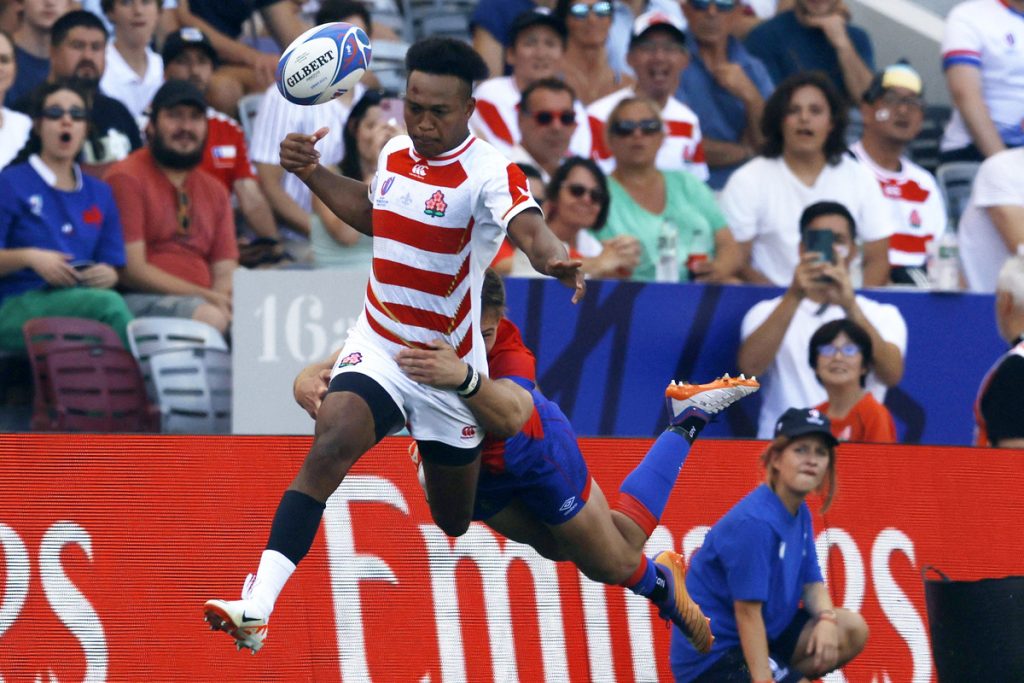 Big Improvement From Japan's Set Pieces and Kicking
Coming into this match, the Brave Blossoms were under pressure to perform better at set pieces and in the kicking game.
On this day they managed to do this.
Lineouts, a problem in the build-up to this tournament, functioned well. Japan won 13 of its 14 lineouts and also managed to steal possession from four of Chile's throw-ins.
Japan was also solid in the scrum ― returning a 92% success rate.
Fly-half Rikiya Matsuda had a perfect day from the kicking tee as he converted all six tries.
Japan's kicking from hand was also excellent. It helped the Brave Blossoms dominate the territorial battle, 66% to 34%, despite Chile outgaining them 370 to 313 in meters carried.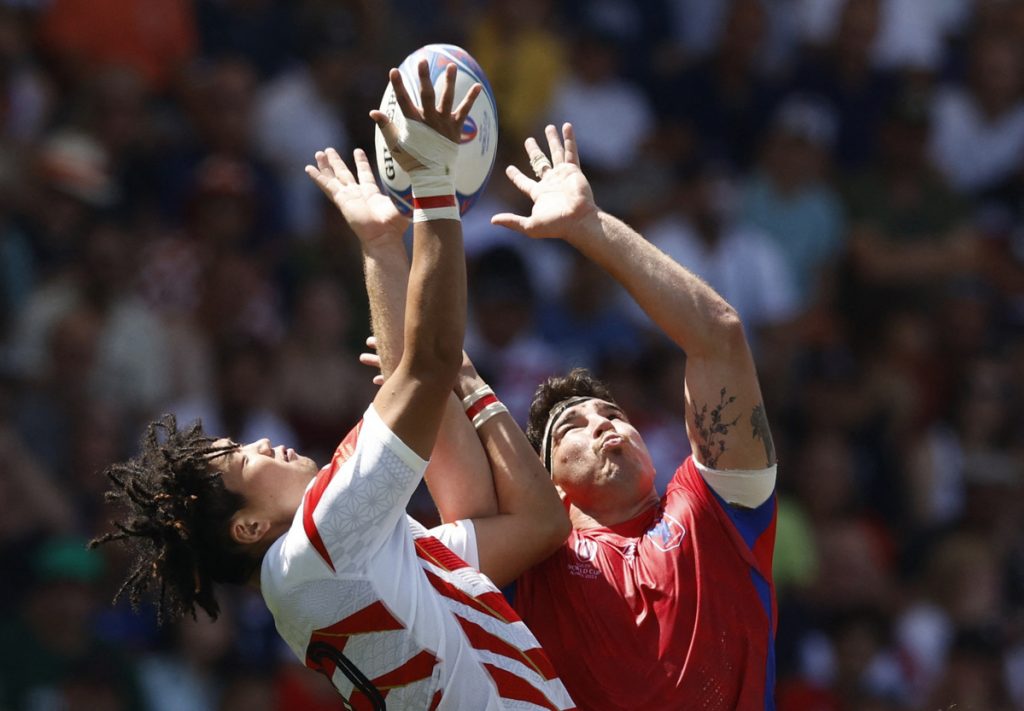 Pace Slows in the Second Half
After the break, both teams tired noticeably in the energy sapping conditions. Alfonso Escobar put Chile back into contention with a 47th-minute try to bring Los Condores within nine points. But this was the last time it would trouble the scoreboard.
Just five minutes later Michael Leitch dived over the whitewash after a sweeping Japan attack. The former captain's score secured the bonus point for Japan (a bonus point is awarded for scoring four tries) and put the game beyond Chile's reach.
The play was punctuated with errors from both teams during the final quarter of the match. Japan added some gloss to the scoreline with late tries from center Ryoto Nakamura and replacement lock Warner Dearns. Both tries were scored after close-range scrums.
Fakatava was named player of the match. Along with his two first-half tries he made 17 tackles.
Missed Tackles Were an Issue for Japan
While the improvements at set pieces were evident, Japan needs to work on its tackling and also developing more fluidity in its attacking game.
Against Chile it missed 28 out of 177 tackles. That will get heavily punished against better opposition. Japan also seemed reluctant to run with the ball, only doing so 86 times compared to Chile's 127 attempts. The Brave Blossoms only had two offloads, a sign of successful running rugby, in the entire 80 minutes.
There is plenty of work for Joseph to do with his squad before the match against England on Sunday, September 17.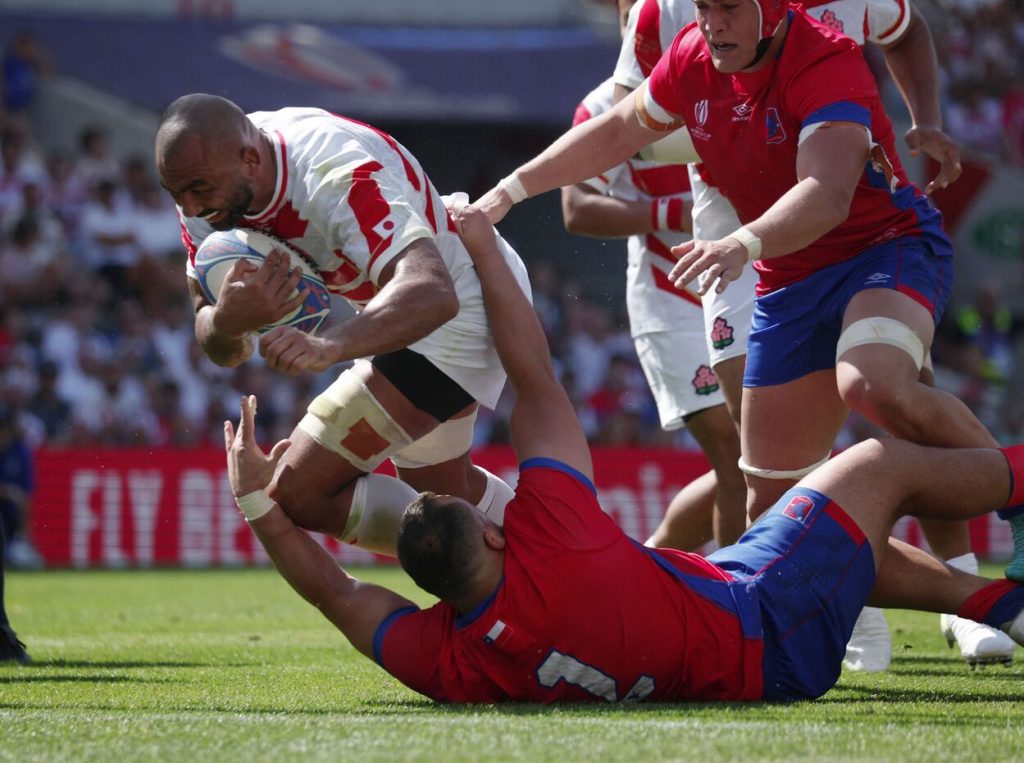 Quotations and Conclusion
Leitch and Matsuda were among the players who provided insights about the team's performance after the game.
"As expected, Chile were a team who passed the ball around and really showed their emotions. But we could put them under pressure throughout the 80 minutes," Leitch said, according to Kyodo News.
He added, "The first game is the most difficult. We'll have good preparation ahead of the next big match."
Matsuda, delighted with his perfect kicking performance was also quoted by Kyodo News: "It really wasn't an easy game, but I'm really happy Japan played as one and got the win."
The fly-half continued, "Our plan was to keep getting into their territory and go for a try, and we were only focusing on executing that."
It's always satisfying to open a tournament with a win. Japan gets a B- for its performance today. It was good enough to beat Chile. But the one-dimensional strategy of constantly kicking for territory will need to be upgraded to a more varied game plan if success against England, Samoa and Argentina is to be found.
RELATED:

Author: Colin Morrison
Morrison is a freelance sportswriter. Find his stories on SportsLook. Writing since 2016, Morrison's byline also appears on boxing website NYFights.com and multi-sports platform Spitballingpod.com. His main areas of interest are boxing, soccer, golf and rugby union. Morrison is from Scotland and can be found on X (formerly Twitter) @Morrie1981.