[JAPAN SPORTS NOTEBOOK] Hiromitsu Kadota Carved Out a Hall of Fame Career with Grit and Talent
Hiromitsu Kadota slugged 567 home runs in his 23-year career before retiring in 1992 as one of NPB's greatest power hitters. He passed away on January 24.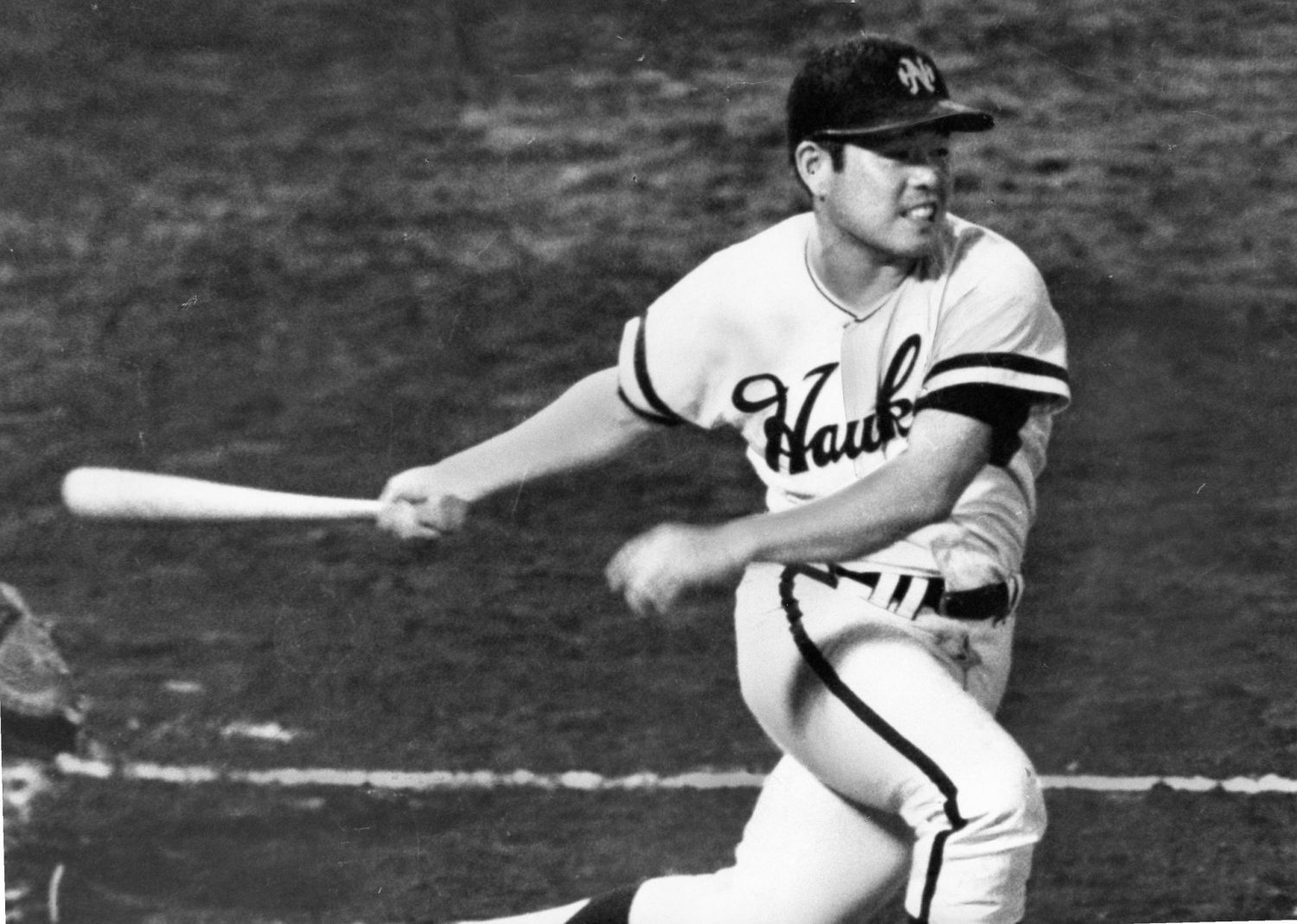 Only two men ever hit more home runs than Hiromitsu Kadota in NPB history. That alone tells you plenty about the prolific left-handed hitter's illustrious career.
And more than 30 years after he played his final game, Kadota remained one of the more colorful players in Japanese baseball history.

Kadota passed away on Tuesday, January 24, at his home in Aioi, Hyogo Prefecture. He was 74.
Tributes to Kadota poured in on social media and in traditional media in the days that followed his death.

Sadaharu Oh smacked 868 round-trippers for the Yomiuri Giants, while Katsuya Nomura bashed 657 for the Nankai Hawks, Lotte Orions and Seibu Lions. Both sluggers retired in 1980.

Greg "Boomer" Wells, a former Braves and Hawks teammate, mourned Kadota's death in a post on his Facebook page.

"It's a very sad day for me," Wells wrote. "I was informed that my best friend and former teammate Kadota-san passed away. He was a great player and an even better friend. Rest in peace my friend. I will miss you."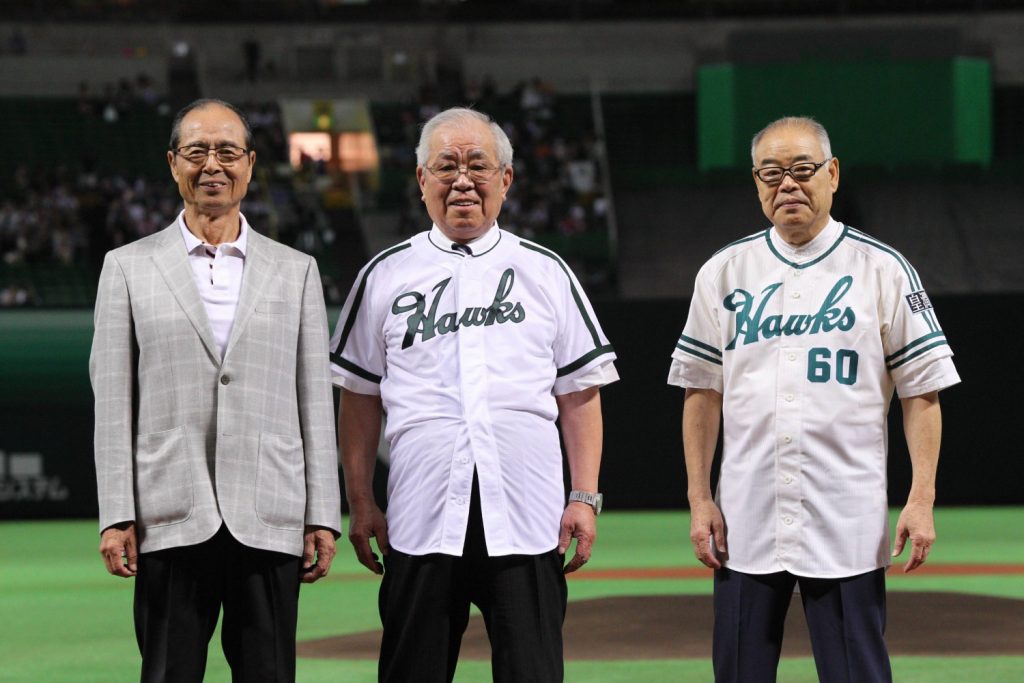 From left, Sadaharu Oh, Katsuya Nomura and Hiromitsu Kadota in August 2013 in Fukuoka. (ⒸSANKEI)
Kadota Remembered for His Big Swing
Oh praised the 170-cm Kadota for his determination as a hitter throughout his career.

"He wasn't very big, but he had a full swing," the Hawks chairman was quoted as saying in numerous Japanese news reports on Wednesday, January 25. "He was a person with a strong desire to improve."
Kadota retired in 1992 after 23 NPB seasons, all but two with the Nakai/Fukuoka Daiei Hawks, the Pacific League franchise now known as the Fukuoka SoftBank Hawks. He also played for the Orix Braves from 1989-90.
In 1971, Kadota, then 23 years old, had a breakthrough season, batting .300 with 31 home runs and 120 RBIs in 129 games.

Kadota recovered from a right Achilles tendon tear in 1979, when he was limited to 19 games and earned the NPB Comeback Player of the Year Award the next year. He crushed 41 homers, drove in 84 runs and hit at a .292 clip in 111 games.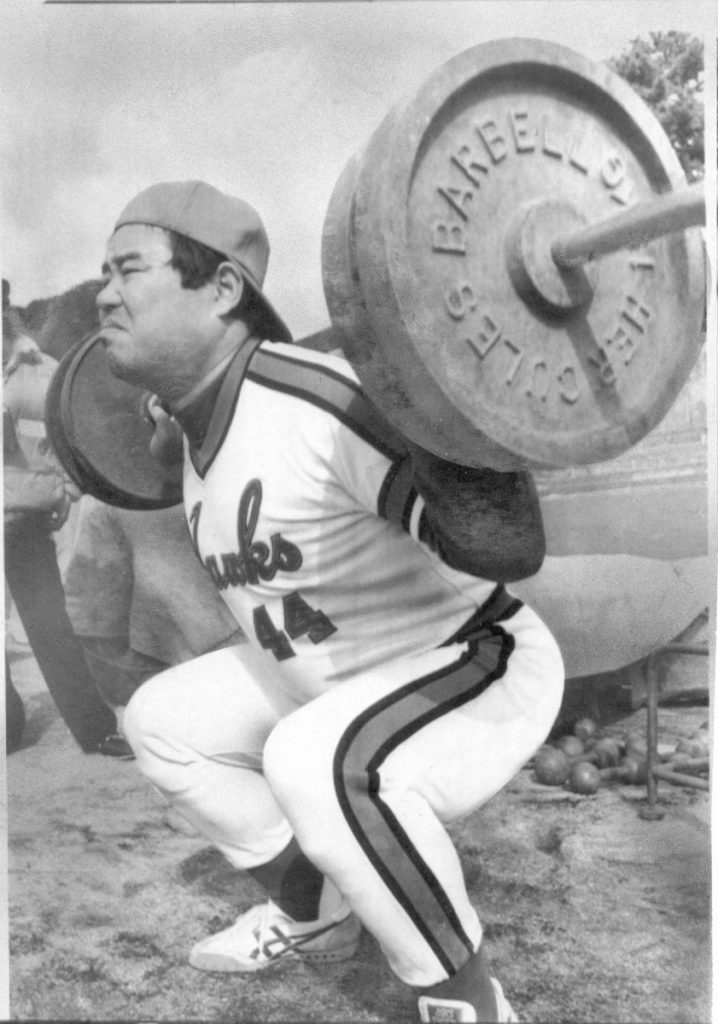 Kadota's Singular Approach
Stories about Kadota circulated quickly in Japan in the aftermath of his death, and one of the most poignant observations about his approach to batting appeared in Nikkan Sports.

In former NPB pitcher Hisashi Yamada's remembrance piece on Kadota, which was posted online on January 24, the sports newspaper noted that Kadota had one goal in mind whenever he stepped into the batter's box.

"I only aim for home runs," Kadota had said, according to Nikkan Sports.

Not surprisingly, this mindset clashed with Nomura's philosophy when he served as Hawks manager (1970-77), Yamada observed.

Nevertheless, the longtime pro pitcher admired Kadota's sustained success as a power hitter.

"He was a professional among professionals who hit home runs with that small body," Yamada opined.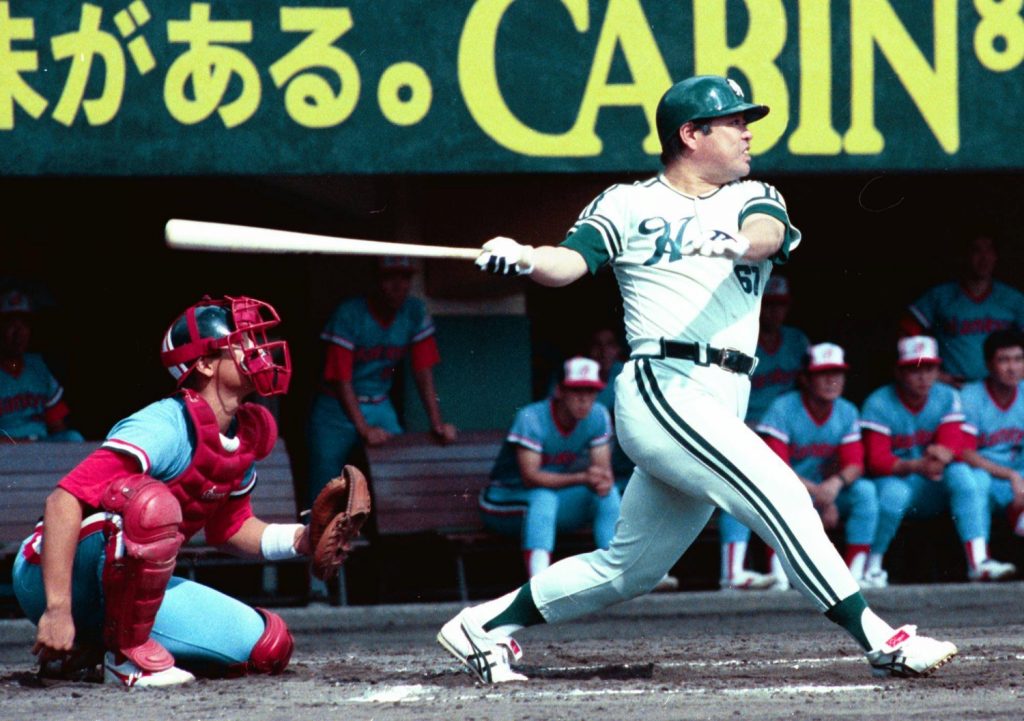 Nankai Hawks slugger Hiromitsu Kadota, seen in a 1988 file photo, smacked 44 home runs and drove in 125 runs that year, earning the Pacific League MVP award. (ⒸSANKEI)
Additional Career Highlights
In 1988, Kadota won the PL MVP award at age 40, matching his career high in homers (44, which he had smacked in 1981) with 125 RBIs and a .311 average. He became the first NPB player in his 40s to be named MVP in either league.
Throughout his career, Kadota was a good contact hitter. He rapped out 2,566 hits (fourth on NPB's all-time list behind Oh's 2,706, Nomura's 2,901 and Isao Harimoto's 3,085) in 2,571 games. Kadota struck out 100 or more times in only three seasons.
The compact slugger was inducted into the Japanese Baseball Hall of Fame in 2006.
As impressive as his pro career turned out to be, his scholastic baseball career didn't hint of great things to come. Kadota hit zero home runs as a junior high school and high school player.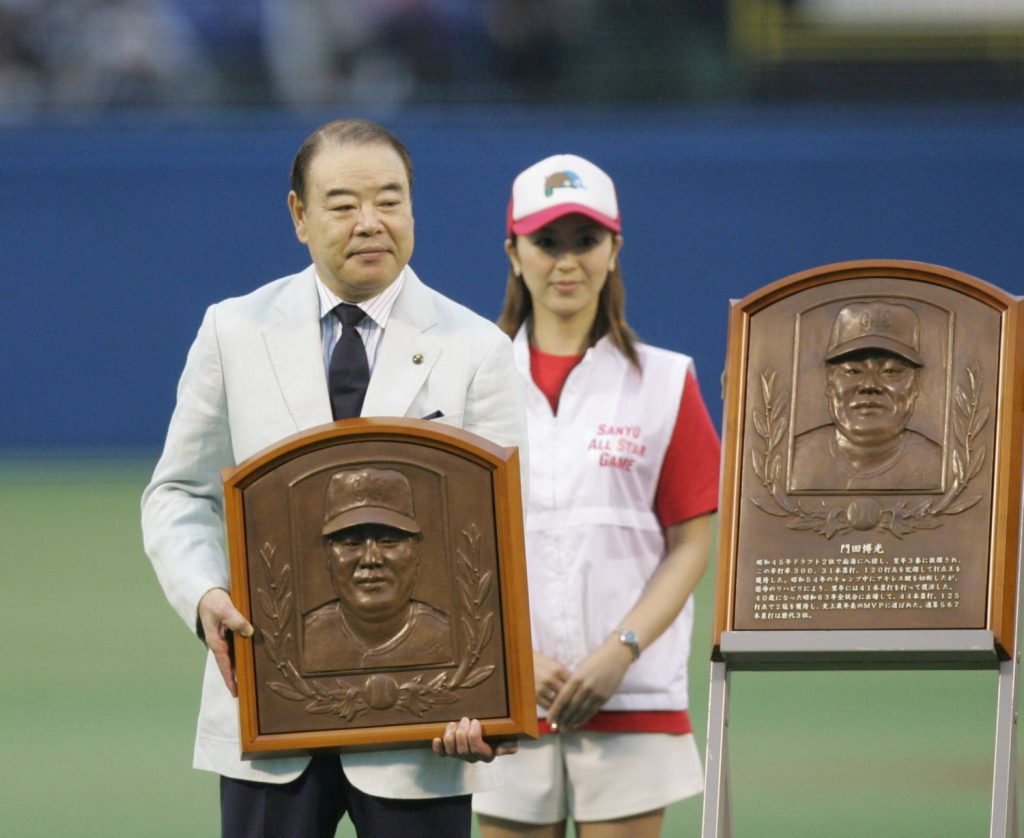 Hiromitsu Kadota's induction into the Japanese Baseball Hall of Fame in 2006. (ⒸSANKEI)
Remaining Spots on Samurai Japan's WBC Roster Announced 
Samurai Japan's full roster for the upcoming World Baseball Classic is now finalized.

The 30-man roster was released on Thursday, January 26.

Initially, Japan manager Hideki Kuriyama announced 12 players to the squad in December 2022, with other selections surfacing in media reports in the weeks that followed before the final roster was released.

Samurai Japan's roster:

Pitchers: Yu Darvish (MLB's Padres), Shota Imanaga (BayStars), Hiromi Ito (Fighters), Ryoji Kuribayashi (Carp), Yuki Matsui (Eagles), Hiroya Miyagi (Buffaloes), Shohei Ohtani (MLB's Angels), Taisei Ota (Giants), Roki Sasaki (Marines), Hiroto Takahashi (Dragons), Keiji Takahashi (Swallows), Shosei Togo (Giants), Yuki Udagawa (Buffaloes), Yoshinobu Yamamoto (Buffaloes) and Atsuki Yuasa (Tigers)
Catchers: Takuya Kai (Hawks), Yuhei Nakamura (Swallows) and Takumi Oshiro (Giants)
Infielders: Sosuke Genda (Lions), Shugo Maki (BayStars), Munetaka Murakami (Swallows), Takumu Nakano (Tigers), Kazuma Okamoto (Giants), Tetsuto Yamada (Swallows) and Hotaka Yamakawa (Lions)
Outfielders: Kensuke Kondo (Hawks), Lars Nootbaar (MLB's Cardinals), Ukyo Shuto (Hawks), Seiya Suzuki (MLB's Cubs) and Masataka Yoshida (MLB's Red Sox)
RELATED: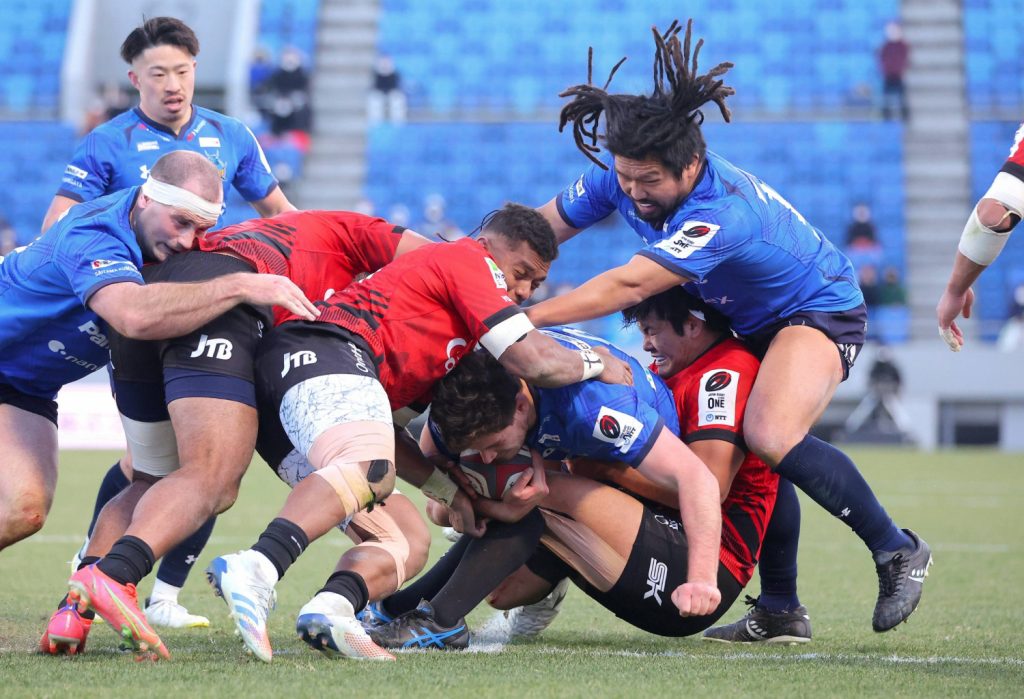 The Saitama Panasonic Wild Knights' Jack Cornelsen carries the ball in the first half against the Yokohama Eagles on January 28 in Kumagaya, Saitama Prefecture. (ⒸSANKEI)
Rugby
Wild Knights Setting the Pace in League One
The Saitama Panasonic Wild Knights, the reigning Japan Rugby League One champions, have once again demonstrated their all-around excellence from the get-go in the 2022-23 season, winning all six of their matches.

The Wild Knights earned their sixth victory on Saturday, January 28, topping the Yokohama Eagles 21-19 in Kumagaya, Saitama Prefecture. Asaeli Ai Valu scored a match-tying try in the 41st minute and Rikiya Matsuda nailed the conversion to account for the hosts' final points.

Head coach Robbie Deans' squad opened the season with a 22-19 victory over Toshiba Brave Lupus on December 17, followed by a 15-14 nail-biting triumph over the Shizuoka Blue Revs on Christmas.

Since the calendar flipped to 2023, the Wild Knights have cranked it up a notch on offense. They pounced on the Mitsubishi Sagamihara DynaBoars on January 7, winning 40-5.

On January 15, the Wild Knights got past the Toyota Verblitz by a 34-19 decision.

Panasonic extended its winning streak to five with a 38-17 rout of the Black Rams Tokyo on Saturday, January 21.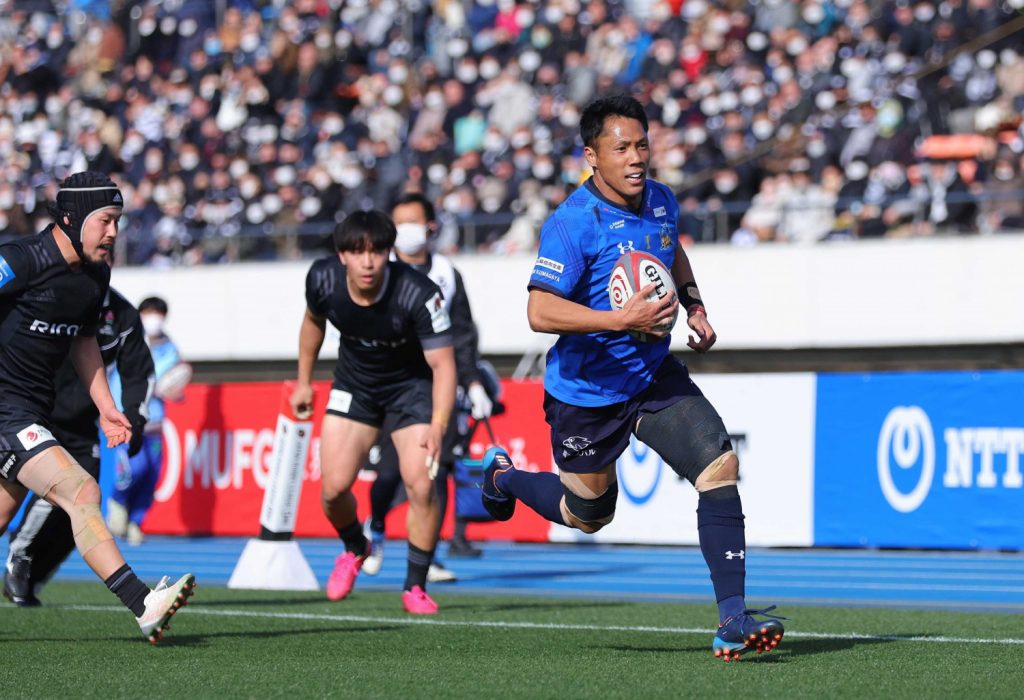 Saitama Panasonic Wild Knights player Takuya Yamazawa scores a first-half try against the Black Rams Tokyo on January 21 in Tokyo. (ⒸSANKEI)
Deans Discusses Recent Lineup Tinkering
After the match against the Black Rams, Deans acknowledged that he's been tinkering with the team's lineup and experimenting with various combinations of players in order to be best prepared for any opponent.

He prefaced his remarks by saying, "Using our strengths is of course our number one priority, but we are trying out various combinations."

Speaking to reporters at Komazawa Olympic Park Athletic Stadium, Deans added: "As with any team, I think the ability to respond is very important. … I feel it is important to be able to experiment with different variations in the selection. We would like to constantly improve our attacks, and we would like to constantly develop difficult attacks for our opponents."
RELATED: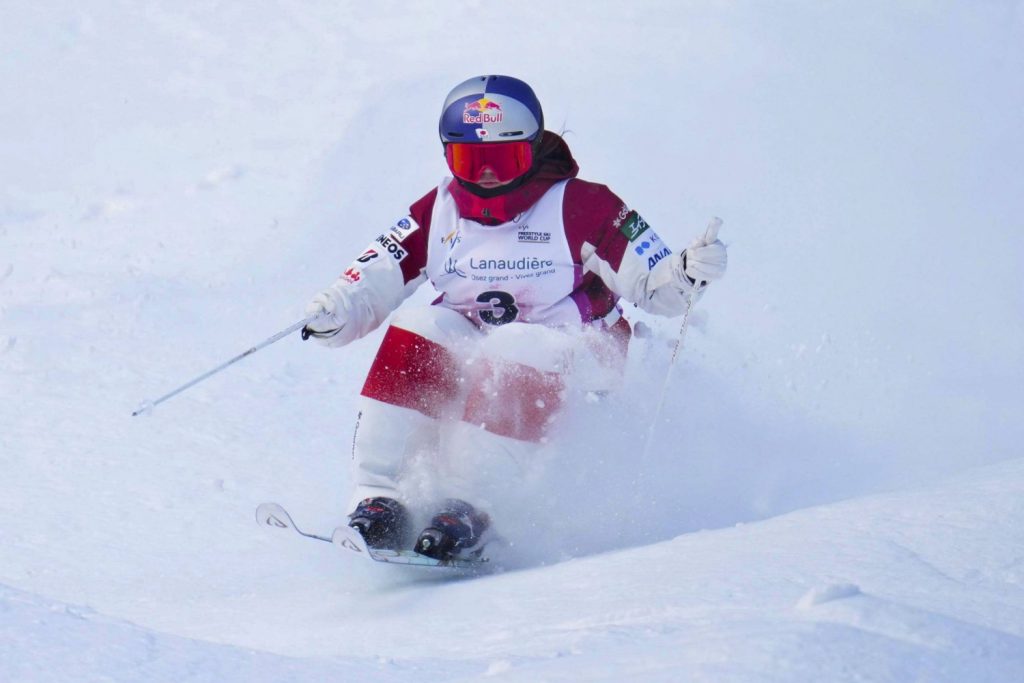 Anri Kawamura competes in a World Cup women's freestyle skiing moguls event in Val Saint-Come, Canada, on January 27. (CANADIAN PRESS/AP/via KYODO)
Freestyle Skiing
Kawamura Continues to Excel on World Cup Circuit
In six World Cup freestyle skiing moguls competitions this season, Anri Kawamura has had five top-three finishes.

The 18-year-old Beijing Olympian received 82.88 points in the women's moguls final on Friday, January 27 in Val Saint-Come, Canada, to win the event.
Australia's Jakara Anthony, the reigning Olympic gold medalist, finished second with 81.88 points.
Displaying exceptional balance and technique in the final, Kawamura completed her run in 24.21 seconds. (Watch Kawamura's winning run on Friday.)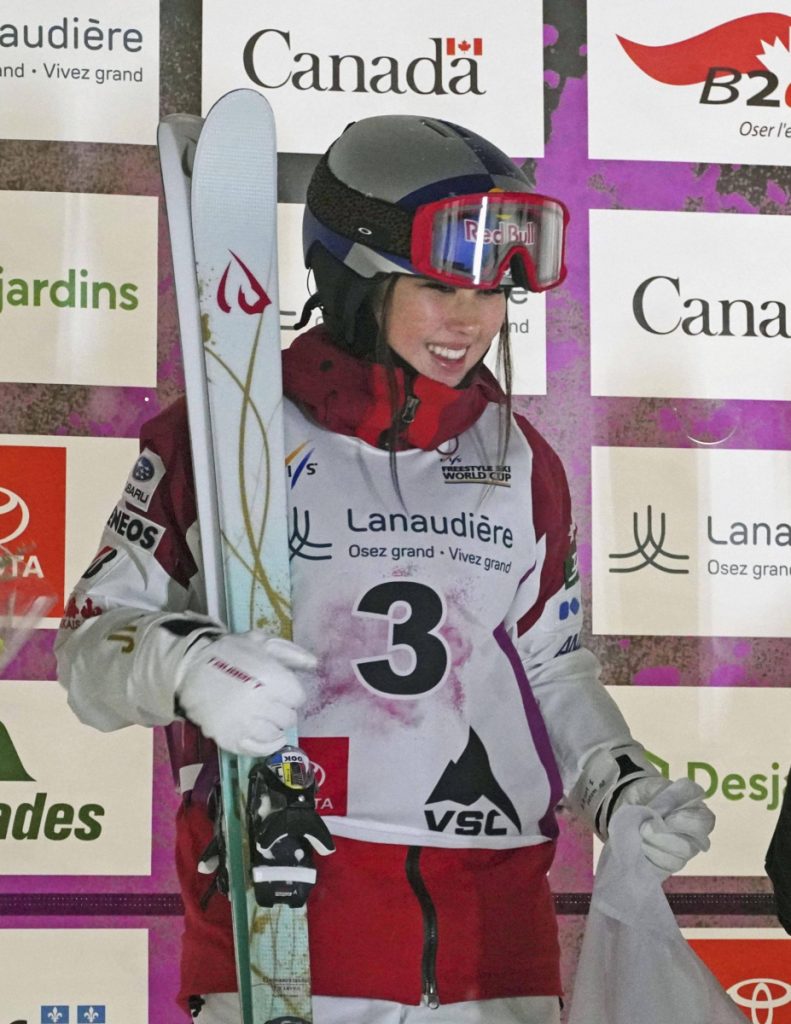 "I'm really happy," an elated Kawamura said after securing the victory in Canada's Quebec province. "It's incredible, it's amazing. I've been working really hard to get victories this season and it feels amazing."
Kawamura, who finished fifth in her Olympic moguls debut in February 2022, won her previous competition, a World Cup dual moguls event, on December 17 in Alpe d'Huez, France.
RELATED: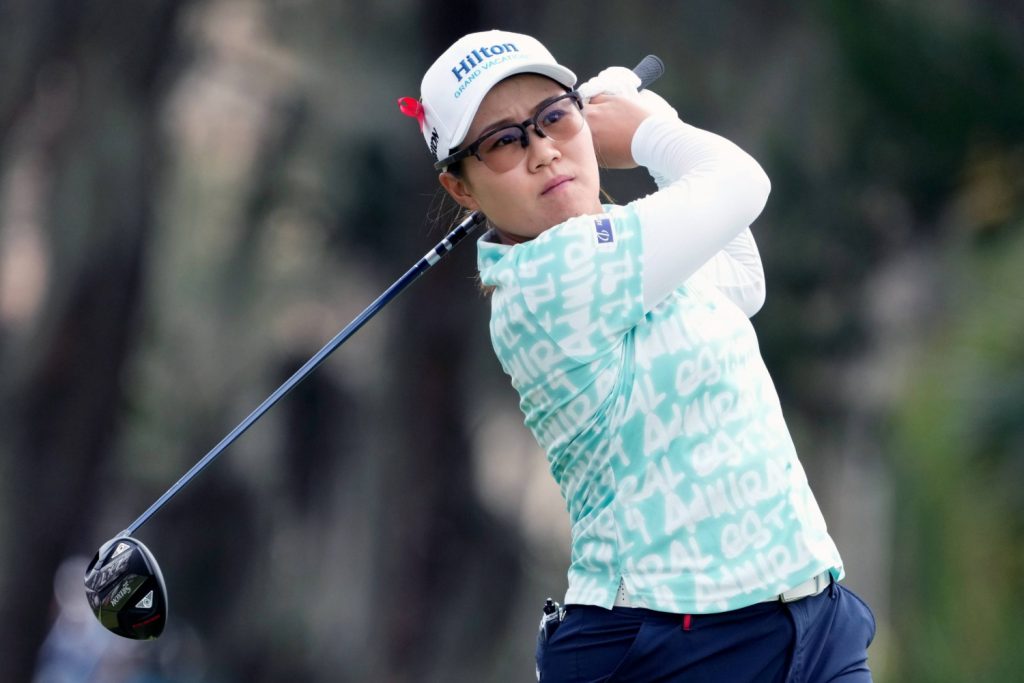 Nasa Hataoka hits a shot from the ninth tee during the final round of the LPGA Hilton Grand Vacations Tournament of Champions, on January 22 in Orlando, Florida. (John Raoux/AP)
Golf
Hataoka Places Fifth in 2023's First LPGA Tournament
Nasa Hataoka earned a fifth-place finish in the Hilton Grand Vacations Tournament of Champions in Orlando, Florida, on Sunday, January 22.
The world's 10th-ranked female golfer finished with a 9-under 279, seven shots off the pace. Brooke Henderson, who led from start to finish in the four-round tourney, collected the title.
Hataoka opened the event with a 1-under 71, followed by rounds of 68, 66 and 74.

"I think I had a solid week, first tournament of the year, playing in the final group, trying to catch up with Brooke, I tried my best," Hataoka told reporters.
She added, "I feel like I had a really solid week overall."

The Florida tournament featured LPGA Tour winners from the past two years.

Hataoka is next expected to play in the Honda LPGA Thailand event, which starts on February 23.
Winter World University Games
Japan Finishes First with 48 Overall Medals
In Lake Placid, New York, Japan's athletes shined at the 2023 Winter World University Games, which concluded on January 22.

Team Japan collected 48 medals (21 gold, 17 silver, 10 bronze), most among all participating nations. South Korea finished second with 12 gold among its 29 total medals.

Japan's men won 12 gold medals among their 25 in total. On the women's side, Japan collected seven gold medals and 18 overall. In the mixed gender competitions, Japan earned five medals, including two gold.
For Japan, in what events were the medals earned?

The nation's athletes took home medals in cross-country skiing, figure skating, freestyle skiing, ice hockey, Nordic combined, short track speed skating, ski jumping, snowboard and speed skating. (Check out Japan's complete list of medalists.)
RELATED: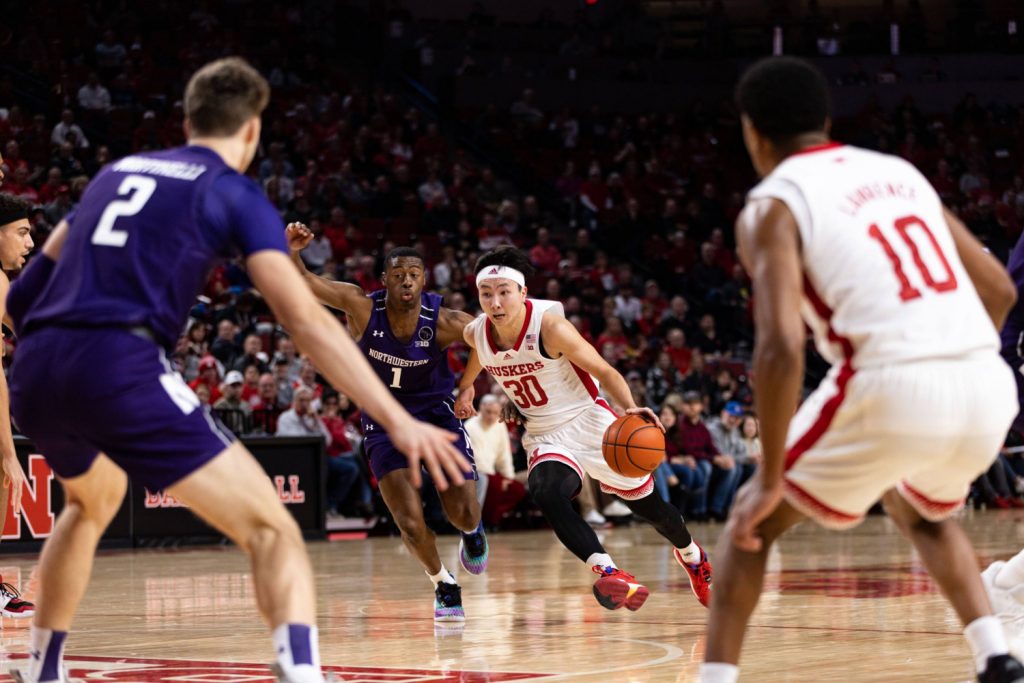 University of Nebraska guard Keisei Tominaga drives to the basket against Northwestern University on January 25 in Lincoln, Nebraska. (NEBRASKA ATHLETICS)
Basketball
Tominaga Shines in Nebraska's Loss
University of Nebraska guard Keisei Tominaga had the hot hand in the early going against Northwestern University on Wednesday, January 25.
Tominaga scored Nebraska's first 12 points, including a reverse layup to open the proceedings in Lincoln, Nebraska.

But the Cornhuskers faced a 43-30 halftime deficit they were unable to overcome. The result? A 78-63 loss to the Wildcats, a Big Ten Conference opponent.
Nebraska slipped to 10-11 overall, 3-7 in the Big Ten. Northwestern improved to 14-5, 5-3.

Tominaga finished with a team-high 22 points (one less than his best-ever scoring game for Nebraska), increasing his season average to 10.6 points per game. He played a season-high 33 minutes and also had season-high totals in field-goal attempts (17) and baskets (nine).

Last season, Tominaga averaged 5.7 points per game.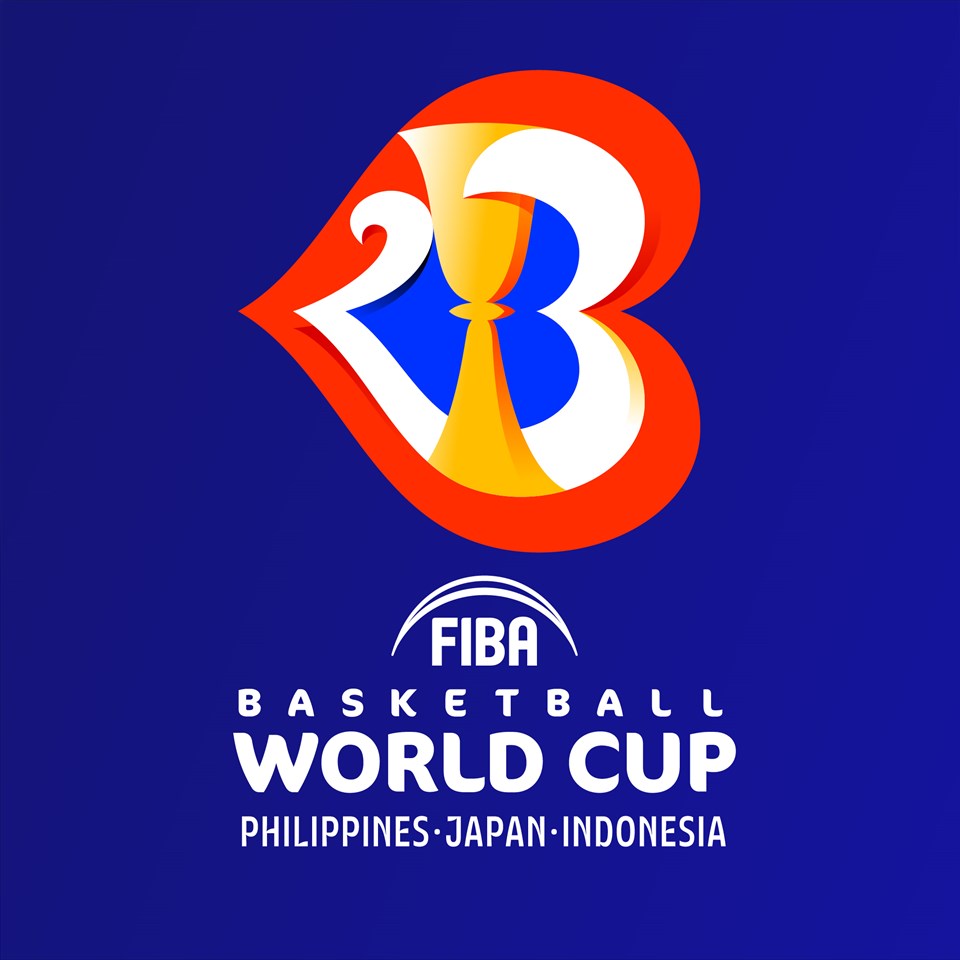 A Look Ahead: FIBA World Cup Qualifiers
The Japan men's national team is back in action on February 23 and 26 against Iran and Bahrain, respectively, for a pair of 2023 FIBA Basketball World Cup Asian qualifiers.

Japan coach Tom Hovasse's club takes a 5-5 record in qualifying into February's final phase of qualifying in Takasaki, Gunma Prefecture.

Iran is 6-4, while Bahrain has a 2-8 record.

Qualifying began in November 2021.

In its most recent Asian qualifier, Japan defeated Kazakhstan 81-61 on November 14, 2022, in Astana.
Japan is one of three host nations for this year's FIBA World Cup (August 25-September 10) along with Indonesia and the Philippines. Okinawa Arena will be the site of first- and second-round matches and classification round games from August 25-September 3. Check out the full FIBA World Cup schedule.
Zimmerman Joins Rizing Zephyr Fukuoka
Former NBA center Stephen Zimmerman has joined the Rizing Zephyr Fukuoka, a B.League second-division team, it was announced on Thursday, January 26.
Zimmerman, a 26-year-old UNLV product, suited up for the Orlando Magic in the 2016-17 season, appearing in 19 games. He has also played in the NBA G League, Australia and the Czech Republic in his pro career, which began in 2016.


Author: Ed Odeven
Find Ed on JAPAN Forward's dedicated website, SportsLook. Follow his [Japan Sports Notebook] on Sundays, [Odds and Evens] during the week, and Twitter @ed_odeven.