Japan's Rally Falls Short Against Australia in FIBA Asia Cup Quarterfinals
The Akatsuki Five, playing without injured forward Yuta Watanabe, showcased their long-range shooting skills throughout the game.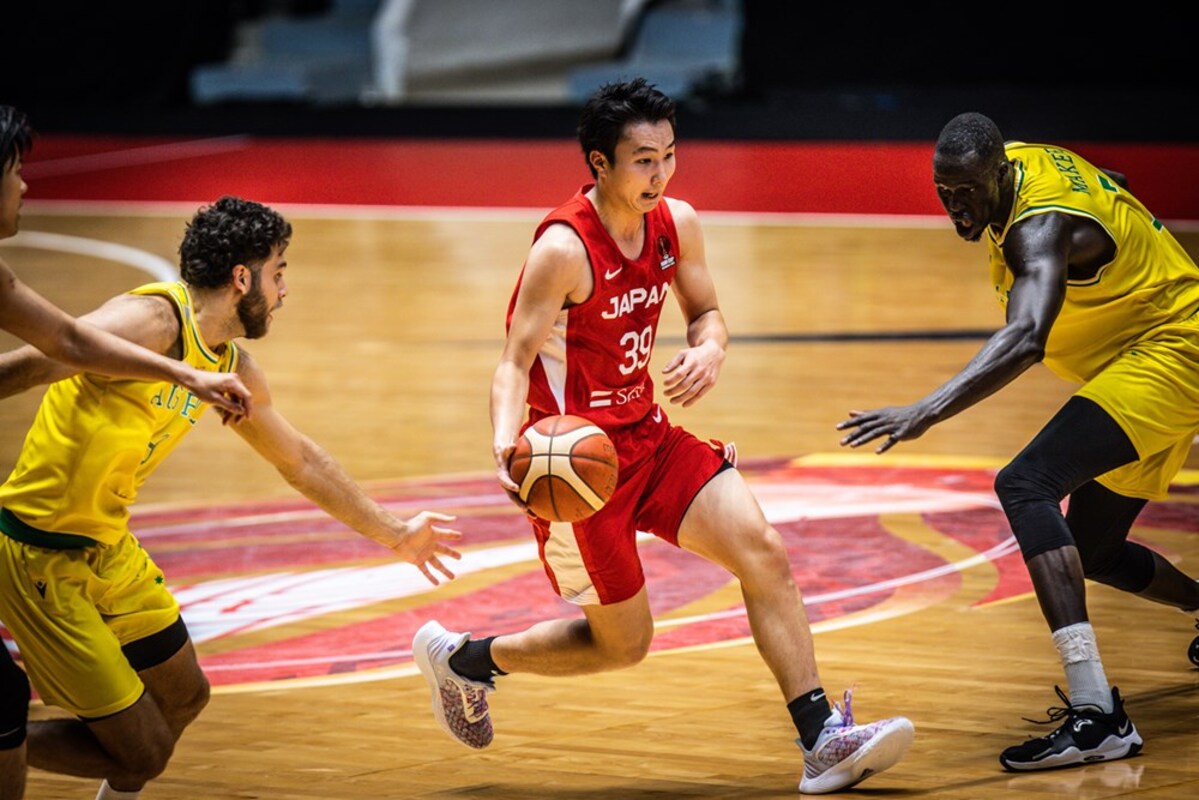 The Japan men's national basketball team came up short in its spirited comeback effort in the fourth quarter against Australia in the FIBA Asia Cup quarterfinals on Thursday evening, July 21.

The Akatsuki Five, who faced a 21-point deficit entering the fourth quarter, put 31 points on the board in the final 10 minutes in Jakarta. But it wasn't enough to overcome a slow start in a 99-85 defeat to the reigning tournament champion.

Rising star Keisei Tominaga spearheaded Japan's resurgence with a sensational, game-high 33-point performance. The University of Nebraska guard, who's entering his junior season this fall, buried 8 of 15 3-point shots and grabbed five rebounds.
Tominaga and teammates relied on 3-point shooting to ignite their comeback attempt in the final period, when they nailed eight shots from beyond the arc.
"I loved our effort. I loved our attitude," Japan coach Tom Hovasse told reporters later.

In the semifinals, Australia faces New Zealand, which beat South Korea 88-78 in Thursday's second quarterfinal, on Saturday. The other semifinal pits Jordan against Lebanon in the Indonesian capital.
Japan pulled within 15 on a Tominaga 3-pointer with 7:23 to play in the fourth. Moments later, teammate Yutaro Suda nailed a 3 to trim the Boomers' advantage to 80-68.

Japan cut it to 90-78 on another Tominaga 3 with 4:31 to play, then Soichiro Inoue, who had 11 points and six rebounds, knocked down a shot from beyond the arc to pull Japan within single digits (90-81) for the final time, with 4:01 remaining.

"I'm very proud of the team, the players," Hovasse said in his opening remarks in the postgame news conference. "They never gave up. There were times when Australia just kept getting offensive rebounds and we were missing shots, and there were a lot of times when we could have just stopped playing, but we didn't, and we made it an interesting game."
He continued: "We could have knocked it down to seven points at one point, and Australia, you have to give them credit. They hit some big shots to keep the lead going."

Japan made 20 of 43 3-point attempts. Australia converted 16 of 34.

The Boomers Dominate Inside
Australia outrebounded Japan 51-29, including 16-5 on the offensive glass.
The 7-foot-1 (216-cm) center Thon Maker, a first-round draft pick of the NBA's Milwaukee Bucks in 2016, paced Australia with 21 points and 13 rebounds. Maker also dished out five assists.
Playing without NBA free agent Yuta Watanabe, who sprained his right ankle in Tuesday's game against the Philippines, Japan was missing a key player from its stating lineup.

The Boomers exploited this mismatch, outrebounding Japan 31-13 before intermission.

The 6-foot-9 (206-cm) Watanabe, Japan's tallest player, averaged 15.3 points, a team-high 8.3 rebounds and 2.8 assists in four Asia Cup matches.

"I think defensively their lack of size at times can hurt them," Australia coach Mike Kelly said of Japan.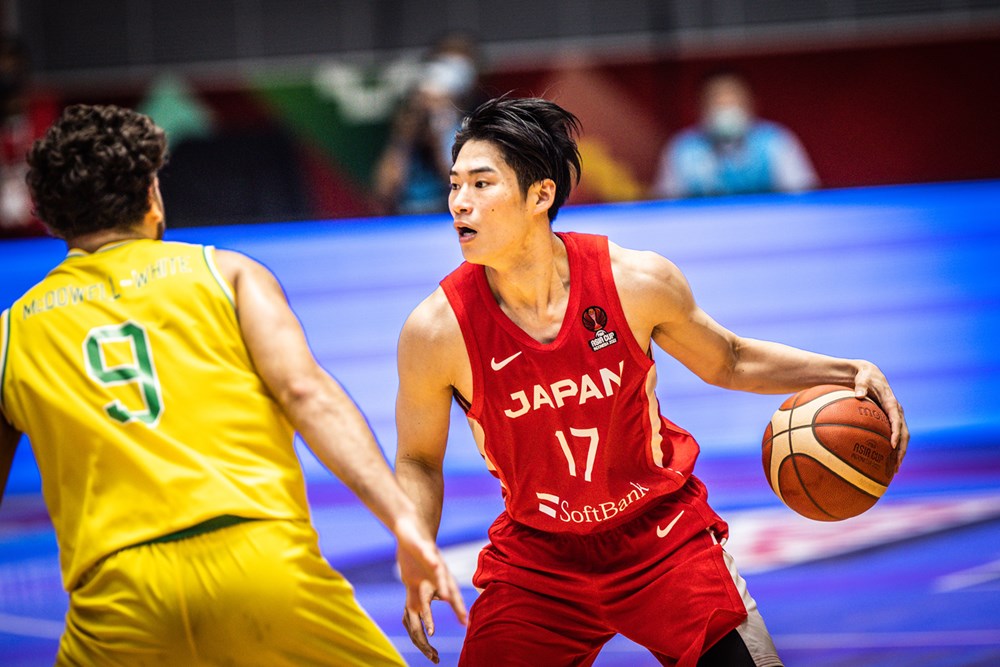 Australia power forward Rhys Vague, who plays for the B.League second-division's Kagawa Five Arrows, finished with 19 points on 7-for-8 shooting, Samson James Froling added 15 and Keanu Pinder scored nine. Mitchell McCarron had a solid all-around effort with seven points, seven rebounds and nine assists, while Tyrese Proctor also scored seven points.
For Japan, Yuki Togashi chipped in with 14 points and five assists. Yuki Kawamura provided five points, six assists and three steals.

Australia Builds Commanding Lead
Australia raced out to a 15-3 lead to open the game.

Japan trailed 33-22 entering the second quarter.

Tominaga carried the scoring load for the Akatsuki Five early on, scoring 17 of the team's first 25 points.
Hovasse was impressed with Tominaga's offensive performance. After the game, he summed it up this way: "When he gets on fire, holy man, oh, man. … I'm really excited to see his growth."
By halftime, Tominaga was 4 of 8 from 3-point range. He still had 17 points at intermission, when Australia led 49-34.

Hovasse tried to fire up his players at halftime.

"I got a little excited," he said later with a laugh. "It wasn't about Xs and Os at all, it was about finishing this game with pride and finishing it the way we can play."

He added, "I think they responded to that. That was a fun second half."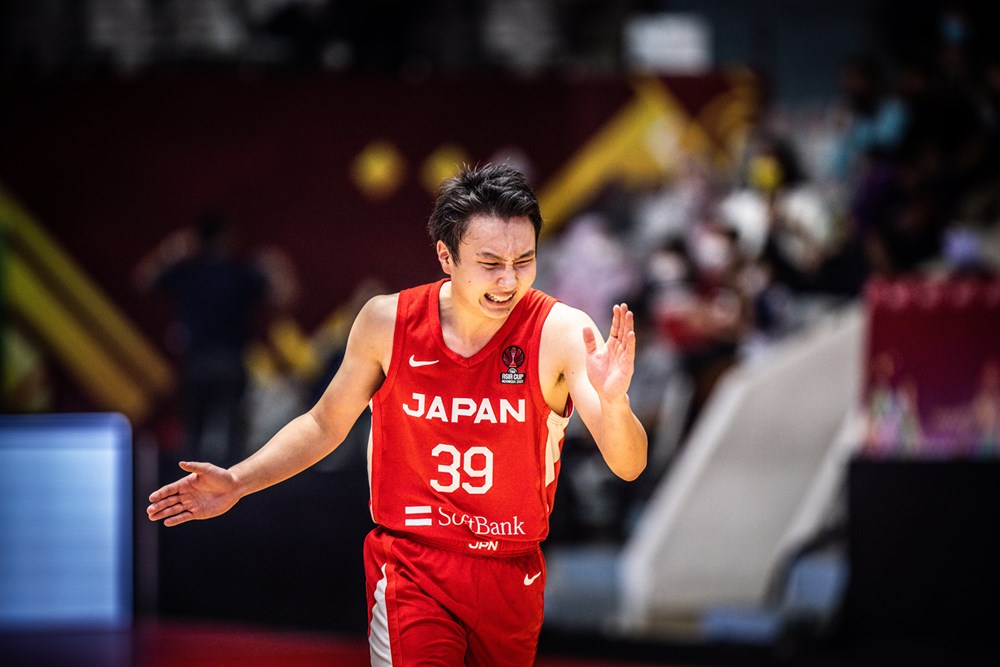 Tominaga Bounces Back
Coming off a frustrating zero-point outing (0-for-5 shooting) outing against the Philippines on Tuesday, when Japan had to win to earn a berth in the quarterfinals, Tominaga bounced back and displayed an aggressive mindset on offense.

He later described how he approached the quarterfinal showdown with Australia.

"I was not nervous," said Tominaga. "There was no pressure regarding my playing, but yeah, last time, I stepped onto the court, I could not help much with my shooting, but after that I switched my mindset, and well frankly, it was big. …. It was really refreshing and nice to feel that I had played my role."

Froling was Australia's leading scorer (15 points) in the opening half. Maker, who won the game-opening tipoff against Japan center Luke Evans, had seven points and nine rebounds over the first two quarters.

In the immediate aftermath of Japan's exit from the tournament, Hovasse focused on the positives.
"There are some young guys who have stepped up, so we are finding pieces of the puzzle," he said.
"I think this was a successful tournament for us," the coach concluded.

RELATED:

Author: Ed Odeven

Follow Ed on JAPAN Forward's [Japan Sports Notebook] here on Sundays, in [Odds and Evens] here during the week, and Twitter @ed_odeven.