Koshigaya Alphas Build Foundation for Success with Strong Rebounding and Defense
In the B.League second division, which has 14 teams, the Koshigaya Alphas have the stingiest defense, holding opponents to 70 points per game.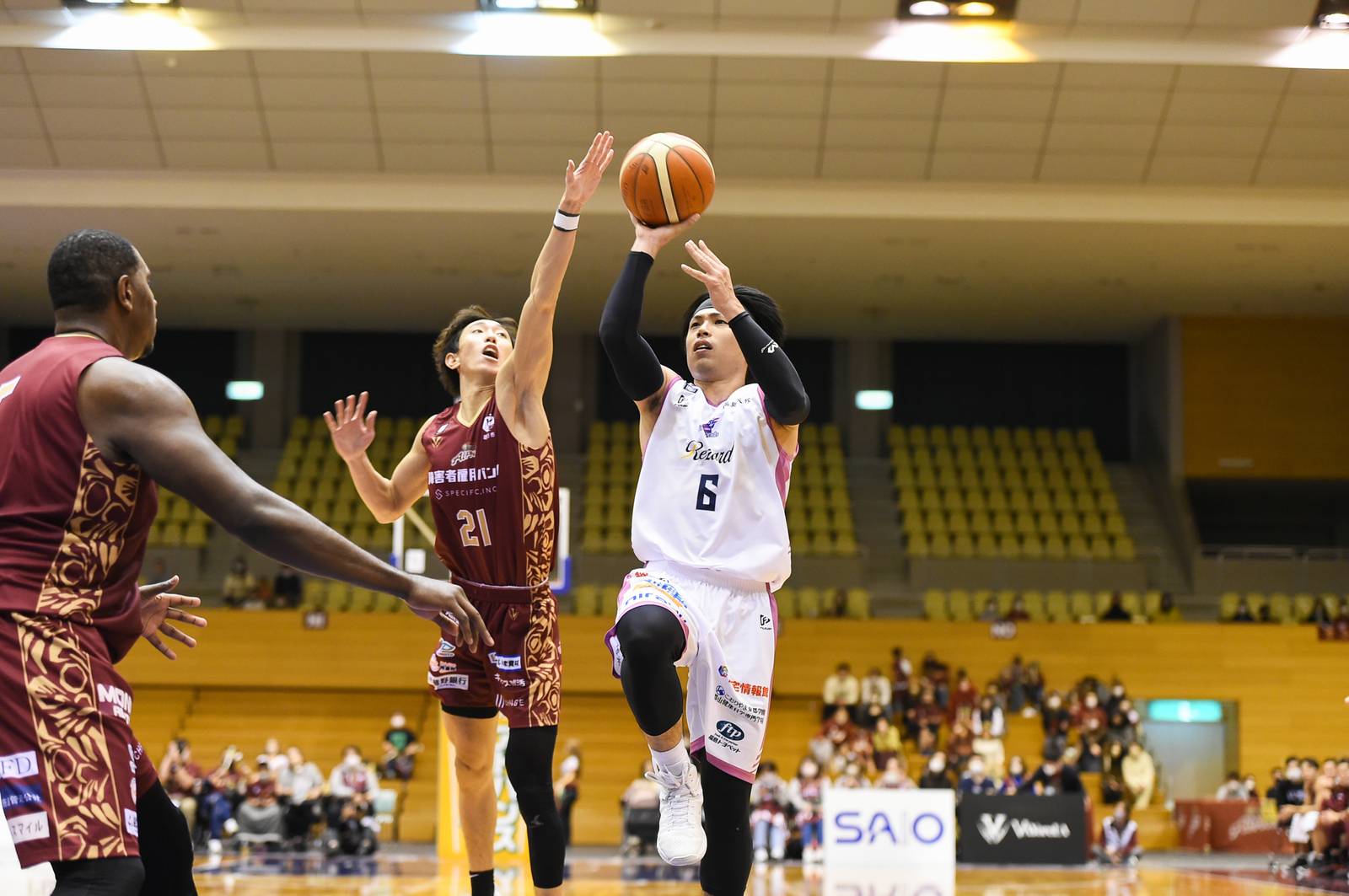 The Koshigaya Alphas (14-3) have the best overall record among the combined 38 teams in the B.League's first and second divisions through games of Sunday, November 27.
In the pandemic-shortened 2021-22 campaign, the Alphas went 25-23, but management's ambitious goals for this season revolved around a push to earn promotion from B2 to the top flight.
The Saitama Prefecture-based team's success this season has been fueled by a pair of seven-game winning streaks.
Koshigaya lost its season-opening match (72-62 to the Nishinomiya Storks on October 1), then rattled off seven consecutive victories.
After an 85-80 defeat to Altiri Chiba on October 26, seven more wins followed for Alphas bench boss JR Sakuragi's team before the streak ended with an 82-71 setback to the host Aomori Wat's on Sunday.
Indeed, in any sport, 14 victories in a 17-game stretch raises a team's profile and expectations for success as a season marches on.
In the B.League, teams play 60 regular-season games. Therefore, the Alphas' overwhelming success so far represents almost 30% of their full schedule.
So what has defined the B2-leading Alphas' season to date?

Exceptional rebounding (38.6 per game, No. 1 in the 14-team second division) and a dominant defense.

How dominant?

Koshigaya has held opponents to under 80 points in all but three games this season. As a result, the Alphas are allowing 70 points per game, the lowest average in B2.

The Alphas are back in action on Saturday and Sunday, December 3 and 4 against the visiting Rizing Zephyr Fukuoka (8-8)
Five other second-division squads have amassed 10 or more wins so far this season: Altiri (12-5), Saga Ballooners (12-5), Nagasaki Velca (11-6, Kumamoto Volters (10-6) and Ehime Orange Vikings (10-7).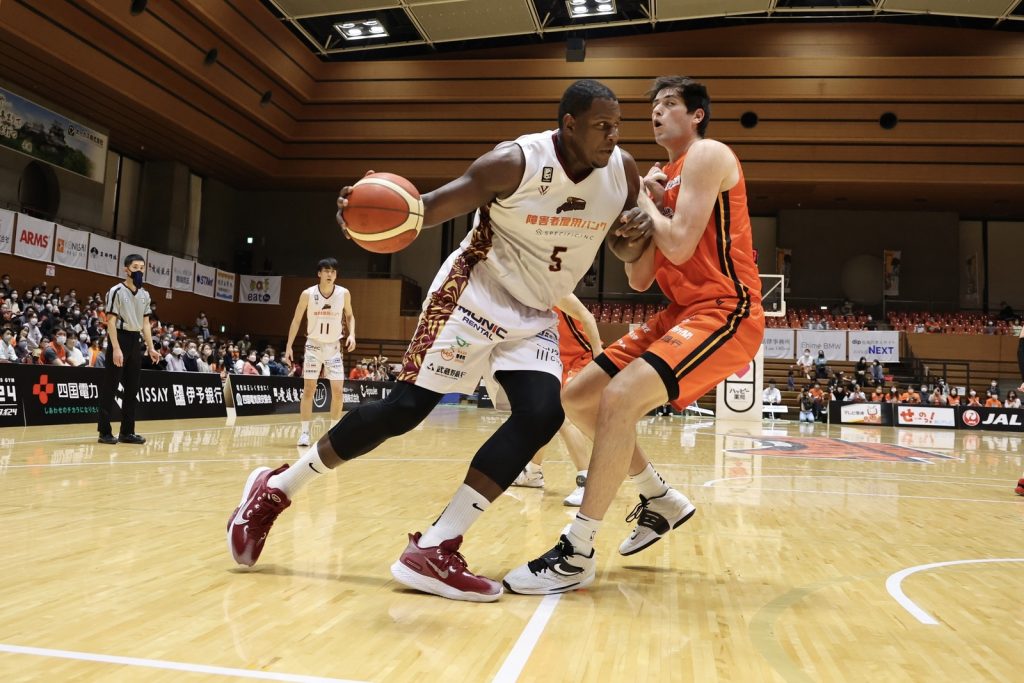 Additional Keys to Success
Hard-working American center Isaac Butts, who has played professional basketball in Japan since 2014, is one of B2's premier rebounders. He's averaging 10.6 per game, tied for the third-best total in the league.
A pillar of strength in the middle, Butts, 33, gives the team an inside anchor at both ends of the floor. He's been a consistently excellent rebounder throughout his career. Case in point: He pulled down 14.0 rebounds per game in 2021-22, his second season with the Alphas.
Alphas newcomer Justin Harper, who played in 22 NBA games for three teams over three seasons early in his career, has elevated the talent in the frontcourt. Harper, 33, is the team's top scorer (17.4 ppg) and also contributes 6.5 rebounds and 2.5 assists per game.

Fellow newcomer Brekkott Chapman, a standout power forward, fits well into the lineup. With 15.0 ppg and 7.1 rpg, the 26-year-old Utah native has been a productive contributor since the season tipped off nearly two months ago.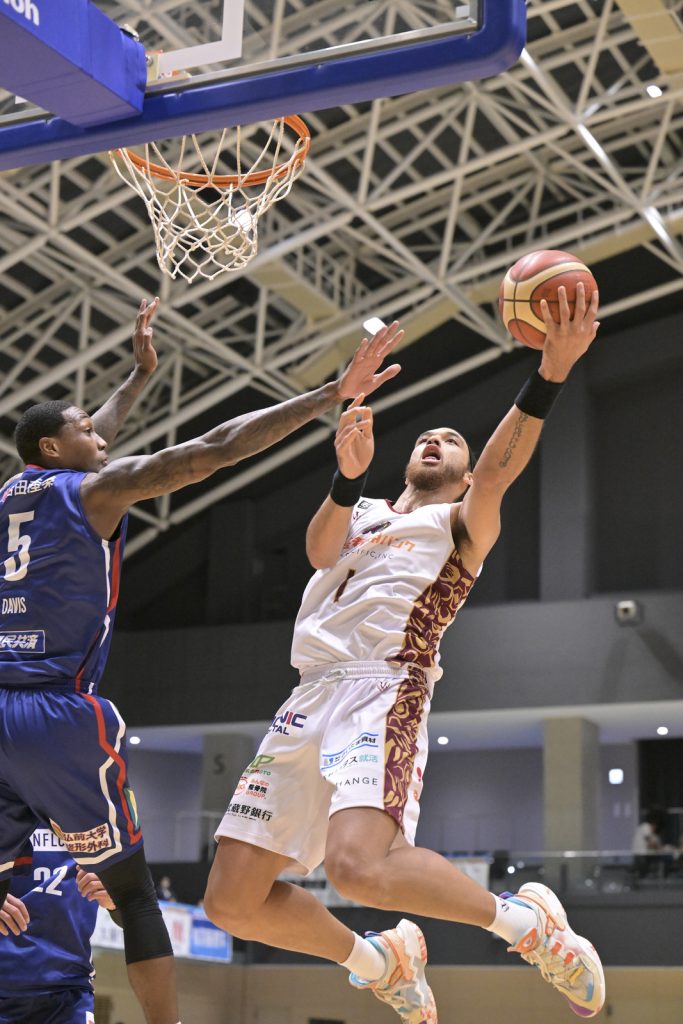 Harper suited up for the Kyoto Hannaryz last season, while Chapman played for the German Basketball Bundesliga's MLP Academics Heidelberg (he was the team's leading scorer at 13.6 ppg).
Small forward Shohei Kikuchi, 38, was another key addition in the offseason. One of the best Japanese frontcourt defenders since the B.League's inception in 2016, Kikuchi was a vital contributor for the Alvark Tokyo in the previous nine seasons and helped them win back-to-back B1 titles in 2017-18 and 2018-19. Kikuchi scored a season-high 16 points against Aomori on November 26 in a 90-64 road triumph.
Backcourt Productivity
Youngsters Shun Matsuyama and Hayate Komasawa, who have made 11 and 10 starts, respectively, in the backcourt, are offensive catalysts for the Alphas.
Matsuyama is averaging 10.4 points and 2.9 assists. He leads B2 in free-throw shooting (96.2%). The 26-year-old Fukui Prefecture native's season-high, single-game totals are 22 points, nine assists and five steals. And he has 10 or more points in eight of the last 11 games.
Komasawa, who played for Aomori last season, is contributing 8.8 points and 3.4 assists to date. He dropped a season-best 18 points on the Yamagata Wyverns on October 22. Komasawa has also produced a pair of seven-assist performances.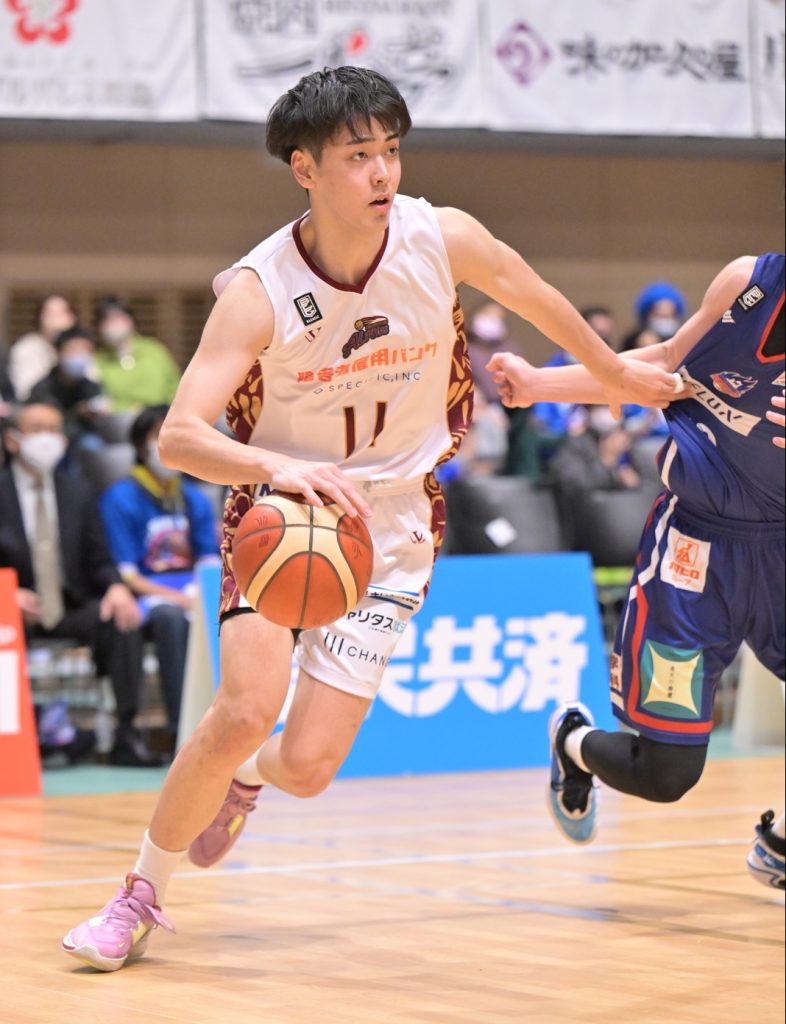 Individual success for Matsuyama and Komasawa is an extension of the Alphas' effective team offense, which is scoring 82.0 ppg.
After his club's Saturday triumph over Aomori, Sakuragi discussed two big keys to victory.

"For Aomori's powerful fast break and transition offense, we prepared with a focus on transition defense," the coach commented. "Also, [our] offense was balanced from beginning to end. The ball was moving well and led to [good] shots."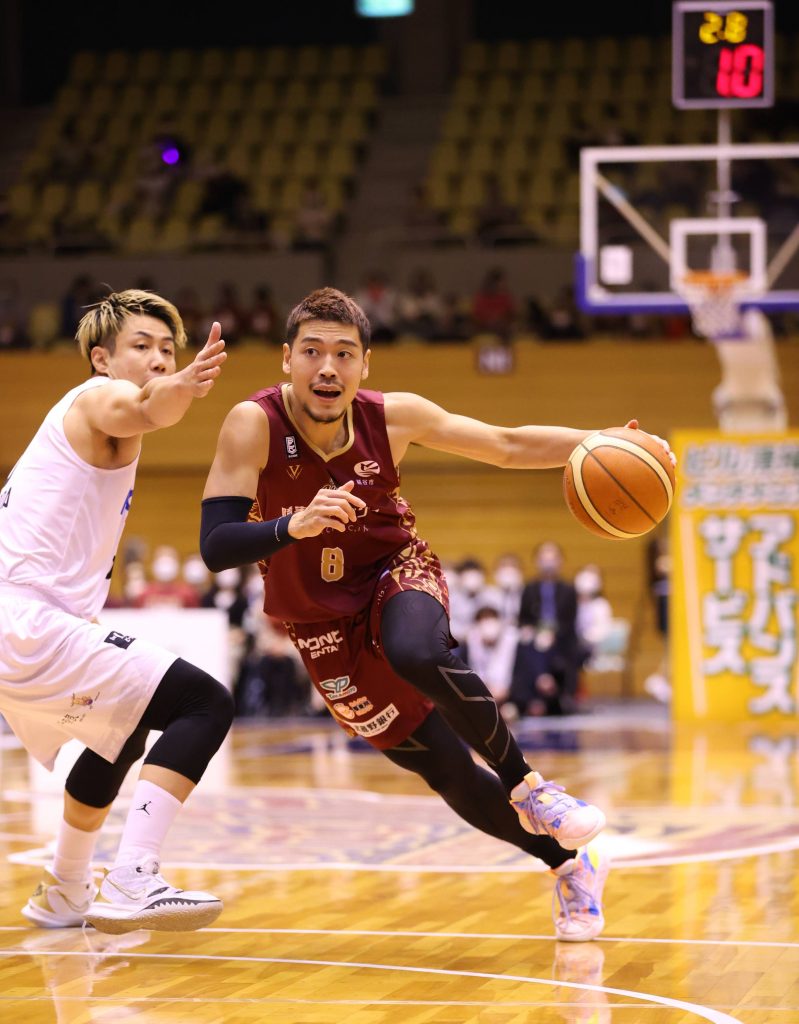 Also contributing to the Alphas' well-balanced roster, while providing backcourt depth are shooting guards Tomoya Hasegawa (5.2 ppg) and Makoto Kamata (5.3 ppg), among others.
Hunger to Succeed
While following the Alphas' season to date, you see a collective sense of purpose among the players. Clearly, it trickles down from the coaching staff and the front office to the entire organization.
Sakuragi, who played for the SeaHorses Mikawa (and their predecessor in the JBL and NBL) from 2001-20, is a fervent admirer of the late UCLA coaching legend John Wooden, who led Sakuragi's alma mater to 10 championships in 12 seasons, including the final one in Sakuragi's birth year (1976).
Sharing snippets of Wooden's coaching philosophy on Twitter and adding his own comments, Sakuragi (nee Henderson) also reveals how he approaches his work and team-building activities in his post-playing days.

One example from Sunday: "Coaching has many layers to it," wrote Sakuragi. "Knowing how and when to communicate with or motivate a player is a learned skill."
Veteran forward Susumu Tamura, 33, who has appeared in eight of 17 games, scored a season-high eight points on November 19 against the Bambitious Nara.

After the game, he reflected on his role as a backup.

"This season, we have a lot of players and I don't get the playing time I want," Tamura told reporters. "But when I played [against Nara], I went out with the feeling that I would do my best and help the team even a little."
A day earlier, after a 26-point win over Nara, Matsuyama credited the coaching staff for helping him develop a more focused mindset on offense over the past few years. Matsuyama contributed seven points in the rout, then scored in double digits in each of the next three games.

"One of the factors is that the coaches have taught me about my skills, so I don't panic," Matsuyama said.
He added, "And I am able to calmly make decisions [now] even when I have a tough shot."
B1's Top Teams in 2022-23
Six B.League first-division teams entered the midweek slate of games on Wednesday, November 30 with the top won-loss marks.
The Chiba Jets, Gunma Crane Thunders, Nagoya Diamond Dolphins, Hiroshima Dragonflies, Shimane Susanoo Magic and Ryukyu Golden Kings are all 10-3 through Sunday.
The reigning champion Utsunomiya Brex, meanwhile, have won four straight to raise their record to 7-6.
Conversely, the Niigata Albirex BB (1-12) have dropped 12 in a row, and the Shiga Lakestars (2-11) have lost nine straight.

Author: Ed Odeven
Follow Ed on JAPAN Forward's [Japan Sports Notebook] here on Sundays, in [Odds and Evens] here during the week, and Twitter @ed_odeven.