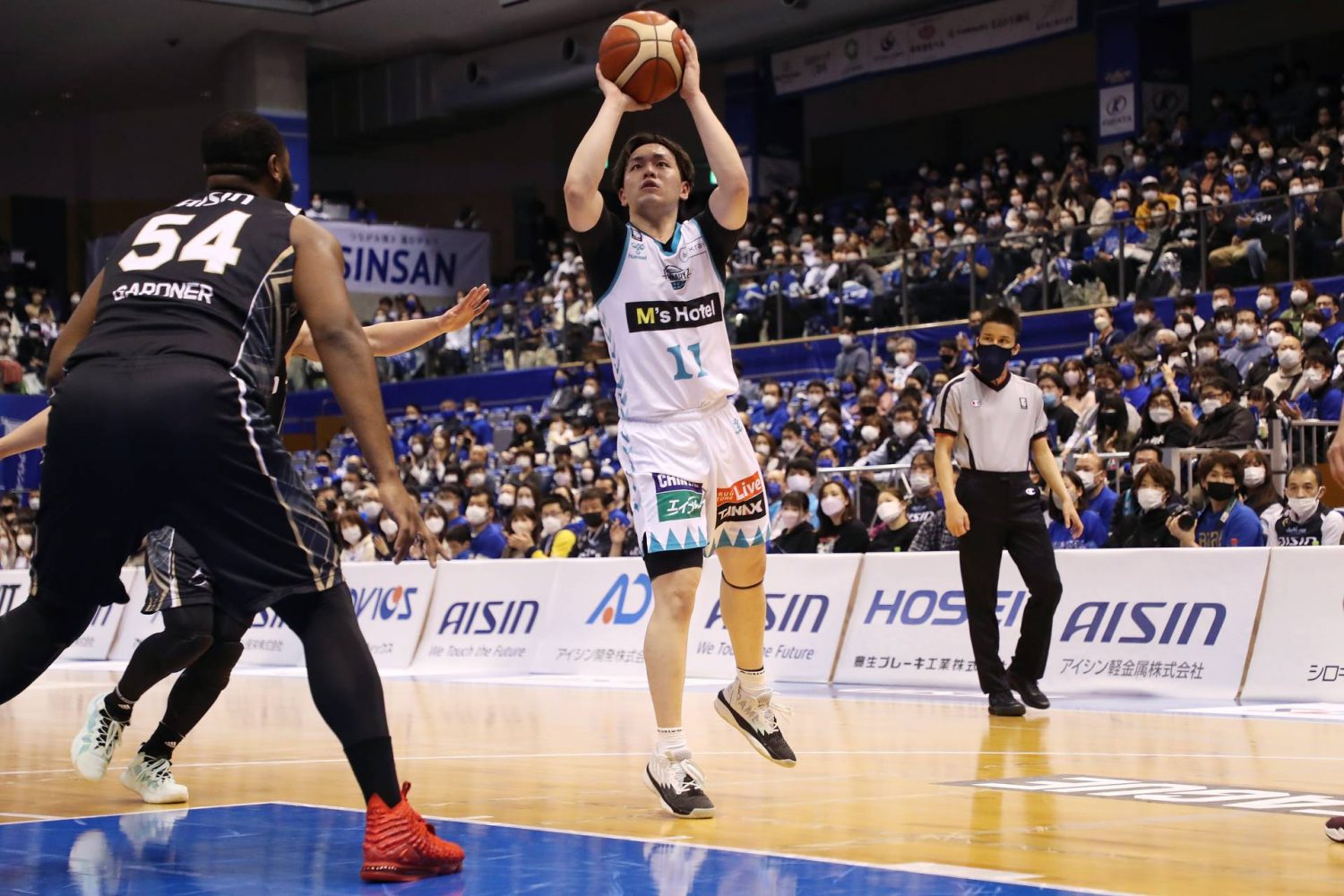 The Kyoto Hannaryz trailed after the opening quarter, at halftime and for much of the game. But they still found a way to overcome the SeaHorses Mikawa on Sunday, April 3, winning 80-72 and bouncing back from a loss on the previous day.
Improved scoring was a key for Hannaryz coach Shinya Ogawa's club.

Kyoto didn't reinvent the wheel while picking up its 13th victory in its 45th game of the B.League season.

Simply put, the Hannaryz needed more points to have a shot at beating Mikawa in Kariya, Aichi Prefecture.

The SeaHorses (23-18), who led 15-8 entering the second period, 35-23 at halftime and 50-45 heading into the final stanza, failed to slow down Kyoto's offense, which increased its scoring output every quarter.
Early in the fourth quarter, Mikawa led by seven points on two occasions. But the visitors remained focused and chipped away at the lead.

Both teams had opportunities to pull away in a back-and-forth fourth quarter.

Shooting guard Kazuki Hosokawa sank two 3-pointers in the span of 39 seconds as the Hannaryz tied it at 59-59 with 5:03 remaining.
The SeaHorses' Yudai Nishidai made the first of two foul shots with 51 seconds left to even things up at 72-all, then missed his second attempt.
Kyoto big man David Simon hit a jumper with 35 seconds left, giving his team a 74-72 lead. He added another inside bucket with 21 seconds to play, extending the lead to four.
In the final 10 seconds, Hannaryz teammates Yoshiaki Kubota and Justin Harper made two free throws apiece to account for the final score.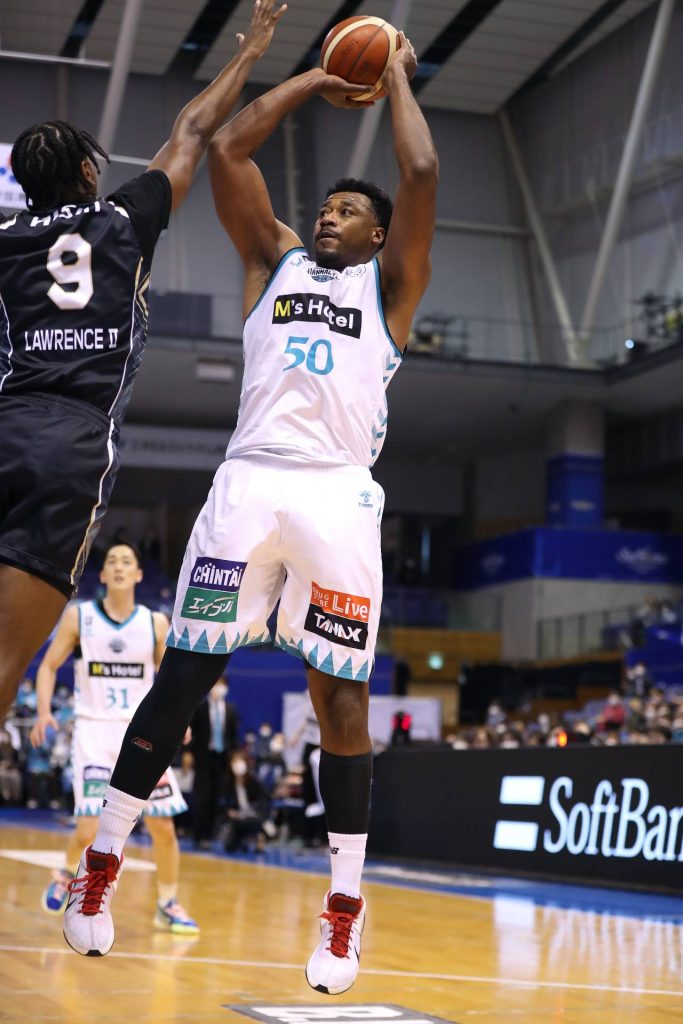 In the fourth quarter, Simon scored 13 of his game-high 29 points, while Harper added 10 of his 21 points. Kyoto made 12 of 15 shots from the field in the decisive quarter.
Simon grabbed 12 rebounds to complete the double-double, with Harper, a former NBA player (Orlando Magic, Detroit Pistons and Philadelphia 76ers) finishing with 13.

Hosokawa added 10 points and point guard Yoshiaki Kubota, making his eighth start of the season, provided a solid spark with 12 points, seven assists and two steals.
Nishidai paced the SeaHorses with 17 points. The rising star, who turned 23 on March 13, had a season-high 30-point performance against the Nagoya Diamond Dolphins on March 23. Ryogo Sumino scored 14 points and Davante Gardner had 13 for Mikawa, which slipped to 11-10 at home.
Kyoto improved to 6-19 in away games a day after losing the weekend series opener 85-80.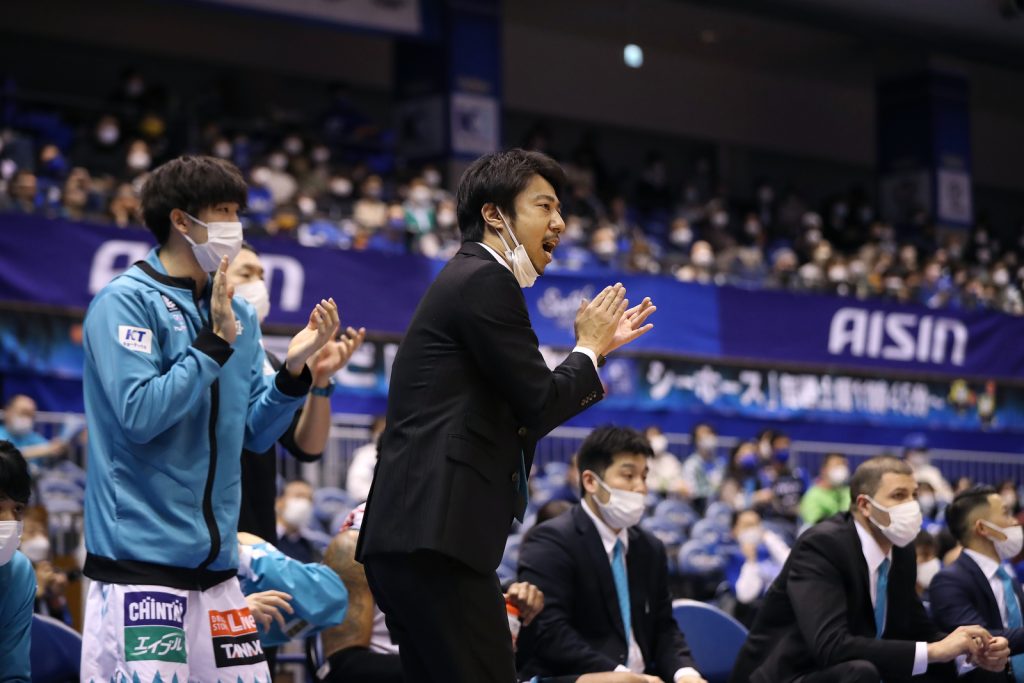 Ogawa, in his second season at the helm, said his team exhibited poise while recovering from a slow start on Sunday.
"There were many difficult situations in the first half, but the players continued to fight patiently and finally made a big quarter, so I feel that we are growing as a team," Ogawa said after the game.
Kubota said the team made some adjustments at halftime, which helped trigger its comeback.
"In the first half of the game, we couldn't play the basketball we wanted to do, but in the second half we were able to play our basketball from the beginning," Kubota told reporters. "There were times when things didn't go well, but I think the fact that the whole team was able to [make contributions] led to the victory."
Golden Kings Extend Big Winning Streak
The Ryukyu Golden Kings cruised past the Shiga Lakestars on Sunday, winning 94-78 to complete a series sweep and win their ninth straight.

The Golden Kings have a league-best 39-4 record.

Jack Cooley paced the hosts with 18 points and 12 rebounds. Koh Flippin, Keita Imamura poured in 12 points apiece, and Ryuichi Kishimoto and Dwayne Evans both had 10. Narito Namizato and Allen Durham each contributed nine points and seven assists at Okinawa Arena.

Ryukyu chalked up 29 assists against 14 turnovers and shot 59.1% (26 of 44) from 2-point range.

Novar Gadson led the Lakestars (10-33), who lost their 16th in a row, with 26 points.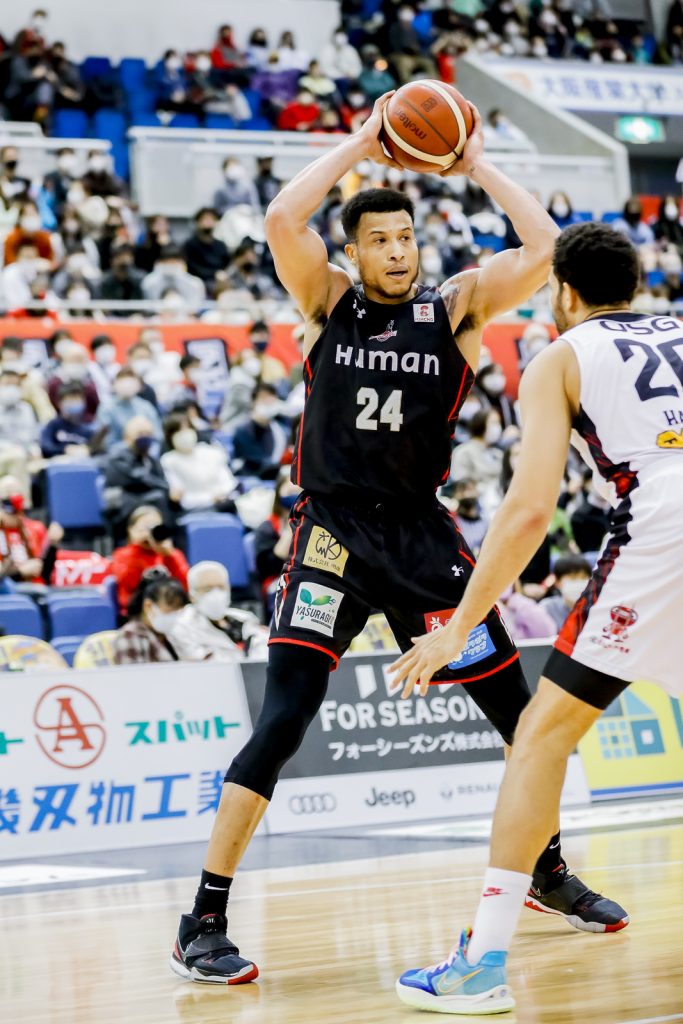 Evessa Collect Fifth Straight Victory
The Osaka Evessa routed the San-en NeoPhoenix for the second time in as many days on Sunday, recording a 108-81 home victory.

Kyle Hunt ignited Osaka (20-23) with 24 points on 10-for-12 shooting and corralled eight rebounds. Playmaker D.J. Newbill chipped in with 19 points and five assists, David Doblas scored 14 points and Hiromu Nakamura had 11 with five assists. Backup forward Joji Takeuchi energized the club with seven points, nine rebounds and four blocked shots in 14-plus minutes.
Filipino guard Thirdy Ravena had a team-best 21 points for the NeoPhoenix (8-36). He reached 20 points for the first time since January 29 against Kyoto, when he scored 26.

Alvark Outplay Crane Thunders Again
The Alvark Tokyo outscored the Gunma Crane Thunders 29-13 in the fourth quarter on Sunday, the finishing touches on a 91-83 road victory.

A day earlier, Tokyo defeated Gunma 74-67.
In the rematch, a quarter of Alvark players made the biggest statistical contributions: Sebastian Saiz (19 points, 10 rebounds, two steals and two blocks), Daiki Tanaka, 17 points, eight assists, three steals), Jordan Taylor (12 points) and Alex Kirk (10 points, seven rebounds).
The Alvark improved to 31-9.
For Gunma (17-23), Czech center Ondrej Balvin had 24 points and 12 rebounds. Teammates Michael Parker and Justin Keenan both scored 10 points. Kei Igarashi, Ryo Yamazaki and Aki Chambers had nine-point outings.

Brex Wallop Albirex
The Utsunomiya Brex collected two victories against East rival Niigata Albirex BB over the weekend, wrapping up the two-game road series with a 92-62 Sunday win.

The Brex (32-13) capitalized on the Albirex's miscues, scoring a jaw-dropping 37 points from Niigata turnovers.

Josh Scott led Utsunomiya with 22 points. Teammate Kai Toews contributed 15 points, six assists and a season-best four steals.
Rosco Allen was the top scorer for the Albirex (5-38), finishing with 20 points.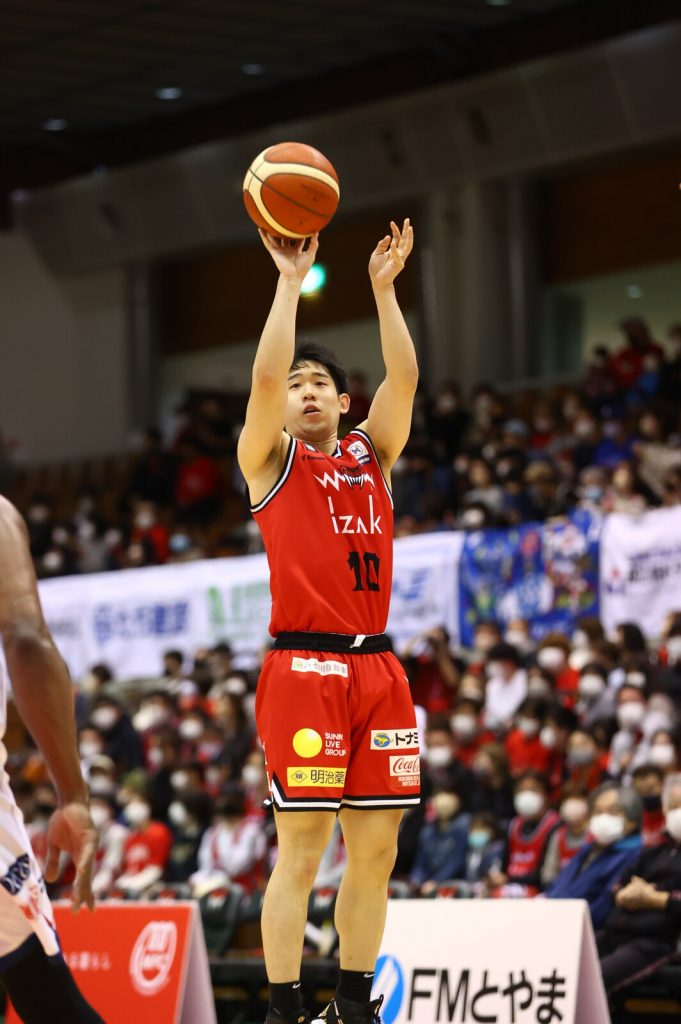 Quick Recaps of Sunday's Other Games
The Chiba Jets edged the host Ibaraki Robots 87-82. Josh Duncan led the reigning champions with 21 points, Christopher Smith added 19 and Yuki Togashi shined with 14 points and 14 assists for the Jets (27-7), winners of two in a row.

Kohei Fukuzawa scored 21 points and Chehales Tapscott added for the Robots (13-31).
The Toyama Grouses topped the visiting Yokohama B-Corsairs 92-76, jumping out to a 53-30 lead by halftime.

Julian Mavunga was Toyama's leader in points (19) and assists (seven), with Brice Johnson and Joshua Smith each scoring 18 points. Toshiki Kamisawa, a 23-year-old guard, added a season-high 15 points for the Grouses (18-29).

Masaaki Morikawa scored 26 points for the B-Corsairs (16-29), who've lost three straight.
The visiting Sunrockers Shibuya dominated in the fourth against the Levanga Hokkaido en route to a 76-68 win.

Leo Vendrame provided strong all-around productivity for the Sunrockers (23-21) with 23 points, six assists, five rebounds and three steals.

Shawn Long had a 21-point game for the Levanga (14-28).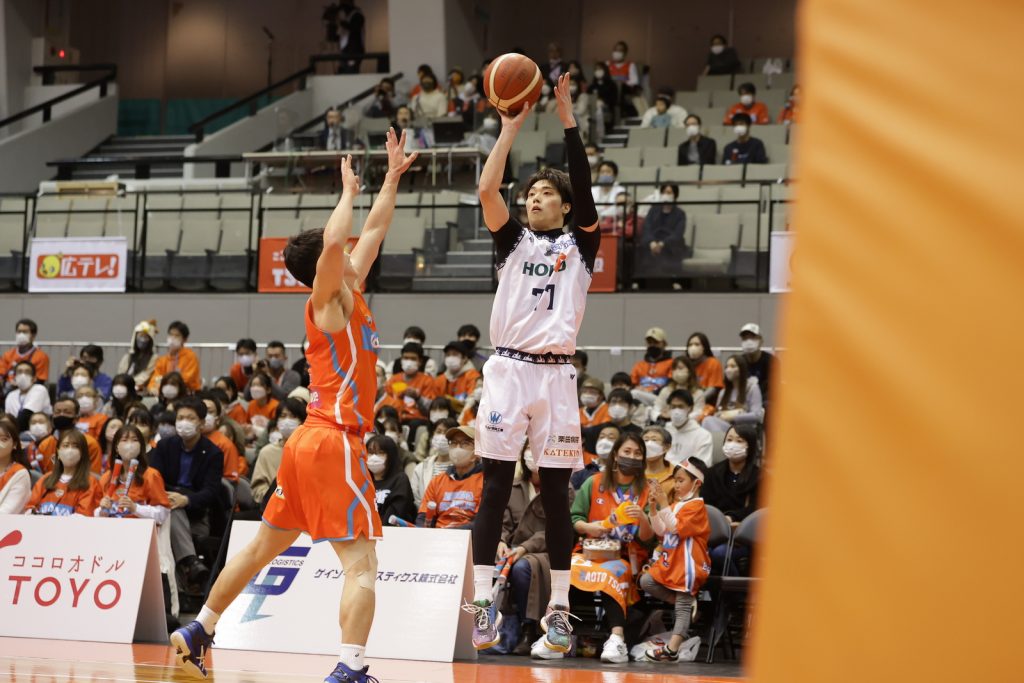 The Shinshu Brave Warriors topped the host Hiroshima Dragonflies 84-77.

Josh Hawkinson led Shinshu (21-24) with 28 points and 13 rebounds. Teammate Yuta Okada knocked down 5 of 10 3-point attempts in a 19-point effort.

Nick Mayo and Naoto Tsuji scored 16 points apiece for Hiroshima (21-22).

Author: Ed Odeven
Follow Ed on JAPAN Forward's [Japan Sports Notebook] here on Sundays, in [Odds and Evens] here during the week, and Twitter @ed_odeven.