New ozeki Mitakeumi dodged a bullet against Onosho to stay undefeated and tied for the lead on Wednesday, March 16, the fourth day of the Spring Grand Sumo Tournament.
Mitakeumi was pushed back several steps by the upset-minded komusubi in their bout at Osaka Prefectural Gymnasium.
Just when it looked like Mitakeumi was about to be handed his first loss at sumo's second-highest rank, the Dewanoumi stable wrestler showed superb footwork on the edge and dodged to his side while swatting Onosho down to improve to 4-0. Onosho fell to 1-3.
It wasn't the best performance by Mitakueumi so far but being successful is all about finding a way to win when you are not at your best and that's exactly what Mitakeumi did.
Mitakeumi is now tied for the lead with resurgent No. 7 maegashira Takayasu.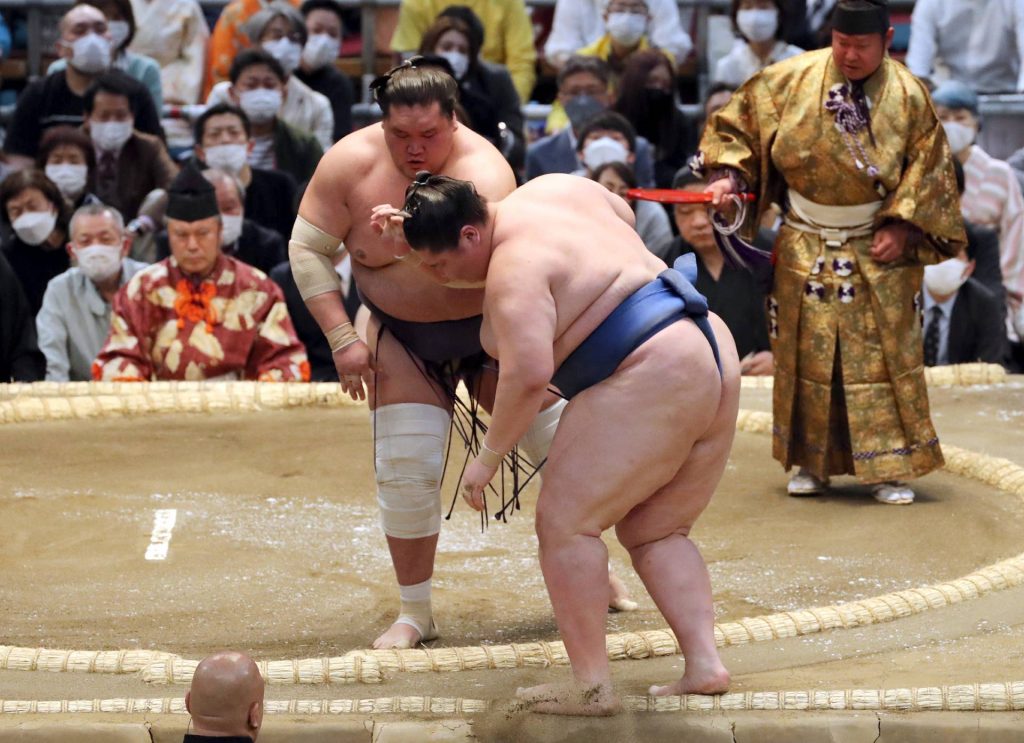 In the day's final bout, lone grand champion Terunofuji overpowered fellow Mongolian Ichinojo with a frontal force-out to stay one win off the pace at 3-1.
No. 2 maegashira Ichinojo, who put up little resistance, dropped to 2-2.
Elsewhere, ozeki Takakeisho, knowing he couldn't afford a third straight loss, used a powerful left-hand thrust to the neck to send giant slayer and top maegashira Daieisho out over the edge. Both wrestlers have 2-2 records.
Takakeisho needs a winning record in this tournament to maintain his ozeki status for the May tournament and after two straight losses was determined to put a stop to his lack of results.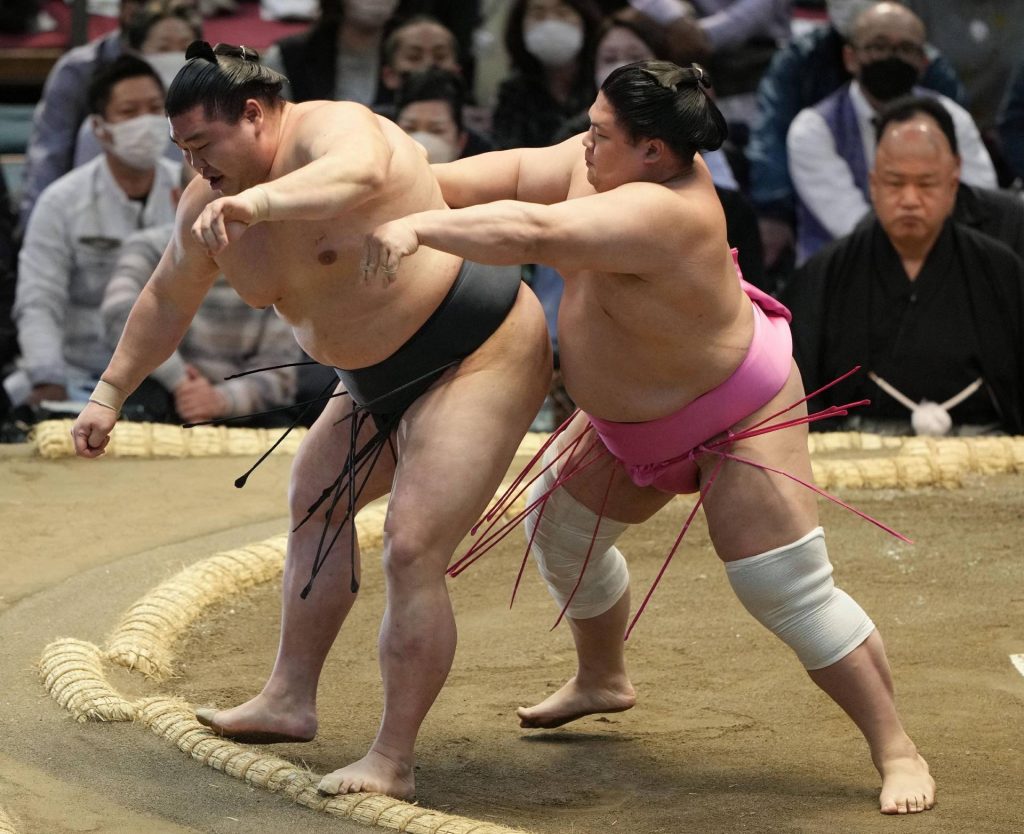 The misery continued for ozeki Shodai, who was spun around by Ura and forced out in a matter of seconds for his fourth straight defeat.
Like Takakeisho, Shodai also needs a winning record to maintain his ozeki status but with four straight losses already is in a deep hole. Top maegashira Ura picked up his first win of the 15-day basho after barely breaking a sweat against the struggling ozeki.
"I just wanted to do my style of sumo at the initial charge," Osaka native Ura said. "I can't remember the exact details of the match but I have been training well and it feels great to get in the win column."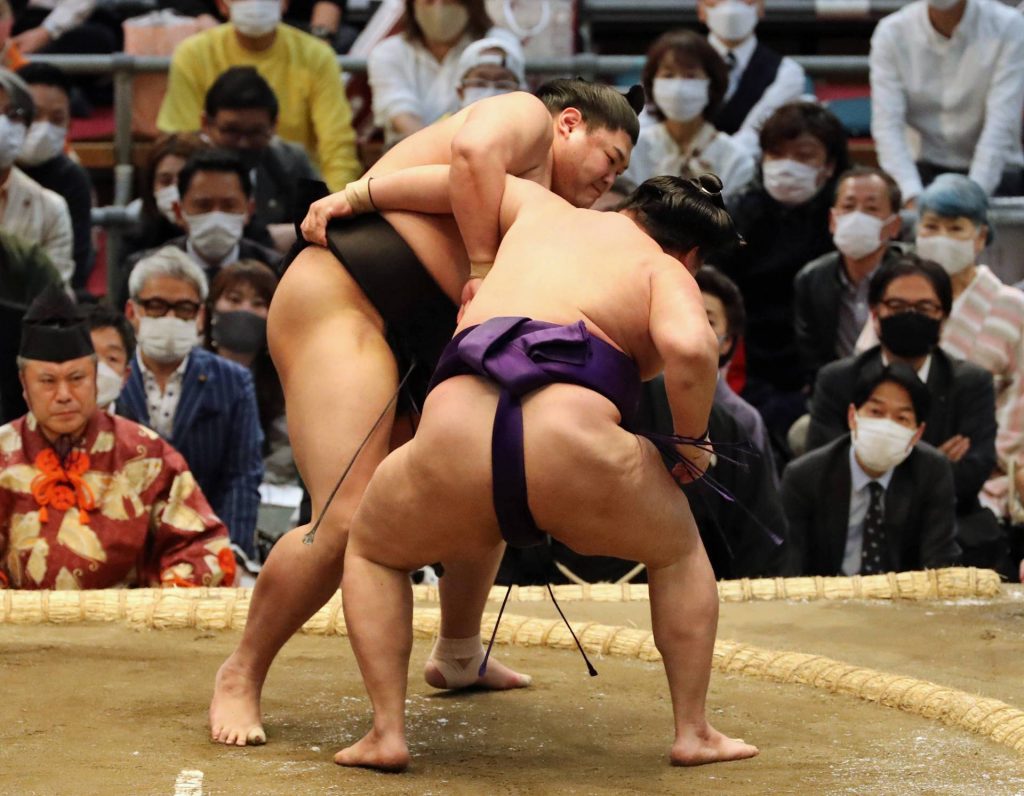 Newly promoted sekiwake Abi got an arm lock on Meisei and hauled the No. 3 maegashira down to win his third straight bout and improve to 3-1. Meisei fell to 1-3
Abi has been contending for the championship in each of the last three tournaments and looks set to do so again. He has looked dominant since his opening-day loss to Onosho.
Mongolian fourth-ranked maegashira Kiribayama knocked Wakatakakage out of the lead when he took advantage of a superior face-off and swatted the newly promoted sekiwake down to give both wrestlers a record of 3-1.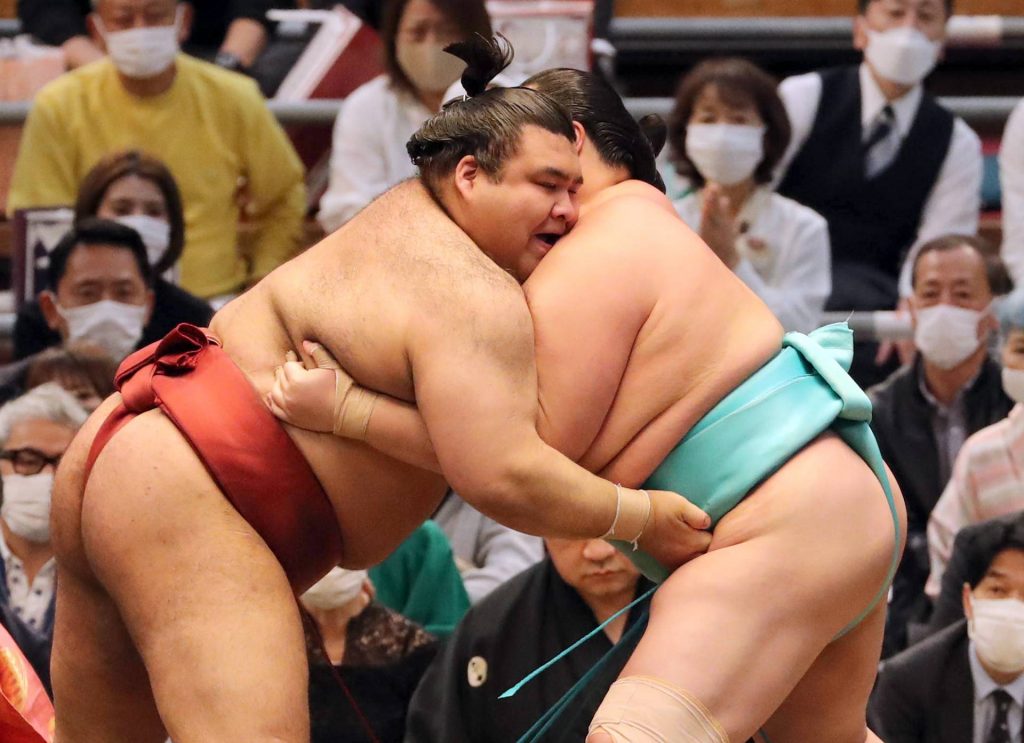 In a showdown of previously undefeated grapplers, in-form seventh-ranked maegashira Takayasu deployed a textbook arm throw to topple Kotonowaka and remain tied for the lead. Kotonowaka, a sixth-ranked maegashira, stands at 3-1.
In an earlier bout, No. 11 maegashira Myogiryu dodged to his side at the face-off and swatted down Bulgarian Aoiyama to improve to 3-1. Tenth-ranked Aoiyama was handed his second loss and dropped to 2-2.
Sumo's Flying Monkey Tobizaru, a ninth-ranked maegashira, displayed deft footwork at the edge of the ring where he stepped to his side after being shoved back and swatted Okinoumi to pick up his second win against two losses. No. 7 maegashira Okinoumi dropped to 1-3.
Follow Jim's daily reports on the sumo Spring Basho here.

Author: Jim Armstrong