Naoya Inoue Retains Titles with Eighth-Round TKO of Aran Dipaen
The "Monster" wore his opponent down with devastating punching power, improving to 22-0 as a pro.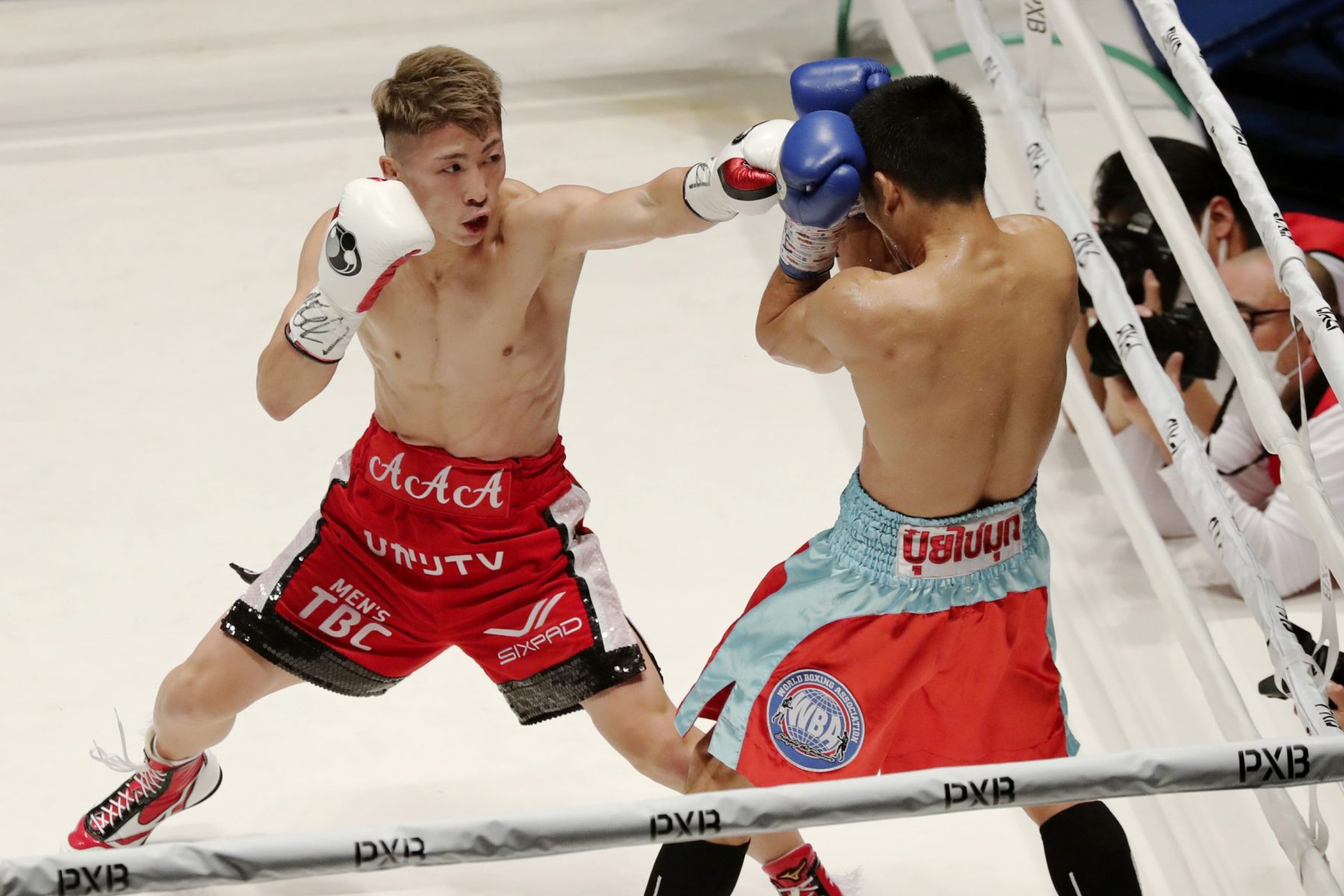 Naoya Inoue arrived at Ryogoku Kokugikan on Tuesday, December 14 with three lofty credentials: the IBF and WBA bantamweight world titles, a 21-0 career record and the No. 4 ranking on The Ring magazine's pound-for-pound list of the world's best fighters.
Inoue left the gym with all three career-defining facts intact.
Fighting in Japan for the first time since November 7, 2019, Inoue hammered away at Thai opponent Aran Dipaen, consistently landing bruising blows to the challenger's midsection and eventually wore him down.
In the eighth round of his sixth WBA title defense and fourth IBF title defense, Inoue delivered a series of crushing blows capped by a knockdown punch. The 30-year-old Dipaen got back up, but appeared a bit disoriented from the impact of a powerful left hook from the fighter known as "Monster." Inoue then landed another devastating left hook that inflicted more damage. Referee Michael Someya then stepped in and called the fight at the 2:34 mark.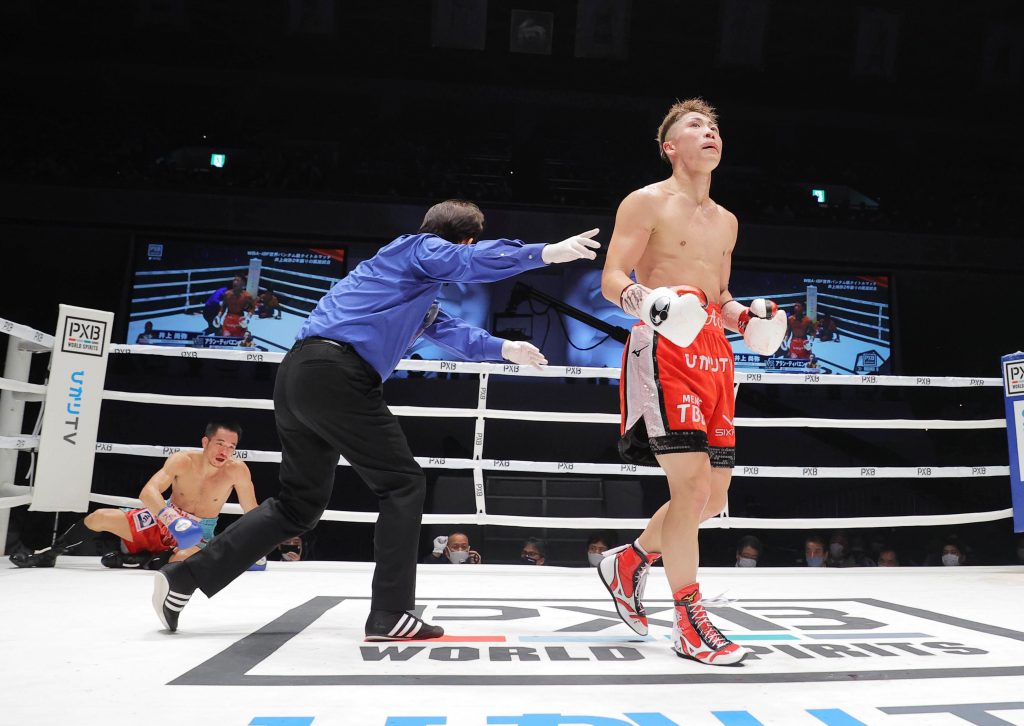 Inoue's 22-0 record now includes 19 knockouts. An announced crowd of 7,000 witnessed the Kanagawa Prefecture native's hand speed, well-placed combinations and youthful vigor in a dominating effort against Dipaen (12-3, 11 KOs).
It was Inoue's first fight since a third-round knockout of Filipino Michael Dasmariñas on June 19 in Las Vegas.
Many fight aficionados may have been expecting Inoue to make quick work of another opponent. But Dipaen stood his ground and absorbed punishment again and again throughout the fight.
When it was over, Inoue commended Dipaen for his toughness.
"He used to be a Muay Thai fighter and he brought that toughness," Inoue told reporters in a post-match news conference.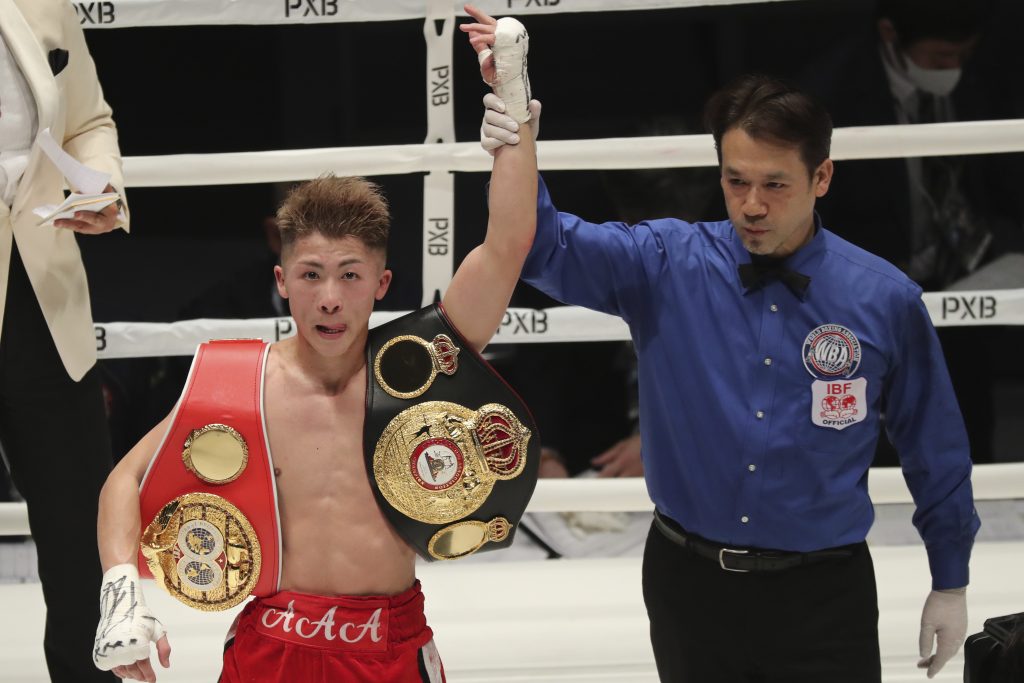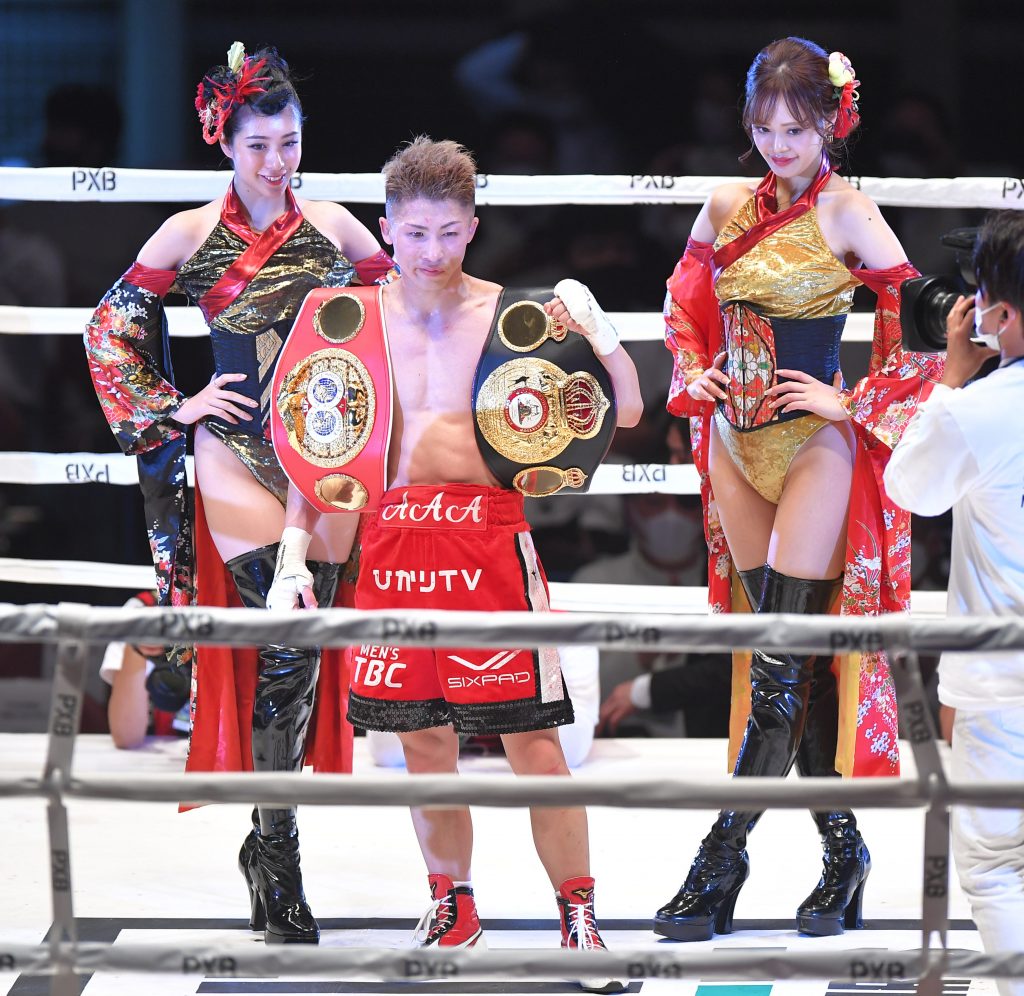 Inoue also noted that Dipaen and his training staff prepared well for the fight, carefully reviewing Inoue's tactics from past matches.
And even though Inoue had the upper hand in punching power and speed against the fifth-ranked IBF challenger, Dipaen was resilient before being dropped to the canvas in the final round.
Despite the win, Inoue acknowledged he wasn't completely satisfied with the performance.
"I'm sorry it became a fight that fell way below the expected level. Dipaen was really tough," Inoue said.
But for him, it was a positive experience to be back in his home country fighting in front of his fans, he noted. "It was good I could enjoy fighting eight rounds in a Japanese ring," said Inoue. "Hopefully we can provide cards that fans want to watch next year."
Inoue has stated his next big goal is owning all four world title belts at bantamweight (118 pounds or 53.5 kg). Filipino Nonito Donaire, whom he defeated by unanimous decision at Saitama Super Arena in his aforementioned last bout in Japan, is the current WBC champ and John Riel Casimero, also of the Philippines, is the WBO title holder.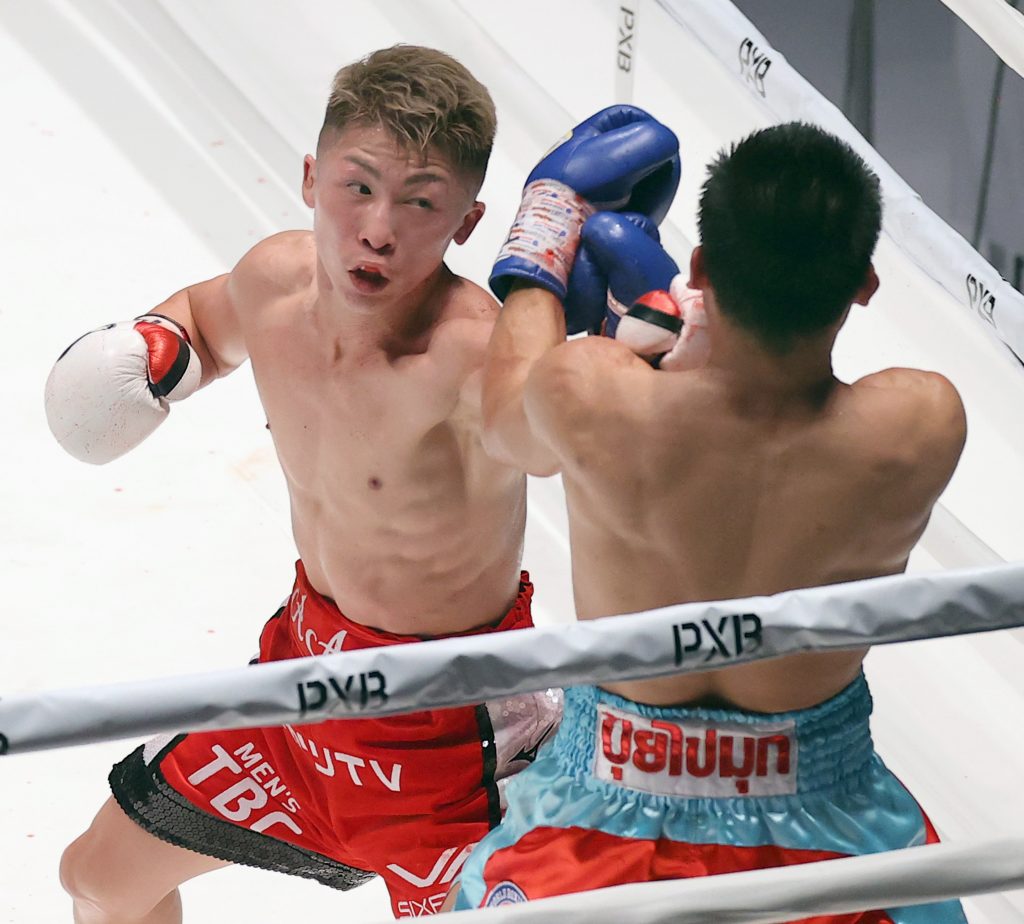 Inoue's scheduled fight with Casimero in April 2020 was called off due to the COVID-19 pandemic.
Meanwhile, his victory over Dipaen served as a reminder of his big-picture goals. Or as Inoue noted after his Tuesday night work shift in the ring at a venue normally used for grand sumo tournaments was completed: "I've been placing a lot of importance on unifying the four belts, but if the individual fights don't happen, I'll start thinking about the super-bantamweight title."
Regardless of who his next opponent will be, Inoue has big aspirations for 2022.
"I don't know if it [my next fight] will be either in Japan or the United States next year," he said, addressing his fans. "But I will do my best to have a good match in front of you again, so please continue to support me."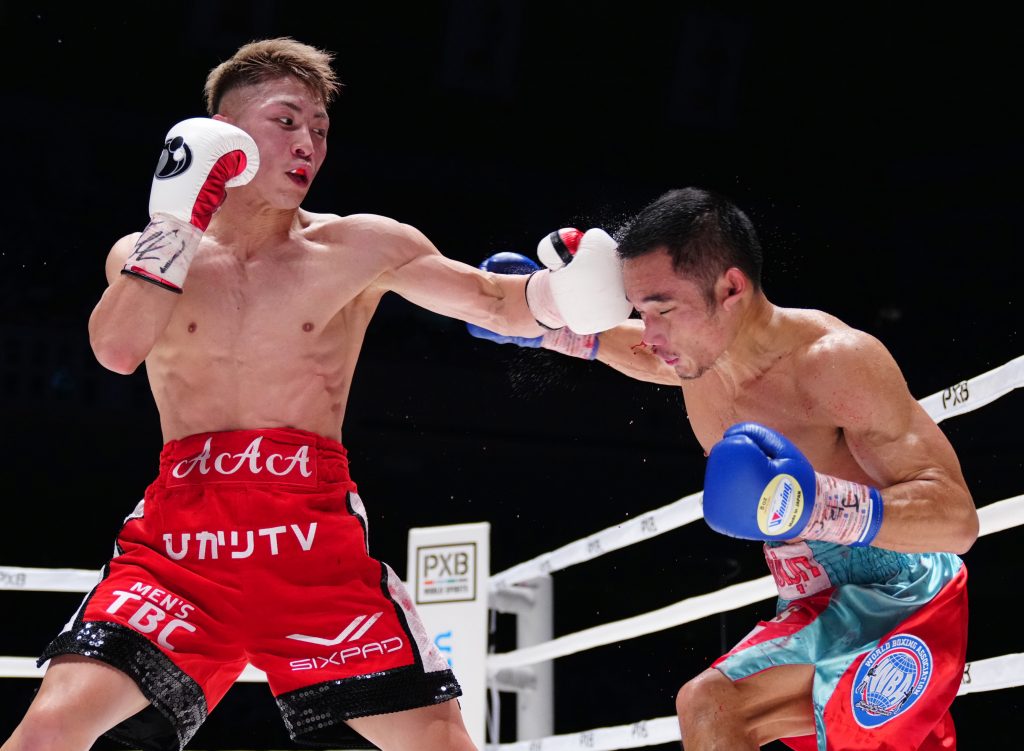 Inoue Dominates Most of the Fight
For Inoue and Dipaen, the opening 3-minute exchange was unlike the remainder of the fight. Very few punches were thrown as both fighters focused on getting a feel for each other's rhythm and defensive posture.
This reporter evaluated the first round as a draw, but rounds 2-8 were won by Inoue.
The final seven rounds provided vivid glimpses of Inoue's technical skills and the full gamut of his fistic repertoire.

On several occasions, Dipaen was pummeled by four- or five-punch combinations in rapid succession.
Reflecting on his victory, Inoue said using his potent left jab to inflict damage was important.
The jab was effective and served as Monster's opening salvo, minute after minute, round after round, after the lackluster first round ended.


Author: Ed Odeven

Follow Ed on JAPAN Forward's [Japan Sports Notebook] here on Sundays, in [Odds and Evens] here during the week, and Twitter @ed_odeven.