New sekiwake Mitakeumi overpowered Tamawashi to stay one win back of sole leader Takayasu with two others on Monday, March 21, the ninth day of the Spring Grand Sumo Tournament.
In the day's final bout at Osaka Prefectural Gymnasium, Mitakeumi fought off several powerful arm thrusts by the No. 2 maegashira and got an inside grip with his left arm to force his opponent over the edge and improve to 8-1.
Mongolian Tamawashi, who has a reputation for upsetting the big guns, fell to 4-5.
Mitakeumi, who won the New Year meet in January, is eager to win his first tournament at sumo's second-highest rank and is in a good position to do so with six days remaining.
Surprise leader Takayasu took on lower-ranked Aoiyama.
Aoiyama forced Takayasu back to the edge in their bout but the Bulgarian made a tactical error when he attempted an ill-advised leg kick at the edge.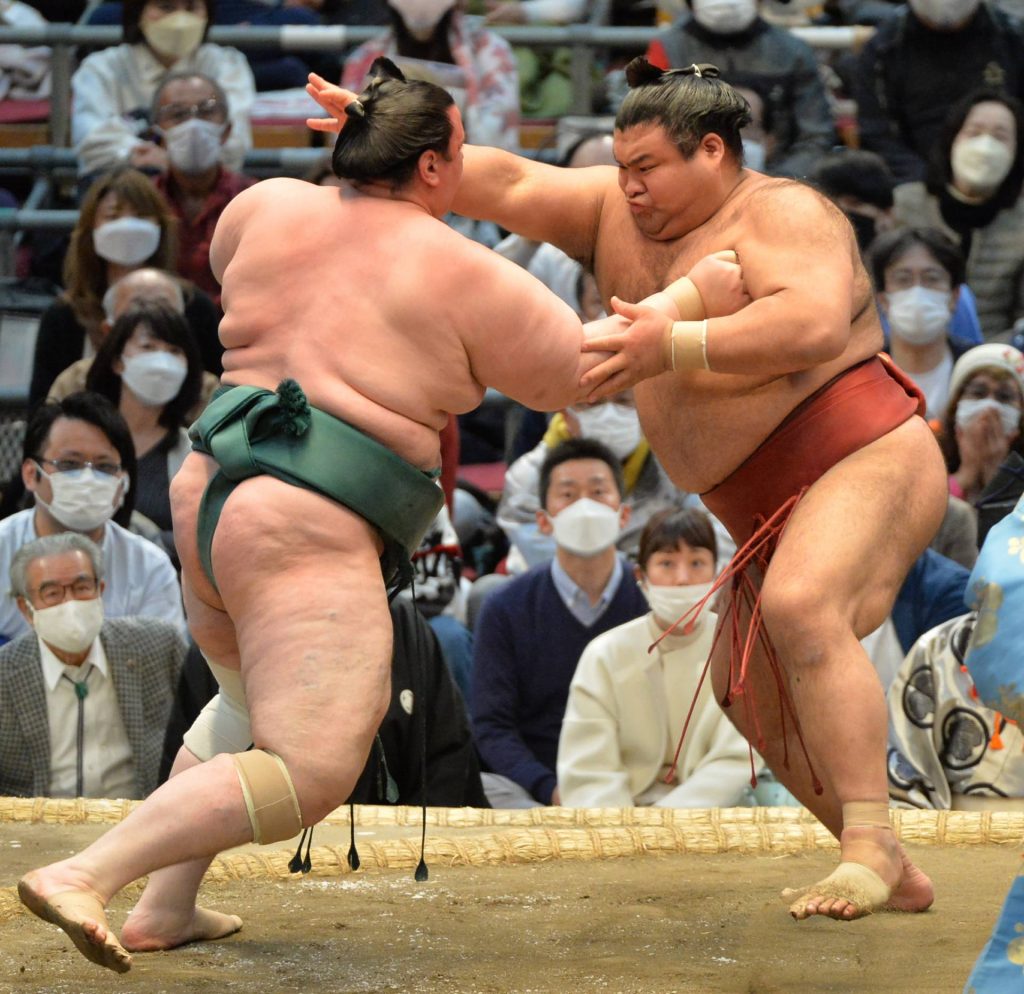 It didn't work and allowed Takayasu to knock his opponent off balance before shoving him out to improve to 9-0.
Monday's bout against No. 10 Aoiyama will be the last for Takayasu against a lower-ranked wrestler.
The No. 7 maegashira will face stiffer competition over the remaining six days of the 15-day basho beginning with komusubi Hoshoryu on Day 10.
Kotonowaka and Wakatakakage are also right in the thick of the title chase, one win off the pace.
Kotonowaka improved to 8-1 when he shoved out No. 9 maegashira Tobizaru (4-5) for his fifth straight win.
"My opponent moves really fast so I wanted to keep him in front of me and apply as much pressure as possible," said No. 6 maegashira Kotonowaka, who wrapped up a winning record.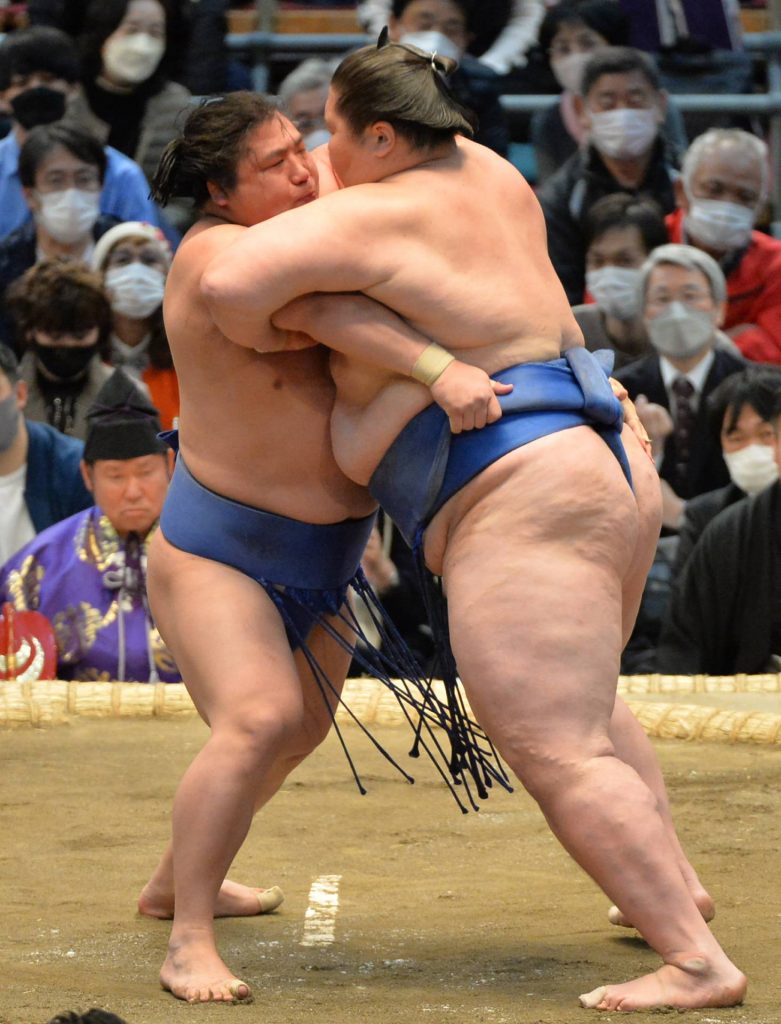 Grueling Duel for Wakatakakage, Ichinojo
In a marathon bout that lasted 2 minutes and 8 seconds, Wakatakakage needed every ounce of energy to shove out Mongolian giant Ichinojo (5-4).
After a prolonged standoff at the center of the ring, Wakatakakage got a double inside grip on the belt of Ichinojo and bulldozed the No. 2 maegashira out to improve to 8-1.
"I was patient and just wanted to wait for the right moment," said new sekiwake Wakatakakage. "I'm small and just want to stay low and attack from a lower angle."
Popular No. 4 maegashira Endo fought off a series of slaps and thrusts to topple Takakeisho, putting an end to the ozeki's five-match winning streak.
Endo picked up his sixth win while Takakeisho, who needs eight wins to keep his ozeki rank, dropped to 6-3.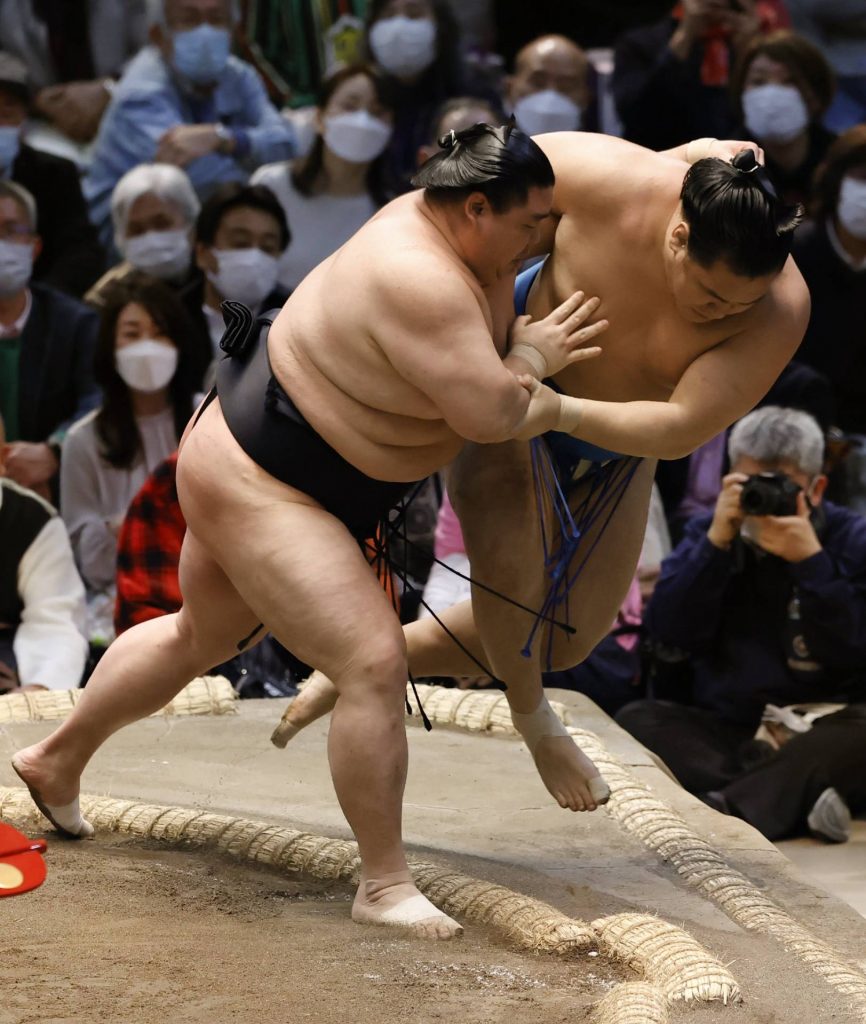 Ozeki Shodai recovered from being pushed to the edge by komusubi Hoshoryu (4-5) and shoved his opponent out to improve to 4-5.
After a dismal start to the tournament, Shodai won his third straight bout and is slowly moving toward wrapping up the winning record needed to maintain his ozeki rank.
Takarafuji dealt a serious blow to Abi's championship hopes when he prevented the new sekiwake from fully extending his arms and got a left-hand inside position before shoving his opponent out.
Fifth-ranked maegashira Takarafuji earned his third win against six losses while Abi, who was considered a potential title winner before the start of the tournament, dropped to 6-3.
Abi is by no means out of contention but can't afford another loss.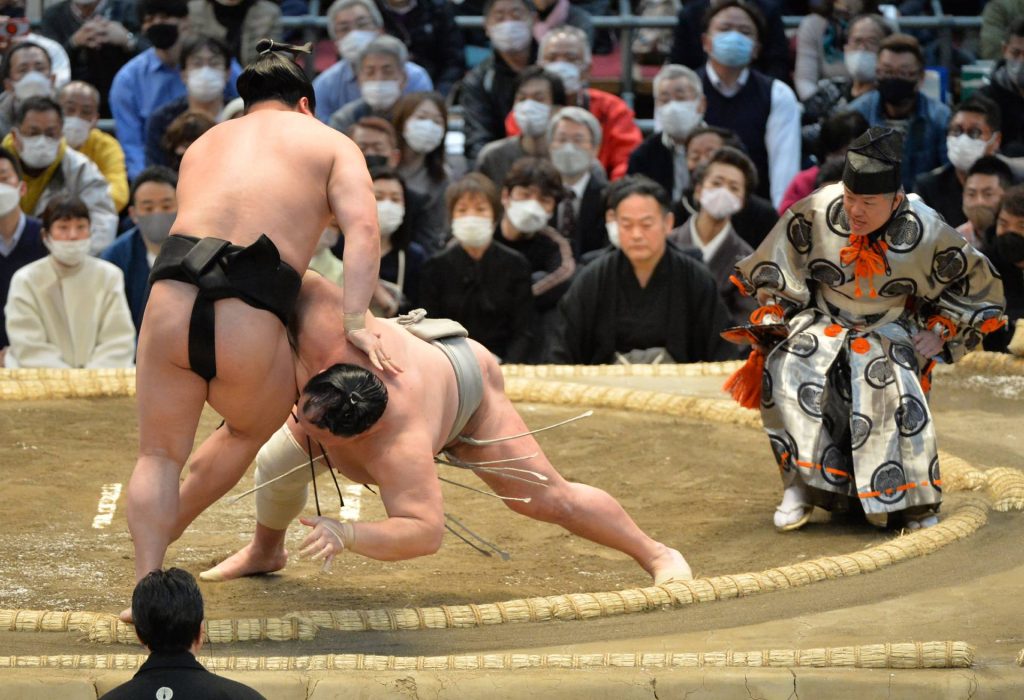 Wakamotoharu was pushed back and out by sixth-ranked Hokutofuji. But the ringside judges overruled the referee by determining that No. 9 Wakamotoharu swatted Hokoutofuji out while keeping his feet on the straw bales.
Wakamotoharu improved to 6-3 while Hokutofuji dropped to 4-5.
Maegashira No. 4 Kiribayama swatted down struggling No. 3 Meisei to earn his sixth win against three losses. After winning his opening-day bout, Meisei has struggled mightily with eight straight losses.
Another struggling wrestler is Osaka native Ura, who ended up in the first row of seats when third-ranked Onosho dodged to his side at the edge and watched as Ura went airborne before hitting the deck.
Onosho picked up his fourth win against five losses while top maegashira Ura fell to 1-8.
No. 11 maegashira Myogiryu used a perfect arm-lock throw to dispatch struggling veteran Okinoumi and pick up his fourth win against five losses. Seventh-ranked Okinoumi has just one win against eight losses.
While it didn't have championship ramifications, an earlier bout between Kotoeko and Kagayaki electrified the audience in Osaka.
No. 17 maegashira Kagayaki used his considerable size advantage to force No. 12 Kotoeko to the edge.
But the much smaller Kotoeko turned the tables on his opponent with a last-gasp beltless arm throw to improve to 6-3. The stunned Kagayaki dropped to 4-5.
Grand champion Terunofuji pulled out with injury on Day 6, leaving the tournament wide open.
Follow Jim's daily reports on the sumo Spring Basho here.

Author: Jim Armstrong