[NPB NOTEBOOK] 'Murakami-sama' Honored for Creating Buzz in Japanese Baseball
NPB Triple Crown winner Munetaka Murakami's nickname ー "Murakami-sama" ー was selected as Japan's top buzzword for 2022.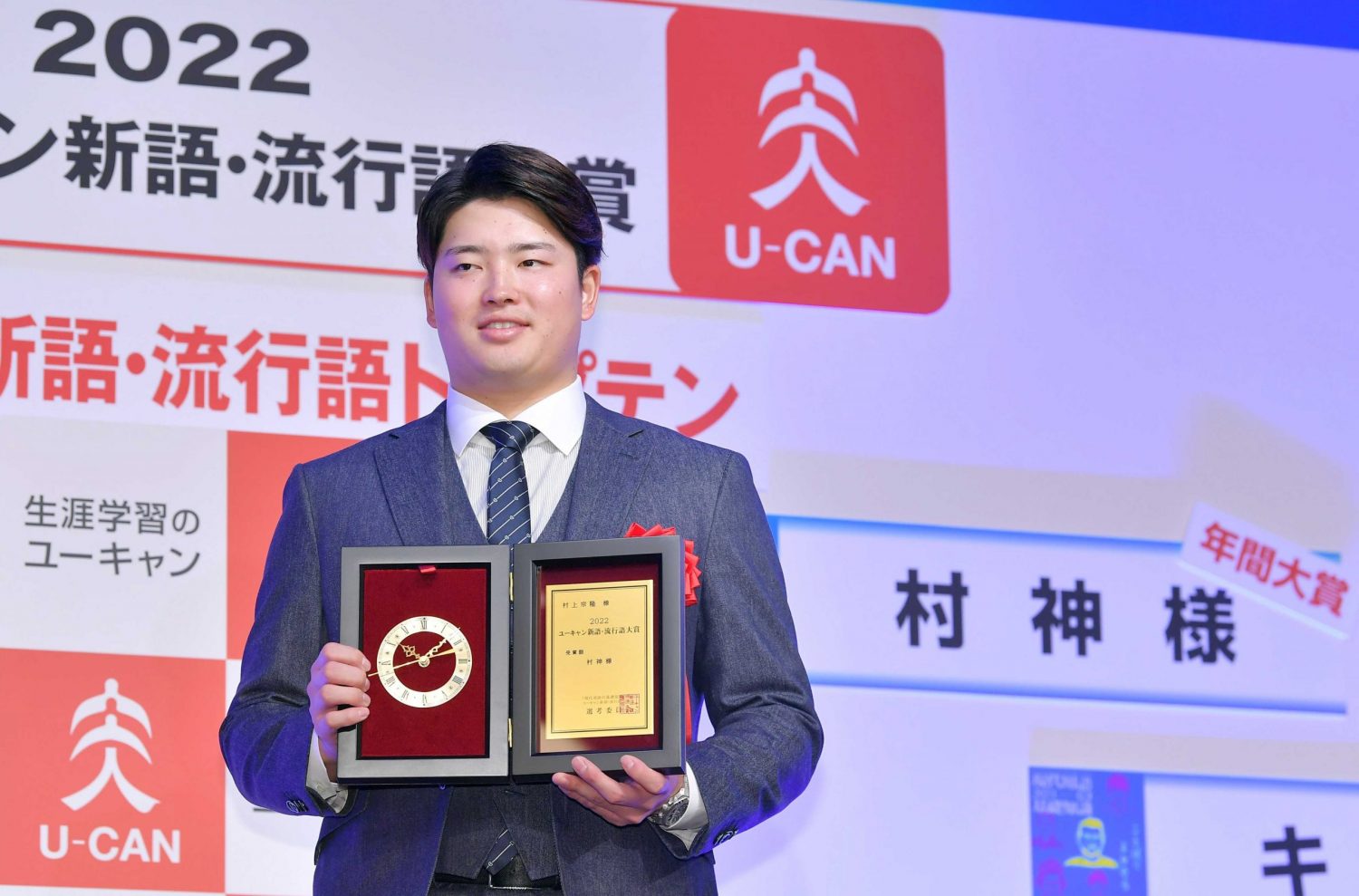 Tokyo Yakult Swallows slugger Munetaka Murakami topped many lists in Japanese professional baseball in the 2022 season on his way to becoming the Triple Crown winner.
But one list he probably never figured leading on was Japan's list of top buzzwords.
And he did just that when his nickname "Murakami-sama" was selected as Japan's top buzzword for 2022 in the annual "U-Can Shingo Ryukogo Taisho" (U-Can New Word/Buzzword Awards).
The nickname is a play on the word "kami" (god) combined with the honorific suffix "-sama."
Murakami, 22, became NPB's youngest Triple Crown winner in October after leading the Central League in home runs (56), batting average (.318) and RBIs (134).
The big number was the 56 homers, which allowed the Kumamoto native to surpass the legendary Sadaharu Oh, who had held the single-season record for most homers by a Japan-born player (55) since 1964. 
And "Murakami-sama" wasn't the only baseball buzzword to make the list.
Another was "Kitsune-Dance," a song and choreography performed by the cheerleaders of the Pacific League's Hokkaido Nipponham Fighters.
A routine that was as viral as Baby Shark, the cheerleaders dance cutely wearing fox (Kitsuke) ears and a fox tail on their skirts.
Baby Shark became a huge hit for the Washington Nationals when outfielder Gerardo Parra used the viral toddler hit as his walk-up music to break a slump in the 2019 season.
Other more serious buzzwords for 2022 that made the list included "kokusogi" (state funeral), which was held in September for former Japanese Prime Minister Shinzo Abe. Mr Abe was shot and killed in July while giving a stump speech for a candidate in the national Upper House elections.
The phrase "shukyo nisei" (religious second generation) to describe children born to parents of a particular religious faith also made the list of the Top 10 buzzwords for 2022.
In 2021, Los Angeles Angels superstar Shohei Ohtani was recognized for his ubiquitous presence in pop culture, with the top two buzzwords of the year linked to him. "Shotaimu" ー a popular play on words between Shohei Time and "showtime," and "riarunitoryu" (real two-way player) ー were picked as top buzzwords of the year.
Sayonara, McGough
Swallows closer Scott McGough has decided to leave the Tokyo-based team and pursue opportunities in Major League Baseball, the club announced last month.
The 33-year-old McGough was one of the premier closers in NPB the last two seasons, with 31 saves in 2021 and 38 this year.
He helped the Swallows win the Japan Series title in 2021.
But it's fair to say McGough struggled in the postseason. He was the losing pitcher in the pivotal Game 5 of this year's Japan Series when he had what can only be described as a complete meltdown on the mound.
Yakult was leading 4-3 in the ninth, but McGough walked the leadoff batter and then surrendered an infield single followed by a throwing error that allowed a run to score. He then gave up a "sayonara" home run to Masataka Yoshida as the Orix Buffaloes won 6-4.
In Game 6, it was deja-vu all over again as McGough committed a throwing error in the ninth inning that allowed Orix to score two runs in a 3-0 victory.
McGough joined the Swallows in 2019 from the Colorado Rockies' Triple-A affiliate. He compiled a 15-8 win-loss record with 80 saves and a 2.94 ERA in 236 games over four seasons in Japan.
Eagles Add Power
The Pacific League's Tohoku Rakuten Golden Eagles announced the signing of former Washington Nationals and Philadelphia Phillies infielder Maikel Franco on December 1.
A 30-year-old right-handed hitter from the Dominican Republic, Franco belted 130 home runs in a nine-year major league career which also included stints with the Kansas City Royals and Baltimore Orioles.
The Eagles finished fourth this season, missing out on the playoffs, and are looking to add some power to their lineup. Franco is listed as a third baseman but can also play first base.
In 2014, Franco made his debut for the Phillies and hit 20 or more home runs in three straight seasons for the National League team from 2016-18.
Meet the New Boss
Japanese professional baseball has a new commissioner.
Sadayuki Sakakibara, a former chairman of the Japan Business Federation (Keidanren) assumed the post of NPB commissioner on Monday, December 5, Nikkan Sports reported.
The appointment of the 79-year-old as the 15th commissioner was approved at a meeting between Nippon Professional Baseball and the board consisting of the 12 clubs.
Sakakibara led Keidanren, the country's largest business lobby, from June 2014 to May 2018. He formerly served as president and chairman at chemicals firm Toray Industries Inc.
In comments to Japanese media, Sakakibara said he is eager to expand business opportunities for NPB with an eye to globalization and becoming more international.
Those are encouraging words and it will be interesting to see if he can achieve that. For far too long, NPB has failed to make any effort to appeal to a global audience.
Darvish on Board for WBC
Japan's team for next year's World Baseball Classic got a huge boost when San Diego Padres pitcher Yu Darvish said he will play for his home country.
The 36-year-old Darvish went 16-8 with a stellar 3.10 ERA for the Padres this year. He was 2-1 with a 2.88 ERA in the postseason.
Darvish was a member of Japan's second WBC championship team in 2009. Since then, Japan was eliminated in the semifinals in 2013 and 2017.
Darvish will join fellow MLB standout Ohtani as the team aims to recapture its past MLB dominance, adding to the inaugural title from 2006.
Hideki Kuriyama, who managed Ohtani during his five years with the Nipponham Fighters, will manage Japan in the fifth edition, which runs from March 8-21 in Japan, Taiwan and the United States.
Darvish wrote on Twitter that Kuriyama's presence on the bench was a big factor in his decision.
"Because manager Kuriyama said 'Please take part,' I will take part."
Yanagita Remains the Highest-Paid Position Player
Yuki Yanagita of the Pacific League's Fukuoka SoftBank Hawks maintained his position as the highest-paid position player in NPB.
On Tuesday, December 6, Yanagita signed for an estimated ¥615.3 million JPY ($4.52 million USD) for 2023, unchanged from a year earlier.
The 34-year-old Yanagita batted .275 with 24 home runs and 79 RBIs in 117 games. He sat out parts of the season with a neck injury and a COVID-19 infection.
His offensive numbers in 2022 were down from the previous season when he batted .300 with 28 homers and 80 RBIs in 141 games.
Rakuten pitcher Masahiro Tanaka is reportedly the highest-paid player in NPB with a two-year contract worth an estimated ¥2.34 billion JPY ($17.2 million USD).

Author: Jim Armstrong
The author is a longtime journalist in Japan who covered sports for over 25 years. You can find his articles here.