[ODDS and EVENS] Ai Ogura Enjoying Successful Season in Moto2
The 21-year-old took the overall lead in the Moto2 season standings with a narrow victory over teammate Somkiat Chantra at the Austrian Grand Prix.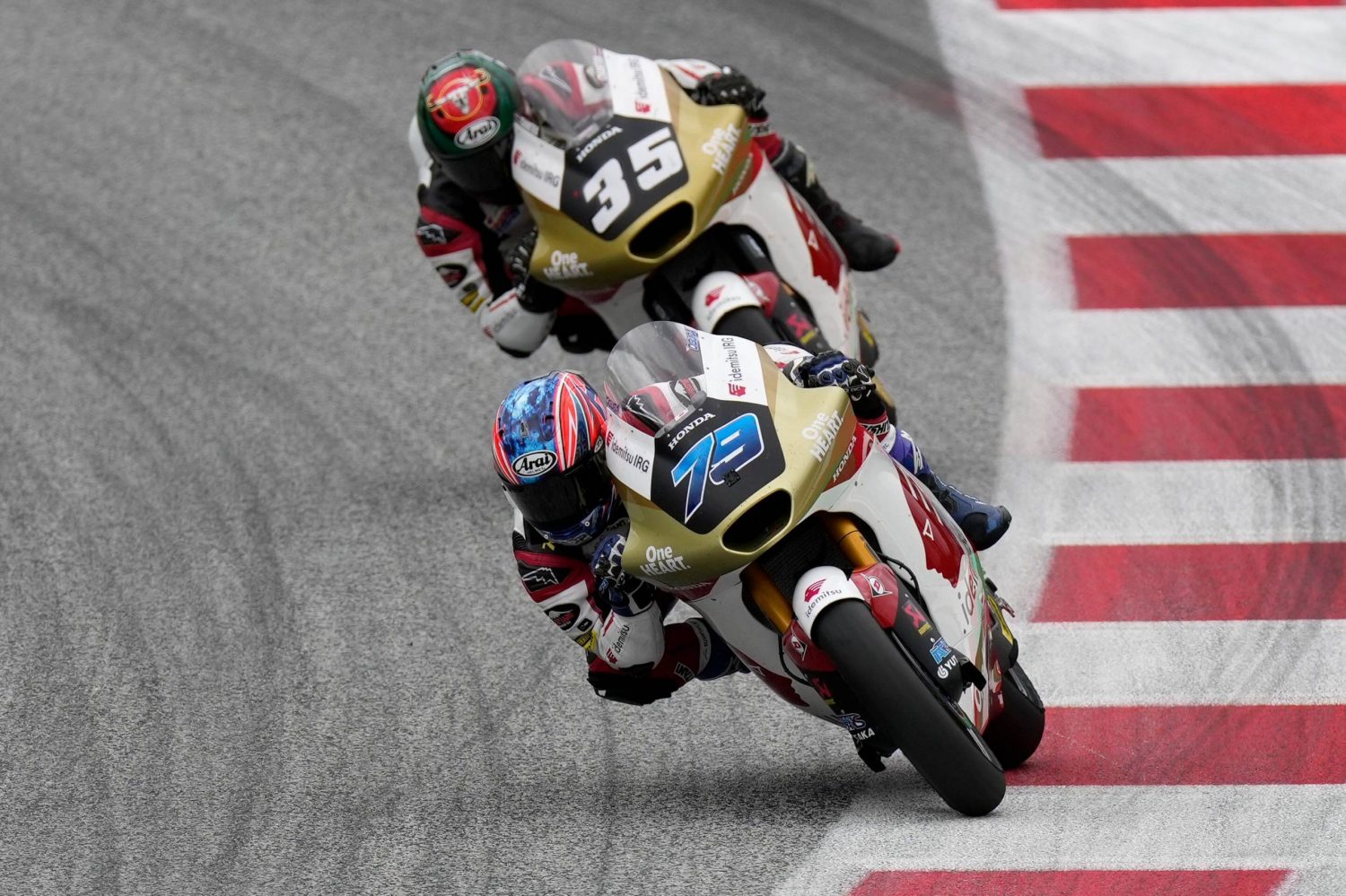 Fueled by his victory in the Austrian Grand Prix on Sunday, August 21, Ai Ogura vaulted into first place in the season standings in Moto2.

Ogura's triumph occurred in the 13th race of 20 on this season's Moto2 calendar. And it gave him 183 total points in 2022, 25 of which were earned in Australia, and a one-point lead in the standings over Spain's Augusto Fernandez, who won the three previous races. (Watch race highlights here.)

Ogura completed the race in 39 minutes, 30.0700 seconds, edging Thai teammate Somkiat Chantra by 0.173 seconds at the Red Bull Ring in Spielberg, Australia.
"It's a perfect day for me, the Tokyo native said after the race. "I'm delighted about this victory. But it wasn't a comfortable race, despite being in front for almost all of the race, with a good pace. Somkiat was behind, pushing me. He tried to overtake me on the last lap, but I managed well to finish first."
Ogura was second in the season standings before his triumph in Austria.

"Now I'm the leader of the championship," he noted. "It's nice, but for me, this victory is more important than leading the championship."

The victory underscored the fact that Ogura is one of the top up-and-coming stars in Moto2, the second tier of the MotoGP World Championship.

And with seven races remaining on this season's calendar, the Idemitsu Honda Team Asia driver has a legitimate shot at becoming the fourth Japanese rider to win the overall Moto2 title since its inception in 1949. Tetsuya Honda (Yamaha) won the championship in 1993. Honda's Daijiro Kato and Hiroshi Aoyama followed in 2001 and 2009.

A Look Back, A Look Ahead
Aoyama now serves as the Idemitsu Honda Team Asia manager.

Before the current season started in March, Aoyama said: "In Moto2, Ogura and Chantra can fight for the championship; they have the potential. I think next year we have a good chance of it."
And what was Ogura's outlook?

"I'm not particularly eager to make predictions," Ogura said in a statement posted on the racing team's website. "My target is to do my best performance in all races. The most important thing is to keep working hard. After that, we will see the results, so I can't say many things now."
MotorGP teams, including those in Moto2, head to Italy for the San Marino GP on September 4.

And one of the biggest weekend's of Ogura's career will conclude with the Japanese GP at Mobility Resort Motegi (formerly known as Twin Ring Motegi) in Tochigi Prefecture on September 25. Due to the global pandemic, Japan's race has not been held since 2019.

Ogura's Breakthrough Victory
This season, Ogura's second in Moto2, he's earned pole position twice. He has a pair of wins, two second-place finishes and a pair of third-place results.

Entering the Spanish GP on May 1 at Circuito de Jerez in Cadiz, Spain, had accumulated a combined 11 podium finishes in Moto 2 and Moto 3 (he competed in the lower-tier racing division from 2018-20).

And then he recorded an all-important first victory. Ogura demonstrated his complete command of the course and the elements, leading from start to finish.
He wrapped up victory No. 1 in 39:16.3570, averaging 155.4 kph.

Runner-up Aron Canet finished 2.508 seconds behind Ogura, whose post-race comments confirmed his emotional and analytical reaction to his brilliant performance.

"This time I am 120 percent happy," Ogura was quoted as saying by Agence France-Presse after collecting the winner's trophy. "This time the race was perfect. I started first and finished first."

To be 21 and performing at an incredibly high level in the second tier of a professional sport, can be summed up by one word: wow.
And it's a vivid sign that Ogura has a bright future, one that should involve many years of competing in MotoGP. Perhaps as soon as next season he'll be riding his motorcycle in the top division.

Ogura's Rise Through the Ranks
As an ambitious teenager, Ogura showed promise early on while riding in the Idemitsu Asia Talent Cup in 2015 at which he earned a seventh-place overall finish and a triumph. He rose to second overall and secured three more wins the next year.
Ogura competed in the Red Bull MotoGP Rookies Cup in 2016 and '17. He placed 11th overall as a 15-year-old his first year in the Europe-based circuit, a testing ground for riders with limited experience.
With six top-five finishes, including one win, in 2017, Ogura climbed to fifth in the final standings.

That led to a new challenge in 2018: a jump to Moto3 with Idemitsu Honda Team Asia.
In limited time on the track in 2018 (four races), Ogura placed 36th overall by year's end.

More repetition was needed to initiate his climb up the ranks, and 2019 and 2020 were important developmental years in Ogura's career as a full-time rider in Moto3.

He had one second-place showing in 18 races in 2019 and a 10th-place overall finish.

The end of Ogura's teenage years in 2020 was a positive chapter in his quest to keep climbing the professional motorcycle racing ladder.

What happened?

He made the podium in seven of his 15 starts ― two runner-up spots and thrice finishing third ― in his second season in Moto3.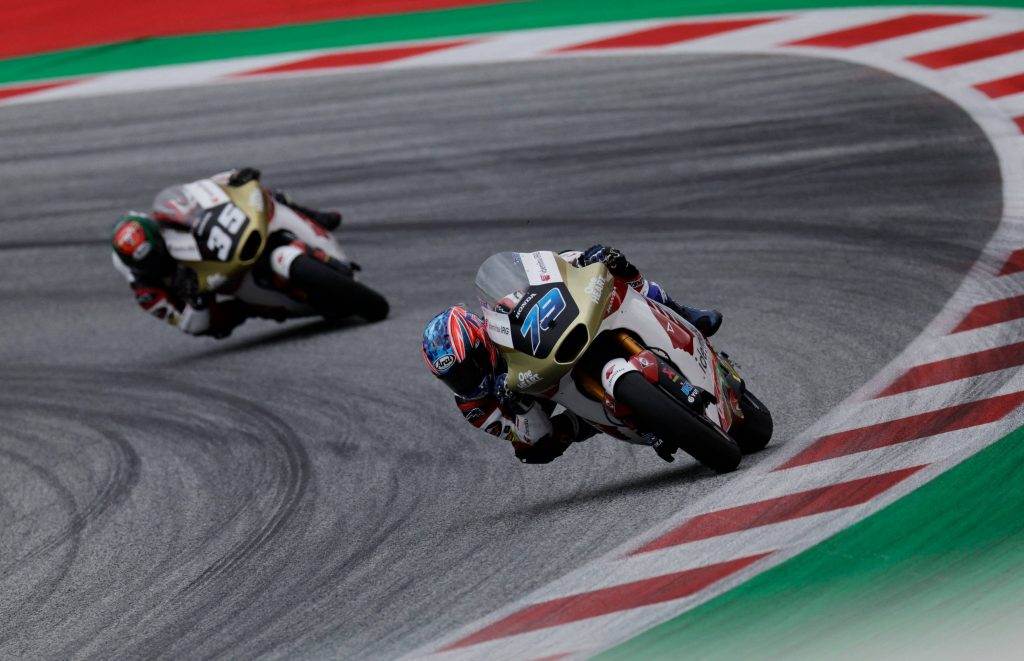 Gaining More Valuable Experience
No athlete is a finished product at age 20. There's always potential to improve.

Last year, however, marked a success story in its own right for Ogura. He cracked the top 10 in the overall riders standings, placing eighth.

To put that into context, there are 38 Moto2 riders this year.

Ogura is focused on improvement and delivering the best possible performance in every qualifying session and race.
He gave a glimpse of his thought process after qualifying third for the British Grand Prix, which was held on August 7.
"I'm happy about the result of today," Ogura said. "Honestly, I didn't expect to be on the front row. Two or three riders are going very fast this weekend and I need a little more to be with them. They all look to have a good pace, but I need to analyse them more deeply.

"The grid position is crucial in Moto2. But when the race starts, everybody will be there. I will be focused on making a good start and giving my maximum."
Ogura finished fourth in the race before his triumph in Austria.
"Until the last lap I fought, doing my maximum," Ogura told reporters at Silverstone Circuit. "I'm slightly disappointed about this because I was expecting a faster race from my side. But I finished as best as possible today."
Two weeks later, Ai Ogura was the man to beat, and nobody did.
Keep an eye on Ogura. He's a racer to follow, now and in the coming years.


Author: Ed Odeven
Follow Ed on JAPAN Forward's [Japan Sports Notebook] here on Sundays, in [Odds and Evens] here during the week, and Twitter @ed_odeven.

Subscribe to Our Newsletter