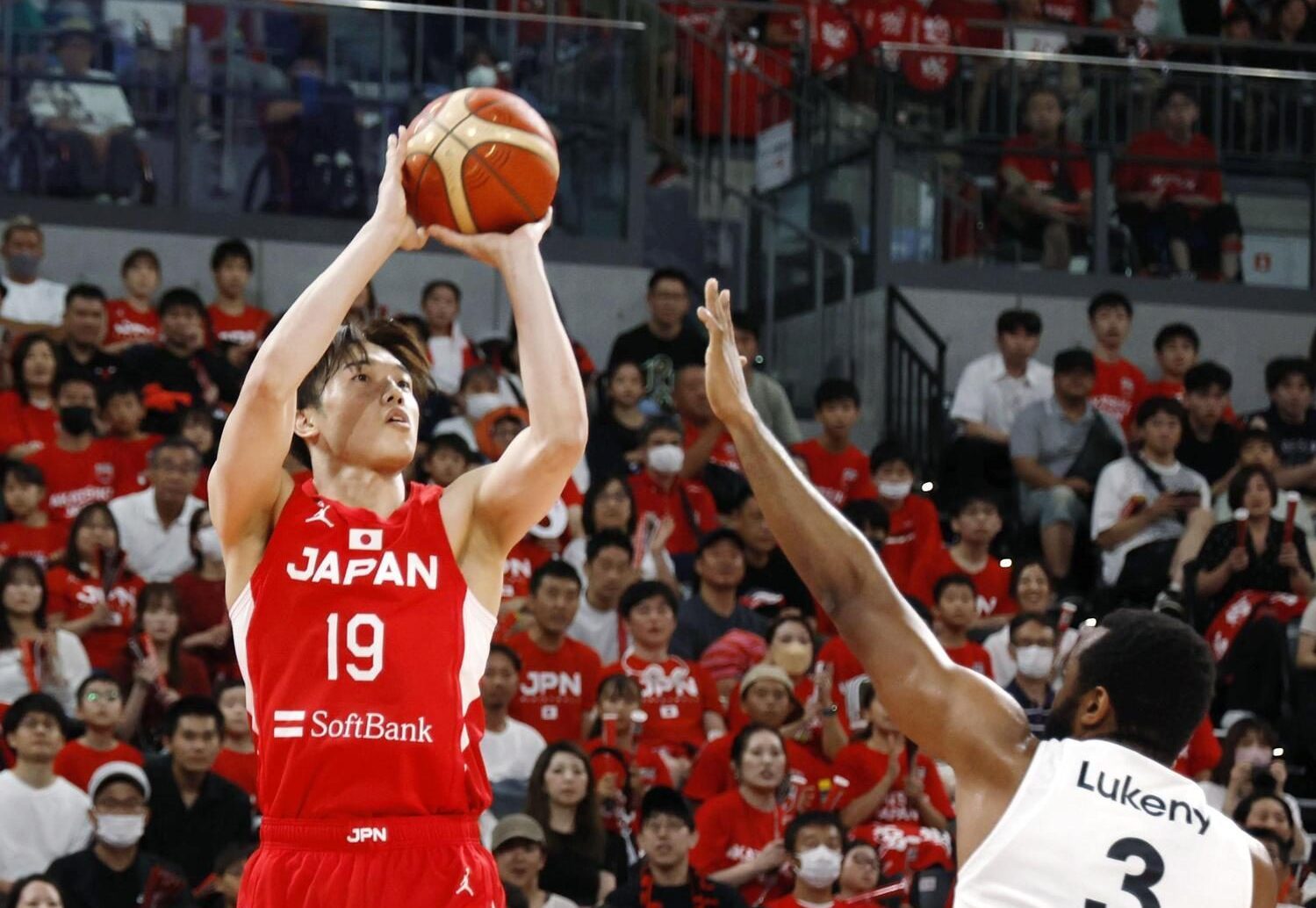 In the run-up to the FIBA Basketball World Cup, the Japan men's national team's run-and-gun offense has been on full display.
Head coach Tom Hovasse's squad emphasizes 3-point shots over 2-point shots. And the team's offense places a greater focus on a perimeter-based attack.
Akatsuki Japan, as the national team is also known to its spirited supporters, launched 41 3-point attempts (and 11 sailed through the bottom of the net) in a 75-65 victory over Angola on Tuesday, August 15 at Ariake Arena. It also made 10 of 19 shots from inside the 3-point arc.
Sharpshooter Keisei Tominaga, who is entering his senior season at the University of Nebraska, had a game-high 20 points, including 6 of 14 on 3s, in 21-plus minutes against Angola. Tominaga sank the first shot of the game, a 3-pointer, from near the right corner. Moments later, he buried another 3 from the left baseline, showcasing his comfort zone as a shooter.
This exhibition game against the world's 41st-ranked team provided a glimpse of Japan's overall offensive strategy: Get the ball to its top 3-point shooters as often as possible.
It's not a revolutionary concept in the modern era, of course, as teams spread the floor and deploy capable outside shooters at each position.
During preparations for the FIBA Basketball World Cup, world No 36 Japan's players have gained confidence and greater awareness of one another's strengths and tendencies on the court. This, in turn, has solidified the national team's playmaking abilities.
Preparations for the FIBA Basketball World Cup
Indeed, familiarity is an important aspect of getting ready for the 32-national global tournament, which tips off on August 25 in Okinawa City, Indonesia and the Philippines. Japan plays host to Germany, Finland and Australia in Group E matches at Okinawa Arena on August 25, 27 and 29, respectively.

To its credit, the Japan Basketball Association worked effectively to line up a steady flow of games for Akatsuki Japan in the weeks before the FIBA Basketball World Cup.
Those games have delivered example after example of how Hovasse wants his team to play.

In games against Taiwan on July 8 and 9 at Hamamatsu Arena, Japan was 21-for-47 and 9-for-40 from 3-point range in 108-86 and 92-56 victories. Japan attempted 28 2-point shots in the series opener and 33 from inside the arc in the rematch.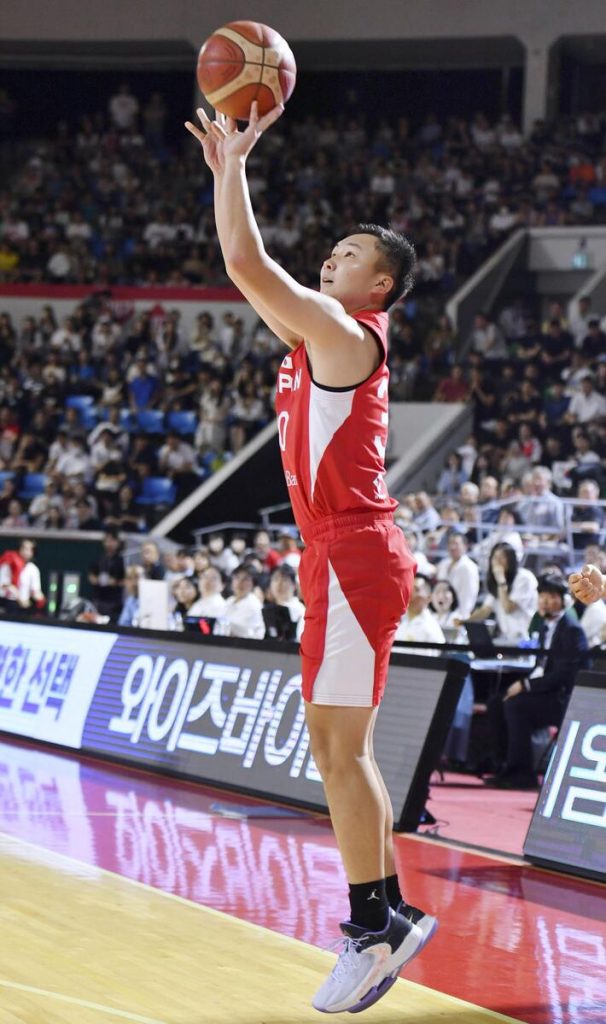 This pattern continued in Seoul on July 23 against South Korea, when Japan converted 13 of 45 3s in an 85-80 loss and also made 20 of 27 2-point shots. A day earlier, Japan was 20-for-35 on 2s and 9-for-28 on 3s in a 76-69 defeat to South Korea.
Facing New Zealand on August 2 and 4 in Ota, Gunma Prefecture, Japan's rapid-fire long-range shooting had mixed results. Trailing 29-17 after the first quarter in the first meeting with the Tall Blacks, Japan rebounded for a 79-72 triumph. In doing so, it made 15 of 45 3-pointers and took 31 2-point attempts (17 made shots).
Two days later, in a 94-75 defeat in the rematch, Japan made only 8 of 35 3s (22.8%). It also attempted 27 2s (16 were converted).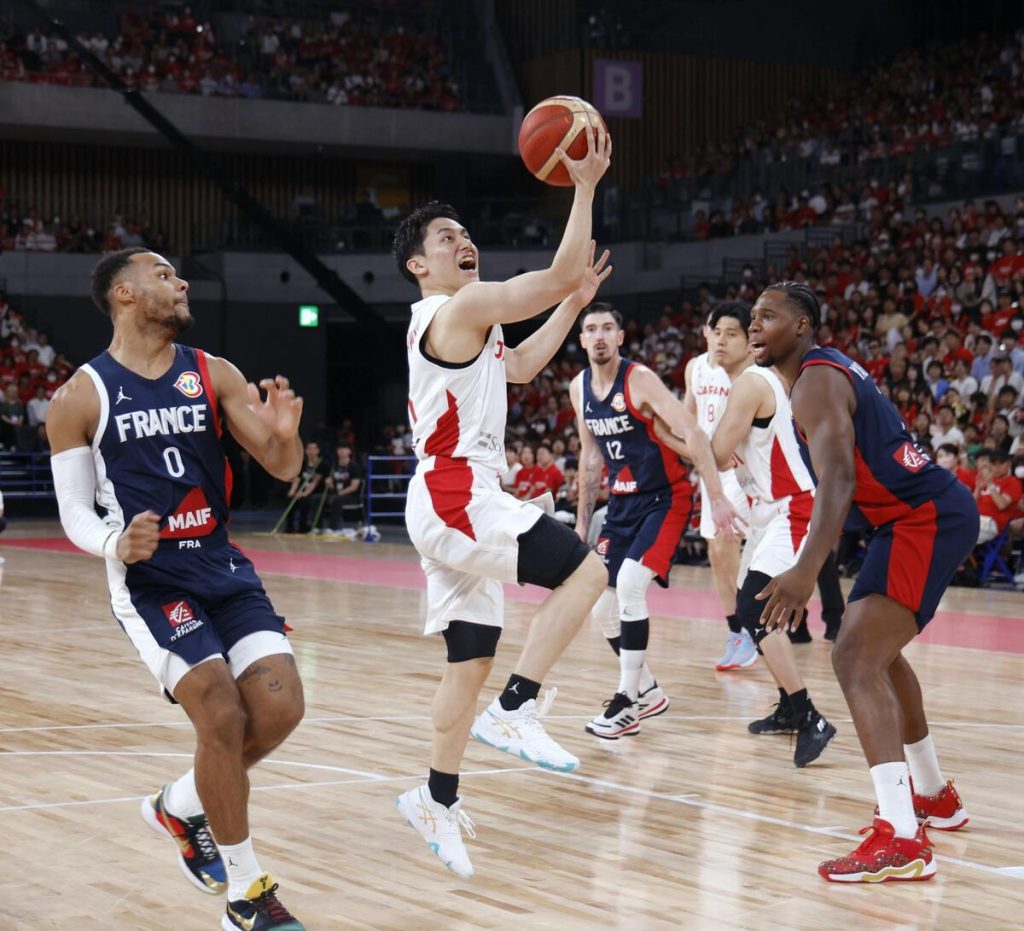 Japan's Final Games Before the Basketball World Cup
On Thursday, August 17, world No 5 France defeated Japan 88-70 at Ariake Arena.
Eleven of 12 Japan players attempted at least one 3-point shot. Hovasse's squad finished 13-for-44 from long range and 13 of 26 inside the arc. Tominaga was the top offensive contributor, knocking down 4 of 10 3s, scoring a game-best 20 points and playing 22-plus minutes.
France led 45-40 at halftime.


NBA veteran Yuta Watanabe, who sustained a right ankle sprain in the second quarter against Angola, didn't play against France.
"We lost the game, but we gained confidence," Hovasse was quoted as saying by Kyodo News. "Our shooting percentage wasn't what it needed to be, and we didn't get to the free-throw line enough. Those are things we need to fix."
B.League standouts Yuki Togashi and Makoto Hiejima chipped in with 15 and 13 points, respectively. Togashi took nine 3-point attempts. Yuki Kawamura, Soichiro Inoue and Josh Hawkinson all attempted four 3s, while Shuta Hara, Yudai Baba and Heijima shot three apiece.
In its final game before the FIBA Basketball World Cup, Japan plays host to world No 7 Slovenia, which features Dallas Mavericks superstar Luka Doncic, on Saturday, August 19. Tipoff is 3 PM at Ariake Arena.
Strong Outside Shooting and Baba's Energy are Vital for Japan
Against Slovenia and in upcoming matches in Okinawa, Hovasse will need Japan's players to attempt (and make) a lot of 3-pointers to have realistic chances to win against taller, more physical teams.
The team will also need the 196-cm Baba, an energizing force and an NBA G League veteran, to help set the tone on defense.
"Baba's power is important," Hovasse told reporters Wednesday, August 16. "He has experience, [defensive skills], physical play and drive. I need the power of Baba, and I want him to play like Baba."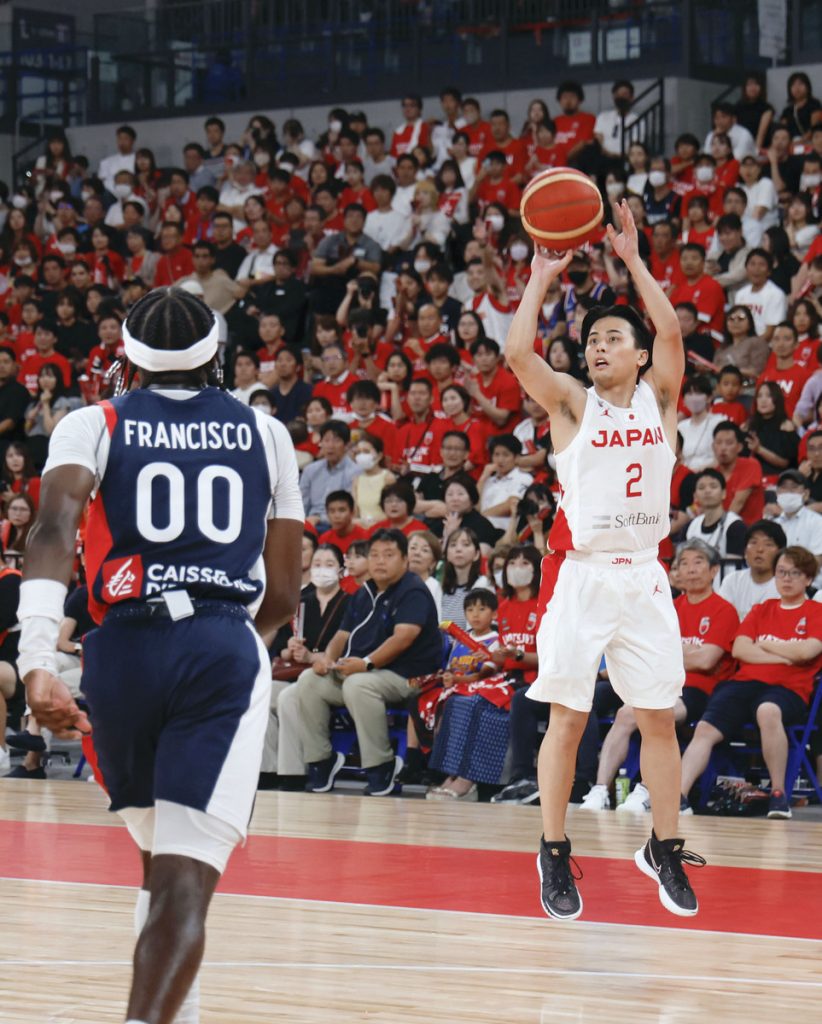 How Japan's Offensive System Developed
In a November 2022 appearance on Basketball Immersion's "Basketball Podcast," Hovasse cited the NBA's Golden State Warriors and Houston Rockets as influences for his coaching philosophy. Hovasse implemented the 5-out offense (all five players must "pass, cut, dribble, shoot, screen," as basketballforcoaches.com explains in this primer) for the Japan women's national team, which he previously coached.
With its offense clicking throughout the tournament, Japan finished as the runner-up at the Tokyo Olympics. It was validation that Hovasse's vision for the women's team had paid off. Then he moved on to his next coaching challenge.
The Japan men's national team is employing similar concepts.
"I loved the passing and use of space of Golden State ― movement and backdoor cuts," Hovasse told podcast host Chris Oliver, explaining his offensive system.
"But I also loved the spacing of the Houston Rockets and how they just planted people in the corners and dared you if you are going to come off of them to leave a shooter open and we're going to shoot."
The Element of Surprise
In the same conversation, Hovasse also mentioned that unpredictability was a successful component of the Japan women's team's offense. He cited a conversation he had with longtime United States star guard Diana Taurasi after the Olympic championship match in August 2021.
"We're reading and reacting to what you guys are doing," Hovasse said, recounting what he told Taurasi. "She said it was one of the most difficult things for them in scouting because there was no template."
Watch the Japan men's national team at the FIBA Basketball World Cup to see its fast-paced, entertaining offense on display, with Tominaga and his teammates launching 3-pointers again and again and again.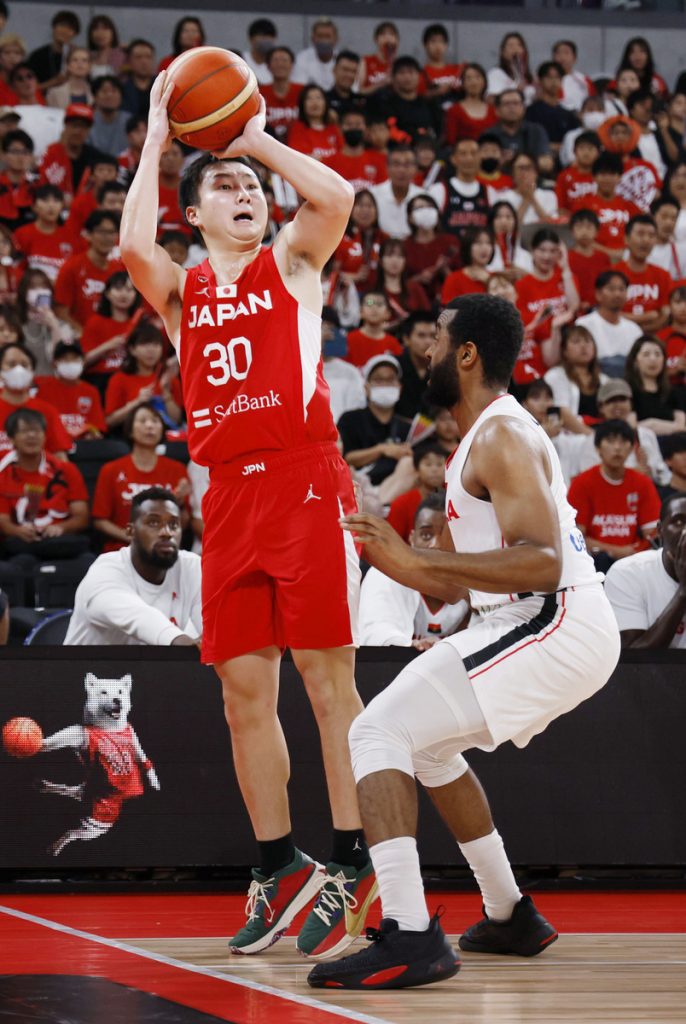 Author: Ed Odeven
Find Ed on JAPAN Forward's dedicated website, SportsLook. Follow his [Japan Sports Notebook] on Sundays, [Odds and Evens] during the week, and Twitter @ed_odeven.