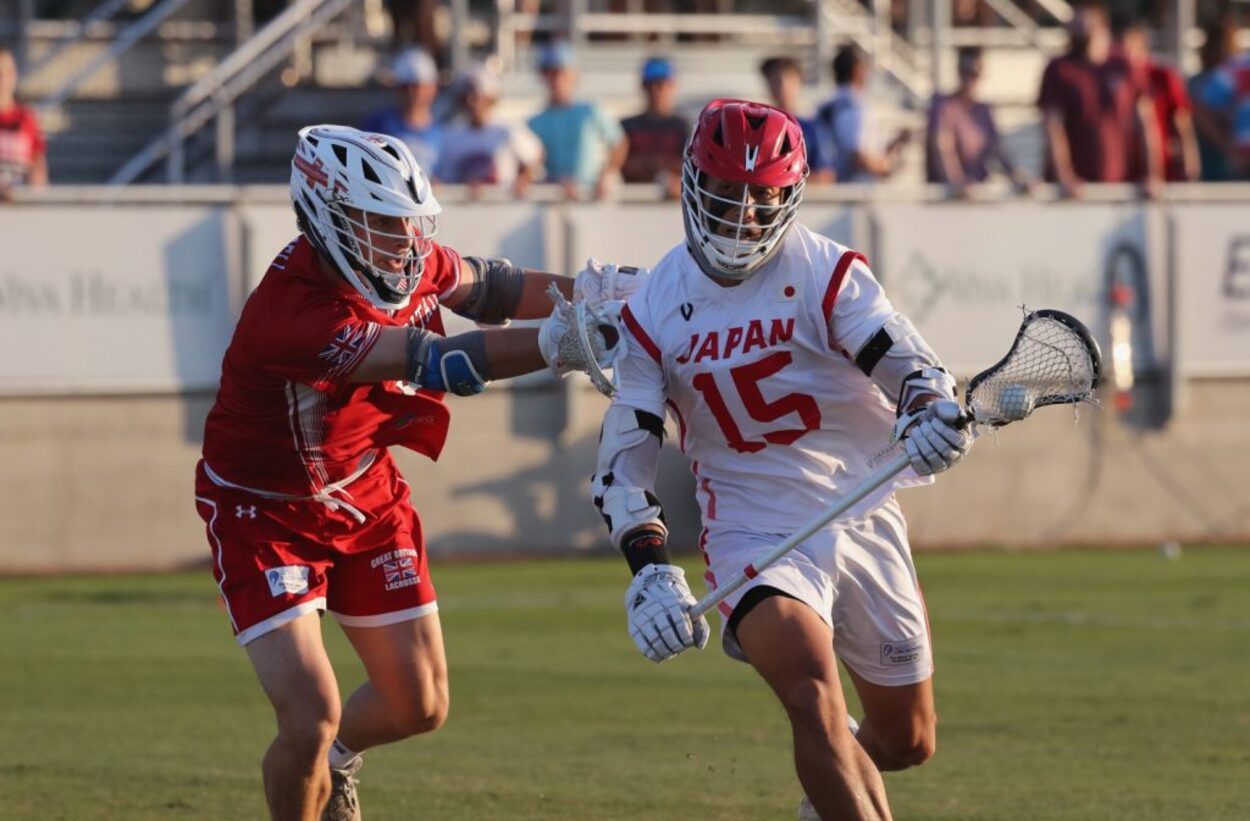 In the past three editions of the World Lacrosse Men's Championship, the Japan national team has finished fourth, eighth and sixth overall.
Those results were achieved in 2010 (in Manchester, England), in 2014 (in Denver, Colorado) and 2018 (in Netanya, Israel), respectively. Twenty-nine, 38 and 46 nations competed in those three global tournaments.
In other words, Japan has had consistently solid results on the global stage against differing pools of talent during the competitions.
Which brings us to the 2023 World Lacrosse Men's Championship (June 21-July1) in San Diego, California. It was originally set to be held in 2022, but was postponed to this summer due to the global pandemic.
This year's tournament is considerably smaller than the 2018 edition in Israel. Thirty teams are divided into six five-team groups.
And it's a tournament with the following key storyline for Japan: How good is the current Japan national squad?
Based on the results of the 2018 tourney, Japan is sixth in the world rankings entering the 2023 event.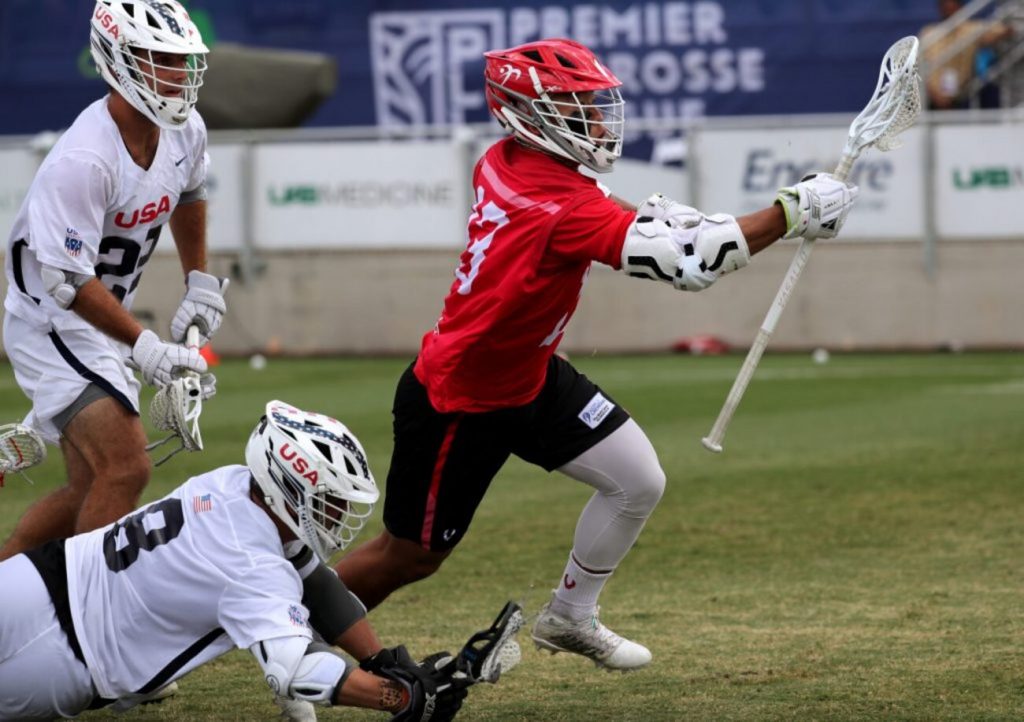 Tournament Schedule Info
Japan, guided by head coach Naofumi Suzuki and bolstered by captain Dai Sato's leadership, will face 33rd-ranked France, 40th-ranked Uganda, 14th-ranked Wales and 34th-ranked Denmark in Pool B play over four consecutive days, Thursday, June 22 through Sunday, June 25.
(In order, the matches kick off at 5 AM, 2 AM, 5 AM and 8 AM JST a day later than the listed dates.)
The top two finishers in Pool A, which includes the reigning world champion and traditional powerhouse United States, 2018 runner-up Canada, third-place finisher Haudenosaunee (previously known as the Iroquois Nations team) and fourth-place finisher Australia, will advance directly to the quarterfinals. (Check out the full schedule on the World Lacrosse website.)
Additional spots for the quarterfinals will be up for grabs, with Pool A's three other teams and the top nine teams from Pools B-F booking spots in the first round of the playoffs on June 27. The quarterfinals begin the next day.
Three players are back from Japan's 2018 squad: midfielders Hiroki Kanaya and Tomoki Umehara and defenseman Dan Kanayama.
Kanaya, Umehara, Saito and attack/midfield Junichi Suzuki are expected to play pivotal roles on offense. Five years ago, Kanaya was a formidable presence, contributing six goals and an assist at worlds.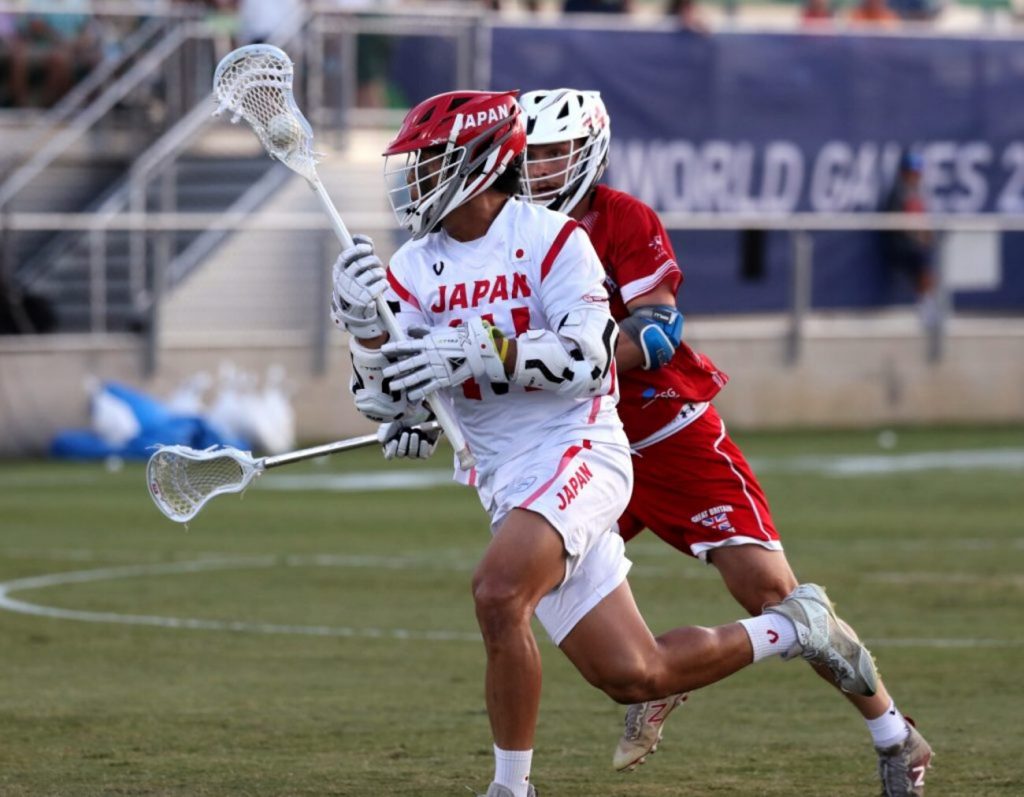 Historic Breakthrough for Japan Lacrosse
In 2022, Kanaya added another page to his list of lacrosse accomplishments with 13 goals and eight assists for Japan at The World Games in Birmingham, Alabama. That is where the national team claimed its first-ever senior-level medal in international competition. And it did so in dramatic fashion against Great Britain, winning 19-18 in overtime in the third-place match in early December.
At The World Games, a faster, smaller version of the sport, six versus six lacrosse (instead of the customary 10 on-a-side game), was showcased. And the field's dimensions were 40 meters shorter by length (at 70 meters) and nearly 20 meters shorter by width (at 36 meters). Regular lacrosse also has four 15-minute periods instead of four 8-minute periods that exist in six-on-six.
Also making a big impact for Japan at the World Games was Shinya Tateishi, who notched a team-best 18 goals and four assists, finishing one point above Kanaya for the team lead.
Umehara was another bright spot on offense in Birmingham with 16 points. He gained valuable experience in a major international event in the six versus six format, which has gained momentum around the world as a developmental tool to grow the game.
Lacrosse leaders point to the game's rapid international growth in the 21st century as a sign of progress. For instance, Brazil became a member of World Lacrosse in May 2023, raising its total to 86 member nations. In addition, lacrosse is one of nine sports on the shortlist for consideration to be added to the 2028 Los Angeles Olympics.
Past World Championship Results for Japan
Since making its debut in the world championship in 1994 and finishing sixth among six teams that year, Japan has top-eight finishes in seven consecutive tournaments.
Are you taking notes? Go for it; impress your friends with tournament tidbits.
The first World Lacrosse Men's Championship was held in 1967 in Toronto, Canada, and the United States won the inaugural four-national tourney. For Team USA, it was the first of 10 world championship titles through 2018. Canada won the title the other three times, most recently in 2014.
Tournament debutante Shogo Oshima, one of two goalies on Japan's 23-player squad (Soya Tokumasu is the other), recently told The Yomiuri Shimbun that he is fired up about the marquee international event in California.
"I have set my sights on this tournament," Oshima was quoted as saying by The Yomiuri Shimbun. Then he said, "I want to live up to the expectations of those around me."
Captain Sato said on June 10 that the team is targeting a top-four finish in San Diego, according to published reports.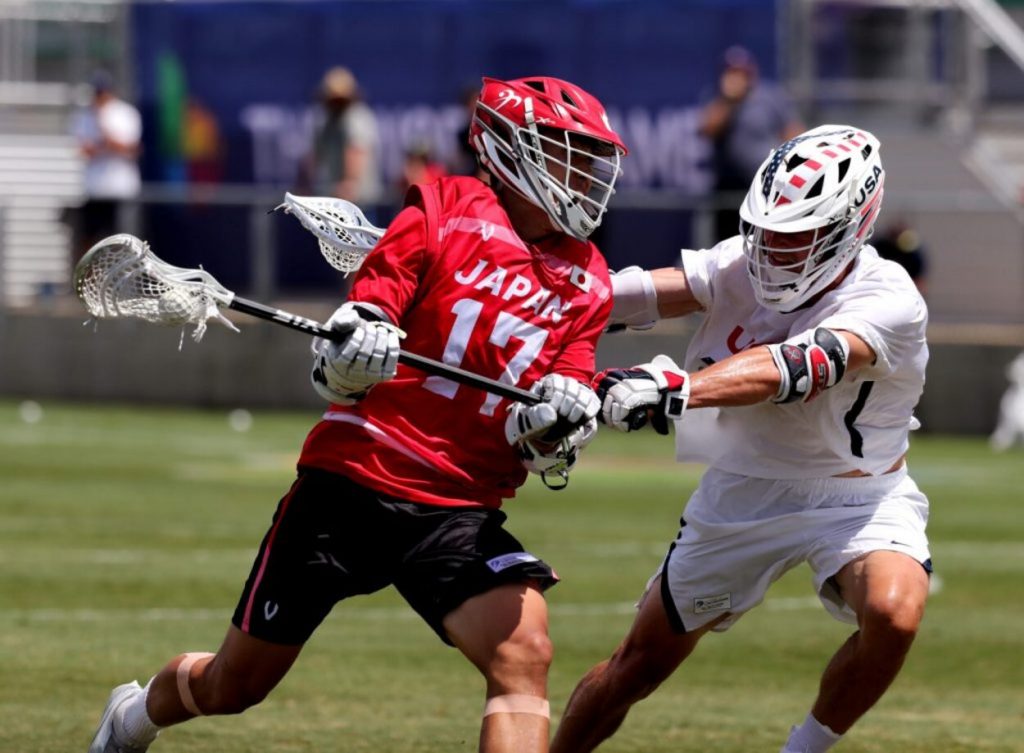 History of Lacrosse in Japan
Lacrosse is a relatively new sport in Japan, having only been played as an organized activity here since the late 1980s.
How did lacrosse, whose origins can be traced to Native American communities in Canada and the United States as far back as 1100 AD, develop a footprint in Japan?
In April 1986, a small group of Keio University students with an interest in the sport visited the American Embassy in Tokyo. Their productive visit led to Japanese and American business groups deciding to cooperate and support the ambitious students' goals. In 1987, the Japan Lacrosse Association (JLA) was formed.
The JLA, the national governing body for the sport, shared a few details about the official establishment of lacrosse as a recognized sport in Japan on its website.
A quick primer on what happened includes the following passage: "For the first time in Japan, 10 sticks were donated by Mr Ross Jones (vice president and secretary of Johns Hopkins University) and Mr Bob Scott (director of athletics of Johns Hopkins University) to Keio University."

Those 10 sticks were the first piece of the puzzle for the Keio University players. Consider them historic artifacts!
With sticks, the students could practice and work together to begin building Japan's first team.
In December 1987, Keio University faced the Yokota Air Force Base's American lacrosse club on the air base in Western Tokyo. Yokota won 12-2 in the first official game ever played in Japan.

Oh yes it has….here's a historic pic of first game ever:

@Kieo_lacrosse13 vs American Lacrosse Club
Yokota Air Base, Tokyo
Dec 1987

ALC Yokota 12 - Keio 2 @PaulRabil @keio_lacrosse13@USA_Lacrosse @PremierLacrosse @WorldLacrosse @JapanLacrosse @DukeMLAX @NDlacrosse @AF_Lax pic.twitter.com/ip2T41gqu3

— Jeffrey Spear (@SpearJeffrey) March 12, 2023
Growth of Lacrosse in Japan
In the three-and-a-half decades since then, lacrosse has rapidly grown. Moreover, in addition to the 10 sticks mentioned above, you can't overlook the importance of the Japan Lacrosse Student League, initially consisting of seven universities, being established in April 1988.
Every sport needs leadership and an organizational structure, and this was an important first step.
By 2020, there were almost 17,000 lacrosse players in Japan, a monumental jump from the 21 who were playing it in 1986, according to an episode of the "Going Offsides" lacrosse podcast with Coach Suzuki as a guest.
The 2023 World Lacrosse Men's Championship presents another opportunity to encourage the growth of the sport in Japan, inspiring youth to play and people of all ages to follow the action.
RELATED:

Author: Ed Odeven
Find Ed on JAPAN Forward's dedicated website, SportsLook. Follow his [Japan Sports Notebook] on Sundays, [Odds and Evens] during the week, and Twitter @ed_odeven.