As expected, Mongolian powerlifting dynamo Sodnompiljee Enkhbayar captured the gold medal in the men's under-107 kg division on Monday, August 30.
Enkhbayar entered the Tokyo Paralympics as the favorite in his weight class and fulfilled expectations with an all-out effort in the nine-man final at Tokyo International Forum on the final day of the powerlifting competition.

The 35-year-old's second attempt (each powerlifter gets three) produced the top lift of the day: 245 kg, a Paralympic record. He failed to lift 248 kg on his final attempt.
He successfully lifted 241 kg on his first attempt, and nobody else in the division successfully lifted more than 237 kg.
Looking ahead to the Tokyo Paralympics, Enkhbayar said in July 2019 that he wanted to win a gold medal here and dedicate it to his ex-coach Sharav Enkhsaikhan, who died in 2017.
"After [the 2016 Paralympic] Games I'd promised him I'd do my best in Tokyo, and get the gold medal for him," Enkhbayar was quoted as saying by paralympic.org. "He was a very good trainer. He believed that I could do it. Now I want to win for him. He pushed me, he was very proud of me. I want to make his wish come true in Tokyo."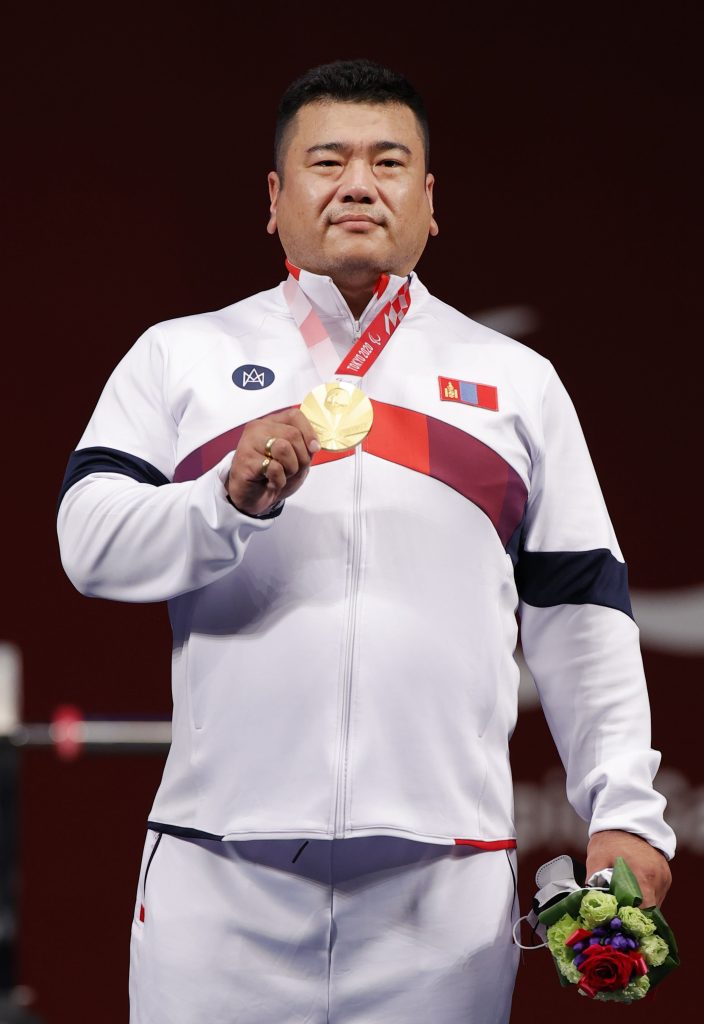 As it turned out, Enkhbayar set the standard of excellence on his first try. By doing so, he claimed his second Paralympic medal. He took home the bronze in the under-88 kg weight class from the 2016 Rio de Janeiro Paralympics.
Malaysia's Yee Khie Jong lifted 237 kg, which secured his silver medal 16 years after a motorcycle accident resulted in his right leg being amputated above the knee.
Jong was a seventh-place finisher in the under-97 kg division at the 2016 Paralympics.
Iran's Saman Razi, who had a top lift of 231 kg, collected the bronze medal. Like Jong, Razi also competed in the under-97 kg division in Rio, where he finished fourth.
Another similarity between the competitors: Razi sustained limb deficiency in an automobile accident as an 18-year-old.
"Before my accident, I was active in the fields of taekwondo, football and bodybuilding, and after the accident I learned about para sports while watching the Paralympic Games," Razi said, according to paralympic.org. "I became interested in powerlifting and started my activity in this field. My main motivation for entering sport was my family, and then my coach made it possible for me to continue my path and achieve success with proper training."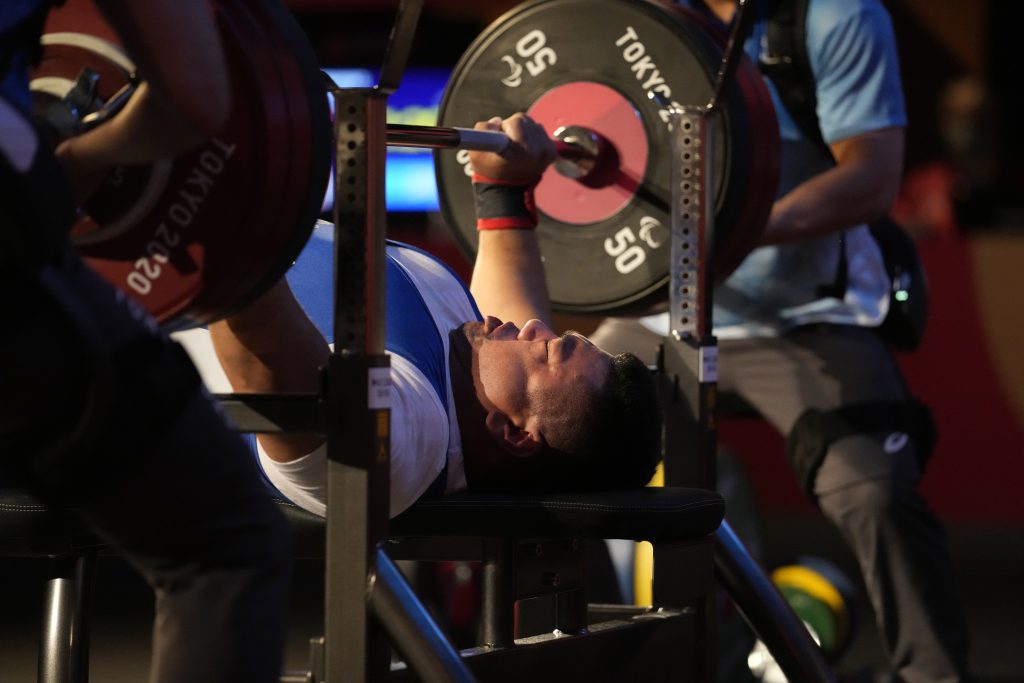 Enkhbayar Develops into Powerlifting Star
Enkhbayar is a prime example of how hard work and dedication can lead to success. He trains twice a day in Mongolia, where he began participating in the sport in 2009. His involvement in powerlifting began 10 years after his right leg was amputated following an illness. Before the illness, he competed in judo and weightlifting.
His rise to stardom included the aforementioned bronze medal at the Rio Paralympics.

In 2017, he was the runner-up in the second-heaviest weight division at the World Para Powerlifting Championships in Mexico City. In 2018, Enkhbayar grabbed the gold at the Asia Para Games in Jakarta, with a winning lift of 240 kg.
It was a sign of things to come.
In 2019, he set a world record of 247 kg in Nur-Sultan, Kazakhstan, at the world championships.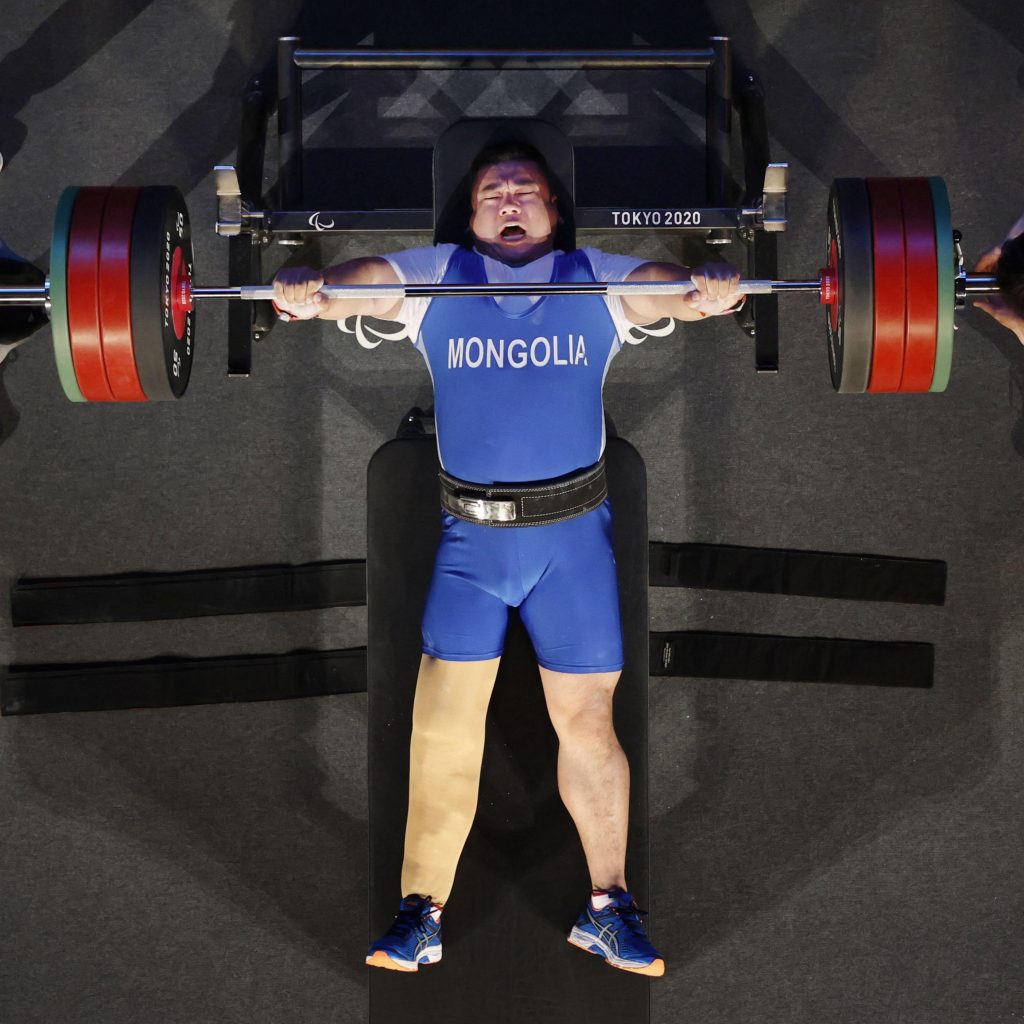 A Quick Primer on Paralympic Powerlifting
In describing the basic details of the sport, Olympics.com summed it up this way: "Powerlifting is all about the bench press. Athletes lie on their back on a bench to lower the bar to their chest, hold it motionless then press it upwards to arm's length with locked elbows. Using just their upper body, the athletes often can lift more than three times their own bodyweight."
There are 10 weight categories for men and 10 for women in Paralympic powerlifting, with over-107 kg as the heavyweight category for men and over-86 kg for women.
Powerlifting replaced traditional weightlifting, which requires athletes to stand while competing, on the Paralympic menu for the 1992 Games. The sport has been held in conjunction with weightlifting since 1984.

Weightlifting made its Paralympic debut at the 1964 Tokyo Games.


Author: Ed Odeven

Follow Ed on JAPAN Forward's [Japan Sports Notebook] here on Sundays, in [Odds and Evens] here during the week, and Twitter @ed_odeven.