Ryukyu Golden Kings Utilize a Balanced Approach to Passing
Veteran playmakers Allen Durham, Ryuichi Kishimoto and Keita Imamura have nearly identical assist stats for the B.League's title-chasing Ryukyu Golden Kings.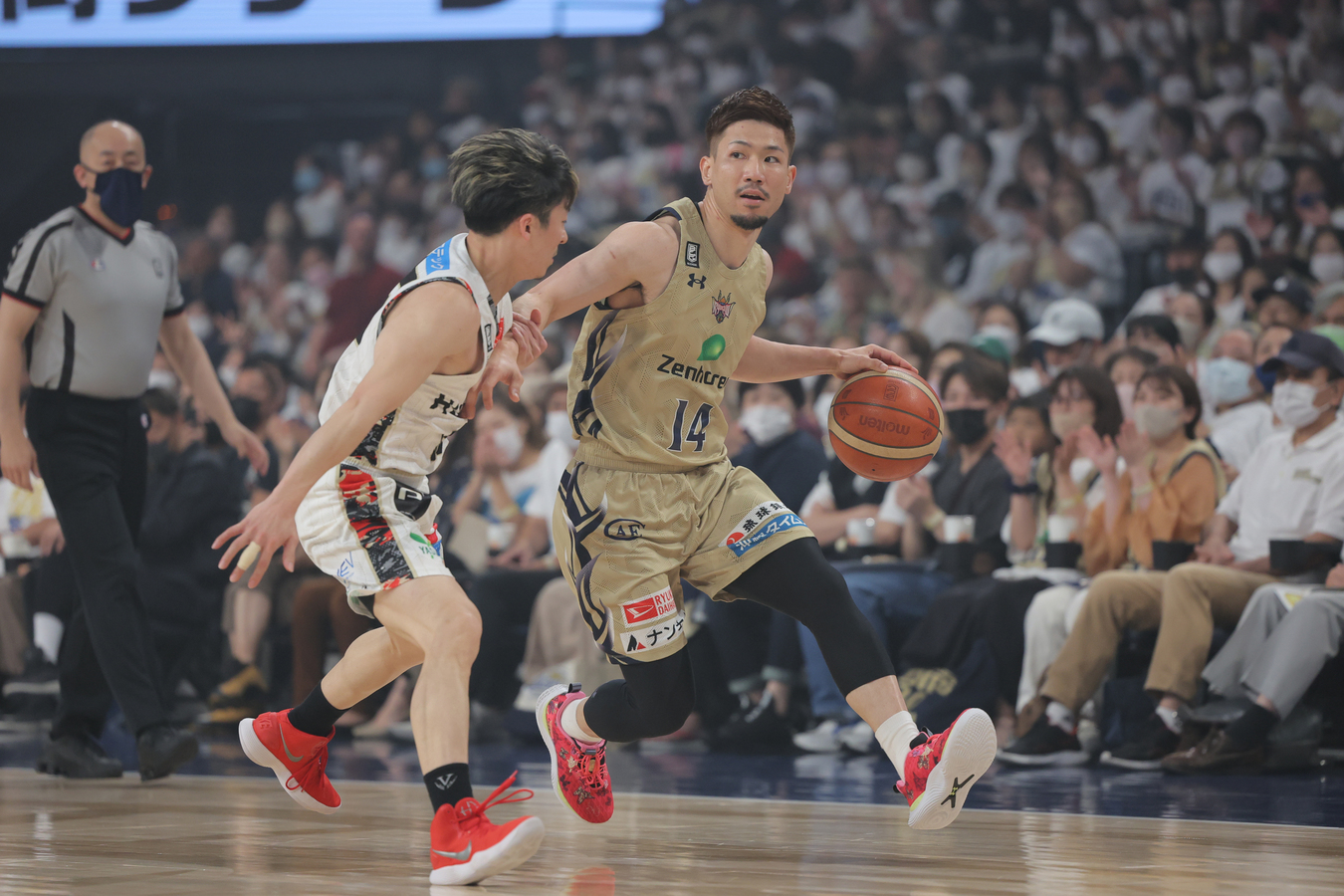 Throughout pro basketball history, successful teams have made it more difficult for their opponents by possessing multiple primary passers, including the B.League's Ryukyu Golden Kings in the 2022-23 season.
The previous four seasons in the NBA highlight this point. Each of the title-winning teams from 2018-19 to last season had two or three players providing a large share of their team's assists.

Kyle Lowry (8.7 assists per game), Fred VanVleet (4.8) and Marc Gasol (3.9) were the top passers for the 2018-19 Toronto Raptors.

LeBron James (10.2) and Rajon Rondo (5.0) had the same role for the Los Angeles Lakers in the pandemic-shortened 2019-20 campaign.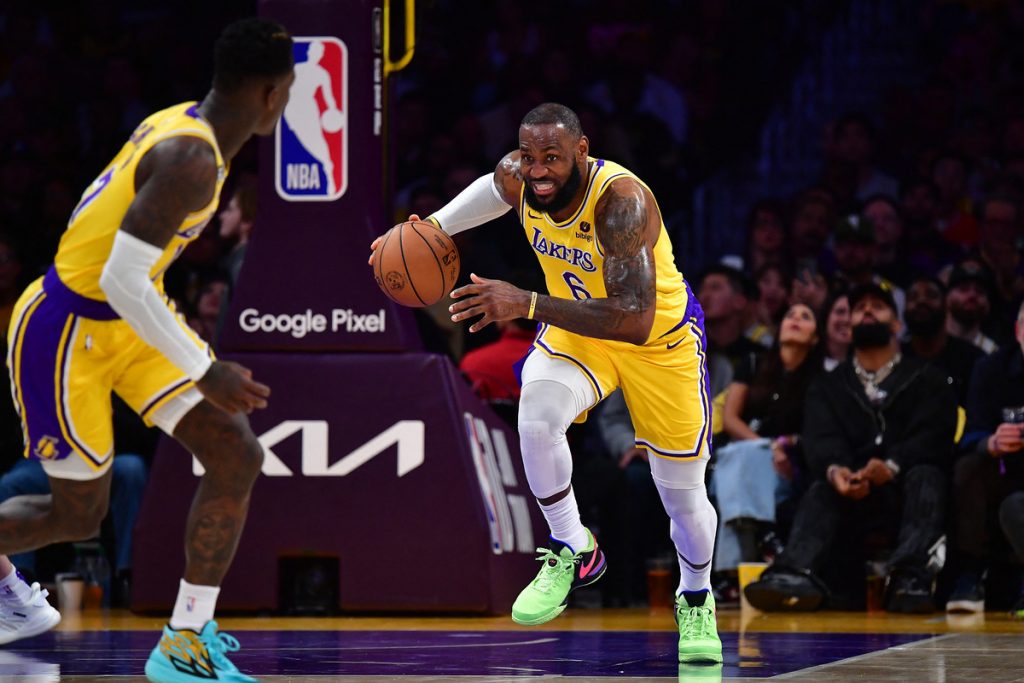 Jrue Holiday (6.1), Giannis Antetokounmpo (5.9) and Khris Middleton (5.4) made the offense click for the 2020-21 Milwaukee Bucks.
Draymond Green (7.0), Stephen Curry (6.3) and Jordan Poole (4.0) chalked up the most assists for the 2021-22 Golden State Warriors.

Which brings us back to the Golden Kings (47-11), who have won 10 games in a row and sit atop the Western Conference standings with one week remaining in the regular season. The Shimane Susanoo Magic (46-12) are also chasing the coveted West title.

In the modern sports landscape, analytics and an endless supply of data can seem overwhelming at times (translation: too much information). But beyond wins and losses, it's not usually that difficult to determine why certain teams are among the best of the bunch.

Teams employing solid fundamentals at both ends of the floor without making a ton of mistakes often find ways to win more often than they lose. Ryukyu demonstrated that in the 2021-22 season, when it finished as the championship runner-up (the Utsunomiya Brex won the title).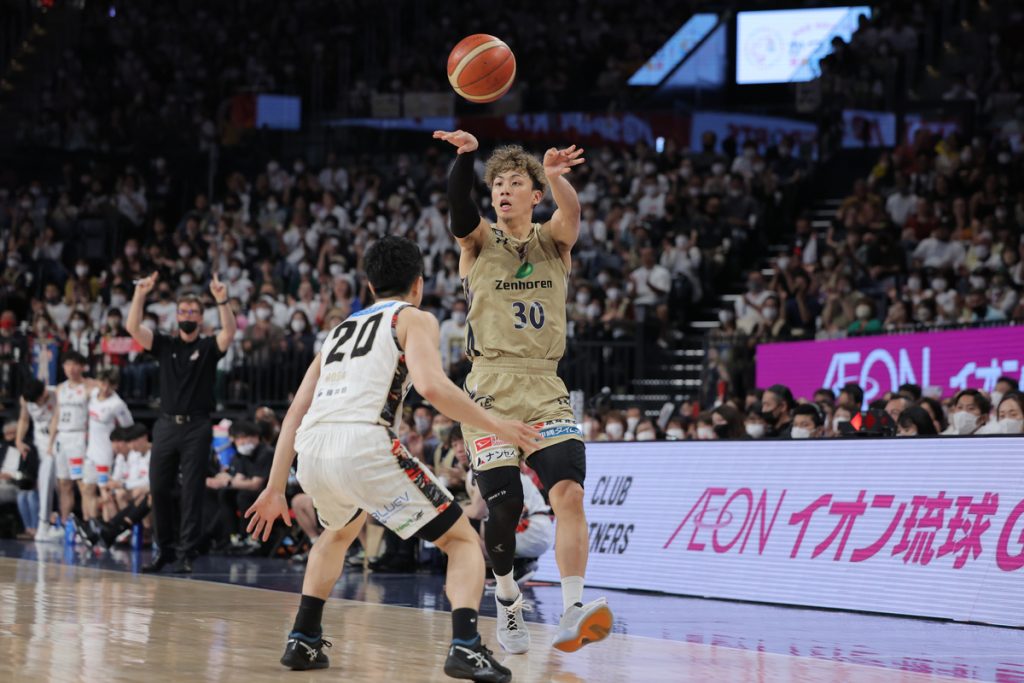 Skillful Passers Set the Tone for Golden Kings
On offense, everything begins with passing. And the value of having two, three or more good playmakers is one of the real measuring sticks of a team being mediocre, good or great.

The Golden Kings, who are averaging 82.1 points per game, spread the wealth on offense.
Point guard Ryuichi Kishimoto and small forward Allen Durham share the team lead with 3.7 assists per game. Shooting guard Keita Imamura is averaging 3.6.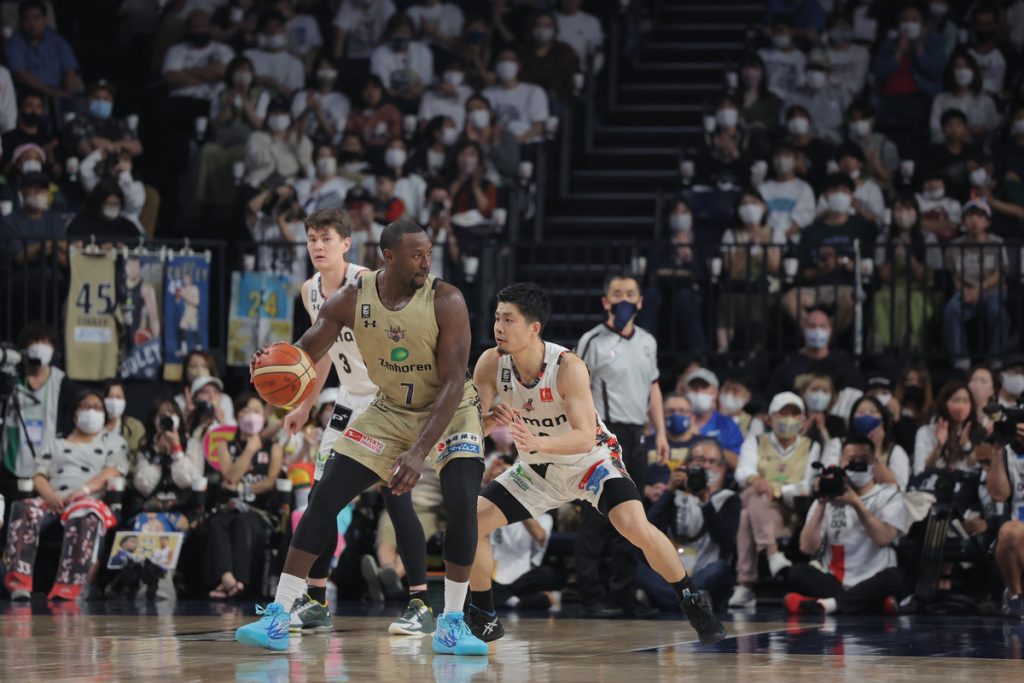 As a result, the ball moves freely around the perimeter and into the low post (often to leading scorer Jack Cooley, who's providing 16.5 points per game and a league-best 12.6 rebounds) or back out again to a 3-point shooter, depending on the possession.

Kishimoto, who turns 33 on May 17, is the longest-tenured Golden Kings player. His high-energy play and aggressive drives through traffic have created countless scoring opportunities for his teammates over the years. He was also an integral part of bj-league title-winning teams in 2013-14 and 2015-16 before the launch of the B.League in the fall of 2016.


Golden Kings Focused on Improvement
The 176-cm Kishimoto is a fan favorite in Okinawa, and a player always seeking to improve.

Case in point: After Ryukyu's 82-74 loss to the Alvark Tokyo at Okinawa Arena on New Year's Eve, Kishimoto reflected on how he viewed the game as a lesson and a blueprint for things he and his teammates can look at in order to get better.
"We want to improve as a team by being aware of the details in spacing and ball movement, such as how each individual should move and how fast they should move," Kishimoto told reporters after the team's final game of 2022. "This is a difficult task, but I believe it will be a big step toward winning the championship.
"As an individual, I want to make my teammates shoot better 3-pointers. After experiencing the finals last year, I also felt that a major point is how well you can take control from the paint attack, so I would like to work on this consciously."
Now, near the end of the season, the focus on playing smart on offense is as much a part of the Golden Kings coaching staff's message to the players as it was in late December.
Just ask backup power forward Hugh Watanabe.
After Ryukyu's 86-72 win over the visiting Osaka Evessa on Sunday, April 30, Watanabe said that "every possession counts" in the playoffs.
Durham had a 20-point, 11-rebound, five-assist performance. Cooley scored 14 points, Josh Duncan added 13, Koh Flippin had nine and Imamura eight.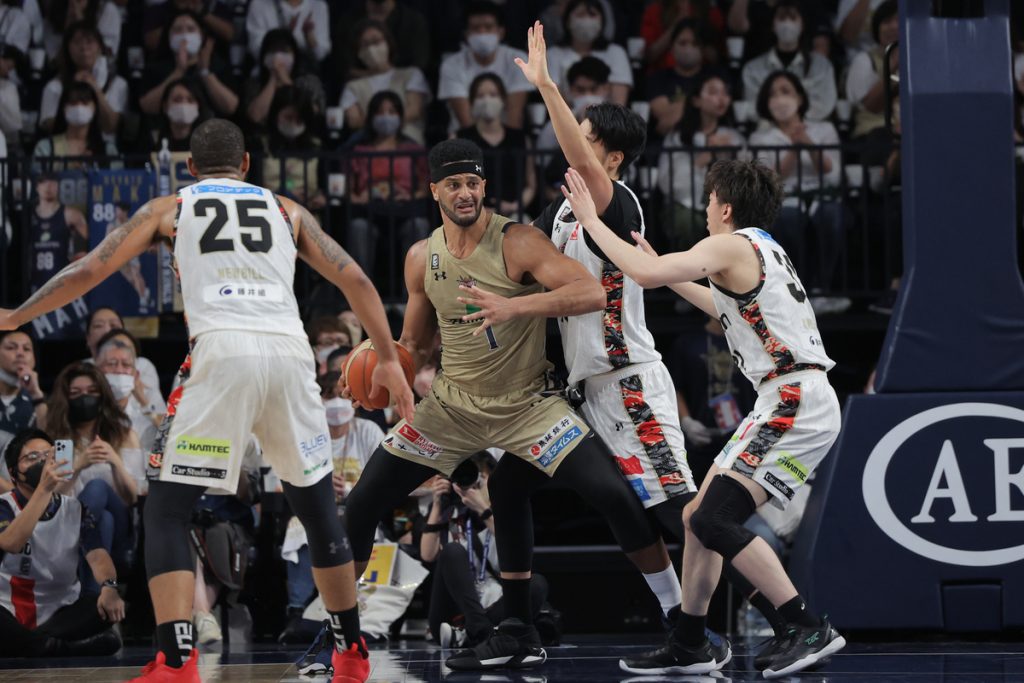 Balanced Scoring Helped Golden Kings
After the game, Duncan was pleased with the team's well-balanced offensive attack. He said this is "indicative of the Kings' high scoring ability, and I think it was difficult for the opposing team to defend."
Duncan added, "We played with a lot of confidence and concentration today, and I think that led to the result of victory."
Ryukyu's defensive effort was a cornerstone of the team's latest victory, according to head coach Dai Oketani, who stressed that defense will be the key to winning the 2022-23 B.League title for the eight playoff-qualifying teams.
"I think it is important to be able to create a good game from defense, so I think we had a good game [in preparation] for the championship (B.League playoffs)," Oketani said.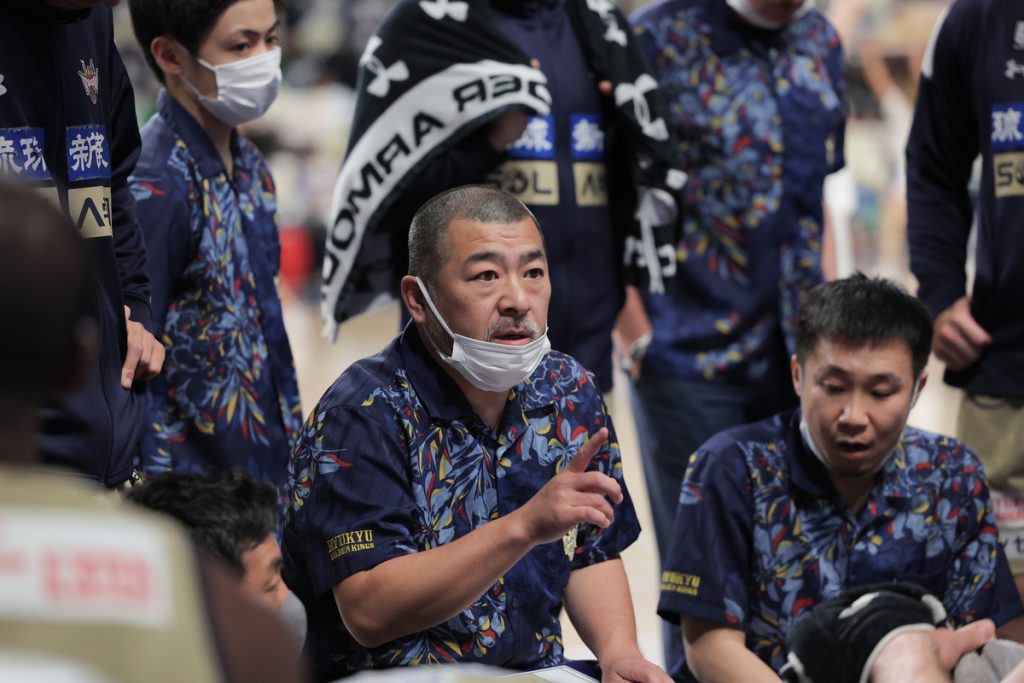 B.League Standings
One week remains in the regular season. Here's how the league's 24 teams have done so far (through April 30).

EAST
Chiba Jets (52-6)
Alvark Tokyo (42-16)
Utsunomiya Brex (31-27)
Gunma Crane Thunders (28-30)
Akita Northern Happinets (27-31)
Ibaraki Robots (22-36)
Levanga Hokkaido (19-39)
Sendai 89ers (18-40)
CENTRAL
Kawasaki Brave Thunders (39-19)
Yokohama B-Corsairs (33-35)
Shinshu Brave Warriors (27-30)
Sunrockers Shibuya (27-31)
SeaHorses Mikawa (26-32)
San-en NeoPhoenix (22-36)
Toyama Grouses (13-45)
Niigata Albirex BB (13-45)

WEST
Ryukyu Golden Kings (47-11)
Shimane Susanoo Magic (46-12)
Nagoya Diamond Dolphins (41-17)
Hiroshima Dragonflies (40-17)
Osaka Evessa (26-32)
Fighting Eagles Nagoya (22-36)
Kyoto Hannaryz (21-37)
Shiga Lakestars (13-45)

Noteworthy: The title-chasing Jets have won 11 straight games. Meanwhile, the Albirex have won a season-best four straight games.
B3 Update
In the upcoming B3 (aka B.League third division) playoffs, the Iwate Big Bulls and Veltex Shizuoka will meet in the best-of-three finals (Saturday through Monday, May 6-8) in Morioka, Iwate Prefecture.

Iwate, led by first-year bench boss Yukinori Suzuki, had a B3-best 45-7 record this season.

The Yokohama Excellence and Saitama Broncos will play in the third-place series (May 8-10) in Yokohama.

Author: Ed Odeven
Find Ed on JAPAN Forward's dedicated website, SportsLook. Follow his [Japan Sports Notebook] on Sundays, [Odds and Evens] during the week, and Twitter @ed_odeven.