Shuichiro Yoshino Discovers Shakur Stevenson Is in a Different Class
A chance to secure a WBC title shot was presented to Shuichiro Yoshino. He gave it his best shot, but he was outclassed by his American opponent in the ring.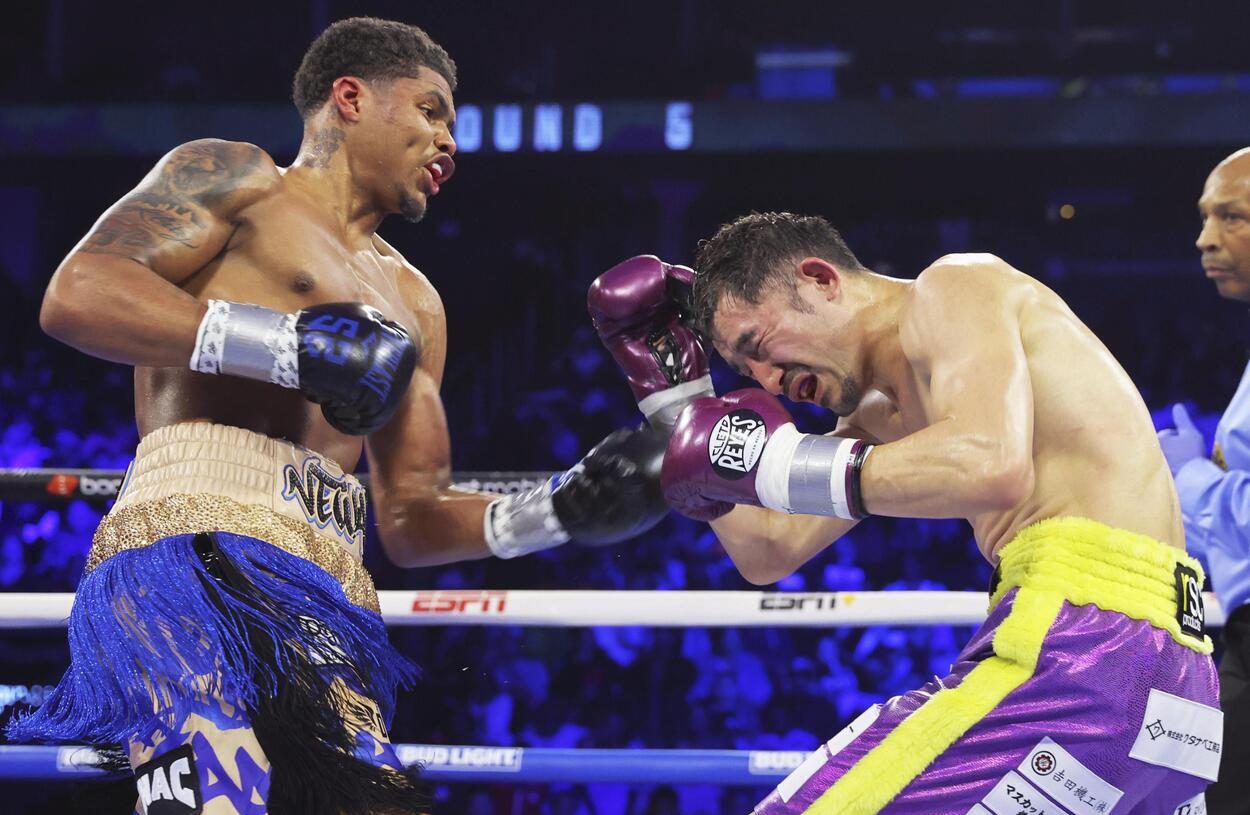 GLASGOW ― Newark, New Jersey, was the destination for Shakur Stevenson versus Shuichiro Yoshino. The sold-out Prudential Center was the venue, and the locals had purchased all the tickets in quick time in order to get a glimpse of home favorite Stevenson (19-0, nine knockouts, entering the contest).
Tochigi Prefecture native Yoshino was 16-0 (12 KOs) entering the contest, and he would be fighting for the first time outside of Japan on Saturday, April 8. The Tokyo resident journeyed to America's East Coast looking to put himself into world title contention in the lightweight division.
Yoshino's win over compatriot Masayoshi Nakatani in November 2022 gave him the opportunity to challenge one of the sport's best fighters away from home.
To reach the top, significant hurdles must be overcome. Stevenson may well be the toughest hurdle for any current lightweight in world boxing. The former featherweight title holder and unified super featherweight world champion was beginning his campaign in the 135-pound (61.2-kilogram) division. After failing to make the super featherweight limit of 130 pounds in September 2022, Stevenson's body was telling him it was time to move up a weight division.
Stevenson versus Yoshino was presented as a final eliminator for the WBC lightweight title. That title is currently held by American Devin Haney.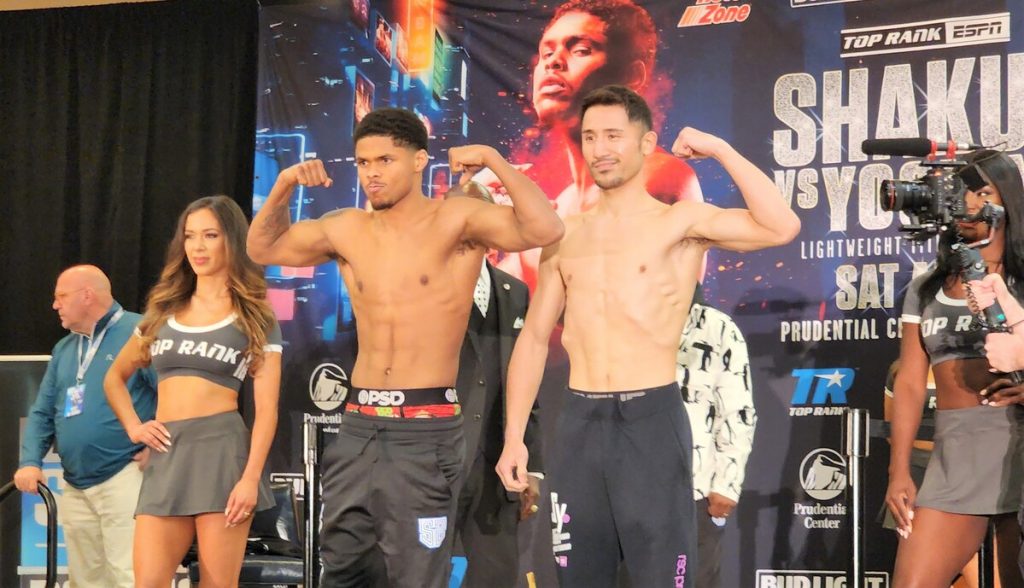 How The Fight Played Out
Boxing observers knew this would be a clash of styles. Stevenson's slick ring intelligence and economical punching against Yoshino's more basic aggression and high punch output. Could Yoshino land enough on the defensive genius in order to have an impact and possibly cause an upset?
The answer was no, as the move to lightweight seems to have come at the correct moment for Stevenson. While maintaining his clever movement and distance control, the American looked to have extra power in his shots right from the start.
Using his jab as a range-finder, and to keep Yoshino's attacks at bay, 25-year-old southpaw Stevenson seemed content for the fight to take place at close quarters. He didn't back away from the action inside the pocket. Instead he subtly used the close nature of the exchanges to assert his dominance.
In the second round, this was underlined as a short, chopping left hand stopped Yoshino as he advanced with another attack. The Japanese boxer was on the canvas for only the second time in his career.
Stevenson continued to control the distance. Yoshino continued to come forward and throw many punches. A glaring contrast in the fight was how in control Stevenson was in all of his movements; Yoshino often looked off balance and was wide open to Stevenson's counters when he was launching his own attacks.
The difference in quality was evident again in the fourth round. Yoshino's aggression was taken advantage of, Stevenson flooring him again via a right hook to the chin. Although Yoshino got up, the result looked like a foregone conclusion from here.
Stevenson Controls the Duel
Although Yoshino continued to press forward from his crouched, orthodox stance his punches no longer carried any threat. Stevenson was fully in control.
The counterpunching masterclass continued until 1:35 of the sixth round. That was the moment referee Allen Huggins stopped the contest. He didn't want to see Yoshino take any further punishment. It may have been slightly premature, but with fighter safety in mind it was probably the correct decision.
The record books will show that Yoshino's first career defeat was a TKO at the hands of Stevenson. He won't be the last fighter to suffer that fate at the hands of the supremely talented American.
🔥 I thought @ShakurStevenson was the best lightweight in the world before last night. I still think he's the best. Incredible speed and skill, plenty of spite, great defence, and he was sitting down on a lot of those shots. He's the complete package! #StevensonYoshino 🇺🇸🥊🇯🇵 pic.twitter.com/ZofpOkafqu

— Tom Gray (@Tom_Gray_Boxing) April 9, 2023
Further Analytical Breakdown
Within the five-and-a-half rounds of action, there was plenty to analyze about both fighters.
Lightweight looks to be the perfect place for Stevenson right now. The New Jersey-born fighter looks natural at 135 pounds. His speed and timing are still impeccable, while the fight with Yoshino suggests he is carrying extra power in both hands.
Stevenson was also able to land to the head and body of his opponent. Fighting bigger men may intimidate some, for Stevenson it presents a bigger target to hit. And hit he does ― according to CompuBox, the punch counting statistical service, the American landed 50% of the punches he threw at Yoshino. A staggeringly high success rate.
In comparison, Yoshino only connected with 11% of the punches he threw. Yoshino was the busier boxer, throwing 332 punches compared to Stevenson's 245, but his low conversion rate highlights Stevenson's defensive qualities.
In Yoshino's defense, he deserves credit for taking the fight to his gifted opponent. He fought the only way he knew how, and remained aggressive until the referee pulled the plug. There is no disgrace in losing to Stevenson.
The best of @ShakurStevenson's Lightweight conquest 🎥#BigGeorgeForeman - Exclusively in movie theaters April 28 pic.twitter.com/WOl0RDGq9Y

— Top Rank Boxing (@trboxing) April 9, 2023
Insights on the Footwork
One other technical point to look at is the footwork. When a southpaw faces an orthodox boxer there is usually a battle on the canvas as both boxers seek to establish dominance with their lead foot. That is to say the southpaw boxer will attempt to get their lead right foot outside of the orthodox boxer's left.
The orthodox boxer will work to ensure it is their leading left foot that has the prime outside position. Whoever manages this can usually deliver their punches from the optimum positions in a bout between fighters who box out of opposing stances.
In the early stages of the Stevenson-Yoshino bout, the footwork jousting seemed pretty even to me. Both men had moments where they were in prime position, it just so happened that Stevenson was better in every other department.
If you decide to watch the fight again, focus on the footwork of both boxers ― it's an intriguing and often ignored part of the sport.
What Was Said by Both Fighters
After the dust had settled, both boxers spoke to various media outlets.
According to a report by ESPN, Shakur Stevenson had this to say: "I was focused, very focused on what I was supposed to do and sticking to what the game plan was."
In reference to the knockdowns: "It was timing. I timed it the way that I timed it, but when I see him go down, I knew it was going to be a short night."
In relation to what comes next for Stevenson, the confident American boxer wasn't shying away from issuing a challenge while cleverly talking down potential future foe Haney: "Tell him come on. If that's what he wants to do. I don't know why he would watch that and say that. I've never really seen Devin Haney hurt anybody before. He ain't really got the punching power."
Yoshino was more circumspect with his remarks. He told Fighthype.com via a translator: "I'm disappointed. I didn't feel much power from him, but he was very fast. Skill-wise, Stevenson is the best I have faced."
On the stoppage: "I didn't agree with it [and] I felt like I could have kept going. For the knockdowns my feet were flat, flatter than his, I just got caught."
Yoshino was also asked to discuss his gamer plan: "I wanted to use different angles, come inside and pressure him all around. Just pressure him, force him back and hit him from different angles."
What's Next for Stevenson and Yoshino
For Shakur Stevenson, the path is clear. He is now the mandatory challenger for the WBC lightweight title. Whoever holds that belt after Haney faces Ukrainian Vasyl Lomachenko on May 20 will be in Shakur's firing line. I'd consider Stevenson to be the favorite to beat either man.
In fact, it might be fair to say that Stevenson could be the man to beat in the 135-pound division. It may be a strange thing to say considering he has only boxed once at lightweight, but he looks like he will be very difficult to beat.
Stevenson will be high on most pound-for-pound top 10 lists for the next decade.
Shuichiro Yoshino can learn from the experience of having faced one of boxing's best. Perhaps beating the elite 135-pound boxers is beyond him, but he should return to Japan with his head held high.
He should continue to work and improve and win a few more fights at home. If he does that, perhaps the call will come again for him to get into world title contention.

Author: Colin Morrison
Morrison is a freelance sportswriter. Writing since 2016, his byline appears on boxing website NYFights.com and multi-sports platform Spitballingpod.com. His main areas of interest are boxing, soccer, golf and rugby union. Find his stories on SportsLook. Morrison is from Scotland and can be found on Twitter @Morrie1981.