Slugger Munetaka Murakami Is in a Zone for High-Flying Yakult Swallows
The 22-year-old native of Kumamoto is hitting home runs at a record pace.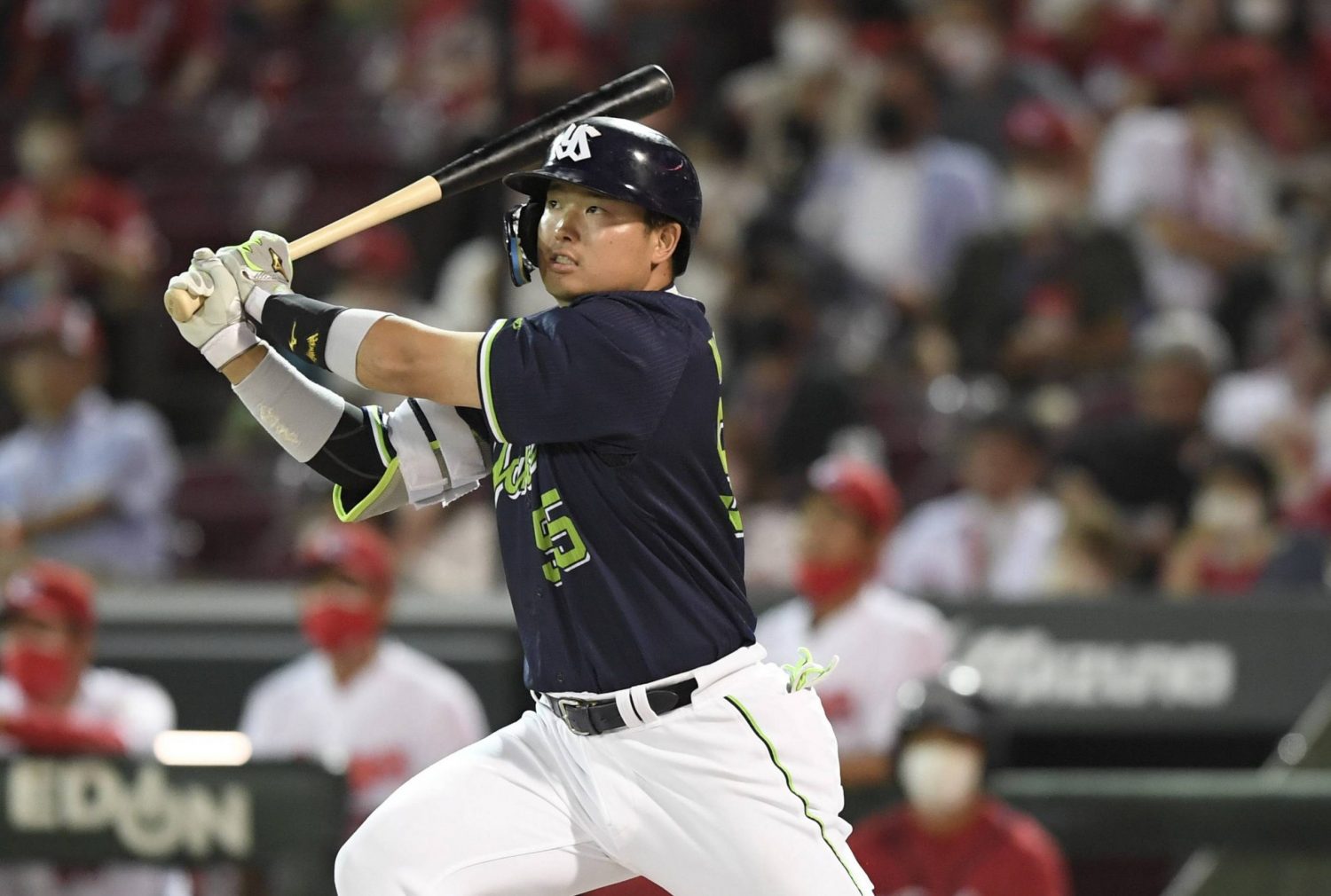 Tokyo Yakult Swallows slugger Munetaka Murakami is in a zone that few batters in professional baseball ever get to experience.
The 22-year-old infielder hit his Nippon Professional Baseball-leading 28th and 29th homers of the season on Wednesday, June 29 to power his team to a 9-2 win over the Hiroshima Carp.
Murakami slugged his 28th home run of the season off Hiroshima reliever Yasunori Kikuchi in the eighth inning, a two-run shot that gave his team a 5-1 lead.
"They had just scored a run so it was good timing to get some back," Murakami told Nikkan Sports after the game. "I was happy to add to our lead."
He then connected off Ryuya Matsumoto in the ninth with another two-run homer at Mazda Stadium to put the result beyond doubt.
"Both homers felt great," Murakami said. "They were just how I imagined them."
It was the third straight game in which Murakami has homered and the fifth time this season he has hit back-to-back homers.
As if that's not impressive enough, he also has four grand slams this season.
"There is a special atmosphere on our bench when he comes up," Yakult manager Shingo Takatsu said. "And if there is one on our bench, you can assume it's even greater on the opposition bench."

Record-Setting Pace
While it's early July, Murakami is on pace to threaten, if not break, NPB's single-season record of 60 homers set by former Swallows outfielder Wladimir Balentien in 2013.
And thanks in no small part to Murakami, the high-flying Swallows have opened up a commanding 12½-game lead over the Yomiuri Giants in the Central League standings as of July 1.
Murakami also leads the CL in RBIs by a wide margin with 78, compared to 59 for the Giants' Kazuma Okamoto, who is second in the rankings.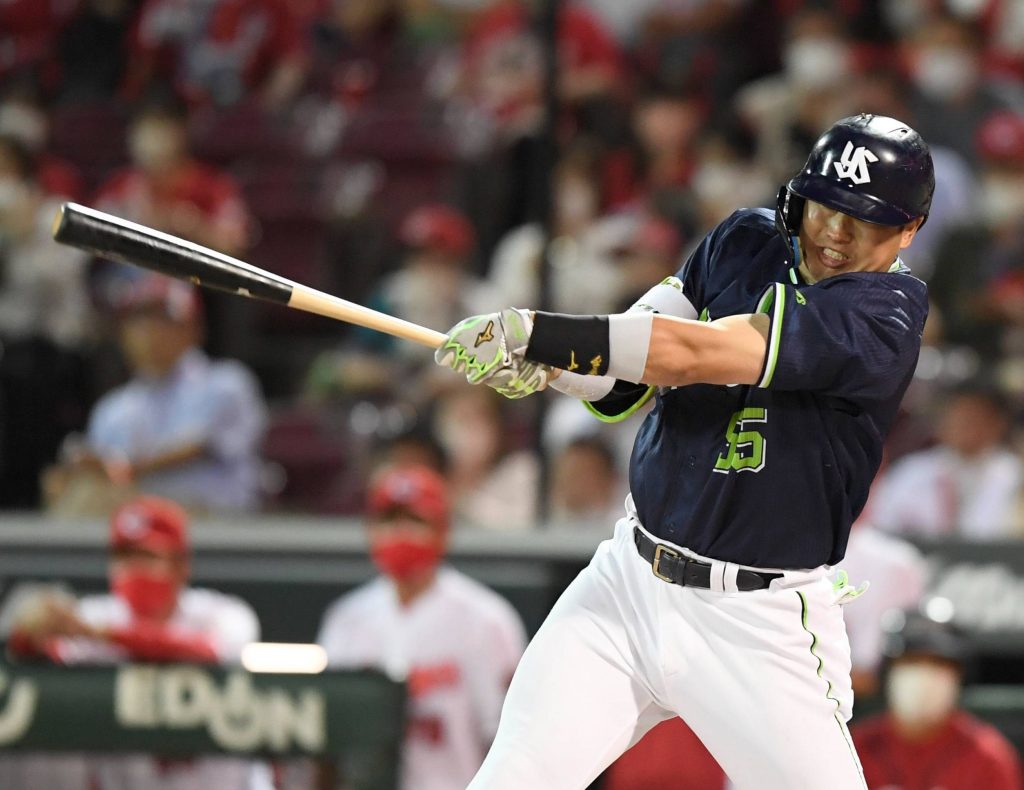 Murakami's Path to Stardom
The left-handed hitting Murakami, a native of Kumamoto Prefecture, hit 52 home runs in high school, earning him the nickname "The Babe Ruth of Higo," Higo being the former name of Kumamoto.
In the 2017 NPB draft, he was chosen by the Swallows, the Yomiuri Giants and the Tohoku Rakuten Golden Eagles after those teams lost out on Kotaro Kiyomiya, who was taken by the Hokkaido Nipponham Fighters.
Kiyomiya, another young slugger likened to Babe Ruth, was the popular choice in that draft. Murakami wasn't under the radar by any means but was considered something of a consolation to teams that couldn't draft Kiyomiya.
Murakami played in just six games for the top team in 2018. But it didn't take long for him to stand out in his first full season in 2019.
That year he hit 36 homers and drove in 96 runs in 143 games, and it was clear the Swallows had landed a bona fide star.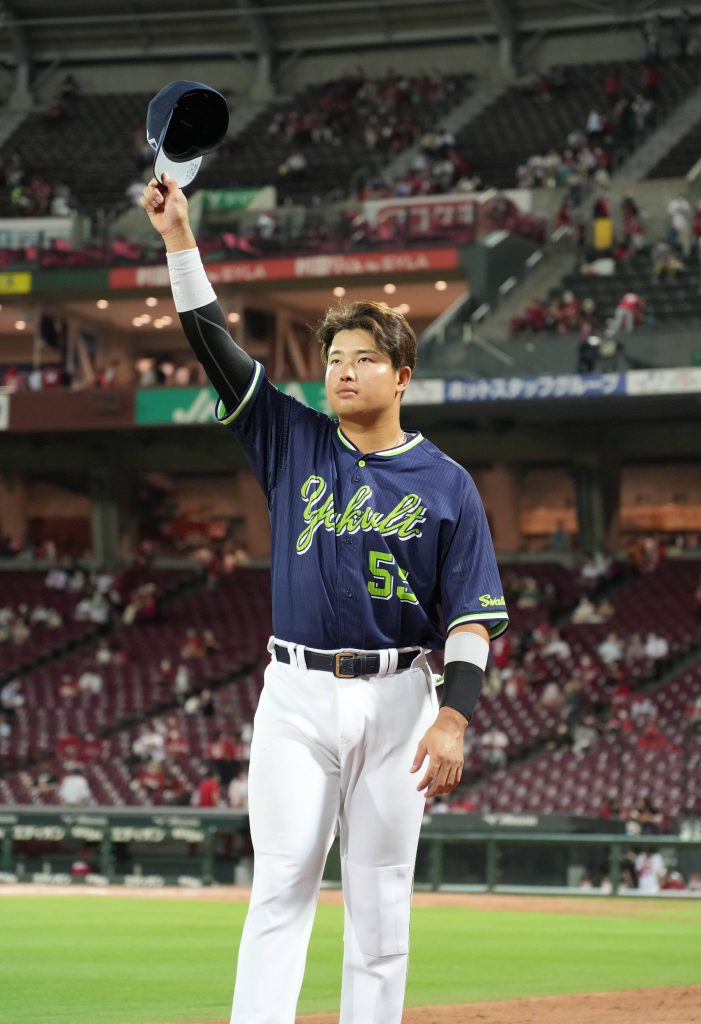 Strong Offensive Output in Past Seasons
In 2020, the season was shortened due to COVID-19, but Murakami still managed to belt 28 homers and drive in 86 RBIs in 120 games.
NPB was back to a normal 143-game schedule in 2021 and Murakami hit a career-high 39 homers with 112 RBIs while helping Yakult to the Japan Series championship. He was named the MVP of the Central League.
He was also a member of Japan's gold medal-winning team that year at the delayed Tokyo 2020 Olympics.
Like Hideki Matsui, who played his final NPB game in 2002, Murakami wears No. 55. It's appropriate because NPB hasn't seen a Japanese home run hitter like this since Godzilla was crushing them out all over Japan.


Author: Jim Armstrong
The author is a longtime journalist who has covered sports in Japan for more than 25 years. You can find his articles here.