Sekiwake Mitakeumi overpowered giant killer Tamawashi on Saturday, January 15 to stay undefeated and move into sole possession of the lead on the Day 7 at the New Year Grand Sumo Tournament.
Mitakeumi was pushed back after the face-off by the No. 3 maegashira but recovered nicely and used a frontal force-out to send Tamawashi backpedaling out of the ring.
Mitakeumi, who was born to a Japanese father and a Filipino mother, improved to 7-0 while No. 3 maegashira Tamawashi fell to 5-2.
Mongolian veteran Tamawashi beat Terunofuji on the previous day and ozeki Shodai on Day 5 but couldn't come up with another upset on Saturday.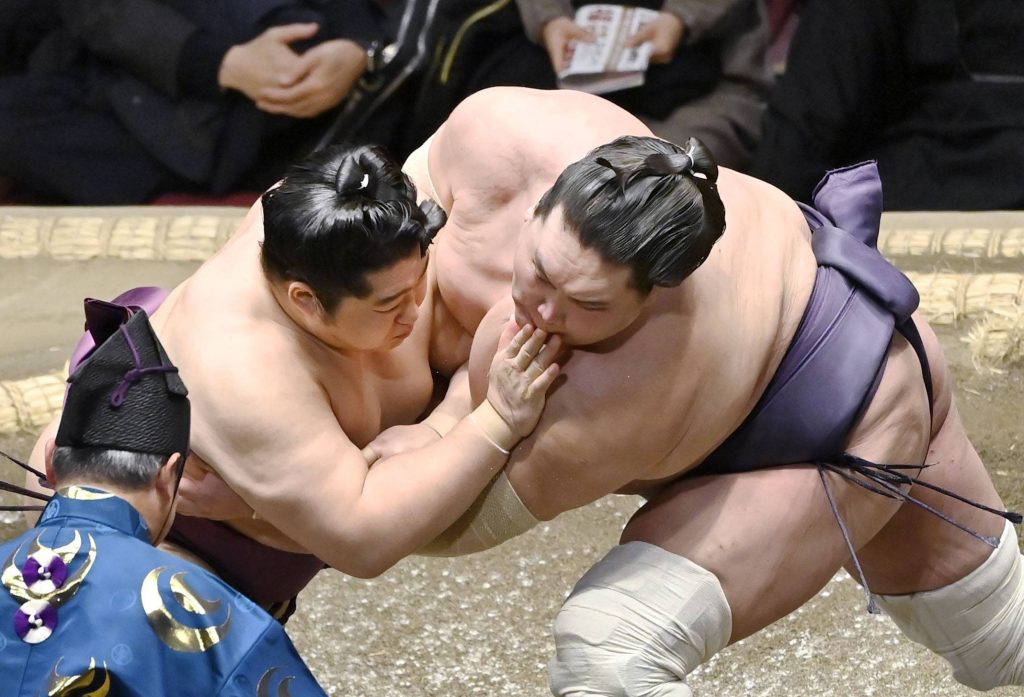 In the day's final bout, lone grand champion Terunofuji bounced back from his shock defeat on the previous day when he got a left-hand grip on the belt of Endo and lifted the No. 3 maegashira out to improve to 6-1. Endo dropped to 2-5.
Terunofuji, who went a perfect 15-0 in the November tournament, is bidding for his third straight Emperor's Cup. He also won the September tournament in his debut at sumo's highest rank.
No. 6 maegashira Abi is also at 6-1 after he fell out of the lead and suffered his first loss against Onosho.
Abi used his trademark double-arm thrust after the face-off but fifth-ranked maegashira Onosho dodged to his side after being pushed to the edge and calmly swatted Abi down to improve to 5-2.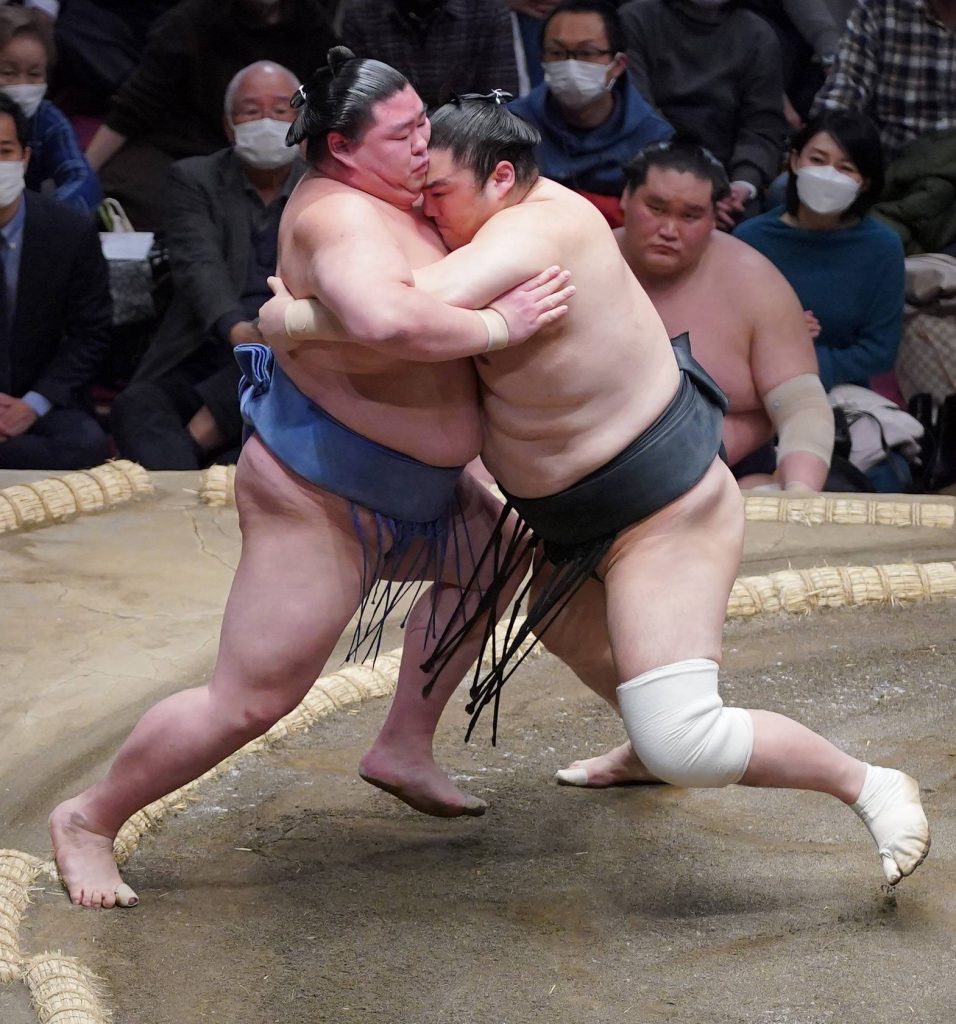 The struggles continued for ozeki Shodai, who lost for the third straight time after he was forced out by fourth-ranked Okinoumi to fall to 3-4. Veteran grappler Okinoumi improved to 2-5.
"The face-off was good and I was able to take advantage of that," Okinoumi said. "I hope I can keep the momentum going in the second half."
With fellow ozeki Takakeisho out of the tournament due to injury the pressure is on Shodai to maintain ozeki pride but it isn't looking good so far as the Tokitsukaze wrestler appears to lack confidence.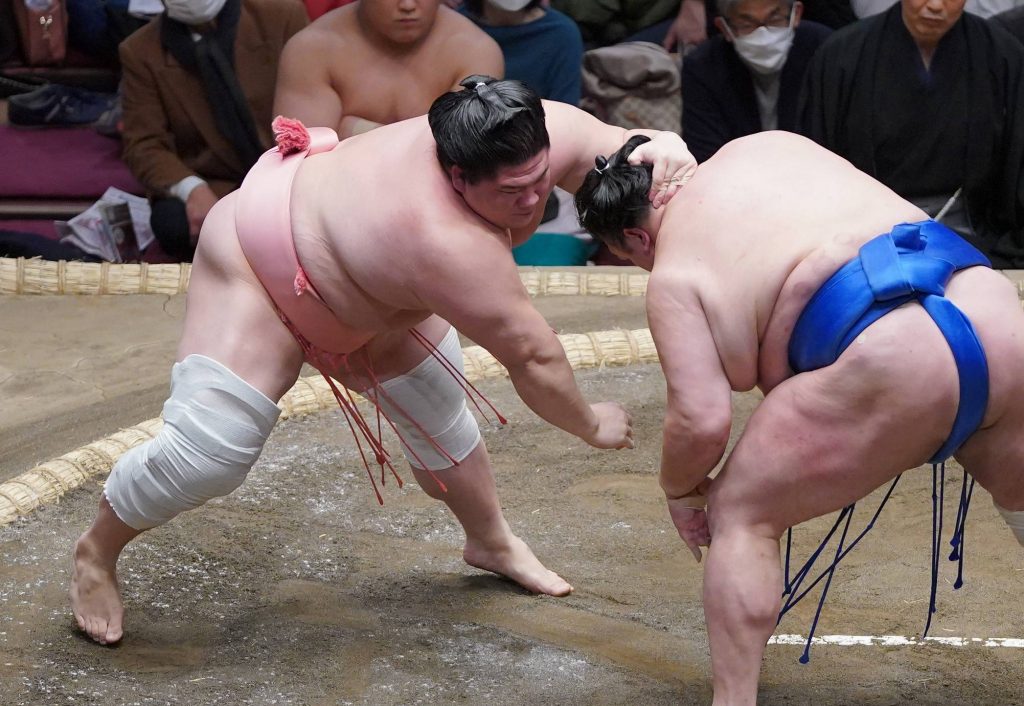 In other major bouts, No. 2 maegashira Ura improved to 3-4 after a hard-fought win in which he deployed a shoving technique to dispatch fourth-ranked Hokutofuji, who dropped to 3-2.
Sekiwake Takanosho overpowered Meisei to pick up his fourth win against three losses. Komusubi Meisei fell to 3-4.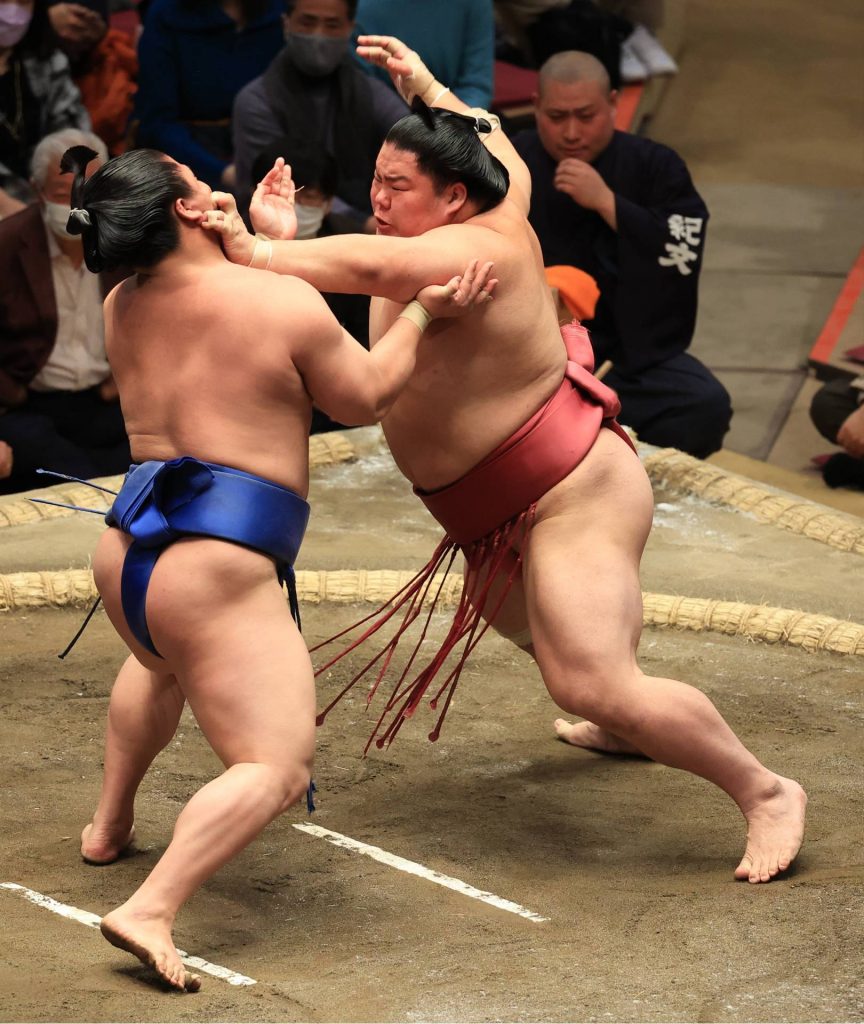 Komusubi Daieisho improved to 3-4 when he deployed a frontal force-out to dispatch top maegashira Wakatakakage, who fell to 2-5.
Further down the ranks, No. 7 maegashira Takarafuji beat fifth-ranked maegashira Chiyoshoma and is in a group of wrestlers at 5-2 that includes Tamawashi, Onosho as well as rank-and-filers Kotonowaka and Kotoeko.
No, 15 maegashira Wakamotoharu, the brother of top maegashira Wakatakakage, forced out No. 13 Yutakayama (3-4) to earn his third win against four losses.
Three Stars
First Star: Mitakeumi. The sekiwake hasn't been the sole leader of a tournament for a long time but is at the top of the heap after a clutch win over veteran grappler Tamawashi.
Second Star: Onosho. The fifth-ranked maegashira displayed deft footwork at the edge to come out on the winning side against a tough opponent in Abi, who went into Day 6 as co-leader.
Third Star: Okinoumi. With a convincing win over ozeki Shodai, veteran grappler Okinoumi is more than worthy of Third Star status.


Author: Jim Armstrong
The author is a longtime journalist who has covered sports in Japan for more than 25 years. You can find his articles here, on JAPAN Forward.