'The Monster of the Boxing Ring' Looks Toward Future Challenges
"As the No. 1-ranked [pound-for-pound] boxer, I'd like to have fights that the No. 1-ranked boxer deserves." ―Naoya Inoue
"The Monster of the Boxing Ring" visited the Foreign Correspondents' Club of Japan on Monday, June 27.
During a question-and-answer session with reporters at the club's Tokyo headquarters, and others who tuned in via a live video stream, popular boxer Naoya Inoue shared insights about his father's influence on his career and his mental approach to boxing and training. He also commented on long-term goals and general views on his sensational career to date.
The 29-year-old boxer's love for the sport, pursuit of excellence and attention to details were evident from start to finish during the press gathering.

It's been a whirlwind month for Inoue.

He raised his record to 23-0 with 20 knockouts as a professional boxer on June 7 with a second-round technical knockout of Nonito Donaire at Saitama Super Arena in their highly anticipated rematch.
"I'm pretty much content with that and satisfied with the result," he declared 20 days later. He said his rematch with Donaire was "definitely the best bout in my career."
As a result, the IBF and WBA champion wrested Donaire's WBC title from him, becoming the first Japanese boxer to hold three major world title belts at the same time.

Three days later, The Ring magazine named Inoue the world's No. 1 Pound-for-Pound fighter in its latest rankings. He's the first Japanese boxer to hold that prestigious ceremonial title.

Inoue, who was born in Zama, Kanagawa Prefecture, has received a noticeable uptick in media exposure ― not only in Japan but from international news outlets, too ― in the days that followed.

"I would like to thank all the media for paying attention and I would like to have more exposure from the media in the future," he said at the FCCJ through a translator.

Inoue is preparing for an expected bantamweight unification title bout with WBO champ Paul Butler (34-2, 15 KOs) before the end of the year. The Englishman is 33.

"My short-term goal is to unify the four sanctioning bodies' titles this year," he said, "so if I can achieve that goal by the end of this year, I'd like to move up to super bantamweight. I'd like to challenge [for a title] there as well."

Hideyuki Ohashi, chairman of Ohashi Boxing Gym, has been holding talks with Butler's handlers to hammer out a deal, according to Inoue. The fight is "still in negotiations, but he [Ohashi] said it's moving toward a good direction, good progress," Inoue said.

Responding to a question about if he prefers the fight to be in Japan, the United States or England, Inoue said he doesn't have a preference. He noted, however, that he'd like the fight to be held before the end of the year.

Reflections on Fights Against Donaire
In November 2019, Inoue and Donaire clashed in the World Boxing Super Series Final at Saitama Super Arena. Their hard-hitting exchanges over 12 rounds produced an instant classic (dubbed the "Drama in Saitama"), which the Monster won by unanimous decision.

Donaire, who sustained a fractured orbital bone in the second round, earned Inoue's respect. After the fight, Inoue told reporters that the Filipino was "a true champion."

Nearly three years later, Inoue's maturation as a fighter played a key role in his preparation for the fight. He also distinctly recalled their "very fierce bout."
Memories of that fight proved to be valuable mental notes for Inoue as he got ready for his rematch with the 39-year-old Donaire.
"From that experience I was trying to brace myself for the bout," he noted.

Countless hours in the gym prepared Inoue for their rematch, "Drama in Saitama 2," and he felt strong and ready to rumble on June 7.

Looking back on that monumental event in his life, Inoue remembered that on fight day "my condition was very good and I had good confidence."
"We came out with a result that I expected in a way," he added.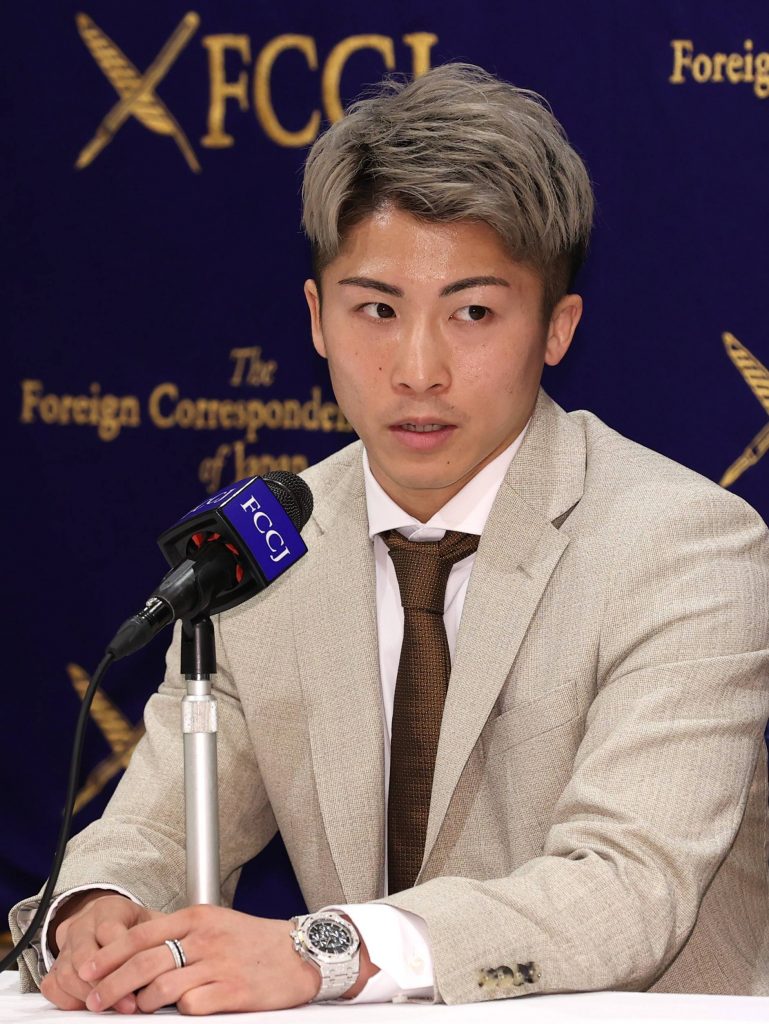 A Father's Influence
Throughout his boxing career, Inoue has been mentored by his father, Shingo. The elder Inoue has also served as Naoya's longtime coach.
In Monday's press conference, Inoue spoke about the biggest lessons he learned from his father, a former amateur fighter.

And what's the biggest thing Inoue's father taught the three-division champion (he was previously a light flyweight and junior bantamweight) since he began fighting as a first-year student in elementary school?
"Defense was the most important thing that he taught me," Inoue revealed.

For Inoue, what else stands out from their years of in-the-ring lessons?
"He also told me not to lose your concentration, not to lose your focus in a boxing match," Inou recalled, "even if you are fighting against someone ranked lower than you are, you shouldn't lose your focus.

"Those very mental things I try to keep up in my training are the ones that I prioritize most," added Inoue, who said he wants to fight until he's 35 and retire with an unbeaten record. "Like I said, keep focusing no matter who the opponent is. Whenever you lose focus is the most dangerous moment in a boxing match."

The Monster lists Shingo Inoue as his No. 1 boxing role model, adding that other boxers didn't motivate him to participate in the sport when he was a kid.

"I just wanted to do boxing because it was so much fun, and I wanted to become a strong boxer," he told the FCCJ audience "I didn't really have anyone to look up to.

"My father's training was really cool to me when I was young. … I always followed in his footsteps, and if there's any one figure I admired or looked up to, it would be my father, I would say."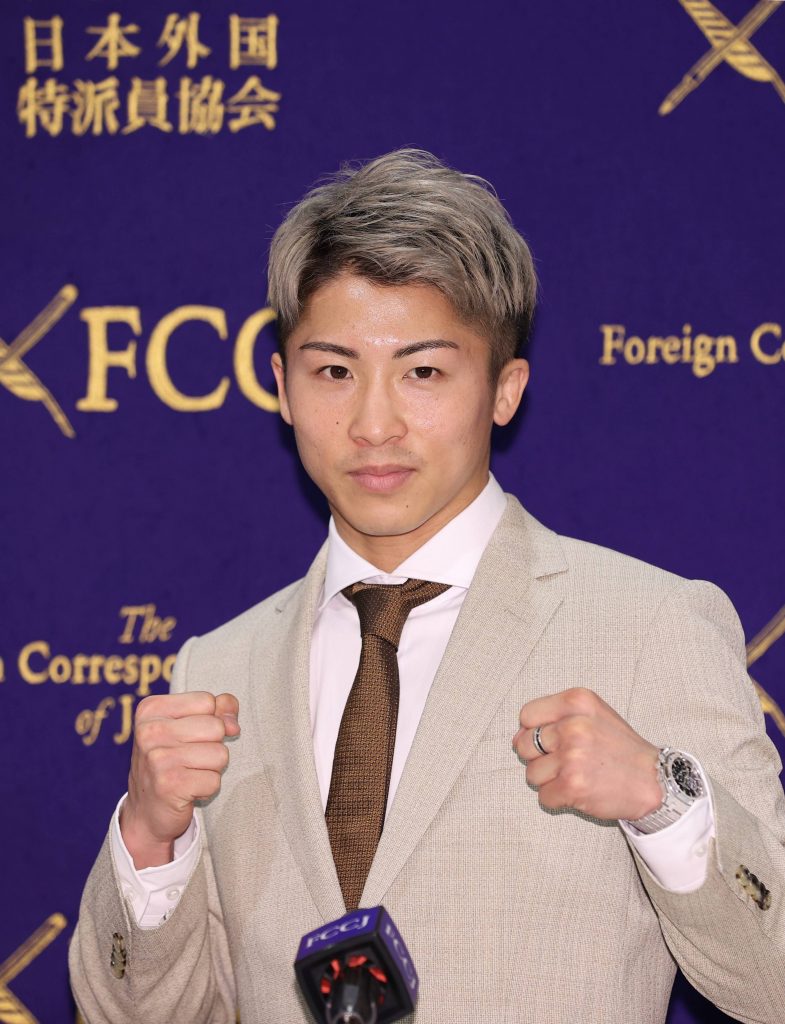 Monster's Motivation
The nexus of mental strength and physical power are essential elements of Inoue's appeal as a fighter.

But he refuses to rest on his laurels. He's eager to keep adding to his long list of accomplishments as soon as possible.

Exhibit A: Being recognized as The Ring magazine's Pound-for-Pound king has only increased his motivation to achieve additional magnificent feats.
"As the No. 1-ranked [pound-for-pound] boxer, I'd like to have fights that the No. 1-ranked boxer deserves," Inoue admitted. "So in order for me to achieve that goal I need to unify the four [bantamweight] titles and move up to super bantamweight and see fights in that [division] as well."

Dissecting his massive appeal as a pugilistic knockout technician, Inoue continued his analysis of his career to date. "I'm trying to knock out the opponent all the time. … That's probably why I have some recognition," he said humbly.
At the same time, Inoue said he has a sense of duty to entertain fight fans.
"As a professional boxer, I need to satisfy all the customers, all the fans, all the spectators who buy expensive tickets to see my fights," the Monster mentioned. "I'd like to bring out the best possible fight that I can have and knock out my opponent.
"[And] not only to win the match, but to show my strength as an elite boxer."
RELATED:
Author: Ed Odeven

Follow Ed on JAPAN Forward's [Japan Sports Notebook] here on Sundays, in [Odds and Evens] here during the week, and Twitter @ed_odeven.