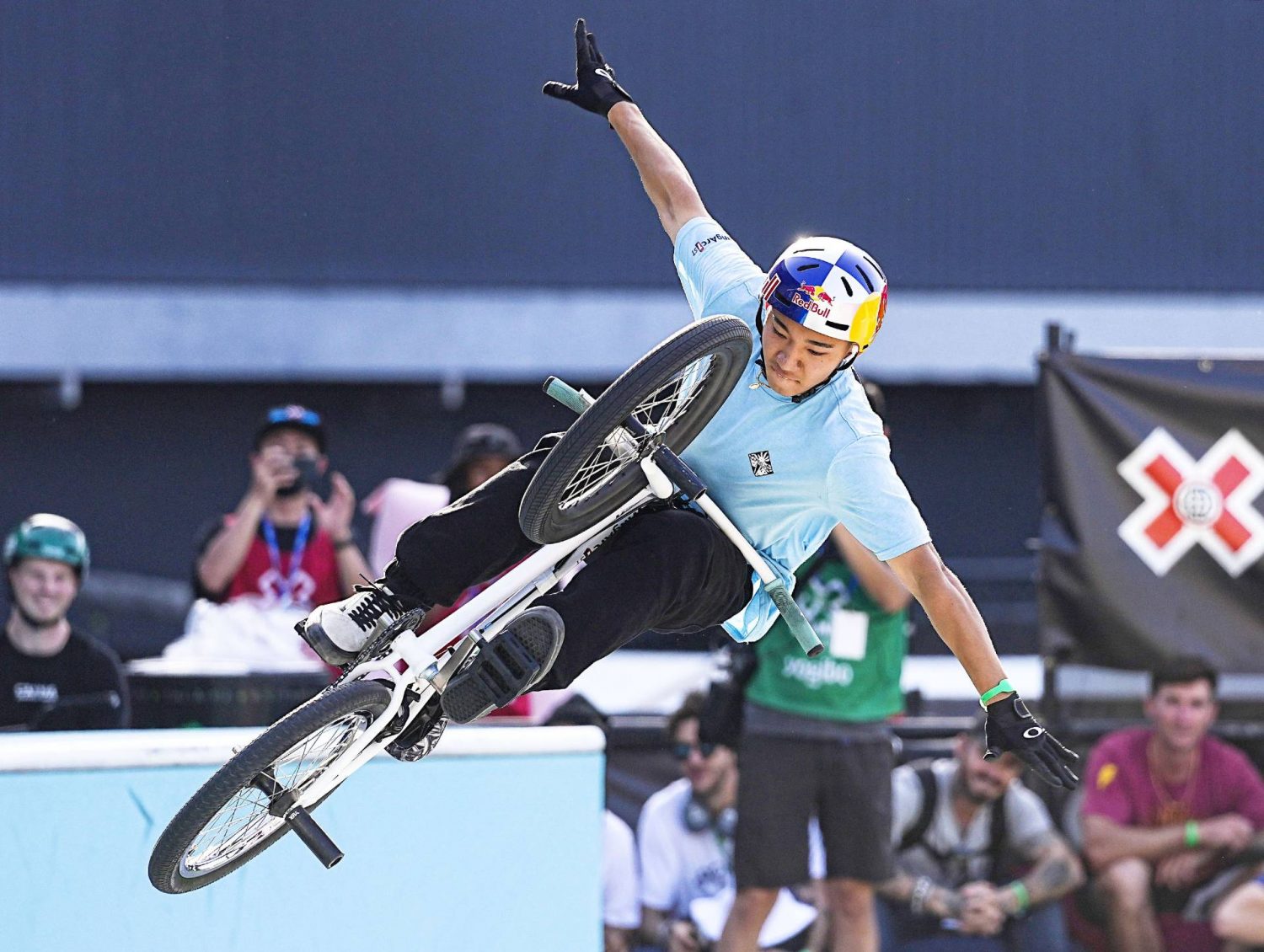 CHIBA ― The future is now. Well, maybe not officially, but the boundary-stretching, gravity-defying aerial maneuvers of skateboard and BMX competitors on the first day of the X Games Chiba conjured up visions of futuristic pursuits.

Twists and turns, spins and backflips and zig-zag patterns of whimsical movements, often in rapid succession, were performed with split-second gaps between jaw-dropping, difficult techniques at ZOZO Marine Stadium on Friday, April 22, a picture-perfect spring day.

The X Games was launched in the United States in 1995 as a showcase for extreme sports on cable sports giant ESPN. Two years later, event organizers expanded the concept with the Winter X Games, providing major exposure for snowboarding and freestyle skiing. The X Games have previously been held in 12 countries.

Demonstrating its growth and global reach, more than 100 athletes from 16 countries are scheduled to compete in Chiba.

During Friday's elimination round, Kokona Hiraki emerged as the top qualifier for the women's skateboard park final on Saturday.

Of the 12 competitors, eight advanced to the final round.

Two of the event's three medalists from last year's Tokyo Olympics ― champion Sakura Yosozumi and Hiraki ― participated. They received enthusiastic support from the fans while they rode their skateboards.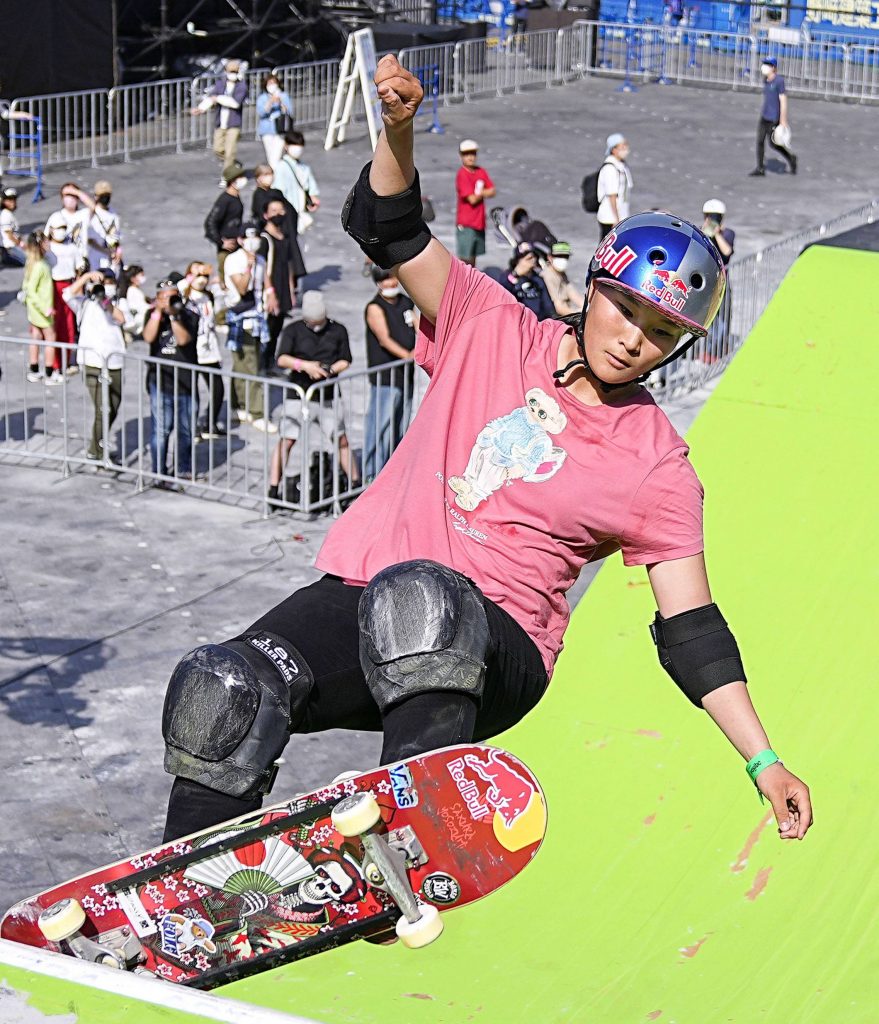 On her first of two runs, Yosozumi, a 20-year-old from Wakayama Prefecture, vaulted into second place with an impressive display of speed, balance and nifty footwork, alternating between several tricks. She was the next-to-last competitor on the start list.

The standings would change quite a bit as the athletes took their second runs.

Although Yosozumi lost her skateboard while airborne, she amassed enough points to reach the final, as did compatriots Hiraki and Kisa Nakamura.
Meanwhie, Mami Tezuka, who was assigned the final spot on the start list, capitalized on a stellar second run to reach the eight-woman final.

The 20-year-old, who hails from Shiga Prefecture, placed second in the event at the X Games in Southern California, in July 2021.
Nine months later, she somehow found her comfort zone during both of her 40-second runs in Chiba, despite pre-event jitters.

"I was so nervous," Tezuka said in an interview that was projected onto the stadium's mammoth scoreboard and heard on the loudspeakers.

As for the result, she simply said, "I'm excited."

"This is so cool," added Tezuka, mentioning the opportunity to compete in the first-ever X Games in her homeland.

She also said that she's delighted about increased opportunities to compete as a skateboarder nowadays.

"It's getting bigger and better," Tezuka said with a smile. "I'm so happy about that."
Earlier Friday, 12-year-old Australian skateboarder Chloe Covell was the youngest competitor on the three-day extravaganza's opening day.
Covell was fifth after the qualifying round of the women's street competition, advancing to the final on Sunday.

Brazil's Rayssa Leal, silver medalist at the Tokyo Olympics, and Japanese bronze medalist Funa Nakayama, 16, were third and second, respectively, in the elimination round.
Yumeka Oda, a 15-year-old from Nagoya, ascended to the top of the standings with a crowd-pleasing mix of moves, including gliding over handrails, zooming on the surface of walls and popping up on stairs for quick intervals, all without stopping.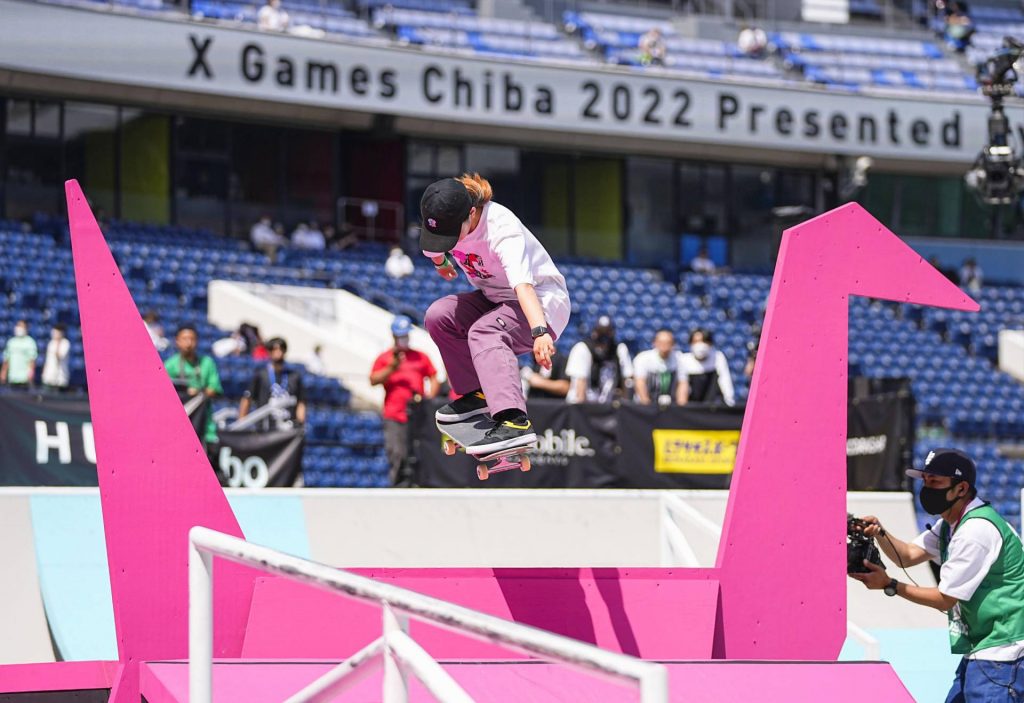 Tokyo native Aori Nishimura, a three-time X Games gold medalist and two-time world champion, was among the octet who booked berths in the final.

Momiji Nishiya, the reigning Olympic champ, was scheduled to compete but pulled out.
In the men's BMX park elimination round, Rim Nakamura, the fifth-place finisher at the Tokyo Olympics, grabbed the No. 1 spot in the first run, besting a field also featuring 2021's three Olympic medalists (Australia's Logan Martin, gold; Venezuela's Daniel Dhers, silver; and Great Britain's Declan Brooks, bronze).

But after the final run, only USA's Jagger Eaton placed ahead of Nakamura.

In both of his allotted 45-second runs, Nakamura was upbeat and fast-paced throughout his performance, with a wide array of moves, hurdling over the embankments, twisting in quick somersaults and horizontal ovals, giving a glimpse of his talents.

Kevin Peraza, a 27-year-old veteran BMX rider and 2019 Summer X Games gold medalist in the men's park event, expressed joy in returning to Japan for the "seventh or eight time."

Like many of the athletes who spoke on the opening day of the X Games Chiba, Peraza, who was born in Tucson, Arizona, highlighted their mission of planting the seeds for their sports to grow.

"My goal as a BMX rider is to inspire the next generation," Peraza said.
In the men's skateboard vertical final, American Jimmy Wilkins, Moto Shibata of Osaka and Brazil's Gui Khury, who is 13, placed 1-2-3.

During trick after trick, air time (the longer, the better) above and beyond the halfpipe propelled the top finishers.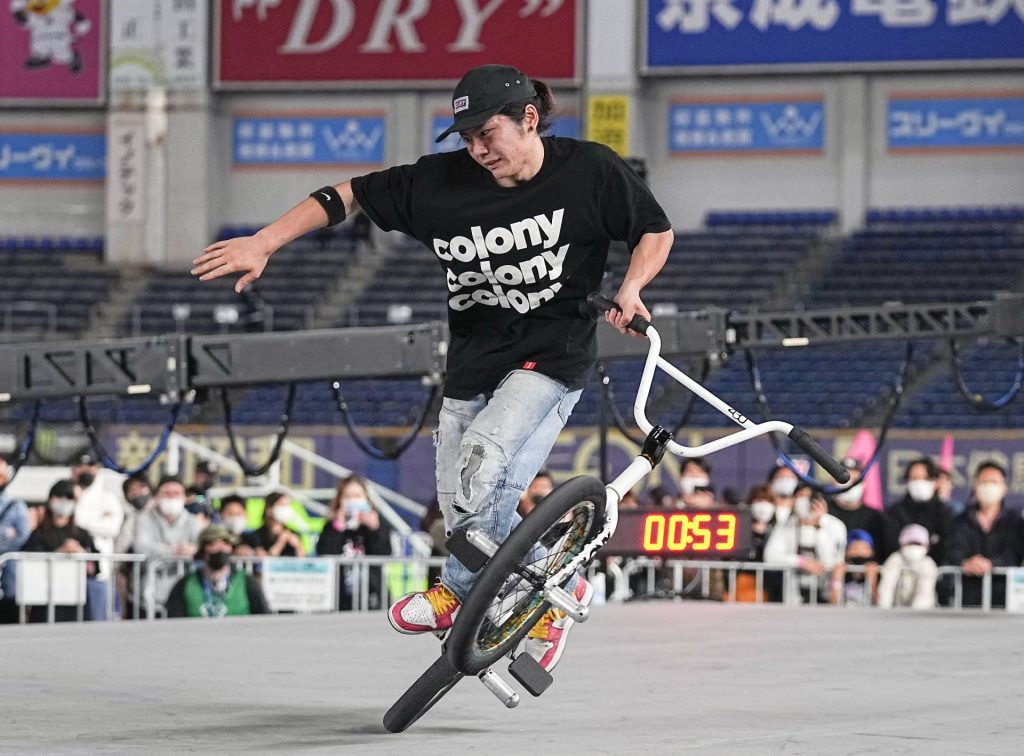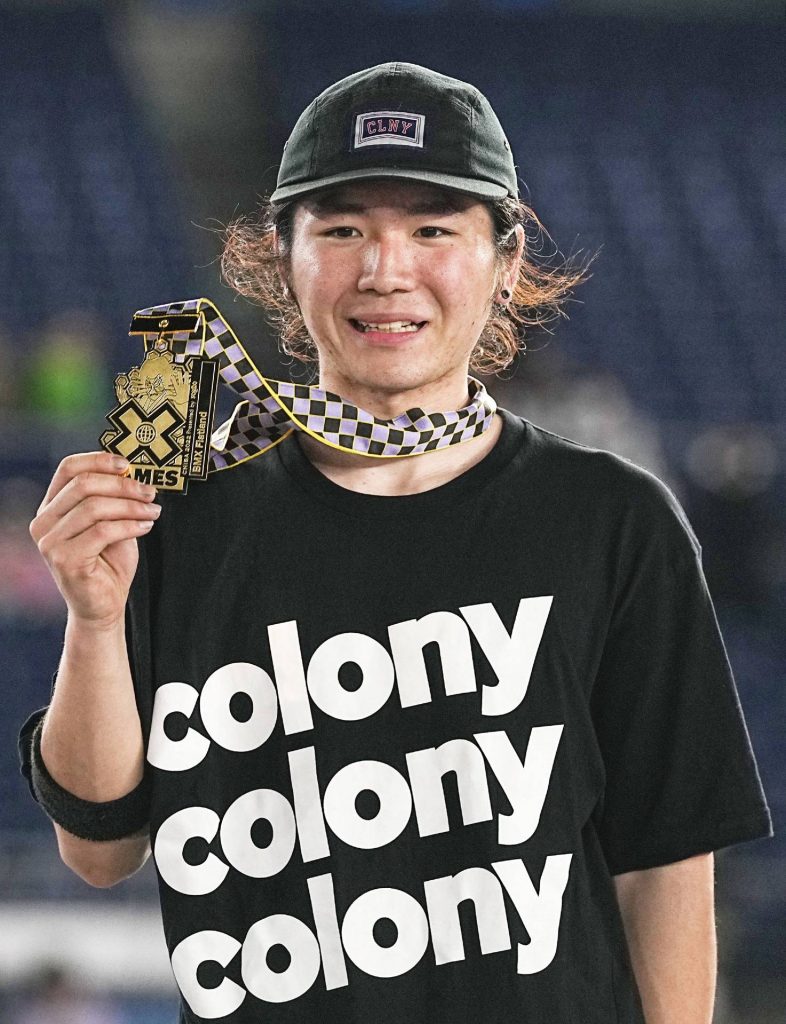 Kio Hayakawa, who hails from Niigata, exhibited tremendous form in the BMX flatland tournament, the evening's final event.
His bike nearly became an extension of his body, with one wheel acting as a vertical base for a large portion of his routine, and the other wheel high in the air. Hayakawa also displayed exceptional hand-eye coordination along with balance in guiding his bike in a series of circular twists that resembled a spinning top.
The 20-year-old Hayakawa outscored Alex Jumelin of France in the gold-medal match, earning his first-ever X Games gold medal.
RELATED:
'Stoked' For The X Games, Chiba Prepares To Host World's Top Action Sports
Author: Ed Odeven
Follow Ed on JAPAN Forward's [Japan Sports Notebook] here on Sundays, in [Odds and Evens] here during the week, and Twitter @ed_odeven.