Yuzuru Hanyu Claims Sixth Japan Title, Nearly Lands Historic Quadruple Axel
Despite two-footing the landing on the opening quad axel, Hanyu powered through the rest of his program en route to yet another resounding triumph.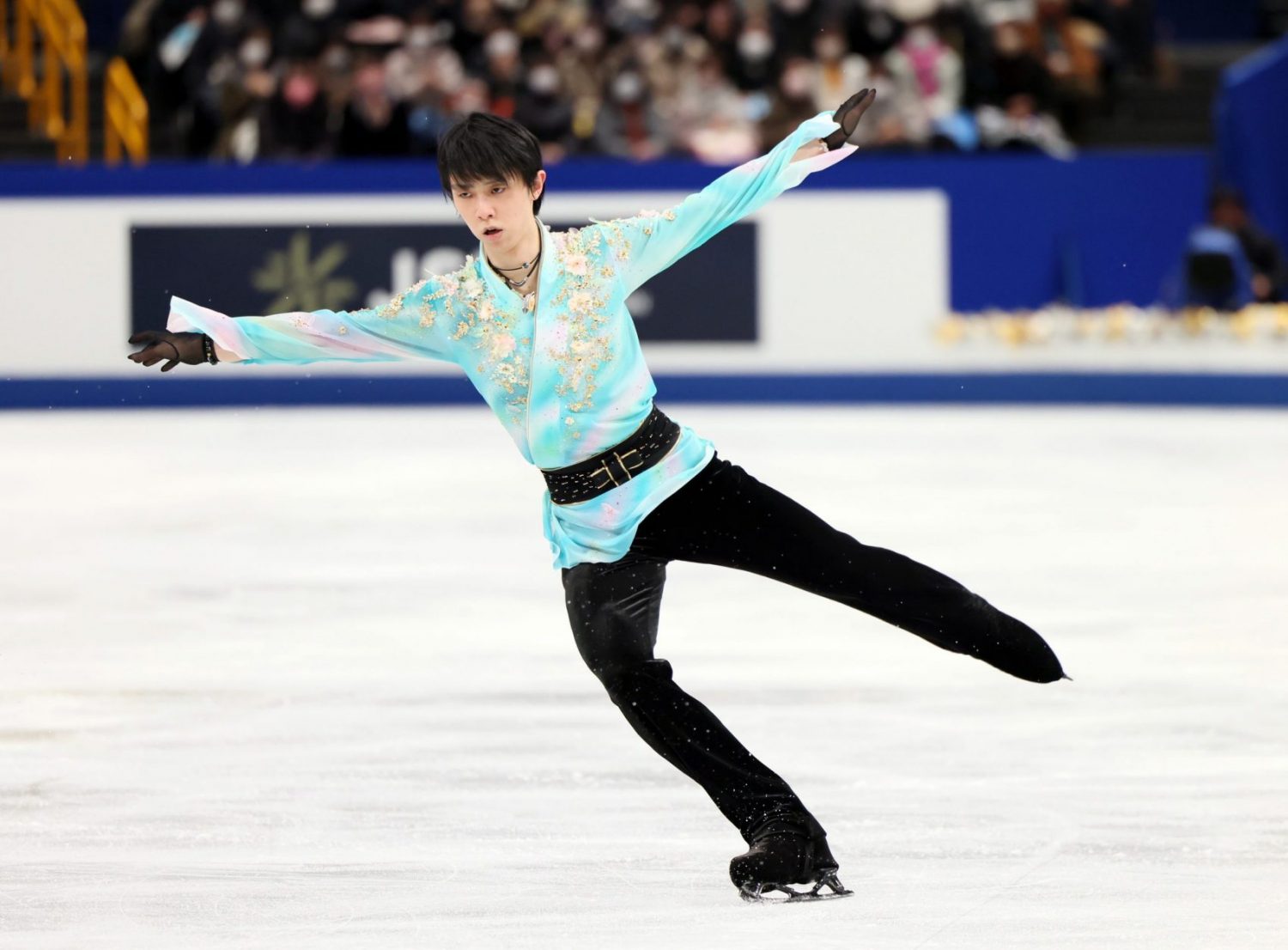 SAITAMA ー Yuzuru Hanyu claimed his sixth title at the Japan Figure Skating Championships with a performance for the ages on Sunday night, December 26 at Saitama Super Arena. The superstar thrilled a capacity crowd by attempting and almost cleanly landing the first quadruple axel in history on the way to victory.
This night Hanyu was at his finest, as despite two-footing the landing on the opening quad axel, he powered through the rest of his program, landing three clean quads on the way to yet another resounding triumph in a career that has been full of them.
The two-time Olympic champion's winning total score was 322.36 points, which put him atop the podium with a more than 26-point advantage over runner-up Shoma Uno, with 295.82. Yuma Kagiyama finished third at 292.41.
Junior champion Kao Miura was fourth at 276.16, with Kazuki Tomono fifth with 263.67.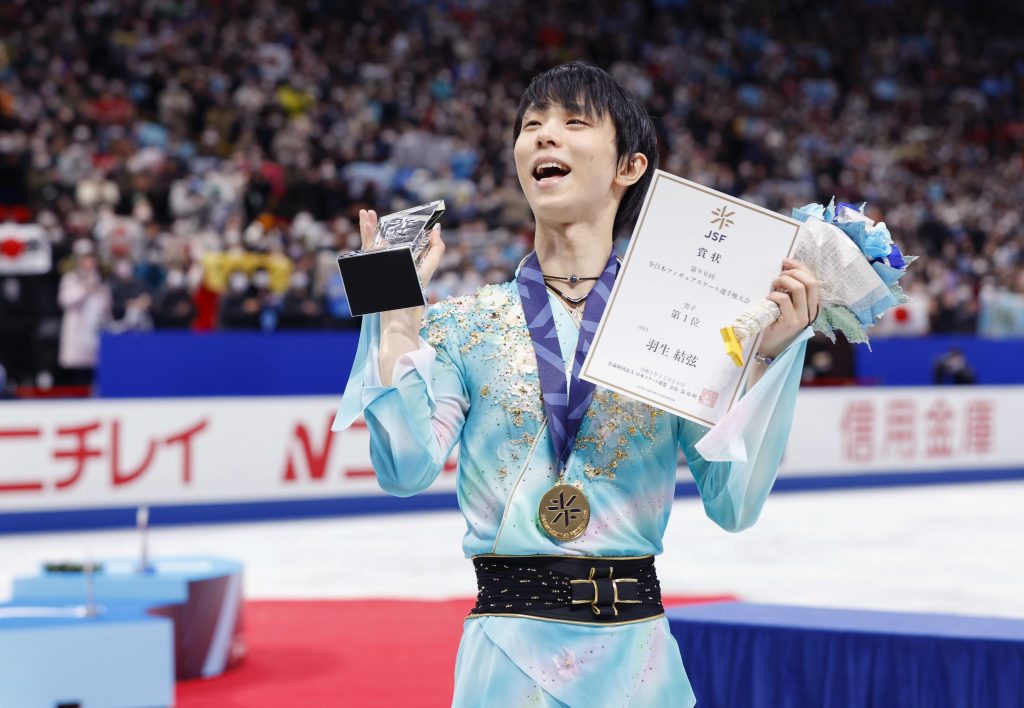 Hanyu skated to "Heaven and Earth" and put on an amazing show. Despite not cleanly hitting the quad axel, he was undaunted, as he followed it with a quad salchow, then a triple axel/double toe loop combination jump, and moved smoothly through the rest of his program.
Hanyu said emotions almost got the best of him before he took the ice.
"I'm relieved. I was about to cry before the six-minute warmup," Hanyu stated. "I remember thinking, 'How many more times will I see this kind of scenery?' and [thinking about] what I have done so far."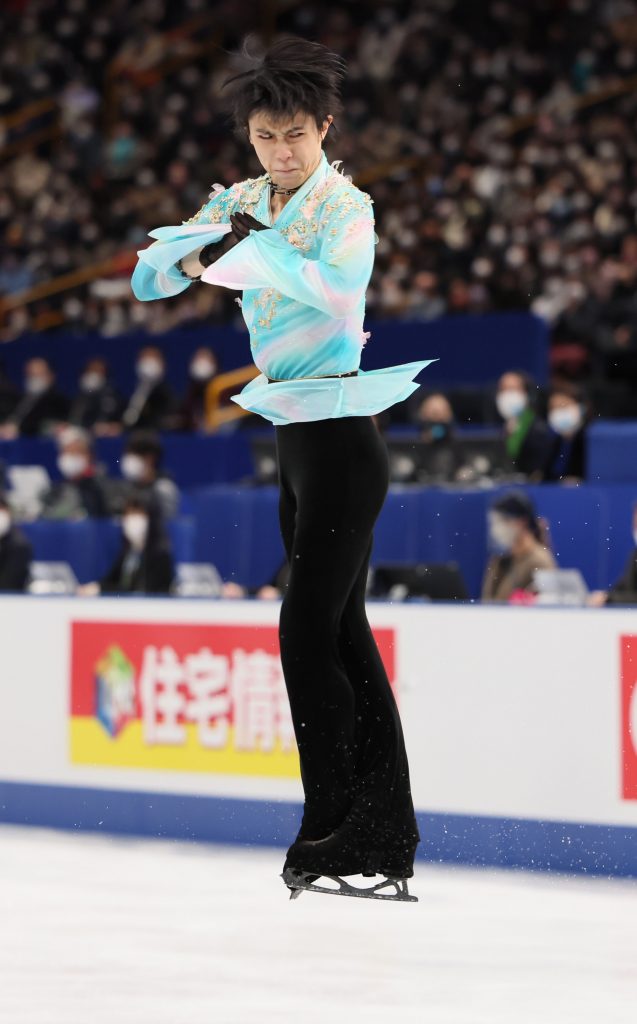 Hanyu confessed that even his patented triple axel is no easy task.
"The axel is really difficult anyway, but I'm glad that everything was done properly as a program with respect for the song 'Ten to Chi to,' " Hanyu commented. "I will continue to do my best."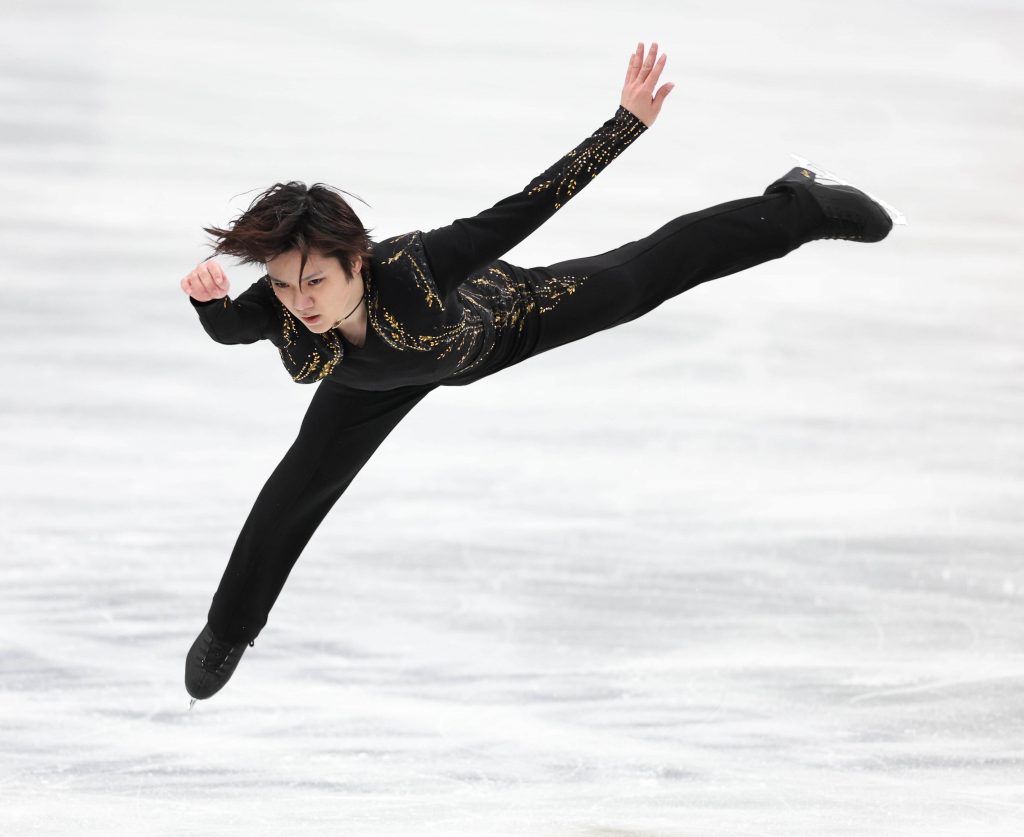 Uno Delivers a Strong Performance
Uno was very impressive in coming in second, as he hit four clean quads and fell on another (a quad toe loop) to "Bolero." In order, at the outset of his program he landed a quad loop, quad salchow and quad flip.
"I felt like I was twisting my legs a bit in the last loop of the six-minute warmup," Uno noted. "I had pain when I got on the ice before my name was called again. It doesn't change anything. I can't quit. It's not a reason for failure."
Uno said he persevered despite the pain he was feeling.
"I skated calmly thinking about how I survived the day [in a similar situation in the past]," Uno remarked.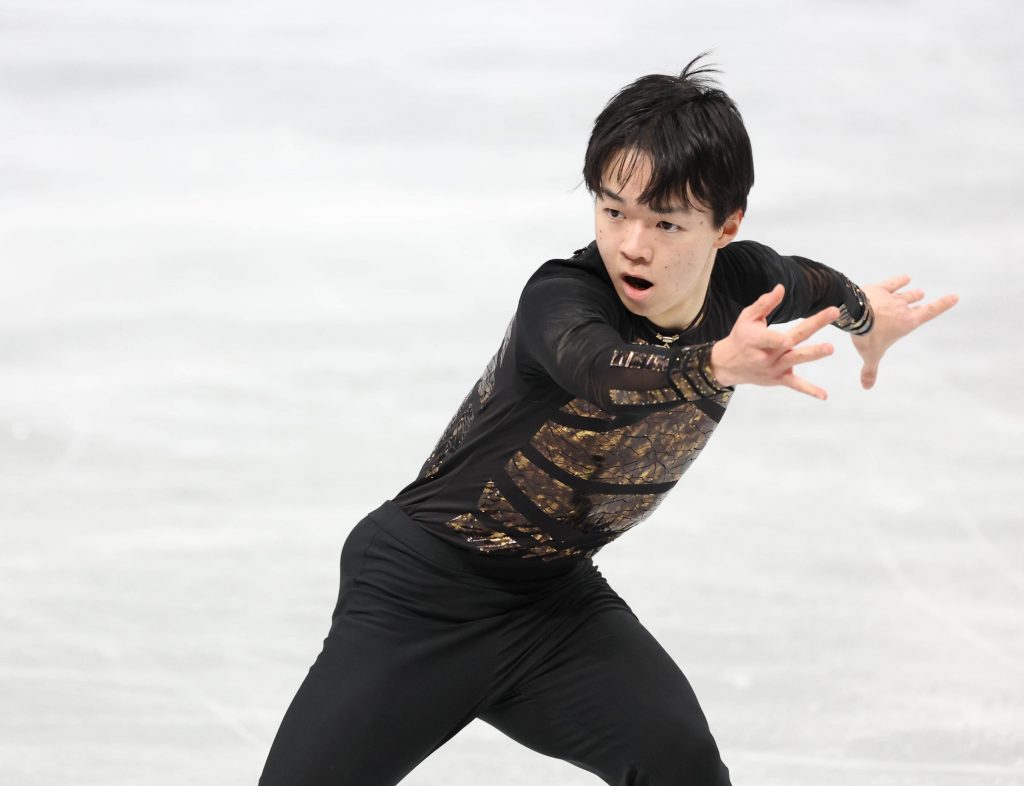 Kagiyama Demonstrates Growth
Kagiyama competed to "Gladiator" and landed three clean quads and six triples in an inspiring effort. The 18-year-old earned level fours on his spins and a level three on his step sequence.
"It wasn't a perfect score, but it was a performance that I did my best," Kagiyama stated. "This season, I had a lot of painful performances and sometimes became negative, but I couldn't give up on the free skate until the end. I was relieved to tears when it was over."

Miura was a revelation for many with his inspiring performance to "Poeta." The 16-year-old landed three clean quads in a strong showing that earned him a standing ovation.
"I was very nervous, but I think I'll get 100 points because I was able to put out everything I have now," Miura commented. "Four years from now, I will be in a position to compete for the Olympic team and I will do my best to make use of this year's experience."
Japan Olympic Team Revealed
Following the men's free skate and medal ceremony, the Japan Skating Federation announced the team for the Beijing Olympics.
The squad is as follows:
Men
Yuzuru Hanyu
Shoma Uno
Yuma Kagiyama
Women
Kaori Sakamoto
Wakaba Higuchi
Mana Kawabe
Pairs
Riku Miura/Ryuichi Kihara
Ice Dance
Misato Komatsubara/Tim Koleto


Author: Jack Gallagher
The author is a veteran sports journalist and one of the world's foremost figure skating experts. Find articles and podcasts by Jack on his author page, here, and find him on Twitter @sportsjapan.