This article first appeared on JAPAN Forward written by Jay Alabaster.
"Listen," he said, "if you get into any trouble down there, if it's not safe, just get out, it's not worth it."
It was March 2010, and I was working as a reporter for the Associated Press in Tokyo. My boss, the bureau chief, had asked for a volunteer to do a story about a tiny town on the southern edge of Honshu, Japan's main island. I'd raised my hand as always, happy to get out of the office and travel on the company budget.
Now we were in his office with the door closed, while he was talking to me as if I was headed to a war zone. It was odd—I'd been a reporter in Tokyo for almost 10 years, and it was not a dangerous place to work, probably one of the safest in the world, far safer than back in the US. I'd covered angry right-wingers a few times, and almost exactly a year later would come the massive earthquake and tsunami in northern Tohoku, followed by a nuclear meltdown, but no one was actively out to hurt you. By the numbers I was more likely to kill myself than have someone else to do it.
The town I was supposed to cover was called Taiji. It was the subject of a documentary called The Cove, which was up for an Academy Award. My bosses wanted someone to be there in case it won, to get the town's side of the story.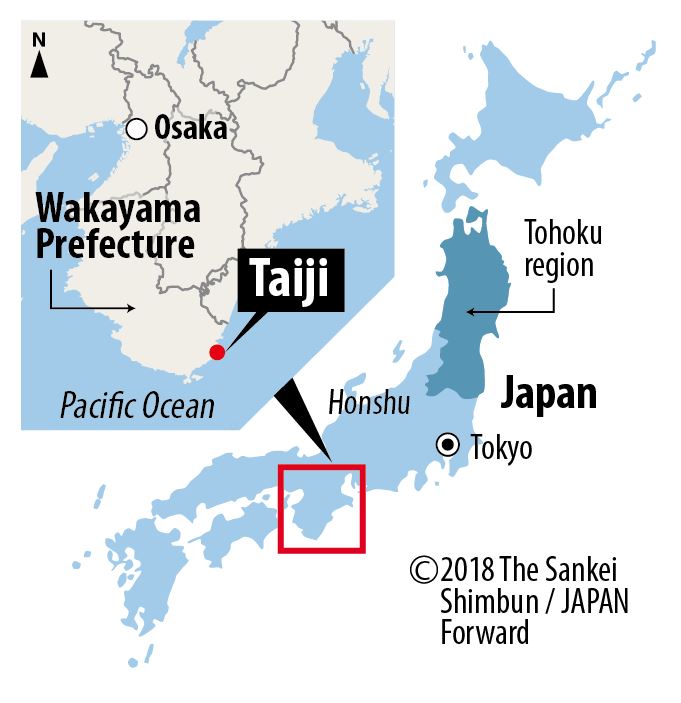 I booked a short trip to the town, which was nearly eight hours from Tokyo, and watched the film on the way down. I knew immediately why my boss was worried. The movie starts out with creepy music and shots of fish markets and small town Japan, all shown in negative to make them look eerie and strange.
In the opening scene a man drives a car while hunched over the steering wheel, wearing a mask over his mouth and an odd hat as a disguise.
"I'm not exaggerating," he says, "if these fishermen could catch me and kill me, they would."
In the movie, Taiji is a dangerous and cruel place. The local fishermen secretly hunt dolphins, driving them in from the sea and butchering them without pity until the waters in a hidden cove—The Cove—near the shore turns blood red. But it is worse than that—foreigners that go to the town are in danger as well. The filmmaker and activists that try to document the hunts are followed wherever they go, and so they huddle in hotel rooms, peering out from behind the curtains to check outside, then sprinting for their cars when the coast is clear.
When I got to Taiji, it was so beautiful that for awhile I forgot why I was there. It's an old whaling town, walled in by steep mountains smothered in dark green forest, with patches of shocking pink from wild cherry trees in bloom. The homes themselves were crammed onto the only sliver of livable land between the mountains and the sea, so that you had to walk through thin, winding rows of hand-built wooden homes, built from scratch by Japanese carpenters a century ago. And the water! Encircling the town between two deep bays, the sea is so clear you could stand on the shore and watch the puffer fish deep below as they dipped and nibbled among the abalone and kelp-covered rocks.
But I was there to write a story. The Cove did win the Academy Award, and my job was to get the town's opinion. The problem is that no one would speak to me. In other small towns I'd covered for the AP, my press ID and business cards had often been the ticket to meetings with mayors, free beers, and hotel upgrades, but in Taiji, nothing.
I was turned down at the town hall and the fisheries union, and at the local "Tail" restaurant where I tried fried whale. A girl walking her dog literally ran away when I tried to introduce myself. A manager at the "Dolphin Resort"—which featured dolphin decorations, swim-with-dolphin programs, and even dolphin sounds piped in through the sound system—finally agreed to speak with me, as long as we didn't talk about dolphins.
I was on deadline, and a few individuals did eventually agree to talk on the record, but it wasn't pretty. I pulled together a story, a hack job that was blasted around the world the next day, and then I was headed back to my desk in Tokyo.
Japan dolphin hunt town shrugs off 'Cove' Oscar
March 8, 2010
By Jay Alabaster, Associated Press
TAIJI, Japan—The gala crowd in Los Angeles cheered as The Cove won the best documentary Oscar with its grisly portrayal of dolphin hunting. Half a world away, residents of the small Japanese village shown in the film abhorred the attention and said it won't end their centuries-old tradition.
Although I didn't know anything about whaling or fishing at the time, I would eventually learn that whalers and fishermen have to be careful not to get too excited about a potential catch, lest they get pulled right into the water. I was deeply intrigued by Taiji, the little town that became the subject of an Academy Award-winning documentary. The movie triggered a wave of global protests against the town and the local dolphin hunts, which have subsided somewhat but continue to this day.
I went back to write stories a second time, and a third, meeting more people each time, making the trip again, and yet again even after the town had started to fade from the headlines. Eventually my bosses started rejecting my proposals for Taiji stories, and so I started taking vacation time and paying my own way…until, two and a half years after that first assignment, I gave up and quit my job and moved there, driving down in a used Honda Fit with my cat in the passenger seat, living in the century-old house of an ex-whaler.
I discovered that the dolphin hunts are no secret in Taiji, and if you know a fisherman he will give you some meat while it is still warm, and, eaten raw, it will melt in your mouth like top-shelf tenderloin. That if you don't lock the flimsy door to your old house, the elderly neighbors will sneak in and tidy up and leave fresh fish in the fridge. That many in town are the direct descendants of ancient whalers, the bravest of which climbed onto the backs of wild whales at sea and cut their massive nostrils with knives as a passage to manhood. That Taiji is also home to pearl divers of legendary endurance and infidelity, perhaps the largest collection of stuffed penguins in Asia, a boulder that hums out weather forecasts, a powerful god that lives in an old sake barrel and another that inhabits a phallic, engine-sized boulder.
I went to find the evil fishermen of Taiji and ended up dancing with them in front of an ancient mariner's temple, under a yellow moon in front of the sea.

Jay Alabaster is a PhD student and adjunct professor at the Walter Cronkite School of Journalism in Arizona State University. He currently lives in Taiji, Japan, where he is working on a book and his dissertation. You can find him on Facebook at http://www.facebook.com/alabasterjay. His email is jay.alabaster@asu.edu.