J2E Supporters Gather at New 'Re:Born' Event to Share Ideas and Experiences
The latest news from Japan 2 Earth.
このページを 日本語 で読む
On October 25, Japan 2 Earth held its first 'Re:Born' networking lunch at the Tokyo Sankei Building in Otemachi, Tokyo, to strengthen ties with our partners.

Reiko Futagi, President of Otani Seiun K. K., a waste collection and recycling company based in Katsushika Ward, Tokyo, was the speaker. She explained her company's roots in waste collection from the Washington Heights 'town', a US Occupational Forces military housing complex established in Tokyo shortly after World War II.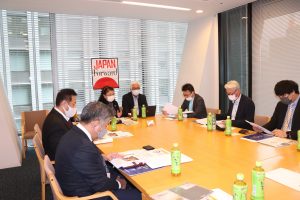 Noting how Otani Seiun became involved in recycling and waste collection amid growing environmental awareness, Futagi also shared how the company has expanded into the digital transformation (DX) of agriculture to provide local people with places to work. Her company is developing new business models aligned with a circular economy.

Yasuo Naito, Editor-in-Chief of JAPAN Forward, together with the J2E supporters who gathered for the event, commented the purpose of the meeting, "We want to not only transmit information from Japan to the world, but also to expand our network of partners for taking concrete actions."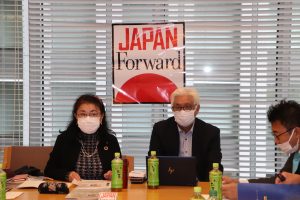 Excluding J2E editorial staff, 12 representatives from 10 companies participated in the meeting. J2E plans to regularly host networking events with our partners and propose ideas for innovations.
このページを 日本語 で読む