Alpinista Triumphs as Titleholder Fades to 11th in Prix de l'Arc de Triomphe
Winning jockey Luke Morris grabbed the lead from Kazuo Yokoyama near the end of the prestigious race, which was first held in 1920, in Paris.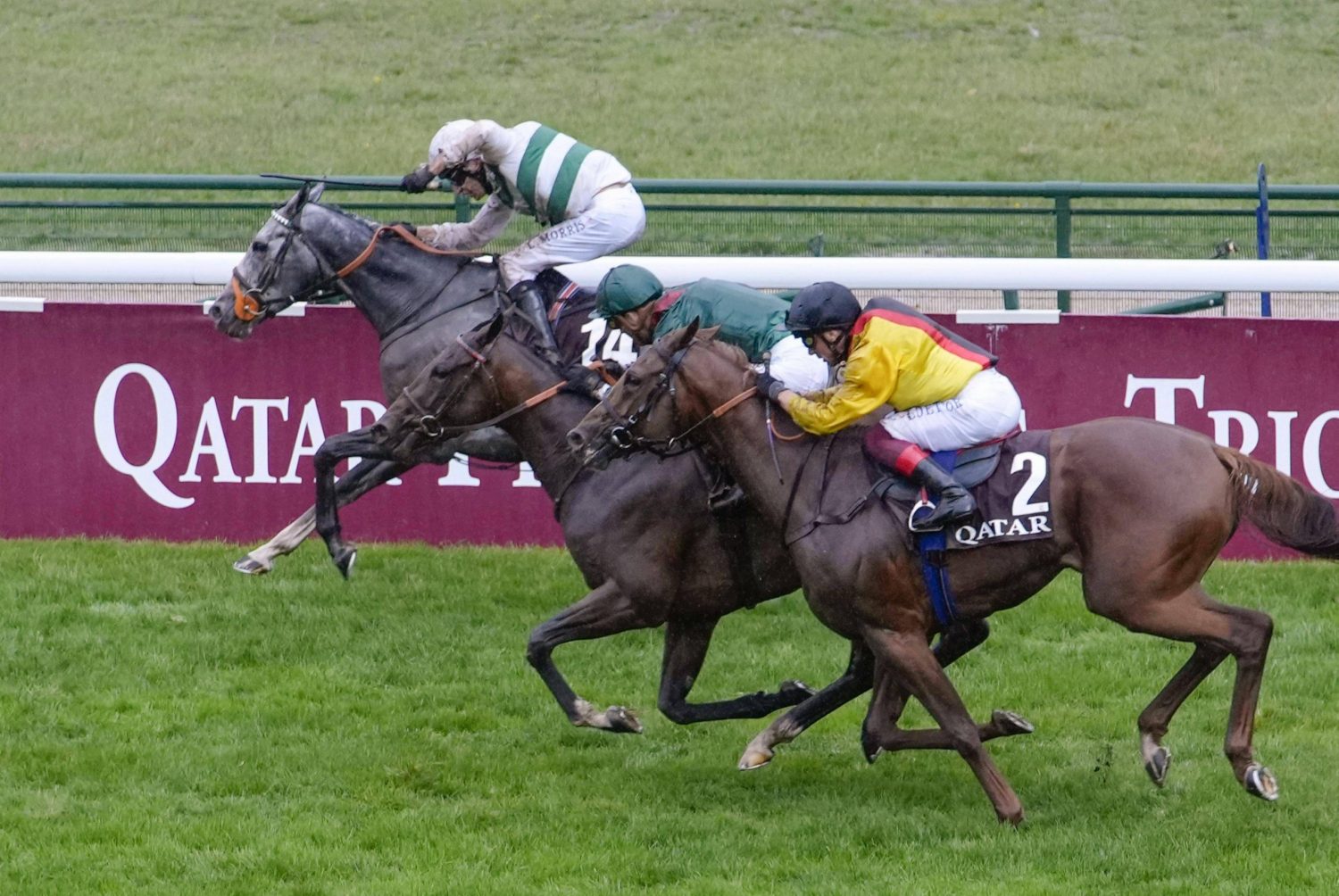 Alpinista won the 2022 Prix de l'Arc de Triomphe in Paris, outracing a field of 19 other thoroughbreds in heavy rain on Sunday afternoon, October 2.
Japanese horses Titleholder (11th place, jockey Kazuo Yokoyama), Stay Foolish (14th, Christophe Lemaire), Deep Bond (18th, Yuga Kawada) and Do Deuce (19th, Yutaka Take) had a disappointing day at ParisLongchamp for their home nation's rabid fan base.
Handling the 7-2 favorite Alpinista's reins, Luke Morris made a decisive push over the race's final one-quarter mile (about 400 meters) as horse and jockey moved past Titleholder to grab the lead in dramatic fashion. 
Rain came pouring down about 15 minutes before the race began.
Alpinista completed the 2,400-meter race in 2 minutes, 35.71 seconds. For comparison, last year's winner, Torquator Tasso, clocked 2:37.62 en route to victory.
Vadeni, ridden by Christophe Soumillon, was second behind Alpinista, a half-length off the pace. Torquator Tasso, guided by Frankie Dettori, finished third.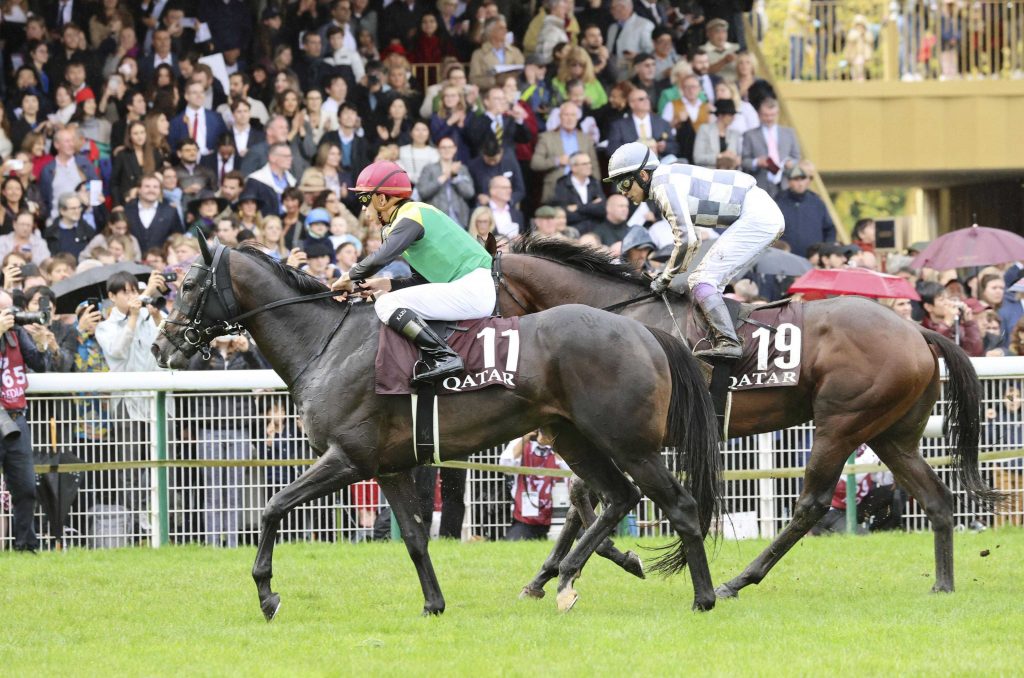 In its pre-race analysis, Asian Racing Report highlighted the bold strategy put in place by Yokoyama, who was assigned the No. 11 post position, and trainer Toru Kurita. "Front runners don't win Arcs, not very often, anyway," the website opined. "If Yokoyama rides his race from the front [on Titleholder] as expected, and wins, he will be in the company of legends."
After the race, Yokoyama said he felt honored to participate in such a prestigious race.
"I am grateful to both the horses and the people for allowing me to come to such a place overseas," he was quoted as saying by Tokyo Sports.
Kurita expressed disappointment in the final outcome.
"The horse's condition was good," he commented, according to Tokyo Sports. "It's the result of taking the plunge, so it's a pity, but I think he used all his strength."
Reactions from the Winners
Winning trainer Mark Prescott declared the victory was "absolutely marvelous."
In 15 career starts, British-born gray mare Alpinista has 10 wins and a pair of second-place finishes. Sunday's performance extended her winning streak to eight races.
"You felt she was always going to win but it's a relief," Prescott was quoted as saying by Sporting Life. "It's a wonderful change to have one that can really go and she has been perfect."
After winning what's often called the "world's best race," Morris, 33, was not at a loss for words.
"It's the pinnacle of my career and it's an unbelievably special day," he said, according to the British sports website. "I was having to hold back the tears. Sir Mark's had an unbelievable effect on my career. He's an unbelievable trainer and person and I'm so lucky to ride for him."
Gendarme Wins 56th Sprinters Stakes
In other racing news, 7-year-old Gendarme triumphed in the 56th Sprinters Stakes on Sunday at Nakayama Racecourse in Funabashi, Chiba Prefecture.
Jockey Kiwamu Ogino's horse completed the 1,200-meter course in 1 minute, 7.8 seconds, beating Win Marvel (Kohei Matsuyama) by a neck.
Kyosuke Maruta guided Naran Huleg to a third-place finish, three-fourths of a length behind the runner-up.
The result gave trainer Yasutoshi Ikee his 21st Grade 1 victory.
Eighth favorite Gendarme, one of three 7-year-olds in the 16-horse field, earned his first-ever G1 win. Eight-year-old Loving Answer, the oldest horse in the race, placed 16th.
The Kitten's Joy-sired Gendarme had a strong effort down the final stretch to secure the win. (Watch the race replay here.)
Meikei Yell, the race favorite ridden by Kenichi Ikezoe, faded late in the race, slipping from fourth place to 14th.
A 'Grateful' Jockey
"We had a good gate and were able to race smoothly as he handled the break smoothly, which was a challenge for him," said Ogino, who is in his seventh season as a professional jockey. "The horse responded well in the [final] stretch and I think he was able to show his strength.
"I was aware of the closing horses behind us, but I just concentrated on letting the horse do his best. I'm really happy that I was able to win my first G1 title and I'm grateful for Gendarme."
Three foreign-born horses participated in the race: Gendarme and eighth-place finisher Maria's Heart (both from the United States) and Schnell Meister (Germany), who placed ninth.
RELATED:
Author: Ed Odeven

Follow Ed on JAPAN Forward's [Japan Sports Notebook] here on Sundays, in [Odds and Evens] here during the week, and Twitter @ed_odeven.