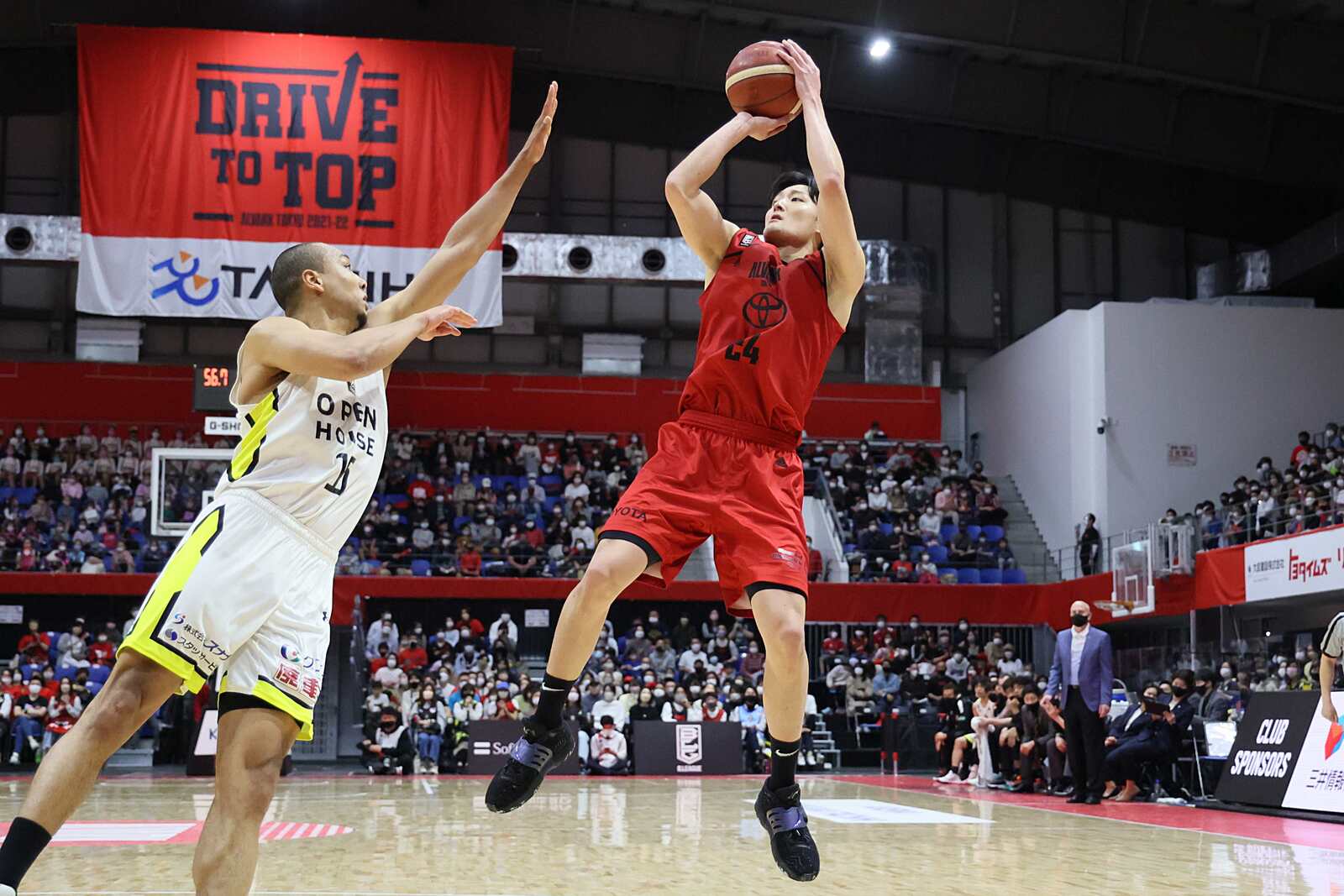 TACHIKAWA ― The Alvark Tokyo became the first franchise in B. League history to win two championships, accomplishing the feat in back-to-back seasons (2017-18 and 2018-19).
The team's championship aspirations are on full display once again this season. The Alvark (36-9) are one of four B.League clubs with 35 or more wins through Sunday, April 17. 
Coach Luka Pavicevic's club extended its winning streak to seven with an 80-72 triumph over the Gunma Crane Thunders on Sunday at Arena Tachikawa Tachihi.
On Saturday, Tokyo clinched a playoff berth with an 82-54 win.
In the rematch, the Alvark made several key shots to thwart the Crane Thunders' upset hopes in a game featuring 11 lead changes.
Gunma led 40-39 at halftime after Aki Chambers drained a 3-pointer from near halfcourt on the final play of the second quarter.
Then Tokyo's strength in numbers, e.g. roster depth, paid off in the second half as the Alvark held off the visitors.
The hosts led 61-56 entering the fourth quarter.
Spaniard Sebastian Saiz, one of the B.League's premier frontcourt players, paced Tokyo with 18 points and 15 rebounds. Alex Kirk had 16 points and eight rebounds. Both standouts were aggressive on offense and attacked the basket, finishing off multiple slam dunks to the delight of the Alvark fans at the gym.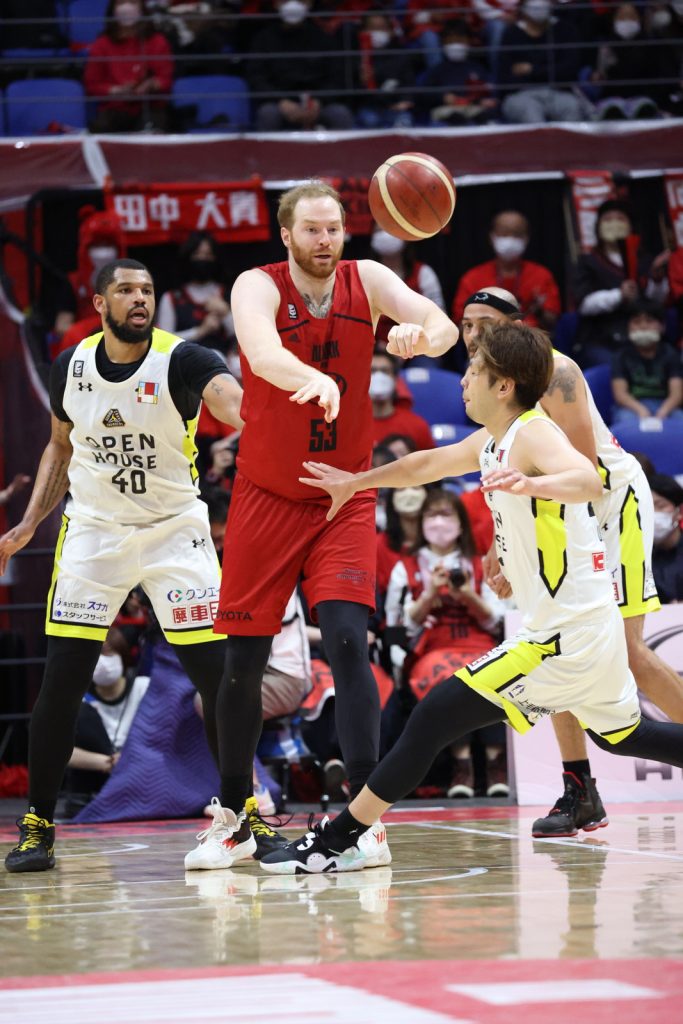 Tokyo's Shuto Ando scored 13 points, while backcourt mate Jordan Taylor had 11 before leaving the game with an injury in the second quarter. Daiki Tanaka had a solid effort with 10 points and five assists and reserve guard Taiki Osakabe handed out a season-high nine assists.
The Alvark were 11-for-14 from the free-throw line. The Crane Thunders (20-26) only attempted three foul shots, making two.
Gunma coach Tom Wisman wasn't pleased with the free-throw shooting disparity between the teams. After the game, he also said that star forward Michael Parker, who led the club with 26 points and 11 rebounds, deserves more respect from the officiating crew. Parker wasn't awarded any foul shots in the game despite being in or around the center of action for nearly the entire game. (He played a game-high 37:09).
Wisman prefaced his remarks by saying that the Alvark have earned the respect of the referees over the years. Gunma is in its first season as a B1 club after earning promotion from the second division last spring.

It was Parker's third straight game with zero foul shots.

"I know we have to earn that respect but it gets pretty frustrating for the players and it gets hard for me to disagree with their frustration," Wisman told reporters.

"Michael Parker is our MVP and he deserves more respect than he's getting from the referees," said Wisman of the veteran forward who is averaging 13.1 points per game. Parker hasn't attempted more than four free throws in a game since taking six on December 12 against the Shinshu Brave Warriors.
"That's frustrating for me as a coach," added Wisman. "He's basically involved in [all] the action, scoring 26 points and with the total number of rebounds that he gets…"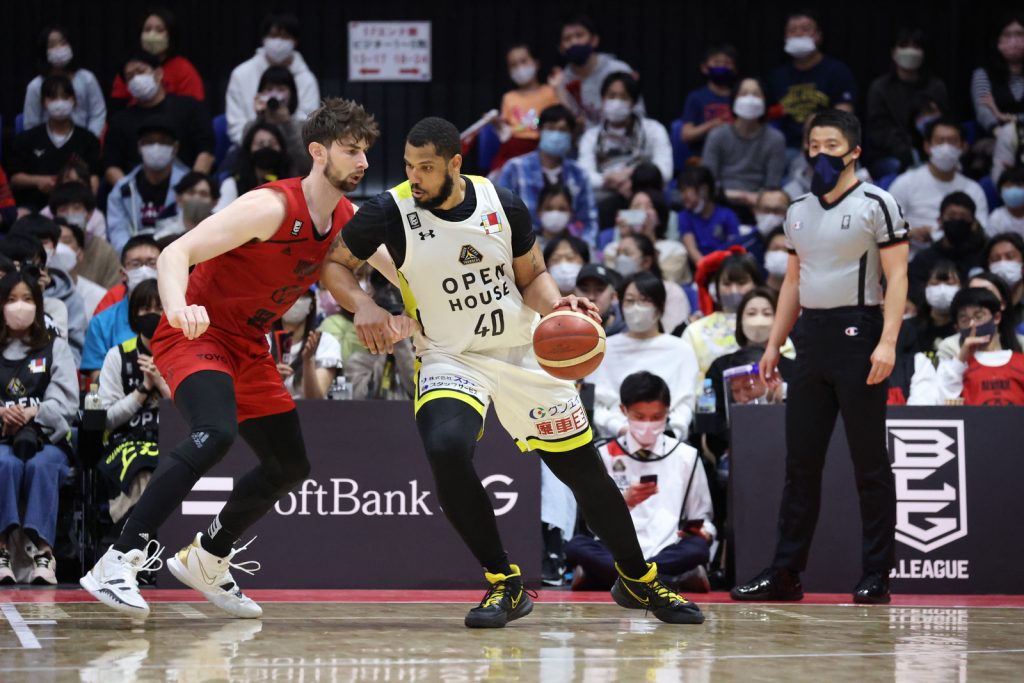 Justin Keenan also reached double figures in points for Gunma, scoring 18 points.
In the third quarter, Zack Baranski canned a jumper to put the Alvark ahead 61-53 with just under a minute to play.
Then Parker sank a 3-pointer, courtesy of an assist from Kohei Kasai, to cut the lead to six on Gunma's next possession. And the score (61-56) remained intact entering the last quarter.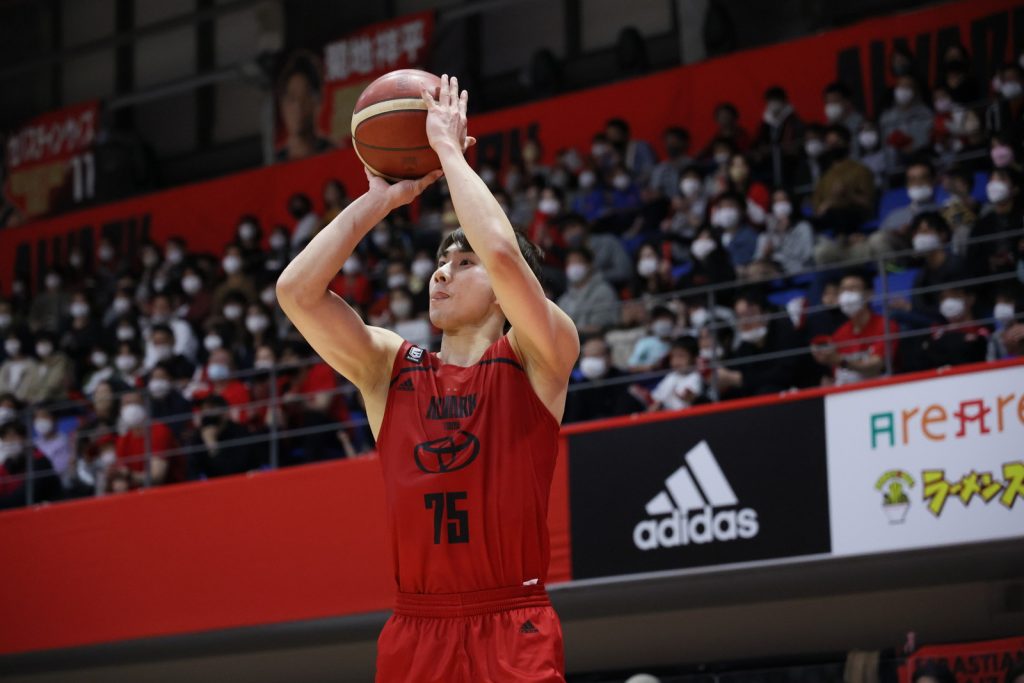 The Crane Thunders tied it at 64-64 on a Ryo Yamazaki pull-up jumper at the 7:55 mark.
But the Alvark built a small cushion, increasing the lead to nine on two occasions in the fourth. Osakabe's 3-pointer with 3:20 remaining gave the hosts a 75-66 advantage.
And Tanaka made it 77-68 on a jumper with 2:15 left on the game clock.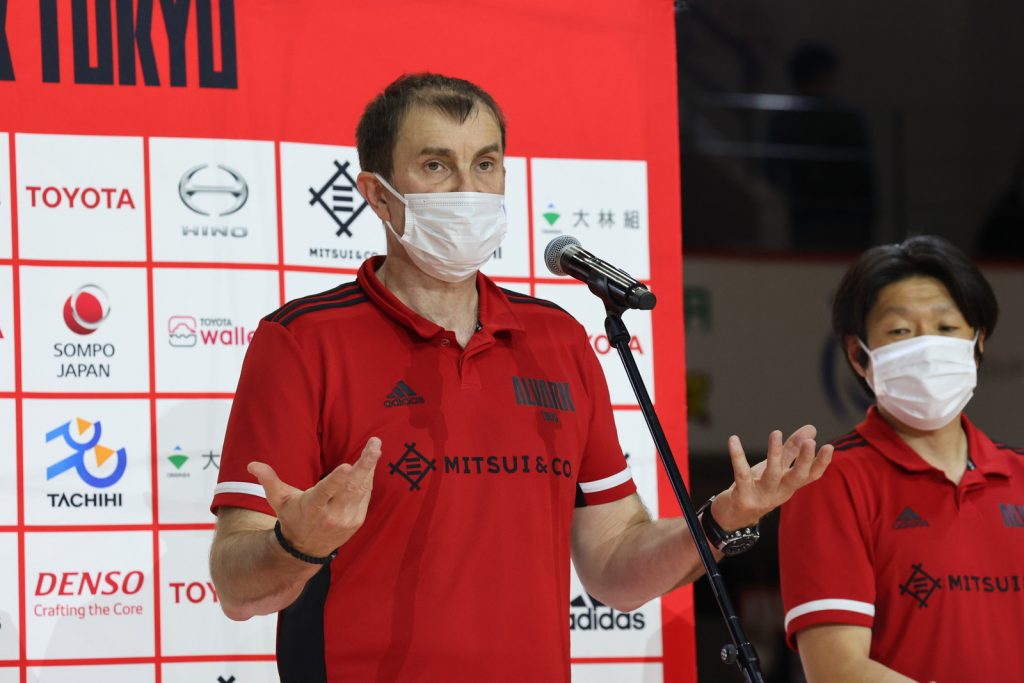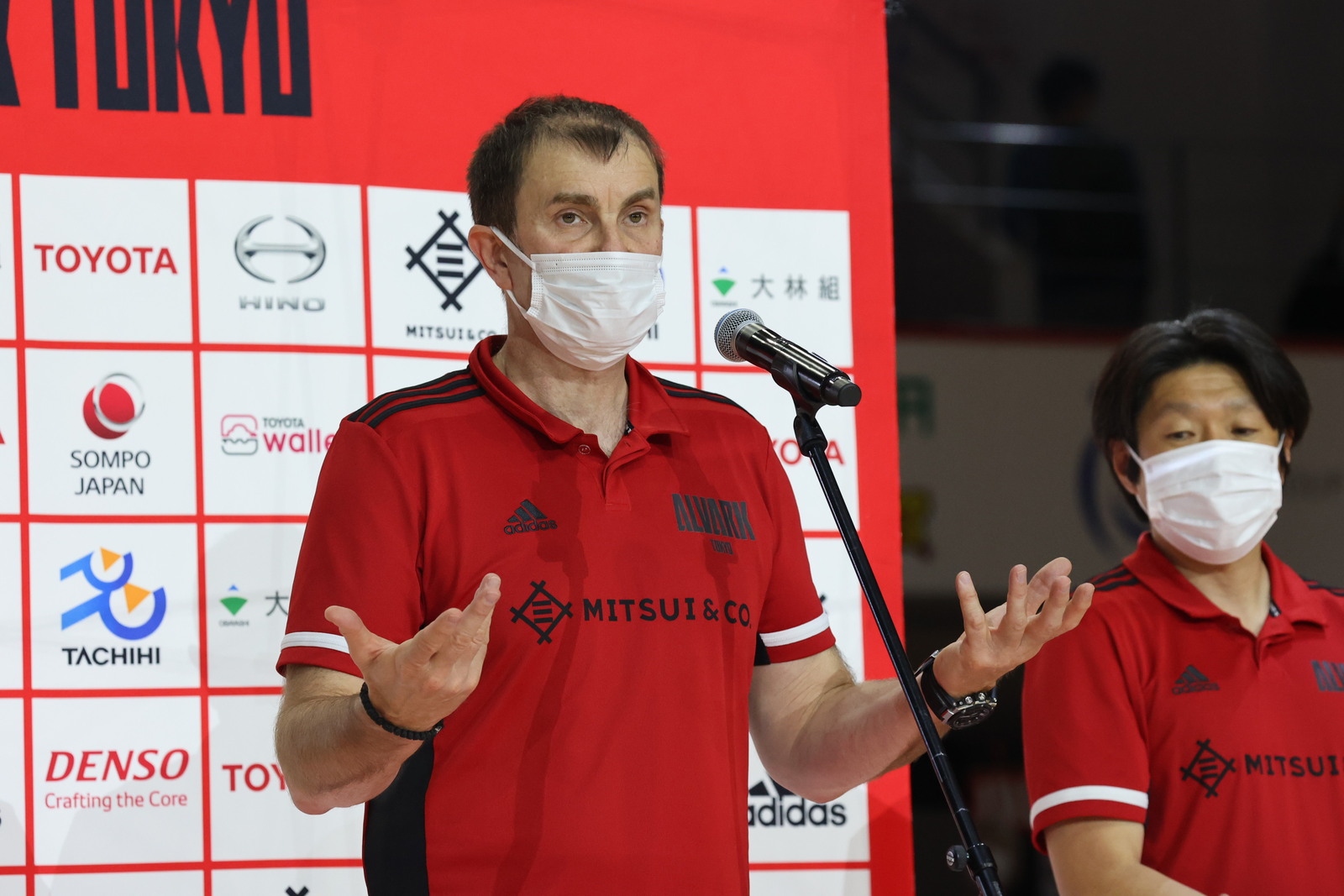 "I'd like to congratulate my team on bringing a difficult game to a victory," Pavicevic said in a post-game news conference. "I think after winning by a big margin yesterday and seeing one of their main players (Trey McKinney-Jones) did not play, I think that we could not come up with enough sharpness in our game to set up a tone from the beginning, and that gave a chance to a very motivated and capable Gunma team with a chance to win."
Asked to evaluate his team's overall performance at this stage of the season, Pavicevic said the Alvark are having a good season.
"We miss time together when we get into a (COVID-19) quarantine," he said, while also citing injuries as a factor that has disrupted team-building plans. "I cannot say this team has reached its full potential, but it is performing at above the circumstances that have been hitting it for two years straight, also this year.
"Is It enough to go all the way? I don't know for sure. Are we going to bring all we have? Yes, we are."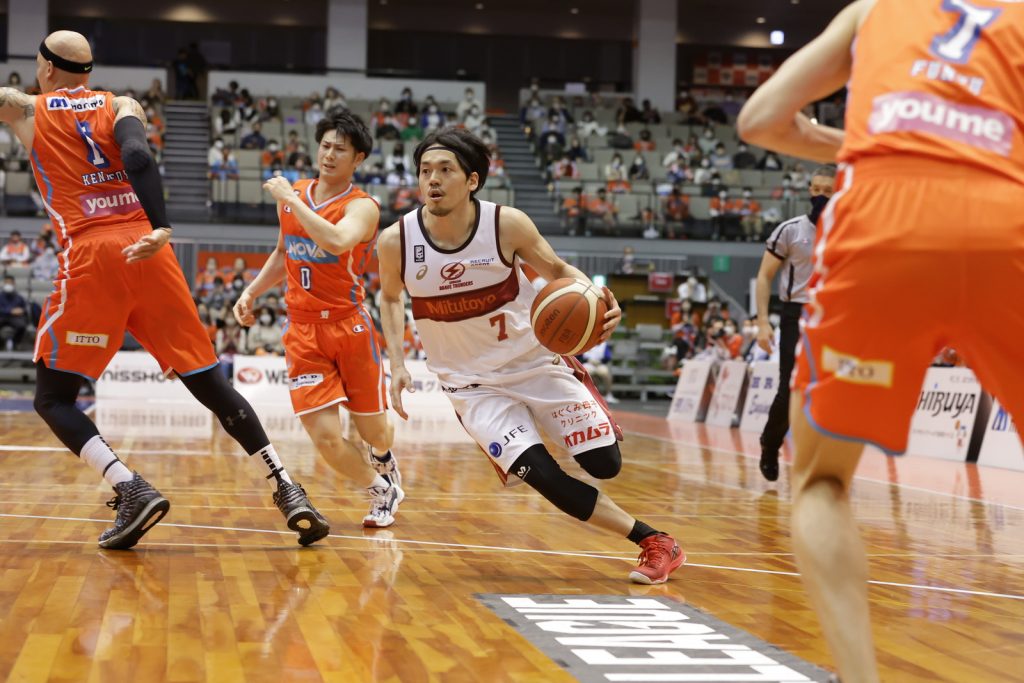 Brave Thunders Complete Sweep Over Dragonflies
Jordan Heath was the dominant offensive force in the series finale with a 25-point game on 12-for-15 shooting to lead the Kawasaki Brave Thunders to a 106-77 victory over the host Hiroshima Dragonflies on Sunday.
Big man Nick Fazekas, whose No. 22 jersey was retired by the University of Nevada in February 2019, added 21 points, seven rebounds and six assists for Kawasaki (35-12), which earned a series sweep. Satoru Maeta poured in 15 points in the rout.
Nick Mayo paced the Dragonflies (23-25) with 16 points. Shogo Asayama finished with 11 points and Charles Jackson corralled 12 rebounds.
Sunrockers Overpower Struggling Evessa
James Michael McAdoo, a two-time NBA champion with the Golden State Warriors (2015, 2017), provided stellar all-around play for the Sunrockers Shibuya in an 89-74 road win over the Osaka Evessa. McAdoo finished with 29 points, nine rebounds, four assists, two steals and a block. He was 13-for-17 from the floor.
Sunrockers sharpshooter Kosuke Ishii nailed 5 of 10 3-point shots in a 19-point effort.
Shibuya, which won the series opener 66-65, improved to 27-23.
Osaka fell to 20-28, dropping its fifth in a row.
Kyle Hunt led the Evessa with 19 points. Ira Brown scored 14.

Brex Rout Grouses
Veteran guard Seiji Ikaruga scored 13 points, matching his season-best point total, and dished out a season-best nine assists to help guide the Utsunomiya Brex to an 89-63 road victory over the Toyama Grouses.

Josh Scott had 21 points for the Brex (34-14), who won the weekend opener 99-79.
Toyama trailed 46-30 at halftime.
Julian Mavunga and Naoki Uto had 12 and 11 points, respectively, for the Grouses (20-31).
Diamond Dolphins Edge Golden Kings
Scott Eatherton made a pair of free throws with 8 seconds remaining as the Nagoya Diamond Dolphins recorded a bounce-back, 81-80 win over the Ryukyu Golden Kings.
With the win, Nagoya halted Ryukyu's 13-game winning streak.
Golden Kings guard Ryuichi Kishimoto missed a potential game-winning 3-point attempt before the final buzzer sounded.
On Saturday, the Golden Kings (43-5) won the series opener 97-65.
In the rematch, Golden Kings center Jack Cooley made an inside shot with 20 seconds left in the game, giving his club an 80-79 lead. Cooley was fouled on the play. He missed the subsequent free throw. He made 5 of 6 free throws in the game.
Cooley finished with 17 points and nine rebounds. Kishimoto added 15 points, knocking down 5 of 8 3s. Dwayne Evans had 12 points and nine boards, while Koh Flippin chipped in with seven points and five assists.
Ryukyu had 21 assists and 17 turnovers.
Eatherton sparked Nagoya (27-13) with 24 points, seven rebounds, four assists and three blocks. Takumi Saito had 14 points and seven assists and Ray Parks Jr. scored 12 points.
RELATED: [JAPAN SPORTS NOTEBOOK] Dai Oketani Displays Coaching Chops In The Midst Of Storybook Season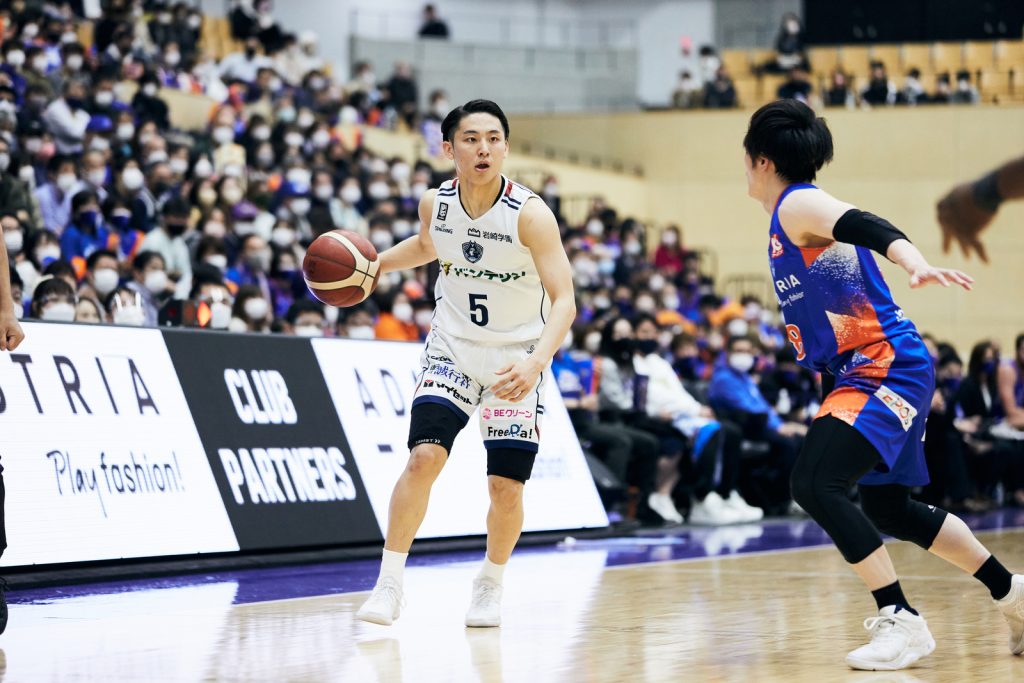 B-Corsairs Cruise Past Robots
Leyton Hammonds put 25 points on the board and Yuki Kawamura orchestrated the offense with a season-best 17 assists in the Yokohama B-Corsairs' 107-77 win over the short-handed Ibaraki Robots.
For the 20-year-old Kawamura, it was his fourth straight game with 10 or more assists.
The B-Corsairs (18-31) used 12 players. The injury-plagued Robots used eight.
For Ibaraki (13-32), Chehales Tapscott was the top scorer with 23 points along with eight rebounds and five assists. Eric Jacobsen added 15 points.

NeoPhoenix Defeat Hannaryz for Second Straight Day
Elias Harris had a team-high 19 points and former University of North Carolina player Justin Knox notched a double-double (13 points, 13 rebounds) in the San-en NeoPhoenix's 63-58 home triumph over the Kyoto Hannaryz.
Max Hisatake finished with eight points and 11 rebounds for the NeoPhoenix (10-39), who eked out an 88-87 win over West rival Kyoto on Saturday.
Justin Harper had 17 points for the Hannaryz (13-37), who shot 38.2% from the field.

SeaHorses Hold Off Northern Happinets
The SeaHorses Mikawa took a 16-point lead into the fourth quarter and saw most of it evaporate as the Akita Northern Happinets staged a spirited comeback.
Akita's rally fell just short, however, in a 78-75 home loss.
Mikawa also won the opener, 93-84.
Davante Gardner ignited the SeaHorses (25-19) in the series finale, while Satoshi Nakano doled out six assists. Four Mikawa players scored in double digits in a well-balanced offensive performance.
Alex Davis had 16 points and 12 rebounds for the Northern Happinets (27-19), Jordan Glynn poured in 15 and Shigehiro Taguchi had 13.
Akita outscored the visitors 26-13 in the final stanza.
Levanga Overpower Lakestars
Levanga Hokkaido outscored the visiting Shiga Lakestars 60-32 in the second half en route to a 100-73 win, completing a weekend sweep.
De'mon Brooks finished with 25 points, nine rebounds and six assists for the Levanga (17-31). Shawn Long provided 19 points and 12 boards and Shuto Terazono had 16 points and eight assists.
Novar Gadson led the Lakestars (12-36) with 23 points.


Author: Ed Odeven
Follow Ed on JAPAN Forward's [Japan Sports Notebook] here on Sundays, in [Odds and Evens] here during the week, and Twitter @ed_odeven.