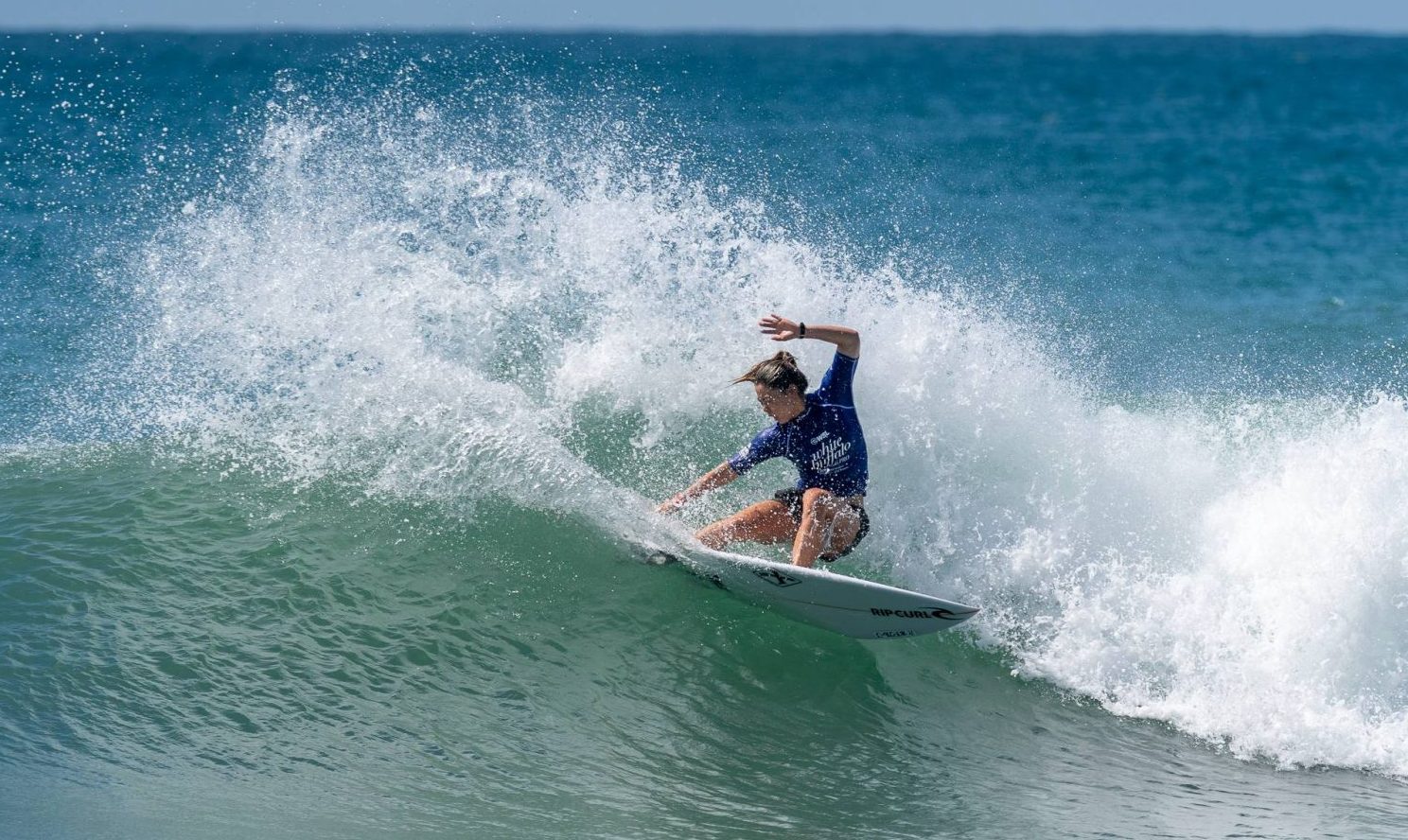 Amuro Tsuzuki experienced the thrill of winning an Olympic medal in her homeland in July 2021, claiming the bronze medal in women's surfing at the Tokyo Games.
Fourteen months later, Tsuzuki had another reason to celebrate at one of Japan's beaches. The 21-year-old won the World Surf League's Women's Qualifying Series event in Omaezaki, Shizuoka Prefecture on Saturday, September 3.
Based on scoring protocol, only Tsuzuki's top two attempts counted, and they added up to 10.25 points. She defeated Nanaho Tsuzuki (not related), who amassed 8.85 points.
The winner received 4.25 points for her second of nine wave rides. She secured 6.00 points on attempt No. 7.
The runner-up finished with 13 attempts, her surfboard spending a good chunk of time in the water on Saturday. On Nanaho Tsuzuki's eighth attempt, she was assigned 4.25 points for her effort. Her 13th attempt was her best of the day, a 4.60-point ride. 

"The waves were changing a lot in both my heats today," Amuro Tsuzuki said after clinching her first Qualifying Series victory this year. "I was happy I was able to adjust my performance to suit the waves and I was able to take the win.
"I would like to say thank you to Omaezaki. This event raised my motivation to compete in the rest of the Challenger Series for the rest of the year to qualify for the Championship Tour next year."
Highlights from Pro Junior Events
Nanaho Tsuzuki's work week included the Qualifying Series and the Pro Junior events. The 19-year-old, who impressed with her second-place finish in the Qualifying Series, captured the junior title with 12.60 points in the four-woman final. Kana Nakashio placed second with 11.50 points.
"I am super happy to win this contest," Nanaho Tsuzuki said. "When I was young, I came to this beach with my parents, so I am stoked to win here. I have very good memories at this beach. 
"Now I am one step closer to the World Junior Championships ― there is one more event in October ― I want to win that to get a spot to go to the WJC. Eventually, I want to become world junior champion."

Kato Wins Men's Pro Junior Final
In the men's Pro Junior Final, Shohei Kato edged Indonesia's Ryuki Waida by 0.05 points to claim the title.
The scoreboard displayed the following: Kato 11.05, Waida 11.00.
For the 18-year-old Kato, it was his first Pro Junior triumph.

"I am so happy since I have been injured and haven't been surfing for half of the year," Kato said, according to the WSL website. "Being out of the water was getting me down so it feels amazing to be back in the water and performing at a high level. I'm really excited about the next event and am keen to keep my momentum building."
Omaezaki Event Background
In Shizuoka Prefecture, more than 100 surfers participated in the WSL's competitions (Women's Qualifying Series and the two Pro Junior Finals), which started on September 1. It was a showcase for Japan's aspiring young surfers.
"It's super important that surfers in this region get the opportunity to compete for a spot on the Challenger Series and in the World Junior Championships and events like this in new locations provide that opportunity," Ty Sorati, the WSL's Asia Pacific Tour manager, said before the Omaezaki Long Beach events kicked off.

Author: Ed Odeven

Follow Ed on JAPAN Forward's [Japan Sports Notebook] here on Sundays, in [Odds and Evens] here during the week, and Twitter @ed_odeven.