Revisiting Nomomania: 25 Years Later, Pitching Great Luis Tiant Discusses Hideo Nomo's Similar Style, Fierce Determination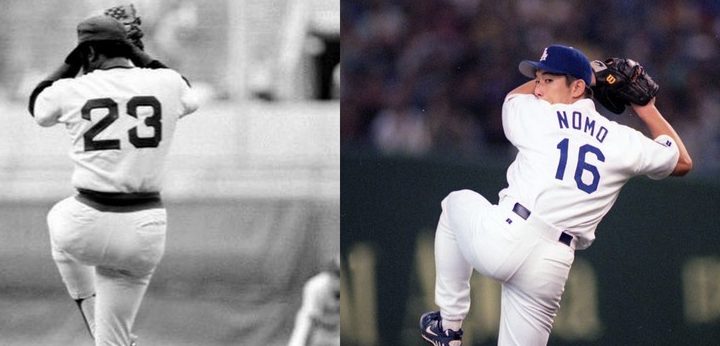 First in a series
In the run-up to his unlikely selection as the National League starting pitcher for the 1995 MLB All-Star Game, Los Angeles Dodgers rookie Hideo Nomo tyrannized opposing batters throughout June.
It was an unbelievable display of pitching.
In six June starts (all wins, including back-to-back shutouts to end the month), Nomo allowed 25 hits and 16 walks and struck out 60 batters in 50 1/3 innings. His ERA: a jaw-dropping 0.89.
Looking back at Nomo's breakthrough month of dazzling pitching and other times in his pro career, one discovers a rich collection of anecdotes and observations in published reports. For example, descriptions of The Tornado's pitching style: herky-jerky, a quirky windup and a unique whirling delivery, among others.
Whatever, it worked.
Like Nomo, Cuban right-hander Luis Tiant, contorted his body in a twisting manner that gave him a view of second base before the ball traveled toward home plate.
Speaking to JAPAN Forward by telephone from his Massachusetts home, Tiant compared his unique pitching style to the Osaka native's. He also commented on the mindset that they both shared while on the mound.
"He was a good pitcher and I like him because he's got a (deceptive) delivery, like me," the 79-year-old said. "Not the same, but when you're looking at him you're looking at me and it's different than everybody else.
"When I saw him, it reminded me of myself. ... Every time he pitched, I liked to see him."
The celebrated New Yorker baseball scribe Roger Angell, who penned his first article for the venerable magazine in 1944, described Tiant's on-the-mound work in his book "Five Seasons," which was published in 1977.
Writing about the "basic Tiant repertoire," Angell opened his dissertation about the Cuban hurler with a vivid description that he entitled "Call the Osteopath."
"In midpitch, the man suffers an agonizing seizure in the central cervical region, which he attempts to fight off with a sharp backward twist of the head," Angell observed.
It wasn't textbook dancing. But Tiant did it with flair. And the mound was his raised dance floor. (See a 15-second YouTube video introducing Luis Tiant's unorthodox pitching style here.)
Nevertheless, Hall of Fame slugger Reggie Jackson once described Tiant as "the Fred Astaire of baseball."
After becoming an established star, El Tiante reinvented himself in 1972 with the Boston Red Sox. A shoulder injury sustained two years earlier derailed his career. The Minnesota Twins cut him in 1971, and he then pitched in Triple-A for the Atlanta Braves and Boston farm teams. In 1972, Tiant's altered delivery included more of a twirl than before the injury. He went 15-6 with an American League-best 1.91 ERA.
A cigar aficionado, Tiant explained his adjustments in a 2007 interview with stogieguys.com: "My loss of velocity made me change my style of pitching, and from that came the development of my unorthodox style in order to keep hitters off balance. The rest is history."
The decision extended his career and led to 200-plus victories. (Tiant's father, Luis Sr., was a great southpaw pitcher who played for New York Cubans of the Negro Leagues, as well as for teams in Cuba, the Dominican Republic and Mexico from 1926-48.)
Recollections from 1995
Working as a Dodgers minor league pitching coach in 1995, Tiant was in Vero Beach, Florida, where Los Angeles held spring training. Because players were divided between the major league camp and the minor league camp, there were limited opportunities for El Tiante to see Nomo pitch that spring. Nomo was with the big leaguers at Dodgertown.
"But every time I had time, I would go -- even for three or four innings I would go," said Tiant, who went 21-9 with nine shutouts and won the AL ERA title (1.60) for the Cleveland Indians in 1968, aka the Year of the Pitcher.
"And then when he got to the big leagues, every time he pitched on TV, I needed to watch."
Tiant remembers the former Kintetsu Buffaloes star as a "good kid, quiet," even as Nomomania created a buzz around baseball a quarter century ago.
"He did his thing ... he minded his own business, and did the best he (could). He did great," Tiant noted.
Looking at what Nomo accomplished in 1995, when he compiled a 13-6 record, led the National League in strikeouts (236) and was named the NL Rookie of the Year, Tiant was asked what made Nomo an effective pitcher.
"He throws and he changes speeds," Tiant told JAPAN Forward. "He's got a pretty good fastball, and that's why he was successful."
Tiant didn't feel it was appropriate to overstep the leadership ranks and give pitching tips to Nomo at spring training in '95. Instead, he felt this was Dodgers pitching coach Dave Wallace's responsibility.
"You don't want to step on anybody's foot," Tiant pointed out, but said he would've been happy to give advice if he was asked.
Moments later, in a wide-ranging interview, he added: "I won 229 games and I pitched 19 years in the big leagues. I have to know something about baseball, something about pitching. I can teach anybody and I can help you if you want to learn, you want to change..."
Continuing his analysis, Tiant said The Tornado's athleticism, intense concentration and fierce competitive desire produced a lethal cocktail on the mound.
"From the time he came over here, he did that. He wasn't afraid of nobody," said Tiant, who threw four consecutive shutouts in 1966 for the Cleveland Indians. "He threw strikes. He pitched against anybody. He showed you he can get you out. That's the biggest thing the pitcher can have. You don't have to be cute. You don't have to be pretty. You just have to be good at what you're doing. ...
"From the way he threw, he hid the ball differently from everybody, like I used to do, and turn around and hide the ball, and then on top of that you have the control. ... That's what makes the difference. That's what makes it tough for the hitter."
A deceptive delivery can disrupt any batter's timing, even the most fearsome slugger's, according to Tiant, who compiled a 134-82 record from 1972-79.
"When you have a delivery like Nomo, or a delivery like I used to have," said the three-time 20-game-winner, "you hide the ball and that's the key. I tell a lot of young guys you have to hide the ball."
Why?
"Because they are picking up the (path) of the ball too late, because you don't show it in the beginning," Tiant said.
Tiant's Words of Wisdom
The unorthodox pitching style that Tiant and Nomo showcased in past decades, isn't the expected path to success. For pitching standouts, it's all about expectations of unleashing heat topping 100 mph (161 kph) pitch after pitch.
"Everybody in the big leagues can hit fastballs," Tiant said. "If you don't move the ball around and you don't change speeds, and if you don't pitch them in, you don't pitch them out, you don't pitch up, you don't pitch down and you don't get ahead of the hitter, you are going to get hurt. ...
"If you are looking at baseball now, who is the guy winning?" asked Tiant. "The guy who knows how to pitch." He cited Hall of Famers Greg Maddux and Tom Glavine as prime examples from their heyday in the 1990s.
The three-time All-Star admitted he often smiles when he thinks about memories from his MLB career from 1964-82 with the Indians, Minnesota Twins, Red Sox, New York Yankees, Pittsburgh Pirates and California Angeles.
And though the COVID-19 pandemic has disrupted daily life, Tiant is thankful for his blessings.
"I had a good time and a lot of good memories," he said, "and baseball did a lot for me. ... My family is fine and everybody is OK. What more can you ask for?" For more on Tiant, check out the documentary The Lost Son of Havana.
As for coping with the dangers of the coronavirus, Tiant urges people to follow the advice of medical experts.
"It's a dangerous thing," Tiant said. "Humans do what they want to do. You get it and you can die, especially at my age. You have to be careful."
Nomo's Development as a Pitcher
In an interview with NHK in 1997, Nomo talked about how his upbringing in Osaka played an integral role in his development as a pitcher.
"I grew up in a neighborhood with many factories," Nomo said. "After school, I would throw a baseball at the big wall at the factory. I tried to find a way to throw hard every day."
In addition to throwing hard, Nomo developed a crafty pitching style that served him well throughout his career in NPB and MLB en route to 201 total victories before retiring in 2008. RELATED STORY: [Odds and Evens] Trailblazer Hideo Nomo 25 Years Later
It mirrored a key element of Tiant's approach.
Hall of Famer Jim Palmer, who pitched for the Baltimore Orioles from 1965 to 1984, spoke to the Denver Post in 2006 about Tiant.
"Tiant may have been turning all over the place," Palmer said, "but at the end of his windup, he was balanced with his front foot toward the hitter."
In the same article, Denver Post reporter Adrian Dater described Nomo's on-the-mound antics: "(Nomo) practically did a Pilates routine, stretching high, leaning back, twisting and turning before throwing."
Prolific baseball author Rob Neyer drew parallels between Tiant and Nomo in an ESPN.com article in 2003.
"Nomo was (and is) probably the closest thing to Tiant that we'd seen since Tiant," Neyer wrote. "Because nobody in Japan had ever told him he couldn't do it that way, Nomo pitched like nobody else in the post-Tiant major leagues. ... Nomo extends his hands high above his head, then turns his back to the hitter -- just like Tiant -- before pivoting back around to deliver the pitch."
Indeed, that's exactly what Luis Tiant did, exactly what The Tornado did.
Like two swashbuckling riverboat gamblers.

FOLLOW THE SERIES HERE:
Part 1: BASEBALL | Revisiting Nomomania: 25 Years Later, Pitching Great Luis Tiant Discusses Hideo Nomo's Similar Style, Fierce Determination
Part 2: BASEBALL | Remembering Nomomania: Agent Don Nomura Looks Back at Trailblazing Client's Historic Career
Part 3: BASEBALL | Nomomania: An Inside Look at How the Dodgers Handled the Media Demands
Part 4: BASEBALL | Nomomania: Former Dodgers Executive Fred Claire Reminisces About 1995 Joyride
Part 5: BASEBALL | Nomomania: Iconic Announcer Vin Scully Delivered Vivid Descriptions of The Tornado's Historic Season
Part 6: BASEBALL | Nomomania: Former Dodgers Owner Peter O'Malley Reflects on Friendship with Trailblazing Pitcher
Part 7: BASEBALL | Nomomania: Former Teammate Tom Candiotti Recalls Pitcher's Sense of Humor, Humility
Part 8: BASEBALL | Nomomania: National Hero Expresses Pride in Japanese Players' Success in MLB

Author: Ed Odeven
Follow Ed on JAPAN Forward's [Japan Sports Notebook] here on Sundays, in [Odds and Evens] here during the week, and Twitter @itsjapanforward.