Brex Dominate Fourth Quarter, Cruise Past Golden Kings in B.League Finals Opener
Utsunomiya outscored Ryukyu 26-5 in the final period, turning a close game into a rout.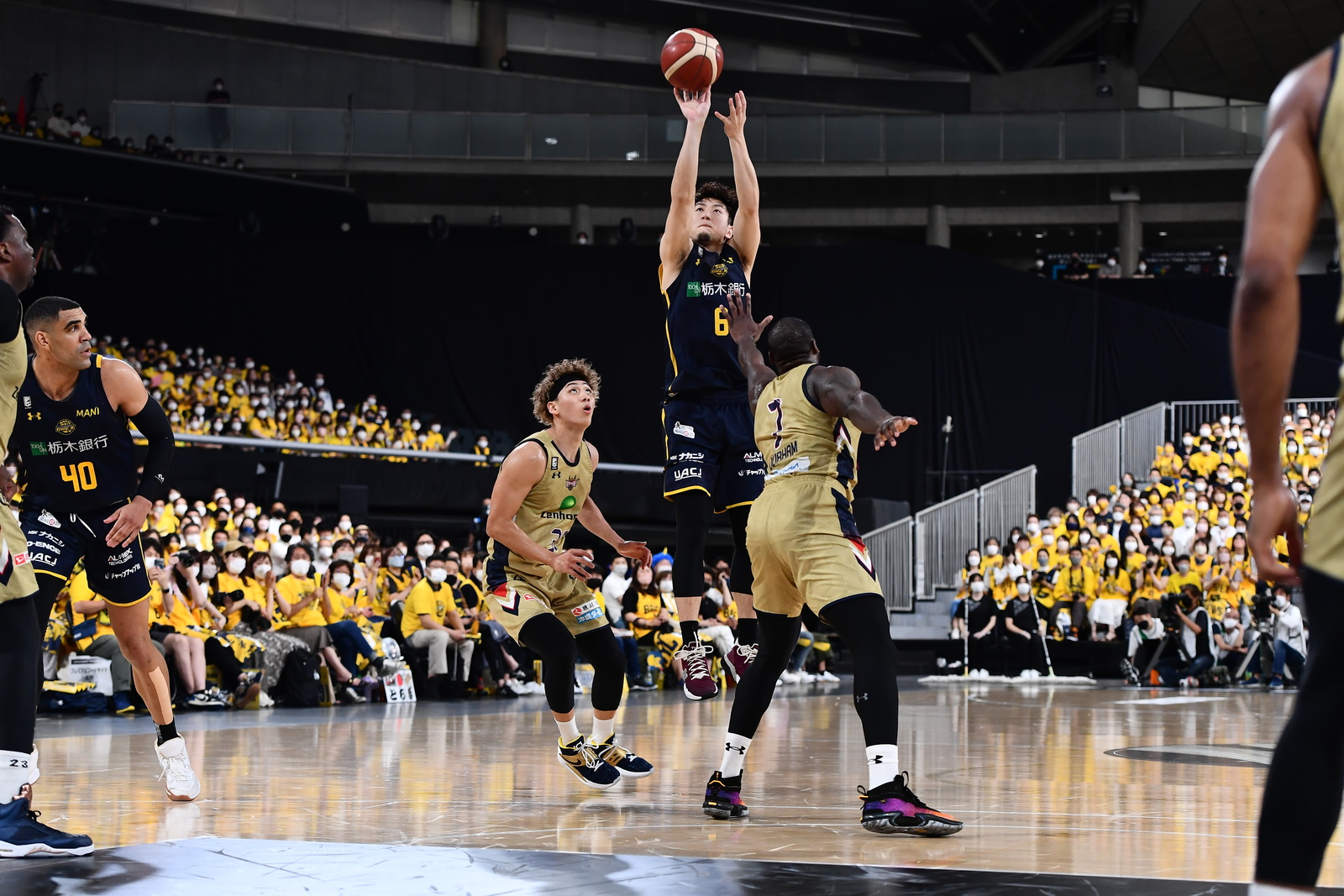 For the first three quarters of Game 1 of the B.League Finals, the Ryukyu Golden Kings-Utsunomiya Brex clash resembled their tough two-game series on December 11-12, 2021. Those two games (a pair of Ryukyu wins) were decided by a grand total of four points.
But the fourth quarter was a completely different story on Saturday, May 28.
The Brex outplayed the Golden Kings in the final 10 minutes and held the league's top team in the regular season to 2-for-20 shooting. Utsunomiya defeated Ryukyu 80-61 at Tokyo Metropolitan Gymnasium.
Including the closing moments of the third quarter, the Brex outscored the Golden Kings 30-5 to close out the game. The scoring totals in the fourth quarter: Utsunomiya 26, Ryukyu 5.
Brex guard Makoto Hiejima single-handedly outscored the Golden Kings in the final stanza. He had 11 of his 17 points in the fourth, including 5-for-5 at the free-throw line.
Hiejima added four assists and three steals in a high-energy performance to spark his team, which made 8 of 14 shots from the field in the fourth.

Hiejima said the team exhibited patience throughout the game, which led the Brex to playing their style of basketball.
The Brex can clinch their second B.League title with a win on Sunday. Game 2 is set to tip off at 4:05 PM.

If the Golden Kings win, Game 3 will be held on Tuesday, May 31 at 7:05 PM.
Utsunomiya forward Chase Fieler, a Florida Gulf Coast University alum, had a game-high 19 points and pulled down 11 rebounds. He added three blocks in 27-plus highly effective minutes at both ends of the court.

"Obviously I'm really just glad to get this first win," Fieler said. "But tomorrow is going to be a difficult game, and they are going to come out with more energy and a lot more fight, so we've got to be ready."
Josh Scott added 18 points and two blocks for the Brex. Isaac Fotu had an eight-point outing. Yusuke Endo, Kai Toews and Seiji Ikaruga scored six points apiece before an announced crowd of 6,654.
Center Jack Cooley led Ryukyu with 17 points and 16 rebounds. Dwayne Evans and Keita Imamura both scored 10 points, while Shota Onodera, Koh Flippin and Allen Durham had seven apiece. Ryuichi Kishimoto, who averaged 9.6 points per game in the regular season, was held to three points on 1-for-8 shooting.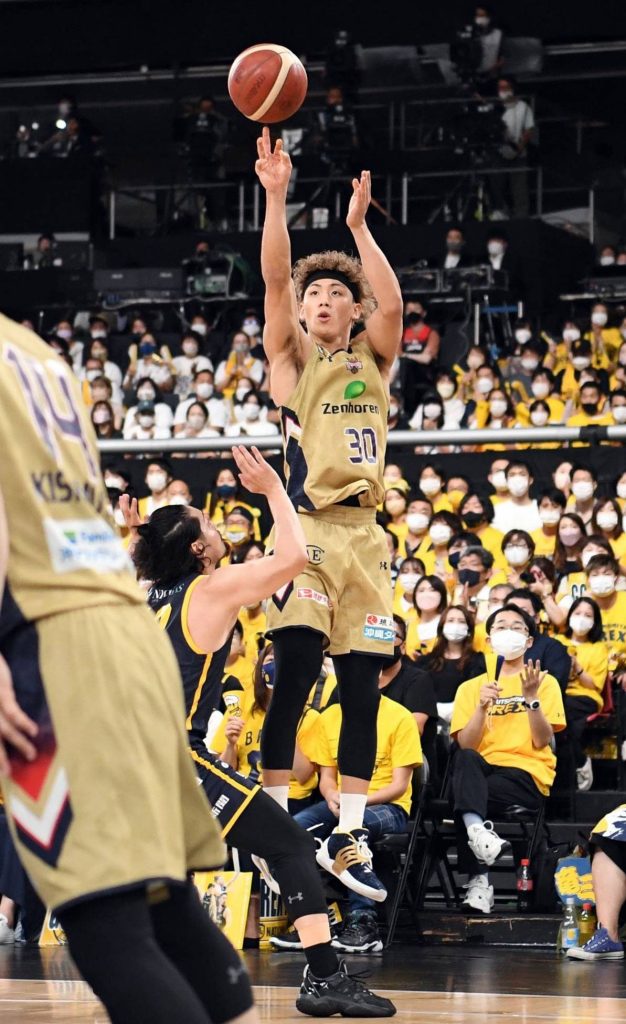 As a team, the Golden Kings struggled from beyond the 3-point arc, making 4 of 24 attempts.
"I think it's a tough start, but I think we've got a chance to win the championship by bringing it to Game 3 after dropping the first match," Imamura said.
Durham offered a succinct plan for Game 2 on Twitter: "Elimination game tomorrow, no choice but to fight!"

Key Runs in the First Half
Two big scoring runs punctuated the intense, back-and-forth play in the first half.

Fieler's one-man 8-0 scoring spurt, including a pair of 3-pointers, put the Brex ahead 18-13 late in the first quarter.
Then the Golden Kings answered with an 11-0 run to take a 24-18 lead.
And the Okinawa-based club, which went 49-7 in the regular season, increased its lead to 27-20 after Cooley converted a layup and sank a free throw with 8:18 remaining before halftime.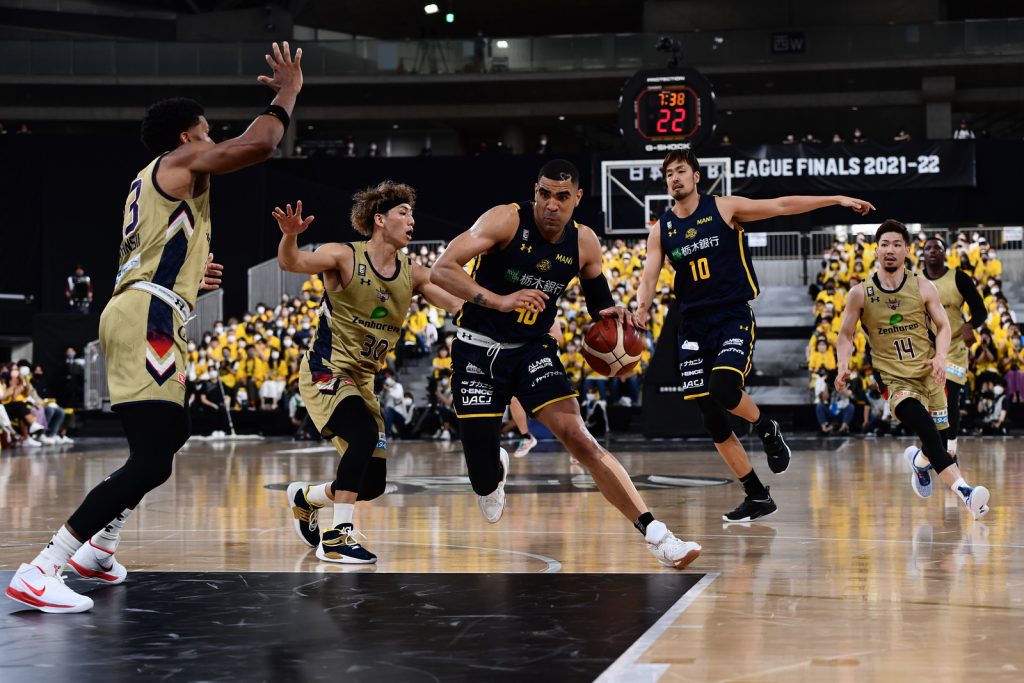 Endo canned back-to-back 3s to put the Brex back in front, 32-29 with 3:49 remaining before the intermission. He raised both arms in a celebratory gesture, exciting the scores of Brex fans in the crowd.

Golden Kings coach Dai Oketani called a timeout.
Utsunomiya stretched its lead to 34-29 on Fotu's baseline hook shot. Moments later, Scott unleashed a powerful dunk to make it 38-33.
Flippin cut the margin to 38-35 on a driving layup for the final points of the opening half.
Two players reached double digits in points before halftime: Cooley (13) and Fieler (10).

Hiejima had a relatively quiet first half with four points and two assists before putting his stamp on the game in the decisive fourth quarter.

Ryukyu played Game 1 without steady point guard Narito Namizato, who was listed in poor physical condition by the team. The veteran floor leader averaged 6.0 points and 3.7 assists in 54 regular-season games. He scored in double digits in three of the team's previous four playoff games, helping the Golden Kings advance to the Finals.
Noting Namizato's absence, Oketani said: "There were many situations like this during the season, and when we were in a pinch, everyone stepped up and [earned] wins as a team."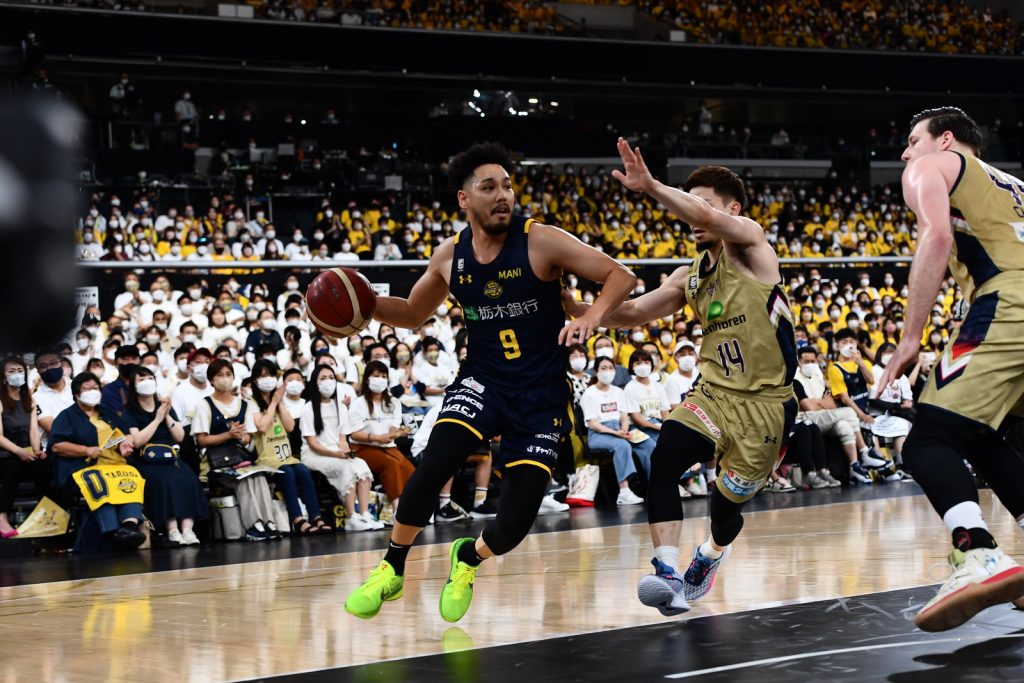 Ryukyu led 56-54 entering the fourth quarter.
A Hiejima layup and free throw put his team in front 57-56. A Fieler putback jam energized his team, making it 60-56.
For the Golden Kings, costly turnovers and a plethora of missed shots the rest of the way turned a close contest into a runaway victory for the Brex.
Iconic 41-year-old Brex guard Yuta Tabuse, the first Japanese to play in the NBA, entered the game for the first time with 54.5 seconds remaining, replacing Toews, who is 23.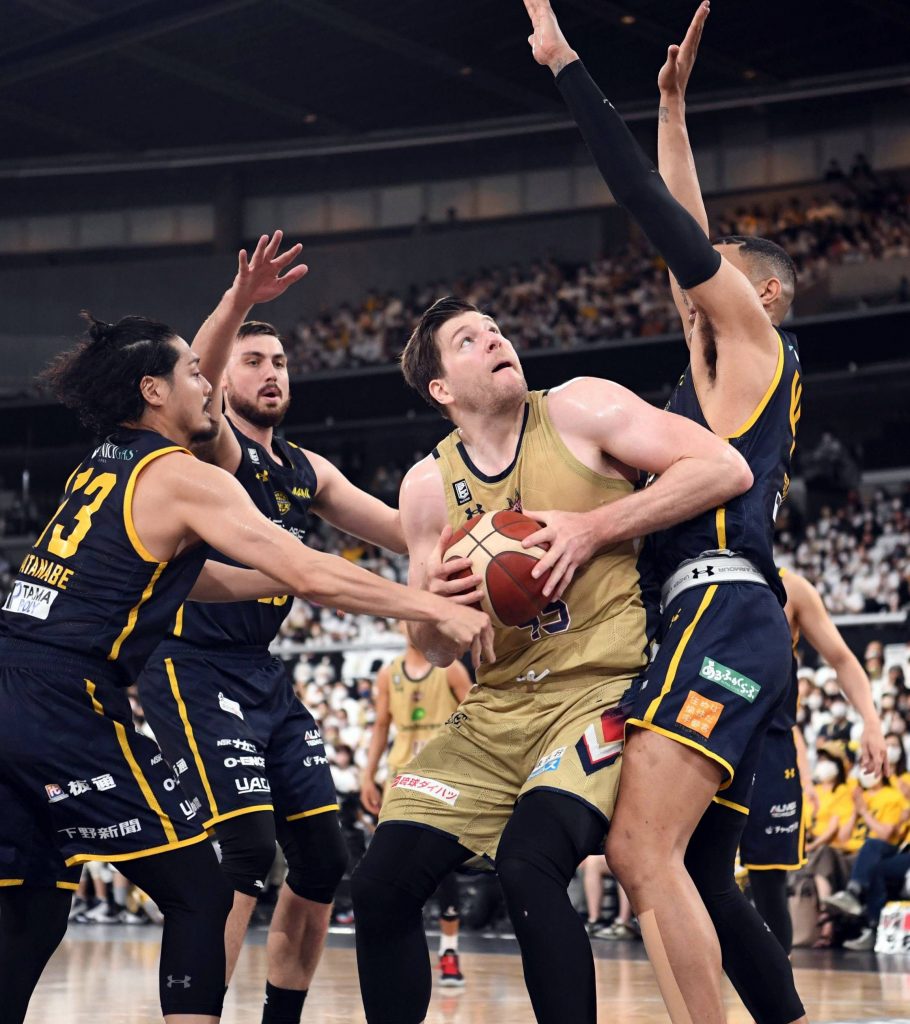 Golden Kings Reflect on Defeat
Oketani noted that second-chance points ― his team had a 20-6 overall advantage ― helped keep his club competitive for three quarters. But he lamented forced shots and poor ball movement in the fourth quarter. During timeouts, the team talked about those issues, he said.
At the same time, the Brex's scoring momentum carried them.
"Forty minutes of defense" will be a key in Game 2, Oketani said, adding that needs to be the team's mindset.
Cooley said the Golden Kings need a better overall performance on Sunday to extend the series.
"We didn't even play well for three quarters," Cooley said. "We just played hard and matched their intensity and, arguably, statistically this was our worst game, I think, of the year, and despite that, we still fought for three quarters. And in the fourth quarter it was just a little too much for us to keep up with a team like that. Personally, I think we all need to step it up for  tomorrow and come up with more intensity."

He added, "If there's any team I've ever played with that I know can win two games in a row in this situation, it's this team, so I'm very confident looking forward to the next two games."
Author: Ed Odeven
Follow Ed on JAPAN Forward's [Japan Sports Notebook] here on Sundays, in [Odds and Evens] here during the week, and Twitter @ed_odeven.