Utsunomiya Brex Sweep Ryukyu Golden Kings in B.League Finals
Makoto Hiejima earns playoff MVP honors after scoring a game-best 24 points in the Brex's title-clinching win.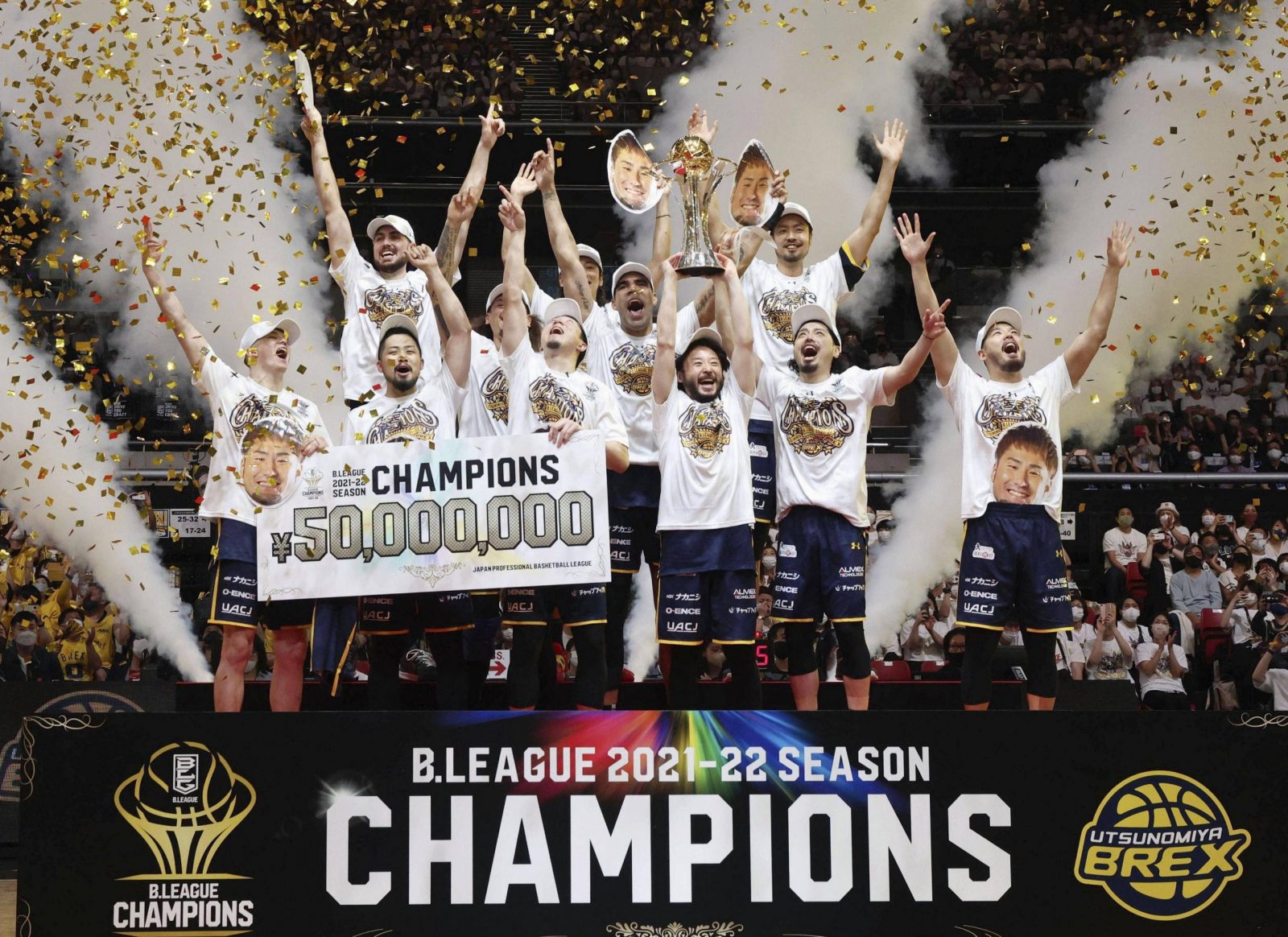 The Utsunomiya Brex exhibited poise, determination, and a knack for making big plays at big moments in Game 2 of the B.League Finals to capture their second title.

Coach Ryuzo Anzai's club withstood a spirited challenge from the Ryukyu Golden Kings, who were seeking to avoid back-to-back losses for the first time this season.
But the Brex's across-the-board quality of play proved too much for the Golden Kings to overcome. Utsunomiya ended Ryukyu's season with an 82-75 decision at Tokyo Metropolitan Gymnasium on Sunday, May 29.
Balanced scoring helped carry Utsunomiya to its second B.League title. The club, previously known as the Tochigi Brex, won the league's inaugural title in 2017 under then-coach Tom Wisman.

For the Brex, who won all six of their playoff contests this month, Makoto Hiejima had a game-high 24 points, Seiji Ikaruga poured in 15 points and dished out a team-high five assists, Josh Scott had 13 points and 10 rebounds and Isaac Fotu scored 12 points. Chase Fieler, a key offseason acquisition, chipped in with seven points, eight rebounds and three blocked shots.
For the Golden Kings, who had a league-best 49-7 record in the regular season, poor free-throw shooting (10-for-19) and several costly turnovers (they had 11 to the Brex's five) hurt their chances.
But they had a shot at winning and forcing a decisive Game 3 on Tuesday, May 31.
With 22 seconds to play, Keita Imamura sank two free throws to pull Ryukyu within 77-75.
After a Brex timeout, Utsunomiya guard Hiejima was quickly fouled. He stepped to the line with a chance to give his team a little breathing room, and made both shots with 21 seconds to play.
Dwayne Evans missed a 3-pointer on Ryukyu's next possession.

Hiejima made 1 of 2 free throws and a layup to account for the final score.
Brex players congratulated one another, exchanging high-fives and hugs.
Naturally, Anzai was equally excited and emotional after the hard-fought victory.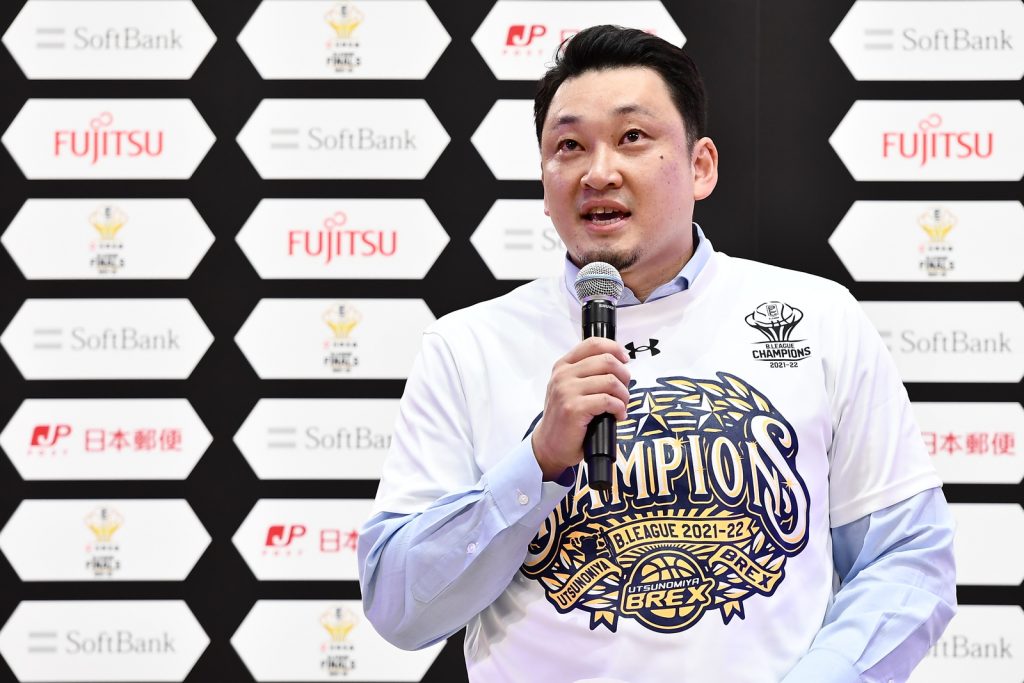 Anzai called the title-clinching win "the best," perfectly capturing the mood of the team's rabid supporters.
"This season, Ryukyu was very strong from the start of the regular season and I thought they were the strongest team," said Anzai, whose team had a 40-16 regular-season record. Since Ryukyu was such a team, I think we were able to demonstrate more than our own strength, and thanks to the support of everyone at Brex Nation, we were able to win."

Hiejima Shined in Playoffs
Hiejima was named the B. League Championship MVP, a designation that refers to all three playoff rounds, not just the Finals.
The 31-year-old Hiejima, who was born in Fukuoka Prefecture, increased his output in points, rebounds and assists in the postseason. He averaged 18.7 points, 2.7 rebounds and 5.2 assists in six playoff games. During the regular season, Hiejima averaged 11.5 points, 2.2 rebounds and 3.7 assists in 51 games.
"I think the whole team came together, and I got this MVP [award], but it's for the players who screen for me, the players who work where the stats [aren't recorded], etc.
"Everyone really did their best. I think we're the best team."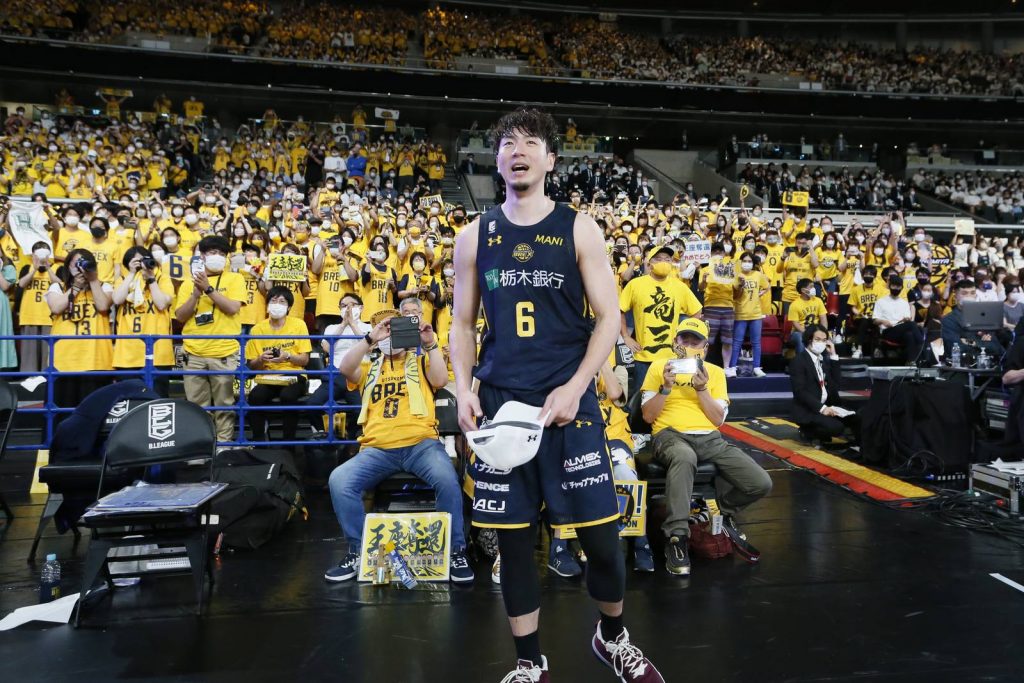 Hiejima played an instrumental role in Utsunomiya's Game 1 victory on Saturday, finishing with 11 of his 17 points in the fourth quarter of the Brex's 80-61 win.
In Game 2, he was equally important for the Brex in the final period, when he had 14 points.
Strong Start for Brex
In Sunday's rematch, the Brex jumped out to a 9-0 lead after a nifty catch-and-shoot 3 pointer by Ikaruga.

But the Golden Kings pulled within 15-10 on an Allen Durham post-up layup, triggered by deft footwork on a baseline spin move.
Ryukyu trailed 21-12 after one quarter.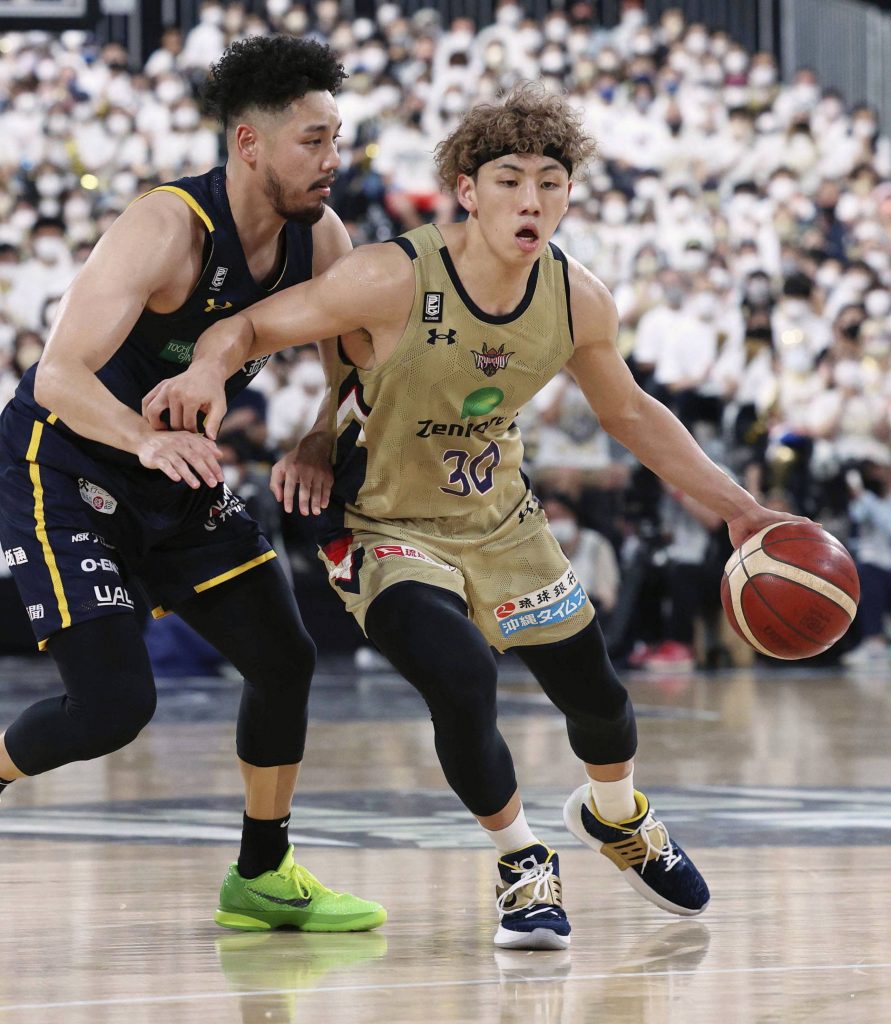 Golden Kings bench boss Dai Oketani's squad fell behind 30-17 after Scott's straight-away jumper with 6:05 to play in the opening half.
And the Golden Kings trailed by 13 again late in the quarter after Hiejima converted a layup.
Imamura buried a 3 to cut the lead to 38-30 in the final minute of the half.
Entering the third quarter, the score remained the same.
Golden Kings Stage a Comeback
There was a notable sense of urgency in the way the Golden Kings played in the 10-minute third period, fighting to extend their season.

They outplayed the Brex in the third, tying it at 52-52 on a Durham layup, courtesy of a slick upcourt pass from guard Koh Flippin.
With 1:29 left in the third, Evans gave the Golden Kings their first lead, 54-52, on another basket initiated by a pinpoint pass from Flippin, who played for the 2020-21 B.League champion Chiba Jets before moving to Okinawa last offseason.
A little over a minute later, Fieler seized momentum for the Brex, draining a 3-pointer after Ikaruga came up with an offensive rebound in traffic. Fieler's long-range shot gave his club a 55-54 lead entering the fourth quarter.
The Brex continued their strong play with a 9-2 run to open the fourth, which was capped by a Hironori Watanabe 3-pointer.
And the Golden Kings never led again.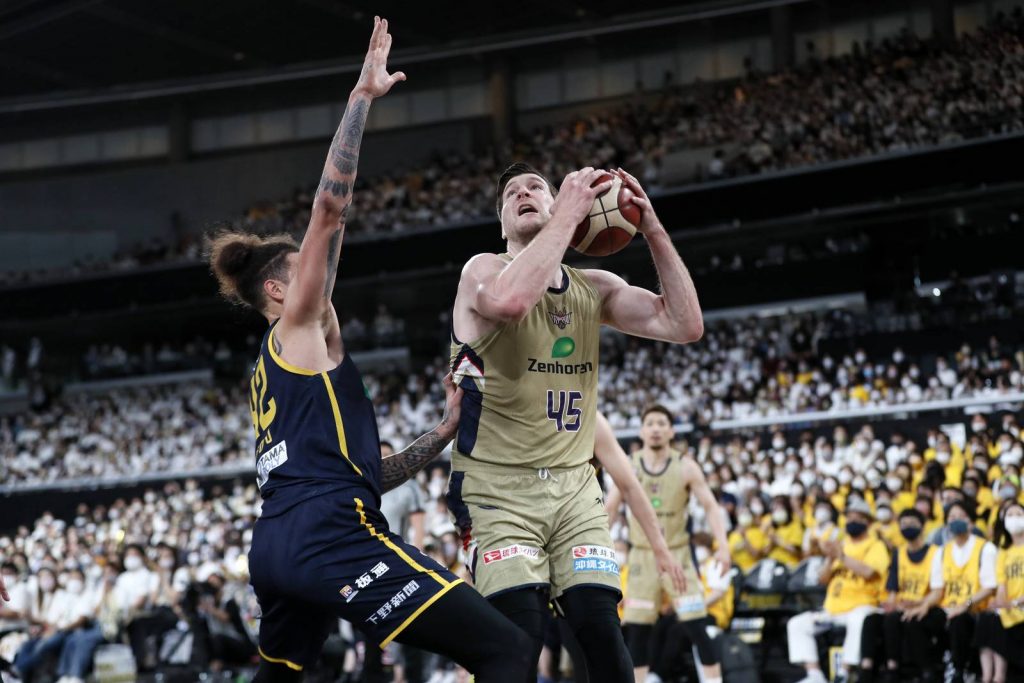 Imamura paced Ryukyu with 18 points. Evans scored 16, pulled down nine rebounds and swatted two shots. Jack Cooley had 14 points and 15 rebounds before fouling out, and Durham also scored 14. Flippin had six assists, while Ryuichi Kishimoto finished with 10 points.

Kishimoto, Oketani Look Back on Season
Reflecting on the end of their season, Kishimoto, who joined the club in 2013, said the team has plenty to be proud of.
"I think that confronting adversity is the history that the Kings have taken so far in various things throughout the season," Kishimoto told reporters. "And even if it cannot be said that one of them has been embodied, our potential, I think, we were able to show broadly."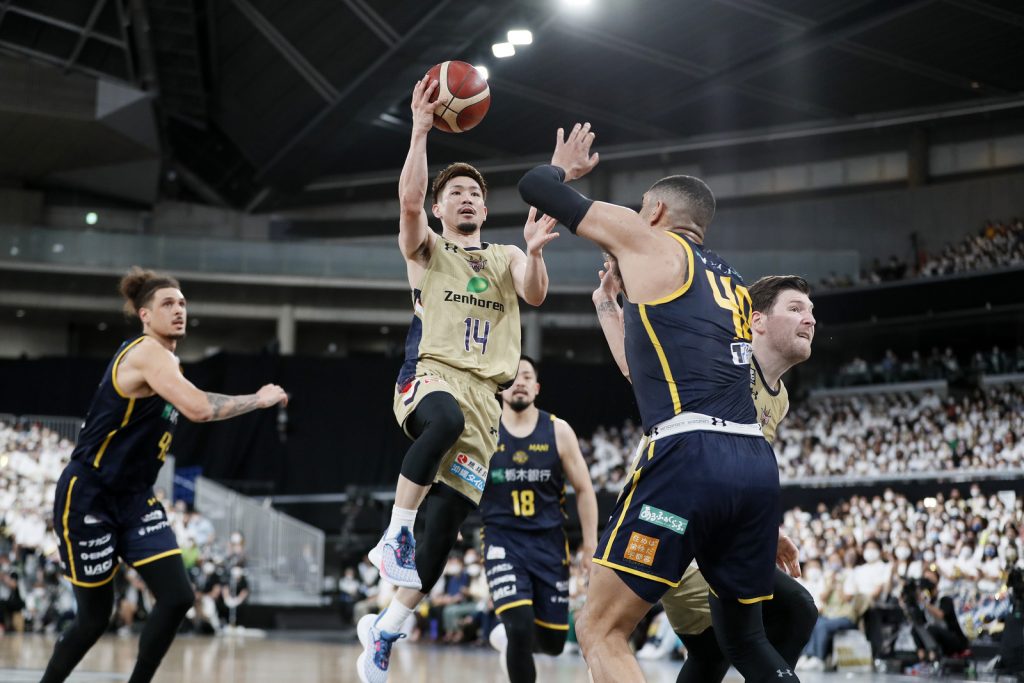 Oketani said, "First of all, I would like to congratulate everyone at Utsunomiya Brex. The match was disappointing [for us], but I would like to thank the players, staff and fans for bringing the Kings to the Finals. I think this experience was an irreplaceable [one] for the Kings, so I would like to come back to this place again."


Author: Ed Odeven
Follow Ed on JAPAN Forward's [Japan Sports Notebook] here on Sundays, in [Odds and Evens] here during the week, and Twitter @ed_odeven.