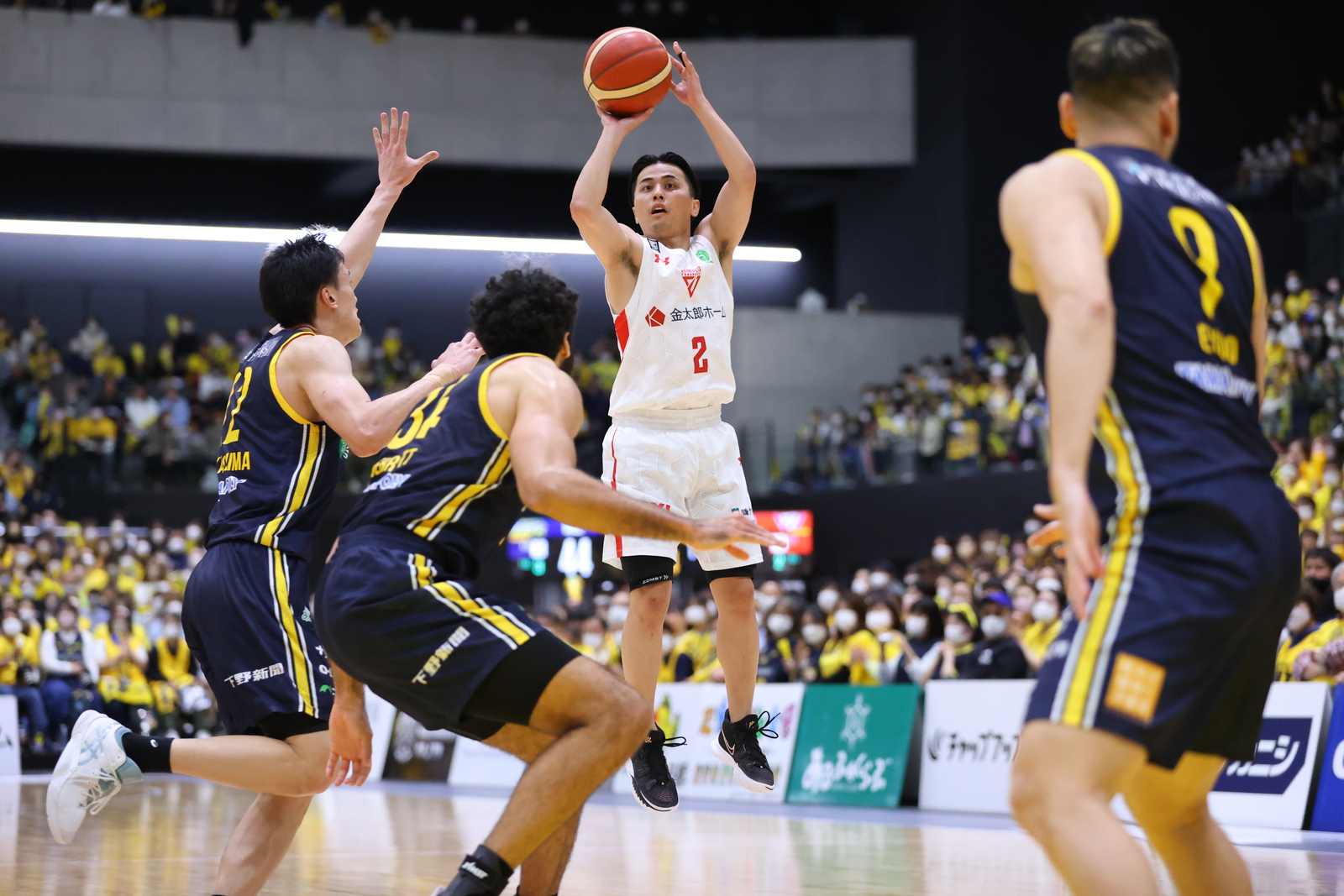 The B.League playoff picture is set.

Sunday, May 7 was the final day of the 2022-23 regular season for the 24 teams in the B.League first division, aka B1.

A giant gap existed between the top team (Chiba Jets) and the Niigata Albirex BB ― a stunning 40-win difference.

After being unable to qualify for the playoffs, 16 B1 clubs' front offices now shift their focus to reviewing this past season and concocting plans for the 2023-24 campaign.

At the same time, eight teams are getting ready for the playoffs, aka the B.League Championship.

Who's headed to the postseason tournament?

The Chiba Jets and Alvark Tokyo from the East, the Central's Kawasaki Brave Thunders and Yokohama B-Corsairs and the West's Ryukyu Golden Kings, Shimane Susanoo Magic, Nagoya Diamond Dolphins and Hiroshima Dragonflies.
Chiba, guided by first-year bench boss John Patrick, captured the Emperor's Cup (All Japan Basketball Championship) in mid-March. And after collecting the Eastern Conference regular-season title, the Jets have unveiled their quest for the playoffs with a slogan, "Road to the Triple Crown."
Before the weekend's playoffs matchups are listed, here's a look at the final standings from the 60-game season. (Note: one game was called off due to player injuries and COVID-19 positive tests.)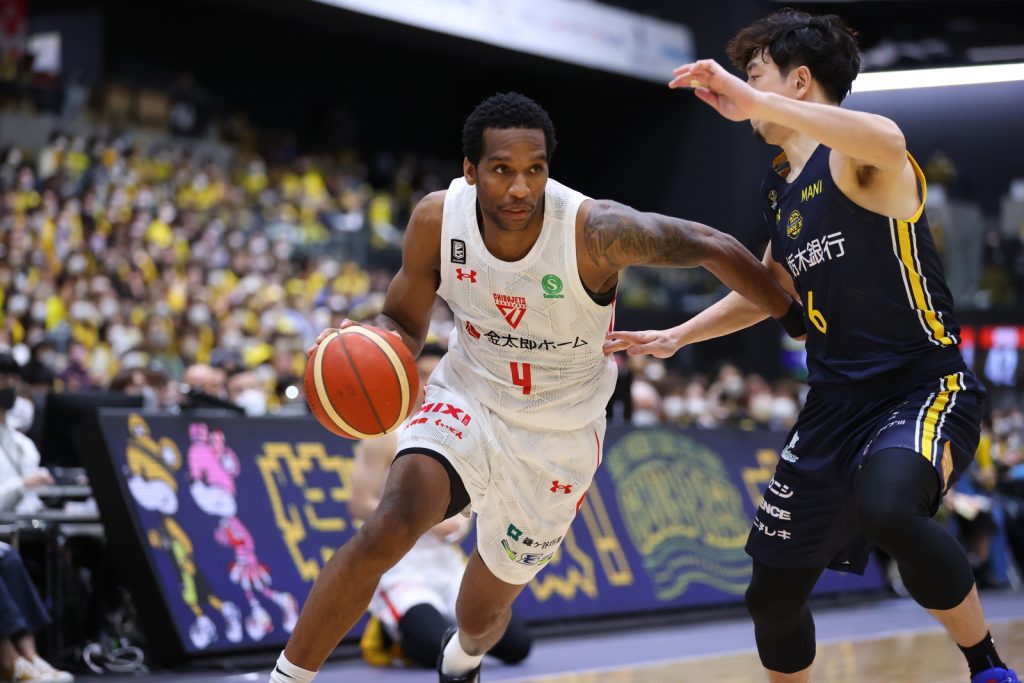 B.League Final Standings
EAST
Chiba Jets (53-7, including a 24-game win streak, and a B1 season record for wins)
Alvark Tokyo (42-18, four straight losses entering the playoffs)
Utsunomiya Brex (32-28, reigning champs didn't qualify for postseason)
Akita Northern Happinets (29-31)
Gunma Crane Thunders (29-31)
Ibaraki Robots (23-37)
Levanga Hokkaido (19-41)
Sendai 89ers (19-41)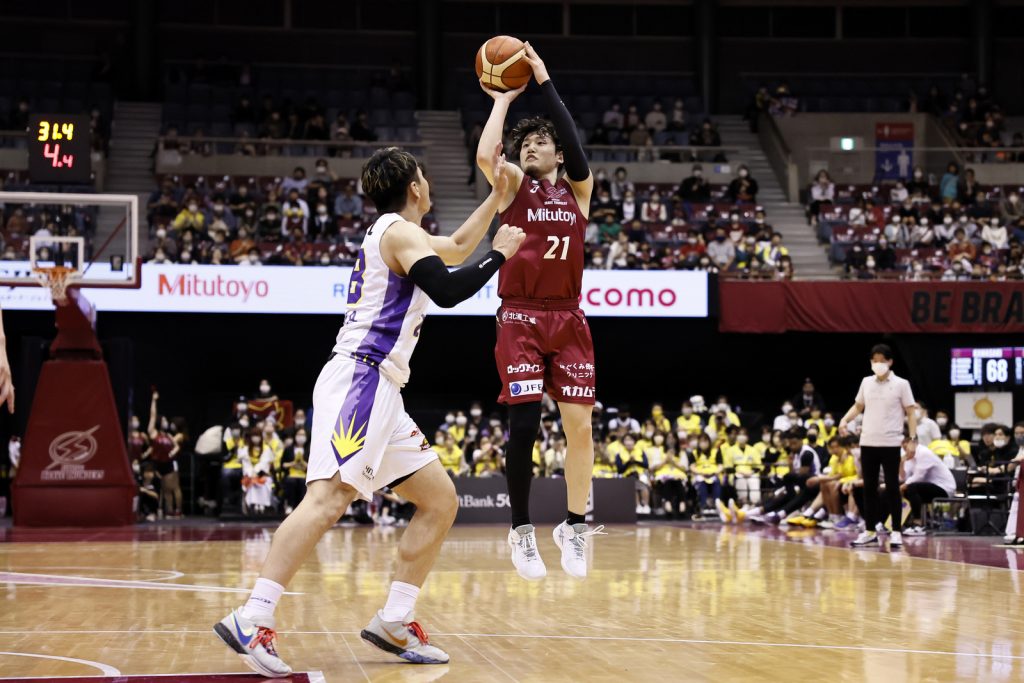 CENTRAL
Kawasaki Brave Thunders (40-20)
Yokohama B-Corsairs (33-27, five straight defeats entering the postseason)
Shinshu Brave Warriors (29-30)
Sunrockers Shibuya (28-32)
SeaHorses Mikawa (27-33)
San-en NeoPhoenix (23-37)
Toyama Grouses (15-45)
Niigata Albirex BB (13-47, relegated to second division)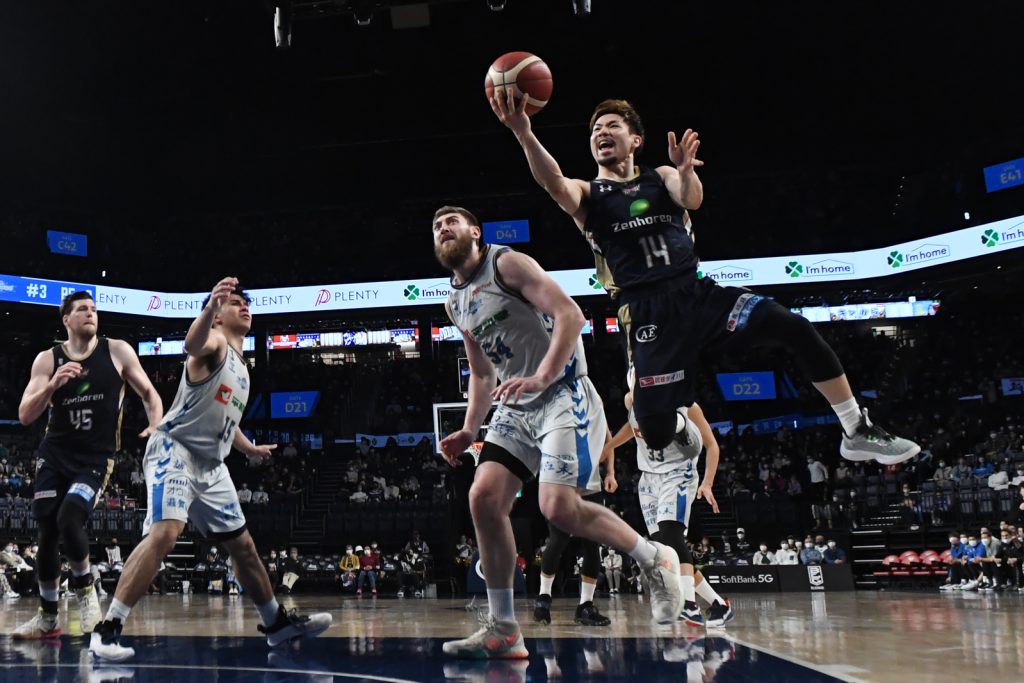 WEST
Ryukyu Golden Kings (48-12, sixth straight West title)
Shimane Susanoo Magic (48-12)
Nagoya Diamond Dolphins (43-17, four-game win streak entering playoffs)
Hiroshima Dragonflies (41-18)
Osaka Evessa (27-33)
Fighting Eagles Nagoya (22-38)
Kyoto Hannaryz (22-38)
Shiga Lakestars (14-46, relegated to second division)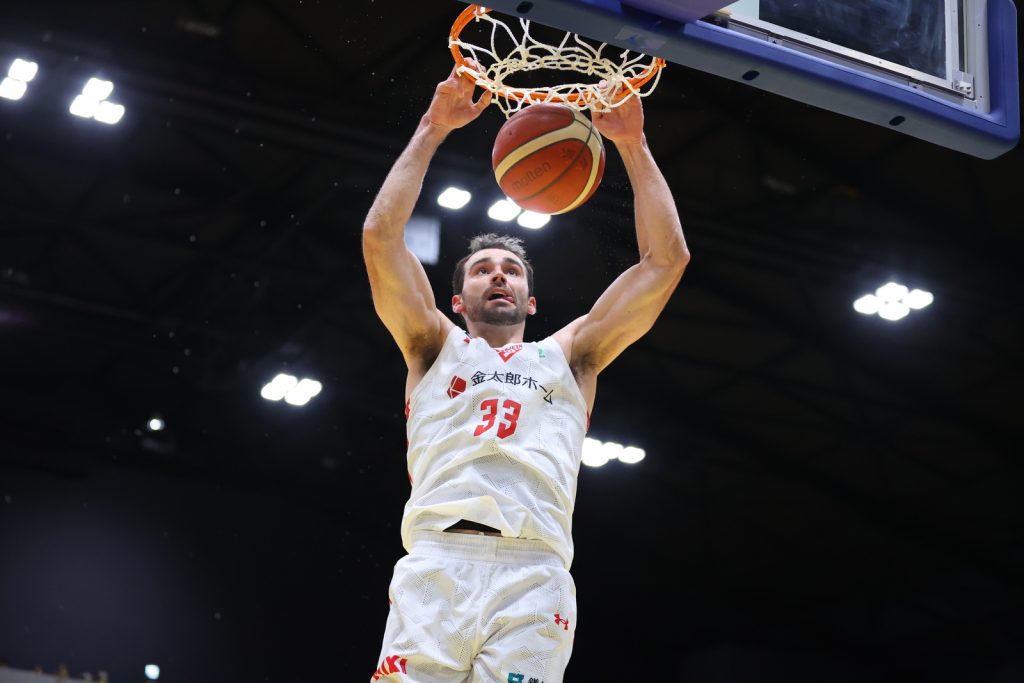 B.League Playoff Quarterfinals
A pair of best-of-three quarterfinal series tip off on Friday night, May 12: Shimane versus Tokyo (7:05 PM) and Ryukyu vs Nagoya (7:35).
May 13 matchups: Chiba vs Hiroshima (3:05), Shimane vs Tokyo (4:05). And Kawasaki vs Yokohama (6:05) and Ryukyu vs Nagoya (6:05).
May 14: Chiba vs Hiroshima (3:05). And Kawasaki vs Yokohama (4:05).

May 15: Chiba vs Hiroshima (7:05), Kawasaki vs Yokohama (7:05), Shimane vs Tokyo (7:05) and Ryukyu vs Nagoya (7:35).
In the 2022-23 regular-season, here's how the teams meeting in the quarterfinals fared against each other: The Jets went 1-1 against the Dragonflies, while the Susanoo Magic went 2-0 against the Alvark.

Moreover, the Golden Kings were 3-1 against the Diamond Dolphins, and the Brave Thunders were 3-1 against the B-Corsairs.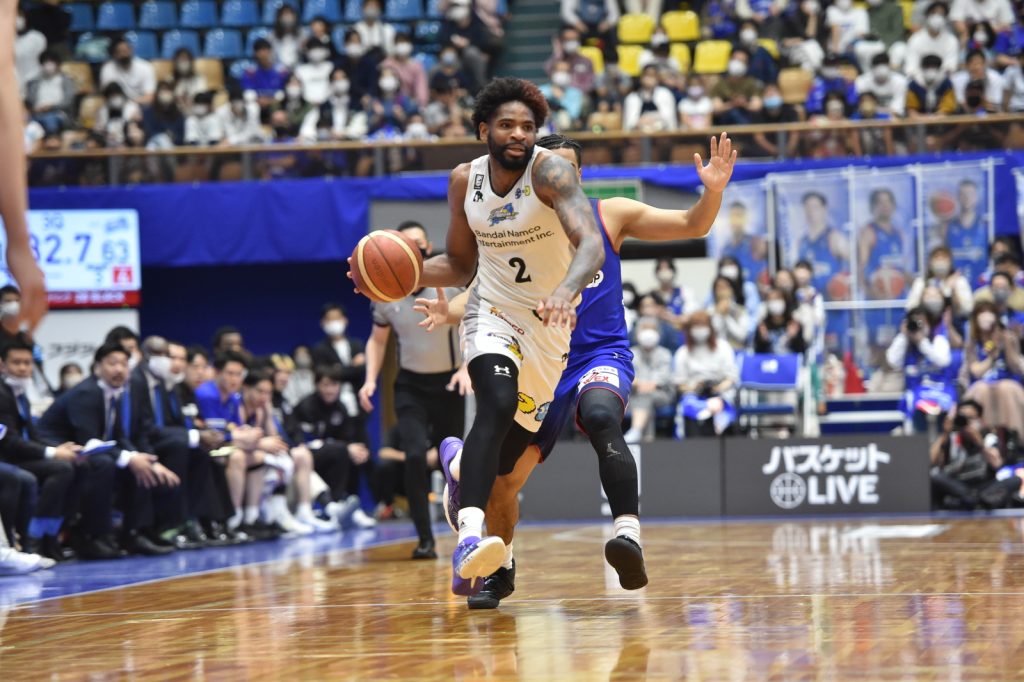 Season Stat Leaders for B1
Scoring: Shimane's Perrin Buford (22.5 points per game), Kawasaki's Nick Fazekas (20.8), Mikawa's Davante Gardner (20.8), Gunma's Trey McKinney-Jones (20.3) and Yokohama's Yuki Kawamura (19.5).

Rebounding: Ryukyu's Jack Cooley (12.7), Chiba's John Mooney (12.2) and Akita's Steve Zack (11.0).
Assists: Kawamura (8.5), Buford (7.9) and Gunma's Narito Namizato (7.0).

Steals: Fighting Eagles Nagoya's Jeremy Jones (2.1), Akita's Takuya Nakamura (1.7), Shiga's Kelvin Martin (1.6) and Gunma's Michael Parker (1.6).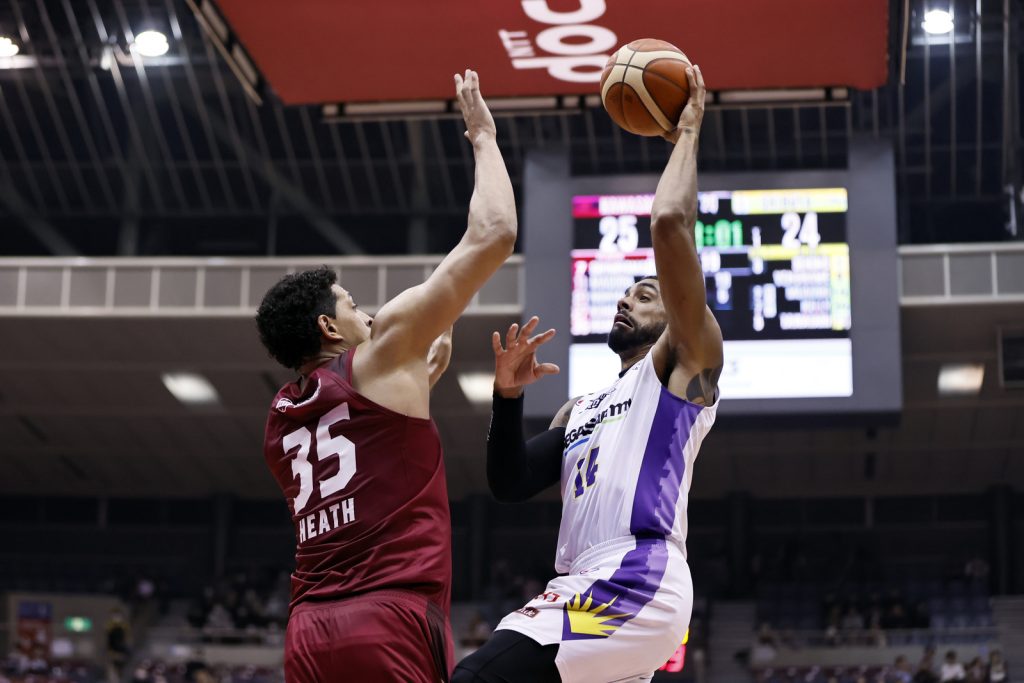 Blocks: Kawasaki's Jordan Heath (1.8), Shinshu's Josh Hawkinson (1.4), Kyoto's Jarrod Uthoff (1.4), Tokyo's Sebastian Saiz (1.2), Parker (1.2) and Shinshu's Anthony McHenry (1.2).
3-point shooting percentage: Shimane's Nick Kay (44.6%), Chiba's Christopher Smith (43.8) and Utsunomiya's Makoto Hiejima (43.4).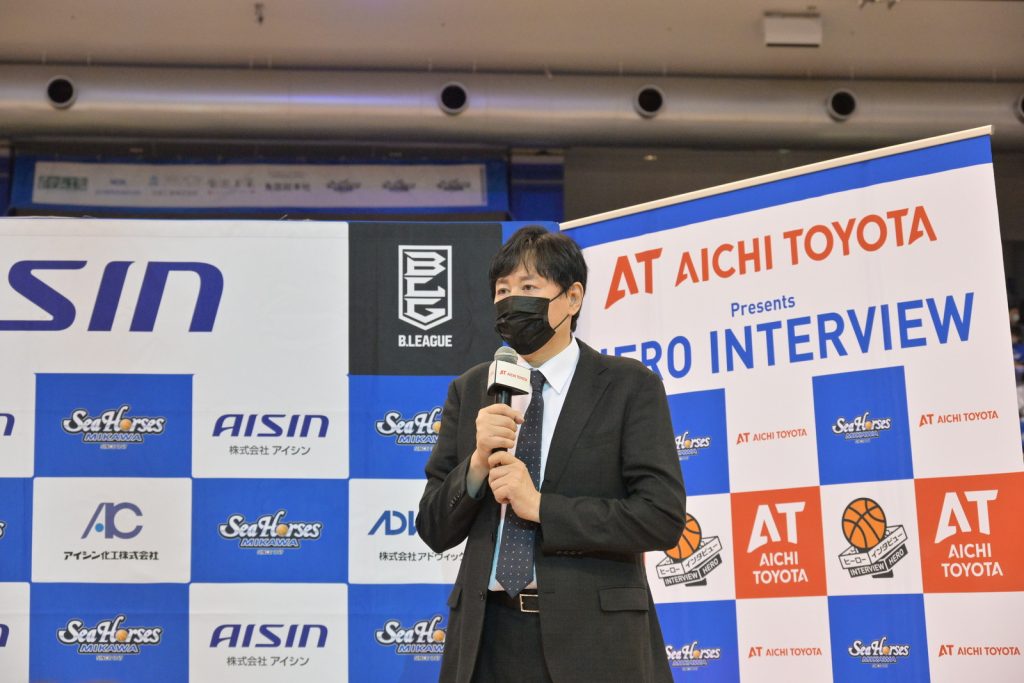 SeaHorses Bench Boss Suzuki Retires
After 28 seasons at the helm, SeaHorses Mikawa head coach Kimikazu Suzuki has retired.
The SeaHorses revealed the news on Sunday. Mikawa lost Suzuki's final game in charge, falling 86-78 to the San-en NeoPhoenix on the same day.
With Suzuki calling the shots from the sideline, the SeaHorses were one of the most successful teams in Japan men's pro basketball history during his storied tenure (1995-2023).

Suzuki, who is 63, guided the club, previously known as the Aisin SeaHorses, to five playoff titles in the JBL era (2002-03, 2003-04, 2007-08, 2008-09 and 2012-13) and two runner-up finishes (2009-10 and 2011-12). The SeaHorses also captured a title in the Japan Basketball League's successor, the National Basketball League (NBL), in 2014-15 before the merger of the NBL and bj-league created the B.League in 2016.
Summing up the retiring coach's tenure with the club, team president Hideomi Suzuki on Sunday said at a news conference, "Since he took office, he has made great achievements."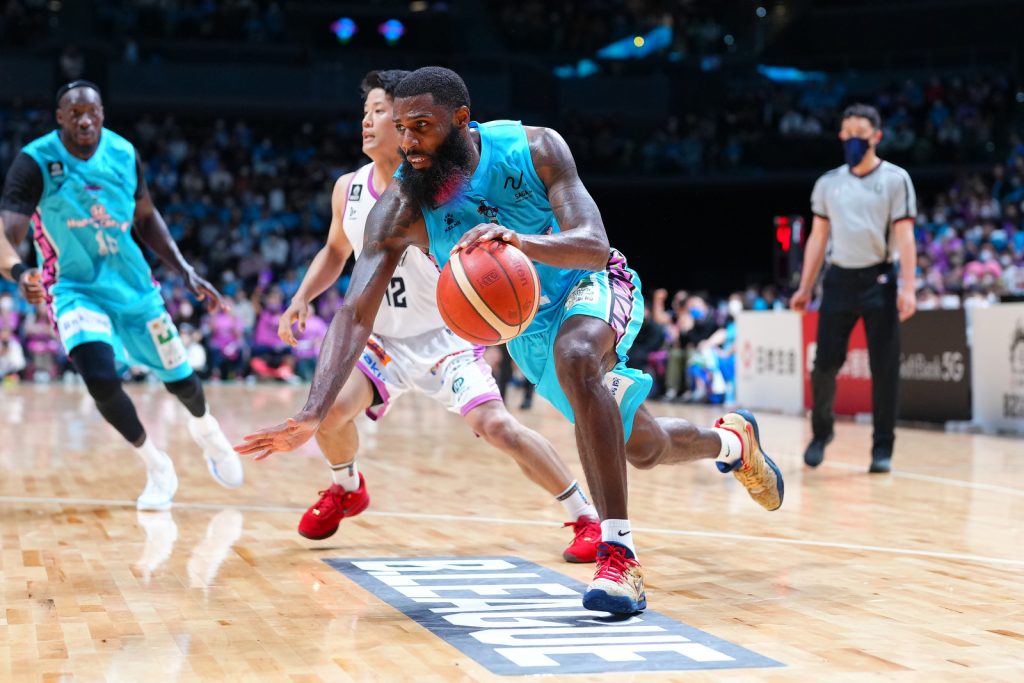 Update on the B2 Playoffs
The B.League second-division's quarterfinal round was held during Golden Week, and four teams were eliminated from the title chase (Koshigaya Alphas, Kumamoto Volters, Aomori Wat's and Fukushima Firebonds).

As a result, the Altiri Chiba and the Nagasaki Velca will meet in one semifinal series and the Saga Ballooners and Nishinomiya Storks will square off in the other.

Semifinal dates: Chiba vs Nagasaki (May 12, 13 and 14) at Chiba Port Arena and Saga vs. Nishinomiya (May 13, 14 and 15) at Saga Arena.
The Altiri were 3-1 against the Velca in the 2022-23 B2 campaign, while the Ballooners went 2-2 against the Storks this season.
Iwate Big Bulls Claim B3 Title
In the B3 finals on May 6-8 in Morioka, Iwate Prefecture, a new third-division champion was crowned.

The Iwate Big Bulls defeated the Veltex Shizuoka in Games 2 and 3, 77-70 and 81-72, respectively, of the championship series after dropping the opener (a 72-65 Shizuoka win).

In the decisive third game, power forward Muusa Dama, who hails from Benin, paced the Big Bulls with 21 points. Teammate Harumichi Ishikawa, a 23-year-old point guard, finished with 20 points, including 6 of 11 on 3-point shots.
Iwate coach Yukinori Suzuki's club had a B3-best 45-7 record in the regular season.
Big Bulls President Reflects on Team's Achievement
Team president Satoshi Mizuno commented on the team's promotion to B2 in a news release on Monday, May 8.

"We were able to achieve all of our goals for the season, winning the regular season, being promoted to B2, and winning the playoffs," Mizuno commented. "Under the guidance of general manager Shigeru Shinohara and head coach Suzuki, the team has always come together as one, overcoming various difficulties and becoming a wonderful organization."

Shizuoka, which had a 41-11 record in the regular season, also secured promotion to B2.

Author: Ed Odeven
Find Ed on JAPAN Forward's dedicated website, SportsLook. Follow his [Japan Sports Notebook] on Sundays, [Odds and Evens] during the week, and Twitter @ed_odeven.