Co-leaders Hoshoryu and Oho Notch Clutch Victories at Kyushu Basho
With a brilliant arm throw on Day 9, Hoshoryu collected his eighth win, and Oho matched the Mongolian's win total at the Kyushu Basho by beating Onosho.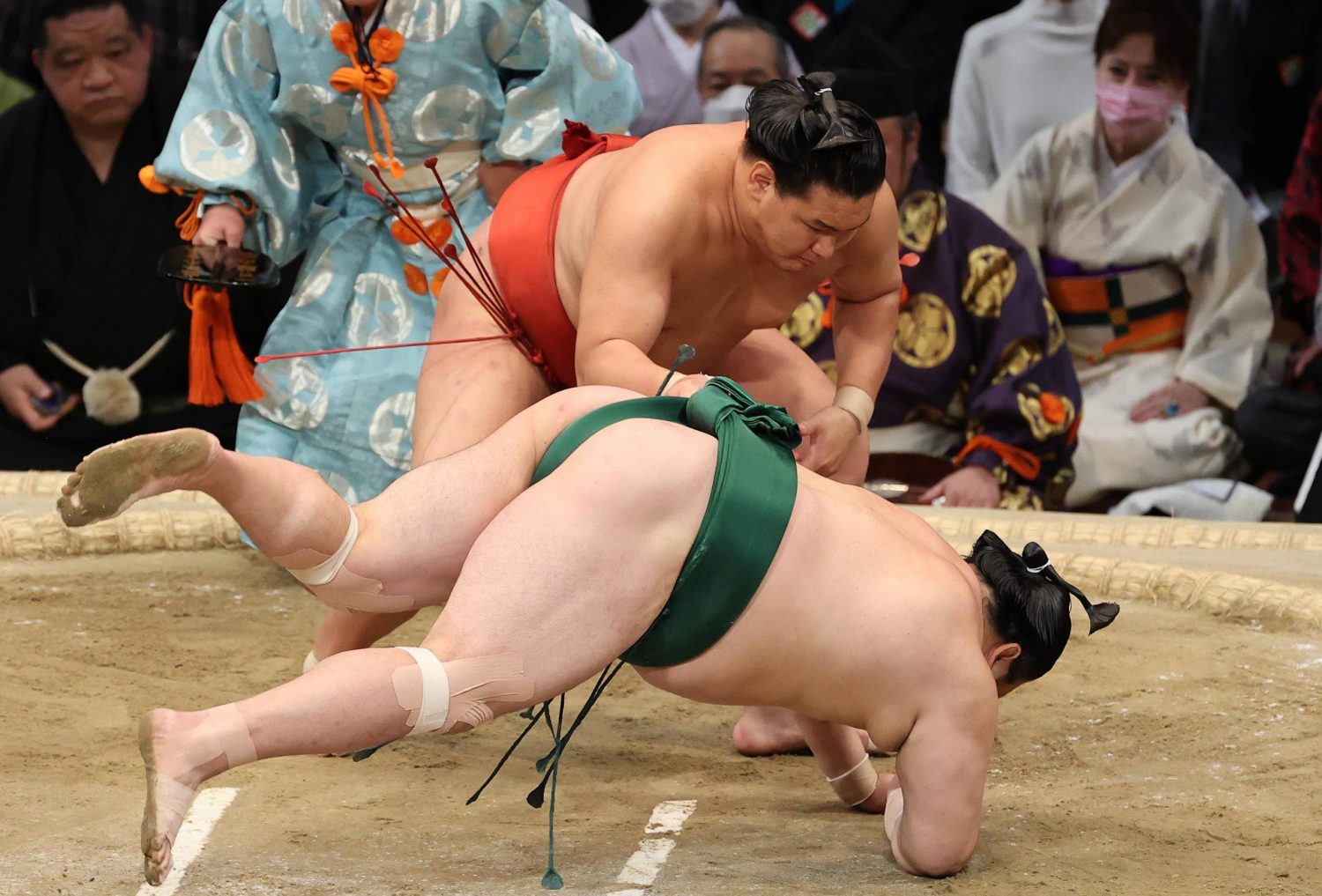 Mongolian Hoshoryu and rank-and-filer Oho both racked up clutch wins on Monday, November 21 at the Kyushu Grand Sumo Tournament.
Sekiwake Hoshoryu used a henka shift to his side at the face-off and followed it up with an overarm throw to defeat No. 4 maegashira Sadanoumi (4-5) and remain tied for the lead at 8-1 with Oho, the grandson of 48th yokozuna Taiho.
While it is not against the rules, many in sumo frown upon dodging to the side at the face-off as it's seen as somewhat unsportsmanlike.
In addition to staying tied for the lead, Hoshoryu also wrapped up a winning record. He still has to face the two ozeki wrestlers in the second week of the 15-day tournament.
"I've been moving well so far," Hoshoryu said. "I am able to concentrate well and stick it to my opponents." 
Further down the ranks, No. 13 maegashira Oho spun fellow rank-and-filer Onosho (5-4) around after the face-off and bundled him out to improve to 8-1.
Takayasu, Nishikifuji and Abi are all one win off the pace at 7-2.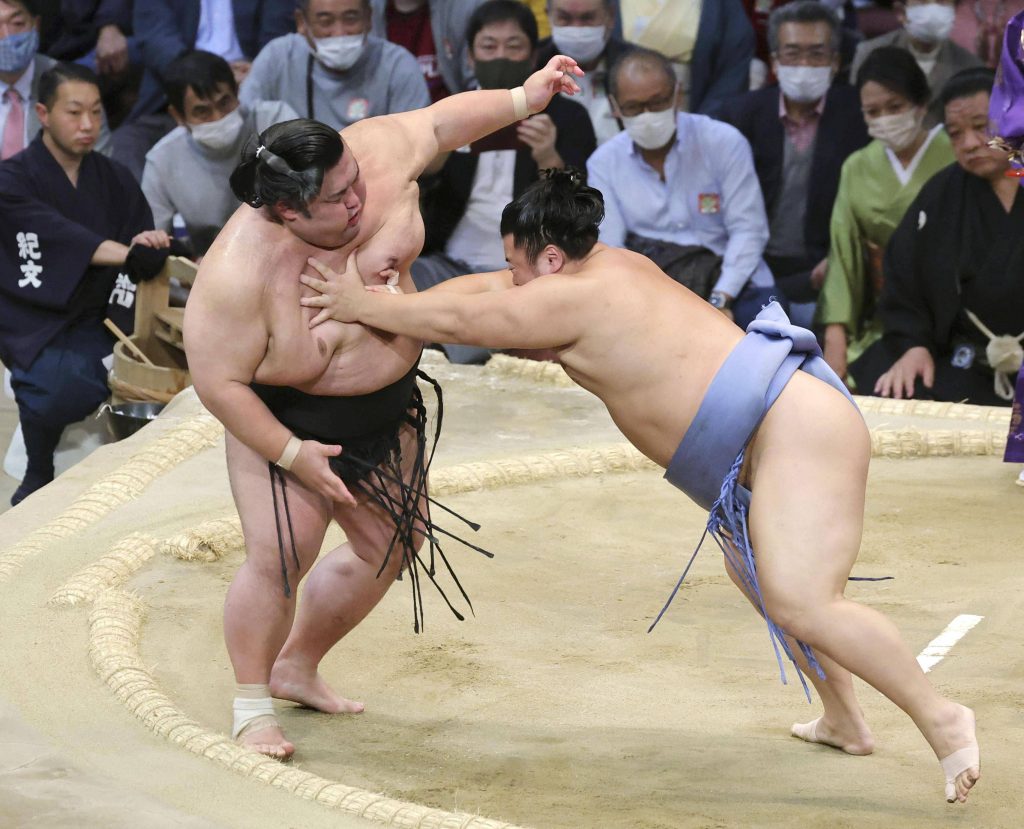 Tobizaru, Meisei Improve to 5-4
In the day's final bout at Fukuoka Kokusai Center, Tobizaru got into a slap fest with ozeki Takakeisho and prevailed when he used a shove to the chest to send the ozeki out to his third loss against six wins
"My plan was to be as aggressive as possible," said Tobizaru, who improved to 5-4. "I just tried to do everything I could do not to lose. I'm just concentrating on moving forward. I've had some good days, some bad days so I will keep giving it my all."
No. 2 maegashira Meisei got Takayasu off balance at the face-off and then forced out the former ozeki to improve to 5-4.
It was a critical loss for Takayasu, who dropped out of the lead and fell to 7-2. He will face tough opposition over the second week as he bids for his first-ever championship.
Nishikifuji Outwrestles Abi
Rising star Nishikifuji knocked Abi out of the lead when he fought off several arm thrusts to the neck, dodged to his side and swatted the ninth-ranked maegashira out to give both men a record of 7-2.
Fifth-ranked maegashira Nishikifuji has been on a roll in recent tournaments and finds himself in the thick of the title chase.
In an all out slap fest, Mongolian Kiribayama forced Kotonowaka back to the edge where he deployed a superb arm throw to topple the top maegashira.
Komusubi Kiribayama improved to 6-3 while Kotonowaka dropped to 5-4.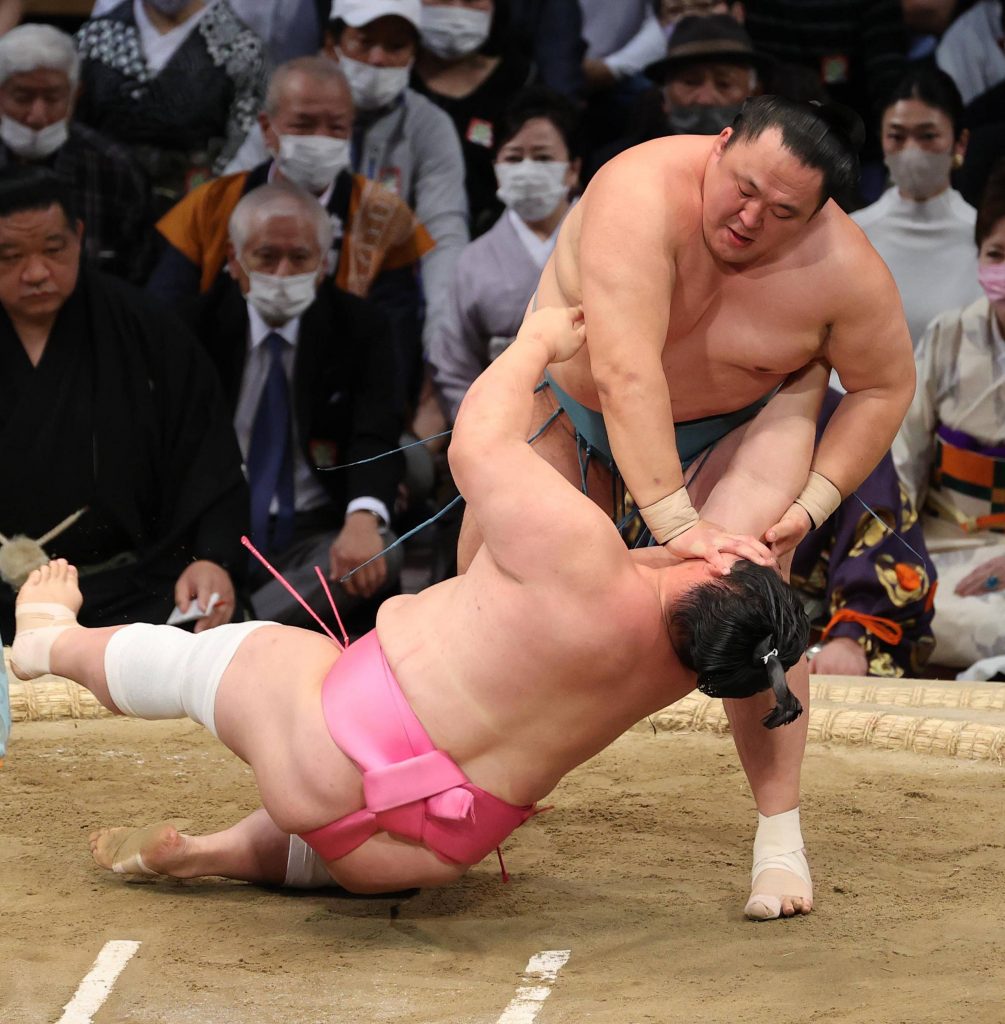 Tamawashi Utilizes Rare Move in Win
September tournament winner Tamawashi used a very rare clasp-hand twist-down to defeat No. 3 maegashira Ura.
Komusubi Tamawashi improved to 2-7. Ura fell to 1-8.
According to national broadcaster NHK, it was the first time the move has been used since 1965.
Midorifuji dealt a serious blow to Wakatakakage's title hopes with one of his trademark under-shoulder swing-downs that allowed the No. 3 maegashira to improve to 4-5.
Sekiwake Wakatakakage dropped to 4-4, all but dashing his hopes of contending for the title in this tournament.
Speaking of painful losses, No. 4 maegashira Wakamotoharu shoved out Mitakeumi to hand the struggling sekiwake his fifth loss while improving to 5-4.
Mitakeumi (4-5) would now need to win all his remaining bouts to regain ozeki status. Given that he has lost four bouts in a row that seems highly unlikely.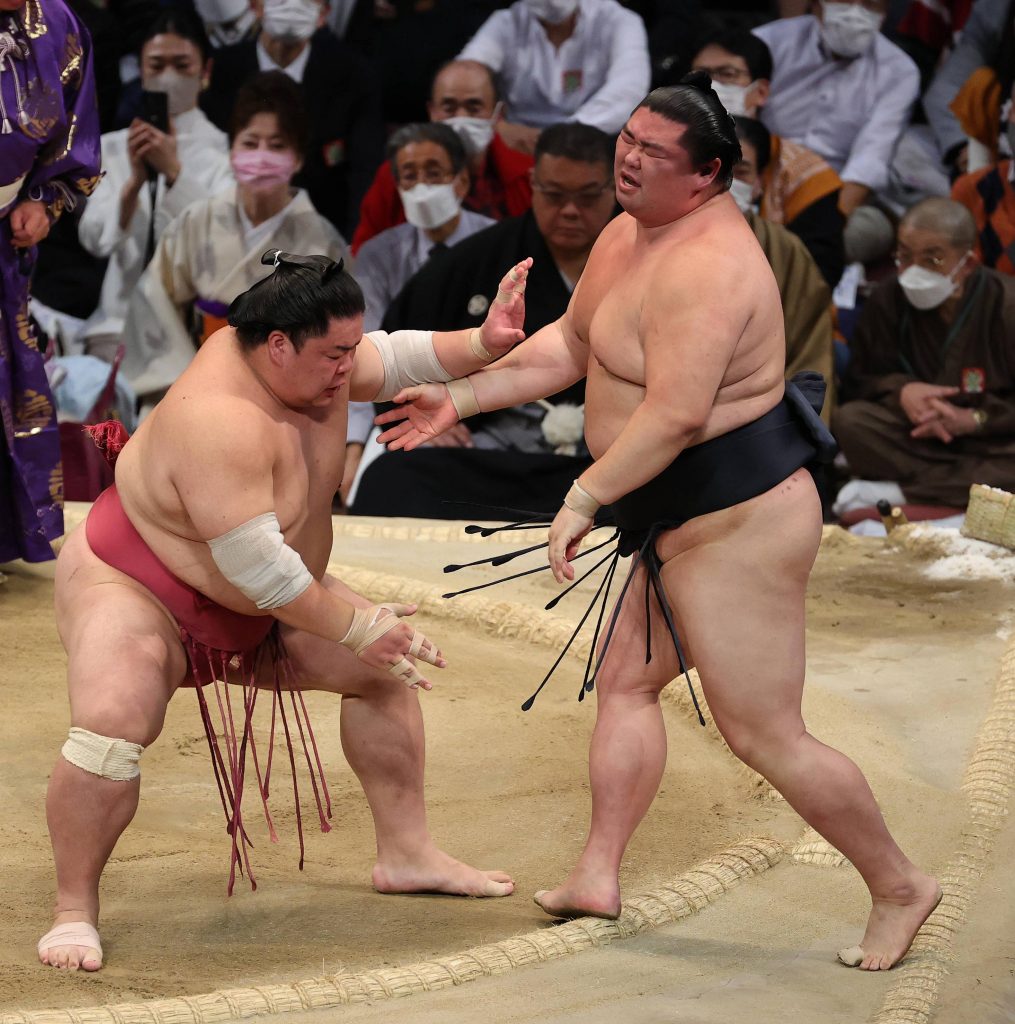 Shodai Faces Uphill Battle to Remain an Ozeki
Shodai could soon be joining Mitakeumi at the sekiwake rank after the ozeki was shoved out by Daieisho to drop to 4-5.
Shodai needs eight wins to stay at sumo's second-highest rank but that now seems to be in peril. Komusubi Daieisho picked up his fourth win against five losses.
"I had a great face-off and that was the difference," Daieisho said. "I have a losing record now so every win I can get is important."

Author: Jim Armstrong
The author is a longtime journalist who has covered sports in Japan for over 25 years. You can find his articles here.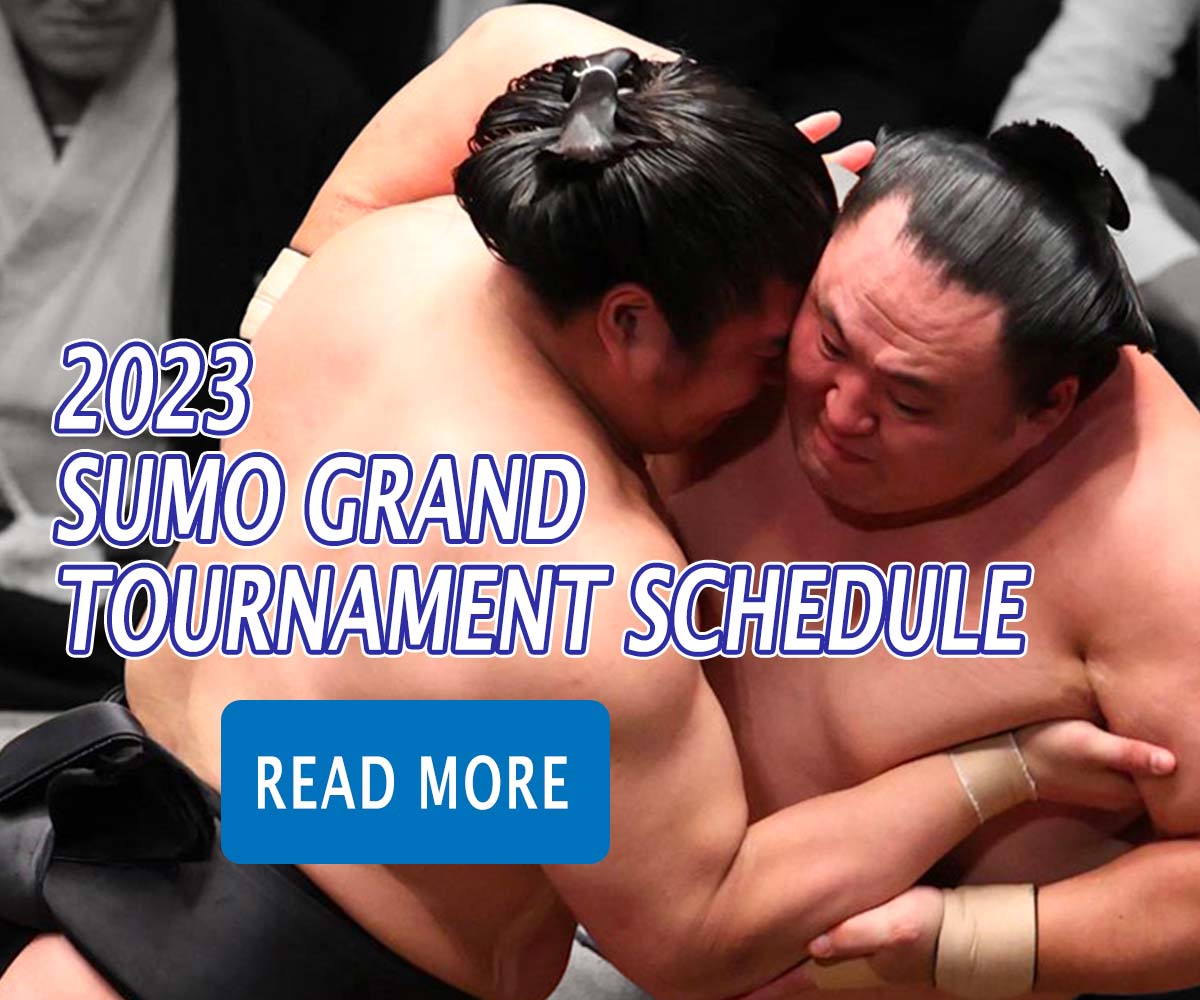 Subscribe to Our Newsletter